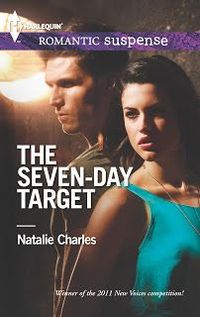 Purchase
LOVE NEVER DIES, BUT CAN IT KILL?
Harlequin
January 2013
On Sale: January 11, 2013
Featuring: Special Agent Nick Foster; Libby Andrews
288 pages
ISBN: 0373278209
EAN: 9780373278206
Kindle: B00ALTVN7E
Mass Market Paperback / e-Book
Add to Wish List

He never meant to speak to her again. Back in Arbor Falls for a funeral, Special Agent Nick Foster has moved on. He has no plans to stay in his tiny hometown–or to reunite with the beautiful Libby Andrews. His onetime fiancée broke his heart, and what's past should stay buried. Libby doesn't want his help. Her childhood sweetheart can never know the real reason she ended their engagement three years before. But when a serial killer targets her, she must team up with the rugged agent for her own safety. Something in her past has put her in danger, and the passion they've reignited puts their future in deadly jeopardy.
Comments
49 comments posted.
I love romantic suspense novels. They hold me interest with the suspense and emotional ties woven into the novel
(Leanna Morris 12:21pm April 29, 2013)
I really enjoy romantic suspense books. I like the underlying mystery that is always present and the budding romance always seems so much more frantic when there is dark unknown around every corner.
Good luck and happy writing!
(Tracie Travis 12:25pm April 29, 2013)
Romantic suspense novels always make my heart pound a little harder as I find myself sucked into the characters and the action. Not knowing what is going to strike next is delicious anticipation!
(Angee Bartlett 12:51pm April 29, 2013)
Romantic suspense is a great way to relax. The suspense keeps you
mentally involved and who doesn't like a happy ever after?
(Cathy Fierstein 12:52pm April 29, 2013)
Love the happy ever after everyone should have a little happy ever after in
their life thank you
(Ava Curtis 1:57am April 29, 2013)
Although I love to read just about everything, romantic suspense is my all time favorite. This book sounds great.
(Kathleen Yohanna 2:01am April 29, 2013)
It seems as if every week I find a new author to read. Will need to do a book run and bring home more books.
(Shelby S 2:09am April 29, 2013)
Romantic suspense leads to hard core mysteries by Sandra Brown, Iris Johansen, Carla Neggers,, Nora Roberts(J. D. Robb), etc. They all started out in romance, then romantic suspense, now , although there is still romance, the mystery is stronger. WATCH OUT!
(Sharon Mitchell 2:47am April 29, 2013)
I love romantic suspense because it shows how a couple can come together in
dark situations.
(Hyunjin Jeon 4:08am April 29, 2013)
I love romantic suspense novels. I like the romance to be part
of a larger story as opposed to the whole story.
(Donna Antonio 6:15am April 29, 2013)
I agree with your comment about the balance. Too many authors are just throwing a scene into the story so they can call the book 'xyz' genre i.e., a murder on page one that is solved on the last page and the rest of the book is a romance story. Thank you for keeping the balance in mind as you write.
(Karin Tillotson 7:20am April 29, 2013)
Is there any other kind of genre out there more enticing?
You do it all and the other ingrediant I look for is a hero with a great sense of homor. Would love to read your book.
Pat Pascale
(Patricia (Pat) Pascale 8:28am April 29, 2013)
I love romantic suspense, it provides 2 reasons to have your heart pound...and to have love happen in the middle of some intense actions. Thanks for the chance to win!
(Linda Scarchuk 8:41am April 29, 2013)
sounds like a great book would love to read
(Denise Smith 8:45am April 29, 2013)
Yes, I too love to read Edgar Allen Poe, Agatha Christie and
Sherlock Holmes. Yes, I am new to subgenre and I would love
to read and win your great book THE SEVEN-DAY TARGET. Yes, I
would love to read your romantic thrilling suspense about
FBI agent Nick and Libby. Danger and Romance makes a book
exciting in my life and I thank you for the fantastic
contest. May God Bless You and everyone with loads of
success always. Thanks, Cecilia CECE
(Cecilia Dunbar Hernandez 9:21am April 29, 2013)
I have been reading suspense/romance for years! I also loved
Poe, and Christie, and other mystery/horror writers. To be
honest, though, new relationships are always more exciting
to me. Don't know why. Perhaps because there are no bitter
feelings to get over and they are learning all about each
other for the first time:)
(Cindi Clubbs 9:39am April 29, 2013)
may you have a happy day, thanks
(Debbi Shaw 9:57am April 29, 2013)
I grew up reading my dad's suspense books (Robin Cook, Ken Follett, etc) and
the best ones of those have romantic elements and some (Follett's Lie Down With
Lions for example) have some smoking love scenes to make the heat pounding
excitement just that much more enjoyable.
(Kelly Mullins 9:58am April 29, 2013)
romantic suspense- makes you jealous and want a somewhat love
like that!
(Brittany Savage 10:16am April 29, 2013)
Love suspense myself.Throw in a hot guy, that much better!!!
(Vicki Hancock 10:40am April 29, 2013)
I started romantic suspense when I picked up one of Lisa Jackson's books. After that it was pretty
much one of my go-to genres for a thrilling romantic adventure. "The Seven-Day Target" sounds like
an interesting read. I like how the hero and heroine had a history, then separated, only to be
thrown together once again.
(Lazydrag0n Puff 10:40am April 29, 2013)
I think I'd love to read this book. It sounds like the type I
enjoy.
(Mary Hay 10:43am April 29, 2013)
I have always had a place in my heart for western romances but recently found that I am really enjoying suspense/thriller romances. As I was reading your post, all I could think about is how I have always wanted to write a good romance book. Maybe there is hope out there :D. Thanks.
(Brandy Ray 10:58am April 29, 2013)
I would love to read this book. Hope I win.
(Judy van Ryn 11:18am April 29, 2013)
I am also a fan of romantic suspense, but it has to be something I can relate to, not future, vampires,or shape shifters.
(Sheila True 11:25am April 29, 2013)
I love romantic suspense, it's hard to put the book down when you start reading.
(Rita Wray 11:27am April 29, 2013)
I love reading anything dealing with romance, be it
paranormal, historic, time travel, etc. I guess you could say
that I have a sentimental heart. From reading the synopsis
this book is going to be a page-turning, can't put it down,
have to read the next page type of book. :)
(Angelina Daniels-Shaw 11:32am April 29, 2013)
I used to be a junkie, then I started reading a lot of cozies---now I'm back again.
(Sue Farrell 11:49am April 29, 2013)
Romantic suspense is such a fun kind of read. I used to love reading those wonderful gothic romance stories where there is adventure, romance, intrigue and an exotic setting.
(Sandy Fielder 12:33pm April 29, 2013)
W!ould love to win....love to read
(cHARLETTE bOND 12:36pm April 29, 2013)
I don't have one set genre. I think I am too fickle I jump all around. I read
contemporaries, historicals, time travel, vamps, shifters, fantasy, suspense,
you name it. If it catches my eye or comes recommended I will give it a
shot. If I am completely unsure what I want to read I send In one of my
friends to my back room full of book shelves and say just grab one for me
please! I have six shelves of paperbacks of unread books to go through. I
can't help it, I pick them up at garage sales or my mom gives them to me.
Friends see things they think I might like or they are my auto buy authors I
have to have them. I keep them in alpha order by author then title. My
husband thinks I am crazy. Lol
(Patti Paonessa 12:39pm April 29, 2013)
I love Suspense, and I was like you when I found Romantic Suspense!! Yay!! This is the ticket!!
(Kelli Jo Calvert 1:13pm April 29, 2013)
Sounds like a great book!
(Jennifer Hansen 1:15pm April 29, 2013)
I'm more of a Romance Junkie...Suspense, historical,
paranormal...etc
I loved Edgar when I was younger too, but my parents were
called in and I was no longer allow to choose my own books for
reports.
(Billie Gaskill 1:24pm April 29, 2013)
Love romatic suspense... that bit of danger... seeing two people come together and realize their feelings for each other during a crisis...
(Colleen Conklin 1:36pm April 29, 2013)
I do! Love chritina dodd especially!
(May Pau 1:42pm April 29, 2013)
I do like romance/suspense books. I remember when Harlequin started
that line. I subscribed to it at one time.
(Susan Falkler 1:58pm April 29, 2013)
I definitely love the suspence/romance books... there's just
something super hot and sexy about two people coming together
under the stress of danger and uncertainty! .... keeps the
pulses racing!
(Constance Zimmer 2:48pm April 29, 2013)
I'm a romantic suspense junkie.
(Cheryl McEwen 3:41pm April 29, 2013)
I love HQ romantic suspense books
(Alisha Woods 4:23pm April 29, 2013)
I love mysteries. This looks like a good one.
(Clydia DeFreese 4:44pm April 29, 2013)
Love to read romance with suspense as it gives a wonderful
twist to keep you reading.
(Shirley Sego 4:45pm April 29, 2013)
This type of romance is new to me. I grew up reading Poe myself, among others, and found him to be among one of my favorite Authors!! My reading tastes are all over the map, actually, but this is one genre that I never really read. As for romance, I'm more of an old-fashioned girl, you could say. I like the sweep-them-off-your-feet type of stories, at least in a way. I do enjoy reading books by Janet Evanovich, and did read the book Roses, by Leila Meacham. I know she's been around a long time, but it was my first exposure to her, and her book still haunts me. Anyway, I would love to read your book, since you explain the plot so well, and we seem to be on the same wavelength Author-wise. It sounds as if you really think your books out well before they are written, and if I am to give this genre a try, I can't think of anyone else I would love to read it by than you!! I'm sure it's a wonderful book!! Harlequin is no company to sneeze at!! You must have done well!! Congratulations on your latest book, and best of luck in the future!!
(Peggy Roberson 8:27pm April 29, 2013)
So much romantic suspense love on this board! It warms my
heart. Thank you all for sharing your thoughts on what you
enjoy and why -- I've loved reading your comments! xx

And keep 'em coming for a chance to win!
(Natalie Charles 8:31pm April 29, 2013)
I love Romantic suspense books, along with paranormal and historical romances. I love when there is action and danger in the story.
(Tiffany Gronn 10:14pm April 29, 2013)
I am a romantic suspense junkie. Most of my books are romantic suspense. I love the mystery, the intrigue, the excitement when the villain comes so close to harming the hero and heroine.
(Kai Wong 11:03pm April 29, 2013)
I love romance, I love mystery so reading a romantic suspense novel is the perfect blend for me. I love any book with romance and action even the touch of evil danger is good.
(Annetta Sweetko 1:11pm April 30, 2013)
I'm like you love mysteries. And so also love romantic suspense. :)
(Penny Mettert 10:38pm April 30, 2013)
Romantic suspense is my favorite genre, especially if it has
strong women and food or some other twist.
(Alyson Widen 8:51pm May 1, 2013)
Registered users may leave comments.
Log in or register now!