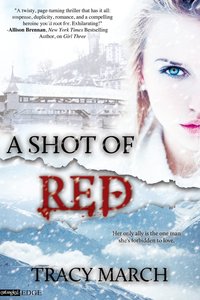 Purchase
Her only ally is the man she's forbidden to love
Entangled Edge
May 2014
On Sale: April 22, 2014
400 pages
ISBN: 1622661257
EAN: 9781622661251
Kindle: B00F8HRQCU
Paperback / e-Book
Add to Wish List

After fleeing D.C. following a one-night stand that had her reeling, biotech company heiress Mia Moncure has thrived working with a humanitarian aid team administering vaccines in Haiti. When the United States is threatened with a flu epidemic, Mia's grandmother demands her return to unveil a new flu vaccine for Moncure Therapeutics. She arrives to find that her ex-boyfriend, the company's PR Director, has died in a suspicious accident in Switzerland that Mia soon suspects was murder.
Determined to reveal a killer, Mia heads to Switzerland where she's threatened as she discovers a plan to infiltrate the vaccine for nefarious purposes. Desperate for backup, she turns to sexy Gio Lorenzo, Communications Director for her mother, a high-ranking senator--and Mia's one-night stand. While negotiating their rocky relationship, they race to uncover a deadly scheme that could ruin her family's reputation. But millions of people are being vaccinated, and there's more than her family's legacy at stake. Mia and Gio struggle to discover the truth about the scheme and their feelings for each other, but it just might be too late.
Comments
39 comments posted.
Re: A Shot of Red

Blowing glass and ziplining. I have been ziplining. Thru old town las vegas. The part of vegas where they have the light show up on the ''ceiling''. It was fun.
And I would love to try making a treasure of my own blowing glass. Awesome!
(Lisa Hutson 1:50am April 23, 2014)
I would love to stroll through the streets just to see the sights and charm. Never have been lucky enough to go on a nice trip. Sounds beautiful there. Your book sounds wonderful.
(Sue Brandes 8:48am April 23, 2014)
My husband and I had the opportunity to visit China in the early 90's. It was an eye-opening experience. To be able to stand on the Great Wall and to see the Forbidden City. They were just unearthing the terracotta warriors at that time so we got to go inside the see the excavation in progress.
(Pam Scott 9:18am April 23, 2014)
Your trip sounded amazing, and I'm sure it's a beautiful
place to visit - however I'm not the gutsy person I used to
be, and can't take long flights anymore, so to travel to
another country, let alone to fly more than 1 hour are out
for me!! My Husband used to surprise me for my Birthday
when we were first married, and we would go away for a few
days. There were 2 trips that came to mind, and were very
special to me. The first one was in Mammoth Cave, Kentucky.
I really enjoyed going into the caves there, and wandering
around the area - into smaller towns there to meet some of
the wonderful people, and purchase some wonderful crafts
that these inventive people created. Camping out there was
so peaceful and scenic. The other trip that we took was in
the upper part of the lower peninsula of Michigan. This was
another camping trip, and my Husband had made all of the
arrangements without my knowledge. We had a beautiful,
peaceful campsite, right by the edge of the Lake Huron /
Saginaw Bay shoreline. There were Blue Herons that had a
nest by the water, too, and they are one of my favorites, so
every morning, when I had my coffee, I could open the camper
door, walk out onto the beach, and watch the Herons in the
water, just a few feet away from me!! We had a larger
campsite, so there was nobody around us, and when we weren't
enjoying the woods, or looking around the area, I had a
peaceful area to read and do my knitting!! It was Heaven,
and we made it a point to go back there and camp again
several times after that. There was also another campground
further Northwest that we went to that was also beautiful,
but we didn't have as much privacy, since it was more
commercialized, and the people were packed in a little more
like sardines. We took advantage of the water there,
though, with our portable boat, and since we always had our
dog with us, she went in the boat as well, ears flopping in
the w
(Peggy Roberson 9:39am April 23, 2014)
I have never had the opportunity to go to such amazing places.
Hoping that will change one day. Your vacation was so
fascinating especially the Blowing glass at Glasi Hergiswil.
That wold really be fascinaating.
(Kimberly Lane 10:14am April 23, 2014)
Blown glass has always fascinated me. The trip sounds fascinating.
(Pam Howell 10:36am April 23, 2014)
Walking through the charming streets of Old Town Lucerne would
be an experience which I would enjoy and it would be
memorable. Love the historic beauty of small and charming
towns no matter where they are but especially through Europe.
The glassblowing would be fascinating and unforgettable.
(Sharon Berger 11:09am April 23, 2014)
What an incredible experience you had. Numbers 6, 7 and 2 would top my list. Thanks for sharing with us.
(G S Moch 1:19pm April 23, 2014)
Taking a boat up the coast of Lac Leman from Lausanne to Chatillon, exploring Montreux when the Jazz Festival is NOT happening, stopping in Zug for the absolute best Kirschwasser in Europe!!

Of course, traveling around the rest of Europe is a favourite thing, too!

Later,

Lynn
(Lynn Rettig 2:20pm April 23, 2014)
About 15 years ago, my husband won a pair of tickets to the
Radio City Christmas show. At first we talked about taking
the train or bus, but after checking prices, we decided to
drive to a hotel in Jersey, spend the night and take the
train into the city the next day. We spent 2 nights at the
hotel and the whole trip was magical. It actually rained
the whole time and we didn't care! We wandered NYC, visited
FAO Schwartz, saw the show from the 4th row. We didn't see
a restaurant we wanted to stop at for dinner, so we went
back to the hotel. It had a 4 star restaurant that for some
reason was nearly deserted that evening. We sat in front of
the fire and were treated like royalty. When we left, they
gave us the rest of the bottle of wine to enjoy in our room!
I still think of it as a 2nd honeymoon. So unexpected and
it came at just the right time.
(Marcia Berbeza 3:16pm April 23, 2014)
I loved visiting Bar Harbor!
(Diane Pollock 4:18pm April 23, 2014)
I've never been surprised but I saved up to go to Europe and travel
(Chris Lewis 4:21pm April 23, 2014)
Your trip sounds wonderful, I'm so glad you had such an
amazing vacation. I haven't yet won the vacation lottery, but
here's hoping! ;) I think the cheese making would be so
interesting to watch - and taste!
(Brooke Showalter 4:21pm April 23, 2014)
That does sound like a dream vacation. I had always wanted
to go and see the St Bernards at the monastery but the
wonderful program they had there is no more.
I have not ziplined yet, but it is on my bucket list.
A few of the other activities I have enjoyed at facsimile
locations here in the midwest. I have to use my imagination
and find the joy close to home.
(Laura Dogsmom 4:25pm April 23, 2014)
OMG...I think I'd died twice and poop my pants if my hubby
came home with news even close to a vacay....all I ever get
is "What's for dinner?"...LOL
I would have to visit the monks...even thought I'm not
religious by no means....monks just amaze me. They have
strive to do so much with so little through out
history....it's just mind blowing. Then I'd follow it up
with walking the city streets and just sucking in every
little thing I could.
The only trips we ever go on is to visit the in-laws...don't
get me wrong I like mine ...but that's NOT a vacay!!!
(Billie Gaskill 4:35pm April 23, 2014)
How lucky to visit that beautiful country. The chocolate
alone would be a reason to go. I've had the chance to blow
glass. I lived near Corning NY and that is the home of
Steuben Glass. I have a few pieces. There are artisan shops
there and demos, so I was really glad to try this amazing
craft! Ofcourse my "paperweight is a little ugly ok a lot
ugly but I made it :)
(Delene Yochum 4:37pm April 23, 2014)
I was able to accompany my husband on a business trip to England. I had
a wonderful time exploring while he worked.
(Barbara Tobey 4:43pm April 23, 2014)
I have never been abroad but it sure is on my bucket list. In fact, I hit the jackpot and won a trip through a radio station and am going to Breckenridge, Colorado on Monday! Check Rocky Mountains off my list.....
(Susan Coster 4:48pm April 23, 2014)
I have never been abroad. This book sounds like a whirlwind
of excitement and looking forward to reading it.
(Shirley Sego 6:56pm April 23, 2014)
Sounds like lots of you have had some incredible vacations, too--and some you're looking forward to! Happy travels and happy reading! :)
(Tracy March 7:50pm April 23, 2014)
Bucket List for Switzerland.... In 1999 I was unexpectedly asked to help my history teaching brother chaperon a school trip to Italy for 10 days It was awesome. Milan, Venice, Florence, Rome, Pompeii... it was the trip of a life time for me. My background was historu education too, so being able to experience the history, culture, & charm of Italy w/ family, friends, & inquisitive kids was beyond memorable. My *bliss* trip, will always be to do a viking River Cruise throught Russia - St. Petersburg, Kiev. I'm gonna get there!
(Lois Losh 8:13pm April 23, 2014)
Favorite trip was the one to China - we stopped in Beijing,
Shanghai, Xian and Guangzhou, ending in Hong Kong where I got
to finally meet my father's family.
(Mary C 9:07pm April 23, 2014)
I've been to a cheese factory but would love to go again since I love cheese. LOL I'd also like to try glass blowing. I've only seen it done on TV and it looks like a lot of work, but fun.
(Marcy Shuler 9:53pm April 23, 2014)
Being a travel agent I get to go everywhere and never leave
my home. I have been to Ixtapa Mexico, the Bahamas, a
cruise (got seasick) and of course all over the USA. My
dream vacation is to travel thru Europe seeing Scotland,
England, France, Germany, Netherlands, Denmark, Italy,
Greece, and Turkey. I would also like to travel thru Asia.
(Tina Ullrich 9:55pm April 23, 2014)
wow--I won a trip to Knott's Berry Farm Amusement park for the family--all-expenses paid.

Sounds like you had a fabulous trip!
(Denise Holcomb 11:53pm April 23, 2014)
The art of blown glass has always fascinated me. Your itinerary looks like it has
something for everyone. What a fun trip it must have been, thanks for sharing!
(Sue Ahn 2:25am April 24, 2014)
i won a trip to las vegas last year that was suprising
(Denise Smith 8:51am April 24, 2014)
I won a trip to Quebec about 3 years ago, my husband and I stayed in the ice palace for one night, it was incredible!
(Darci Paice 10:01am April 24, 2014)
Your trip sounds amazing. I have several places I want to
visit on my bucket list, but I have been blessed in that
area. My father passed away when I was 12 years old, he had
been sick my entire life, so money was very tight. Yet my
mom, who shared her love of reading, always seemed to have
money for me to go on the school trips I wanted to,
Washington DC, Niagara Falls, Marching with my High School
band at Epcot. Then later she helped make it possible for
me to visit Clearwater Florida with friends after my heart
and stomach surgery (she hoped it would help with the
depression). So even though I haven't "won" the vacation
lottery per se, I have most definitely won the MOM lottery!
(Marci Kline 11:04am April 24, 2014)
new england in the fall
(Debbi Shaw 12:27pm April 24, 2014)
I did missionary work in Mozamabique, amazing.
(Larua Matta 12:39pm April 24, 2014)
No, sadly I never did. Oh well, you never know when it might take you by surprise. :) I'm keeping my fingers crossed.
(Vennie Martinisi 1:44pm April 24, 2014)
I won a trip to Las Vegas for my 50th birthday and my best friend from high school was able to come with me. We went to several shows and had a fantastic time. It made my 50th go down a little easier.
(Denise Austin 2:19pm April 24, 2014)
Never been abroad, can get lost in the books and feel like I
am there which is the closest I will ever get, also the charm
bracelet I would love to wear
(Jeri Dickinson 3:26pm April 24, 2014)
I'd love to see the craftsmen blowing glass at Glasi Hergiswil in Switzerland. Your trip sounds fabulous with all the fun things you took in on your visit. This country sounds fabulous and beautiful. I'm sure it's one you'll never forget and was a fascinating and charming trip (how nice for you that your husband had to go there)!!
(Linda Luinstra 7:10pm April 24, 2014)
I've never won a vacation lottery. I have a sister-in-law that did. She knew a woman that wanted to go to Israel and travel around and told her she'd pay for her entire trip if she'd please go with her. They rode around on camels and visited many places.
I'd have to say, I'd really enjoy partaking in nos. 7 & 9 on your list of things you did in Switzerland. Sounds fun!
(Rich Cook 7:19pm April 24, 2014)
Lucky you!!! That would be a trip to remember. I'd be buying
chocolate that's for sure.

Nothing like that has happened for me.
(Mary Preston 9:01pm April 24, 2014)
I haven't won a vacation lottery. I would to and hope it will happen someday.
(Kai Wong 10:50pm April 24, 2014)
I won a wonderful trip for two from the Windsor Vineyard, in Sonoma County California. It was The Culinary Institute of America sponsoring a Caribbean Gourmet Cruise. It was a seven day adventure on the Norwegian ship, The Normandy. Everything was fully covered, roundtrip airfare, port charges and car rental. The trip was with a group of eighty other wine enthusiasts and we had our own chef making special meals for us as extras during the cruise. We enjoyed meeting the little old winemaker, she was a tiny gal who brought along many different types of wine to be served at our dinner tables. The cruise ship was also sponsoring a celebrity baseball event. My husband is a baseball follower and we met spent time with a few of the group. I met my #1 favorite player and have my picture with him and his wife. We made many good friends on the trip and really don't think we could top this with any other ideas. I'm still smiling and that was in 1995.
(Rosemary Simm 9:54am April 25, 2014)
Registered users may leave comments.
Log in or register now!