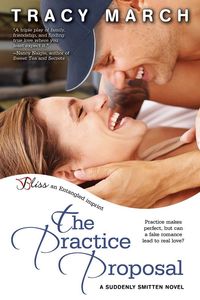 Purchase
Practice makes perfect, but can a fake romance lead to real love?
Suddenly Smitten #1
Entangled Bliss
March 2013
On Sale: March 11, 2013
Featuring: Liza Sutherland; Cole Collins
166 pages
ISBN: 1622668766
EAN: 9781622668762
Kindle: B00BQMOGKQ
e-Book
Add to Wish List

Romance Contemporary | Romance
Liza Sutherland isn't looking for love. Not from a charity–auction date she didn't even bid on and especially not with Nationals first baseman Cole Collins, the guy she obsessed over as an awkward teenager. She won't get involved with a notorious player, no matter how attractive Cole is.
Cole Collins is up for contract renegotiation, but after too many late–night parties, he'll need some positive publicity before he can make the roster. His agent, Frank, pitches Liza as the perfect prop...only Cole didn't account for Liza no longer being just a teenager with a crush. She's gorgeous and smart and he's instantly hooked.
When Frank makes Liza a deal she can't refuse—a bet she will fall in love with Cole or a cool half mil goes to charity—the game is on. But neither bet on the real feelings that surface. Could a fake fling turn into an official forever?
Suddenly Smitten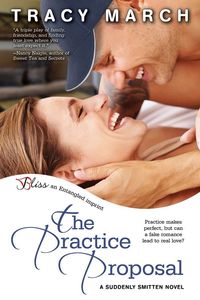 The Practice Proposal
#1.0
Kindle | BN.com | | |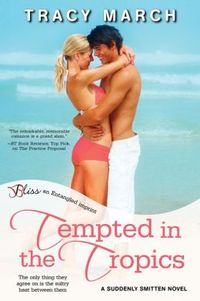 Tempted in the Tropics
#2.0
Kindle | BN.com | | |
Comments
41 comments posted.
Ah, baseball players!
(Sara Reyes 2:54pm May 11, 2013)
Ah, I don't know any athletes, so yours will do quite nicely!
(Emily Nelson 3:24pm May 11, 2013)
I don't personally know any athletes.
(Wilma Frana 3:49pm May 11, 2013)
Here are my three athletes even though I maybe old school: Steve Garvey, Jimmy Connors, Joe Montana and Eli and Peyton Manning. They have very interesting background especially the Manning brothers. How many romance stories features athletic brothers? I haven't read or locate one to date.
(Kai Wong 4:07pm May 11, 2013)
I was going to say something along the lines of football quarterbacks but one look at the pictures of your guy ... I changed my mind. He will do very nickely. Now with that image in my mind I certainly want to read your book. (And the bracelet looks nice, too.)
(Annetta Sweetko 4:12pm May 11, 2013)
I know know which one athlete I would select but it would definitely be someone like Michael Jordan because he looks romantic and hero-like!
(Shirley Younger 4:35pm May 11, 2013)
I'm a golfer---so a drool over Freddie Couples(that also gives you a hint about my age).
(Sue Farrell 5:05pm May 11, 2013)
Tim Tebow.
(Norma Todd 6:03pm May 11, 2013)
I don't follow sports anymore, so am not familiar with who would make a great hero. I'd have to leave picking out who would make a great hero up to you or other fans,
(Carol Woodruff 6:17pm May 11, 2013)
I love sports romances. I llike weekends when all the sports are on.
(Susan Falkler 7:00pm May 11, 2013)
John Stockton, I think....
(Mary Ann Dimand 7:45pm May 11, 2013)
Okay...you've got my heart pumping now. I'm going to HAVE to read this book! Sounds fantastic...
(Sandie White 8:12pm May 11, 2013)
Soccer players are rather hot.
(Mary Preston 8:13pm May 11, 2013)
I don't know any athletes. But yours sure is dreamy. Thanks for giving me a chance towin and read your book,plus the lovely bracelet.
(Linda Hall 8:37pm May 11, 2013)
I want to read this so bad.......and I think I will!!!!
(Dawn Tamraz 9:03pm May 11, 2013)
Not much on sports, so I can't really say, but your guy is HOT!!! The book sounds awesome.
(Martha Lawson 9:33pm May 11, 2013)
I WOULD SAY DREW BRESS BECAUSE HES NICE GOOD LOOKING AND DOES ALOT OF THINGS TO HELP PEOPLE!ALSO THE MANNINGS- FATHER AND SONS!WOULD LOVE TO WIN BRACELET!
(Shelley Summers 10:27pm May 11, 2013)
I don't follow sports so I can't think of any names
(Patricia Kasner 10:37pm May 11, 2013)
do not really follow sports, but like reading about it..lovely braclet...hope to be lucky
(Kimberly Hoefs 11:42pm May 11, 2013)
i love the sports romance books we love baseball sothis would
be a great book for me to read
(Denise Smith 12:45pm May 12, 2013)
There are so many that are fit, confident and beautiful. It would be hard to say I think probably David Beckham...ya..he is yummy!
(Darci Paice 1:46am May 12, 2013)
I love a good sports romance, but it's so hard just to pick just one athlete to be the hero (there's so many to choose from!) I would pick hockey player Andrew Ladd because he's easy on the eyes and a great guy on and off the ice. Thanks for the chance to win, the book sounds great!
(Anita H 4:30am May 12, 2013)
I'd pick Nashville Predators' Mike Fisher (Carrie Underwood's
husband). He's deeply religious and seems like he genuinely
cares about his fans. Plus he's got dreamy eyes!
(Ada H. 5:29am May 12, 2013)
Although I don't know any athletes I think Tim Tebow is a real sweetie...
(Bonnie Capuano 7:22am May 12, 2013)
Does Rocky Balboa count, I know Sly.
(Mary Smith 8:52am May 12, 2013)
I would have to pick a showjumper or jockey because I love horses.
(Clare O'Beara 9:15am May 12, 2013)
Hockey Player, of course!
(May Pau 9:29am May 12, 2013)
I have to say, Tracy, you choose pretty good for all of us! There are so many great athletes out there...I don't know how I could narrow it down.
(G S Moch 10:50am May 12, 2013)
Oh goodness...I'm not a sports fan. I love playing them, but
not watching them. :-D I do like swimmers' bodies, though.
(Karin Anderson 10:51am May 12, 2013)
I enjoy a sports romance very much. Mario Lemieux would be my
choice.
(Sharon Berger 11:28am May 12, 2013)
Not much into sports but I will say the guy above seems like the perfect choice... wowzers!
(Colleen Conklin 1:11pm May 12, 2013)
Watching sports on television and going to a game or some kind each year is my only real connection to athletes, but I do used to love to watch Jim Rice when he played baseball. We met him a few times and he was not only nice to talk to but very handsome and had a good physique. I am anxious to read your books about athletes and sports, so I am keeping my fingers crossed to win one of them and get back to romance with the great looking guys you have picked out for the readers. Good Job!!!!
(Cynthia Blain 1:19pm May 12, 2013)
Baseball players do it for me. I love the way they walk. The slight bowing of their legs. And I LOVE, LOVE, LOVE they way their muscles are built. Not too huge (like football) but just right. Nice arms. Ahhhh..... ;)
(Sue Galuska 1:30pm May 12, 2013)
Some of you sure have come up with athletes who definitely make sports even more fun to watch! I'm glad a lot of you agree that my inspiration is pretty sweet! Thanks so much for stopping by and commenting, and good luck to all of you in the giveaway. Happy reading! :)
(Tracy March 2:26pm May 12, 2013)
I can see why you were inspired to put a particular baseball player in your story.
Can't wait to read your book.
(Jackie Wisherd 4:30pm May 12, 2013)
Love the title and do think I would be thrilled reading the books as I enjoy baseball
(Shelly Itkin 5:48pm May 12, 2013)
Sounds fantastic. Thank you for the opportunity.
(Holly Vanderhule 7:35pm May 12, 2013)
Landon Donovan....what a cutie!!!

josiehink122026(at)gmail(dot)com
(Josie Hink 9:23pm May 12, 2013)
You knocked this one out of the park, lady. I think we're all
in love with Cole! Can't wait until the next Suddenly Smitten
novel.
(Nancy Naigle 10:50pm May 12, 2013)
There are quite a few super hot, sexy athletes. Michael Morse is definitely a good choice, Tracy! I'm drooling!! I'd have to also add Tim Tebow, A-Rod (Alex Rodriguez) and Jeff Francoeur. Any good-looking player would be exciting to read about in a romance novel. The Practice Proposal looks good; love sports!
(Linda Luinstra 6:16pm May 13, 2013)
I don't follow any particular sport to have a favorite
athlete.
(Denise Holcomb 10:31pm May 13, 2013)
Registered users may leave comments.
Log in or register now!