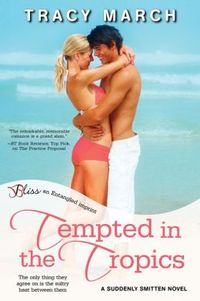 Purchase
Tempted in the Tropics
Tracy March
The only thing they agree on is the sultry heat between them
A Suddenly Smitten Novel
Entangled
September 2013
On Sale: September 9, 2013
Featuring: Lane Anderson; Paige Ellerbee
ISBN: 1622661621
EAN: 9781622661626
Kindle: B00EMTDMFA
e-Book
Add to Wish List

Romance | Romance Contemporary
The only thing they agree on is the sultry heat between them.
Paige Ellerbee's life is far from perfect after moving back to small-town Maple Creek—there's her struggling bakery, Sweet Bee's; her aging father; and the fact she's practically the only single girl in town. But when Lane Anderson, the town's hot—and young!—new doctor, moves in next door, she wouldn't mind receiving some intensive care…until their first conversation starts a feud.
Lane came to Maple Creek to lay low after inadvertently being associated with a pill-prescribing scandal. When the gorgeous blonde next door asks for his help with a program that could raise eyebrows, he has to refuse. He's been burned in the past when blinded by love, yet Paige's feisty personality has his blood running hot.
When a little matchmaking lands Lane at Paige's best friend's wedding in St. Lucia, suddenly the romantic island vibe tempts them to kiss and make up. A temporary truce might be just what they both want—but forever love might be more than they can agree on.
Suddenly Smitten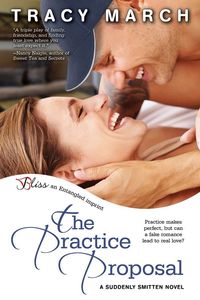 The Practice Proposal
#1.0
Kindle | BN.com | | |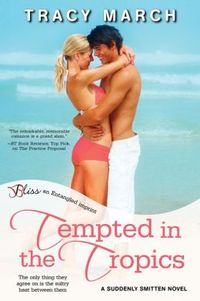 Tempted in the Tropics
#2.0
Kindle | BN.com | | |
Comments
29 comments posted.
Wow, Congrats on your new book: THE PRACTICE PROPOSAL. Also,
Congrats on your SUDDENLY SMITTEN series. Wow, I have heard
of Strip Poker but have never heard of Strip Creme Brulee
Desserts till now. Your book sounds like a yummy and hot
book to win and read this Fall. Thank You for the great
contest. Thanks, Cecilia CECE
(Cecilia Dunbar Hernandez 12:27pm September 14, 2013)
Will be adding this to my to read this. Can't wait to read
this.
(Sara Ford 12:47pm September 14, 2013)
It has to be Chocolate Mousse.
(Rita Wray 12:59pm September 14, 2013)
I would have to pick chocolate lava cake. Loved the excerpt!
Congratulations on the book and thanks for the chance to win!!!
(Linda Brennan 2:10pm September 14, 2013)
Chocolate eclairs....oh yea
(Susan Falkler 2:19pm September 14, 2013)
I love the excerpt. I will definitely get a copy of this book.
(Kai Wong 2:55pm September 14, 2013)
You had me at chocolate!!
(Cate Sparks 4:24pm September 14, 2013)
I would have to choose cheesecake topped with whole strawberries and a little whipped cream...yummy! Loved the teaser excerpt and the cute book cover. Can't wait to read this book.
(Linda Luinstra 4:33pm September 14, 2013)
Chocolate Mousse. Love this post and the book sounds special.
(Sharon Berger 4:36pm September 14, 2013)
For me, it would be a toss-up. The homemade dessert would be the Banana Split dessert, which is made up of layers of yummy goodness!! My store-bought choice would be the Sara Lee creamy cheesecake topped with strawberries and added whipped cream!! I could eat the whole thing!! For added dessert, I would have to include your book!! What a treat!! That was quite a passage that you put in your posting today, and I can't wait to rev up my Fall with something a little hot and sassy!! Congratulations on your book!! I'm sure it's going to do well. A lot of women are going to pass the word, after they get done reading it.
(Peggy Roberson 4:41pm September 14, 2013)
I really liked this post and I love books where opposites attract!
(Cindy Hamilton 5:19pm September 14, 2013)
something you must eat so slowly that you savor each and every bite - chocolate is good, a wee bit of some spice, a little salt, something oozy (hmmm that Chocolate Lava cake is sounding perfect so far!), something with a bit of 'mouth feel' (whipped cream too?), smooth on the tongue...
(Beth Fuller 7:42pm September 14, 2013)
This sounds like a great book.
(Wilma Frana 8:53pm September 14, 2013)
Chocolate pudding or chocolate mousse
(Laura Albert 9:50pm September 14, 2013)
Great post and desserts are a must! A rich, creamy chocolate cake, pie, mousse,...you get the idea, Chocolate anything!!!!!! Thank you for the chance!
(Melanie Backus 10:06pm September 14, 2013)
Chocolate. Anything but frozen stuff. Chocolate. Especially oozing chocolate from the center. Chocolate. Yes. Did I mention chocolate?......
(Lisa Hutson 1:23am September 15, 2013)
cheesecake
(Lynn Anderson 4:14am September 15, 2013)
There are so many; a rich choc cake with dk choc icing, tiramisu, cheesecake, peach or rhubarb pie, key lime pie, banana and choc cream pie - I could go on and on.
(Pat Lieberman 7:34am September 15, 2013)
This looks like a great read. Have to get this one.
(Barbara Wells 8:23am September 15, 2013)
anything chocolate chocolate cake, pb cups chocolate ice cream
(Denise Smith 9:37am September 15, 2013)
In the book Deep Autumn Heat by Elisabeth Barrett the main character
Lexie Meyers has a signiture coconut cake, in the second book of the Star
Harbor series Blaze of Winter she posts the recipe at the end of the book.
Before I could even post a review I had to bake that cake because I was
dying to taste it. It was absolutely delicious. My husband has renamed it
Porn Cake. My brother in law was taking a piece home to his wife and ate it
from the container before he got there. LoL it is that good. I think I could eat
that cake off a hunky man any day! Also if you eat it with chocolate cake it
is like a Mounds bar. Mmmm so yummy. Now I will have to go bake
another, see what you started.
(Patti Paonessa 11:46am September 15, 2013)
Oh I and I was so excited I forgot to add I have added this to my have to
read it list. It sounds right up my alley. Thanks for telling me about it.
(Patti Paonessa 11:47am September 15, 2013)
Anything chocolate works. But I find that something almost liquid, like a lava cake or strawberries with chocolate for dipping, works really well.
(Pam Howell 12:39pm September 15, 2013)
Sounds like a sweet treat!
(Richard Proctor 1:06pm September 15, 2013)
A chocolate turtle sundae with lots of whip cream!
(Maria Proctor 1:13pm September 15, 2013)
Love the cover...can't wait to read it. Carol Conerly 9/15/13
(Carol Conerly 4:54pm September 15, 2013)
I was a big fan of the Girl Scout Cookie Thin Mint Blizzard. Fresh strawberries work too! Good cheese cake...The list goes on.
(Laura Gullickson 9:09pm September 15, 2013)
Cheesecake. Yum.
(Marcy Shuler 5:29pm September 16, 2013)
Chocolate cake is my undoing!!
(Mary Preston 8:45pm September 16, 2013)
Registered users may leave comments.
Log in or register now!