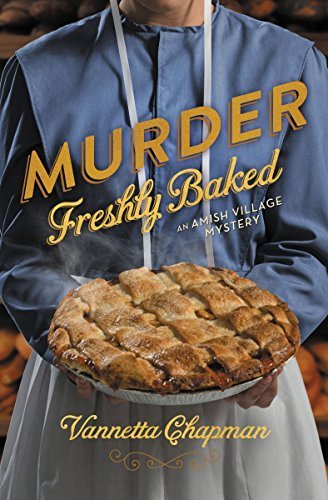 Purchase
Amish Village #3
Zondervan
June 2015
On Sale: June 9, 2015
Featuring: Amber Bowman; Hannah Troyer
352 pages
ISBN: 0310322170
EAN: 9780310322177
Kindle: B00PFBNZQU
Paperback / e-Book
Add to Wish List

Amish | Mystery Amateur Sleuth
When delicious baked goods become lethal, it's time to find a killer.
Kindness is a virtue
Meanness is a sin
Better watch your bakery pies
For poison I've slipped in
The Amish Artisan Village in Middlebury, Indiana, has been decorated with every color of balloon and flower for the Race for a Cure. As manager of the Village, Amber Bowman is thrilled to see the turnout—and relieved to have something to distract her from the "Poison Poet"—an individual who has been sending notes containing bad poetry to warn of poisoned baked goods.
Then Ryan Duvall crosses the finish line of the race—and falls down dead, murdered in broad daylight. But who did it? And why? The police suspect Preston Johnston, but Amber refuses to believe her employee could do such a thing.
Amber once again looks to her young Amish friend Hannah Troyer to help her find the killer—and to determine if it's the same person leaving the cryptic poems and pies. Can they help the police before the Poison Poet strikes again? Both Amber and Hannah will need to draw on their faith as they fight to preserve the peaceful community they've built at the Amish Artisan Village.
Amish Village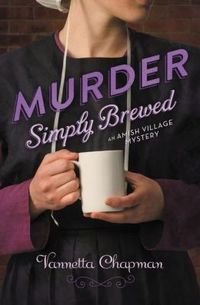 Murder Simply Brewed
#1.0
Amazon.com | BN.com | | |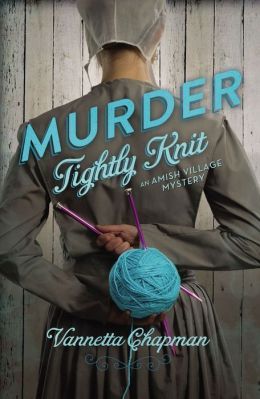 Murder Tightly Knit
#2.0
Amazon.com | BN.com | | |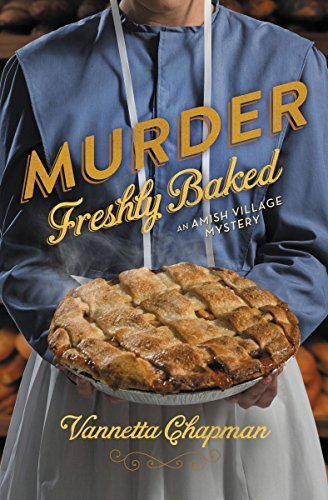 Murder Freshly Baked
#3.0
Amazon.com | BN.com | | |
Comments
44 comments posted.
Victim who has lots of enemies.
(Marissa Yip-Young 6:06am June 12, 2015)
I like characters with shady pasts to keep me on my toes
guessing who the murderer is.
(Jennifer Ingman 8:02am June 12, 2015)
Great points!
(Vannetta Chapman 9:52am June 12, 2015)
I always like an animal, a little old lady in her 80s with
her opinions and recipes and are always fun especially when
the relate to the location.
I hope all is fine with you there in Hill Country. When we
lived in Round Rock, we use to go to Gruene at the Grist
Mill to eat.
(Leona Olson 11:18am June 12, 2015)
The ingredients that I like in a cozy mystery are quirky
characters, lots of twists and turns to keep me turning the
pages so I can keep trying to figure out who committed the
crime and a fun setting - a place I would like to visit and
explore.
(Maryann Skaritka 11:50am June 12, 2015)
Ingredients which are necessary in a cozy mystery are larger
than life characters, a captivating setting, great dialogue
and a story that is gripping.
(Sharon Berger 12:01pm June 12, 2015)
Love all the elements you described that are contained in the book. Sounds like a wonderful read. Thanks for the chance to win.
(Nancy Reynolds 1:48pm June 12, 2015)
I love desserts in my mysteries.
(Pam Howell 3:00pm June 12, 2015)
Murder, mystery, romance and danger are all important in
a good cozy.
(Irene Menge 5:54pm June 12, 2015)
I love any books about the Amish. I find their life style interesting. I do love a good murder mystery. I read a lot of true crime.
(Faye Gates 6:01pm June 12, 2015)
I could teach a writing class with the responses I'm getting here. You all are
awesome!
(Vannetta Chapman 6:26pm June 12, 2015)
I like it when there is a pet in the mix of things.
(Nancy Luebke 6:32pm June 12, 2015)
I love twists and turns that come up throughout the story from the main
characters past.
(Lily Shah 6:52pm June 12, 2015)
I like it when animals help solve the crimes
(Jeri Dickinson 8:20pm June 12, 2015)
What a great story filled with unique characters, poisoned pies nosy
people, suspense and a mystery that will have the reader guessing till the
end. My kind of book .
(Deana Dick 8:33pm June 12, 2015)
Romance, danger, mystery, murder, & recipes all lead to a great cozy mystery.
(Sheri Jesse 8:50pm June 12, 2015)
I like the Amish folk and their area. I'm very familiar with the Lancaster,Pa.Amish folks.We visit the area every year, and love it each time. As far as what my favorite
part of a cozy mystery is, it's the sidekick; the one who, as you said, lightens the mood.
(Wendy Lee Klenetsky 9:59pm June 12, 2015)
Some attraction as a side element, but mostly local charm.
(MaryAnne Banks 10:53pm June 12, 2015)
Like-able characters and a little romance working with an off
beat community.
(Marcia Berbeza 1:00am June 13, 2015)
I like more than one suspect and maybe a few deaths that are really murders.
(Sharon Extine 2:13am June 13, 2015)
I like a mix of likeable and unlikeable characters and someone with a quick wit.
(MaryEllen Hanneman 9:59am June 13, 2015)
My favorite ingredients for a cozy mystery are lots of twists
& turns that keep me guessing all the way to the end, multiple
suspects in a whodunit are key as well, roadblocks along the
way keep things interesting too, throw in a little steamy
romance to keep things complicated & fun, & don't forget the
quirky characters or animals to add a few laughs here &
there!!! Can't wait to get my hands on this book!!! Thanks for
the opportunity to win & good luck to all who enter!!!:)
(Andra| Dalton 11:20am June 13, 2015)
Murder,mystery,romance and danger makes a good mystery story
thank you.
(Patricia Venable 9:37pm June 13, 2015)
I like my cozy mystery to have a hero who is truly likeable and is just slightly "above average" so that I can relate! The gal who can eat and eat and never gain an ounce just makes me jealous...
(Flora Presley 10:13pm June 13, 2015)
I love the twist at the end of finding out that the person that you most suspected
is not the real killer
(Diane McMahon 11:53am June 14, 2015)
You have it all, Mystery, Romance, Danger and Murder with
twists & turns that keep you glued to the pages. Love the
recipes too.
(Shirley Sego 2:03pm June 14, 2015)
I love the anticipation of finding out who the real killer is. Thinking to
yourself, who has enough reason and motive to want the person dead. The
greatest twist is when the ending reveals the killer to be someone who you
never thought it would be.
(Trisha Mazzei 2:08pm June 14, 2015)
These are certainly the perfect ingredients for a wonderful cozy mystery! I can't wait to read Murder Freshly Baked!!
(Britney Adams 5:45pm June 14, 2015)
I want humor, suspense, unlikely suspects - just everything to
keep me guessing. And a dog, cat or parrot, really any
critter, can't hurt one bit.
(Dagmar Finch 3:55am June 15, 2015)
I love the excitement of the book always keeps you on your toes!
(Jane Thompson 4:37am June 15, 2015)
I like a snarky sidekick and definitely a dog!
(Nikki Fournier 5:19am June 15, 2015)
I like more than one person who could be the suspect!
(Dianne McVetty 9:15am June 15, 2015)
happy for chance
(Susan Gannon 9:35am June 15, 2015)
I do like more than one suspect - otherwise where is the mystery? :)
Y'all have some really great ideas. Thank you!
(Vannetta Chapman 9:38am June 15, 2015)
weird neighbors , a murder , a good looking stranger in town ,and a 'this and that ' shop .
(Joan Thrasher 10:45am June 15, 2015)
I like murder, danger, romance, multiple suspects, and a complex
storyline with clues I can follow along the way. :)
(Becky R 10:49am June 15, 2015)
Cozy mysteries are my favorite type of mystery. I most
enjoy a cast of quirky characters, some humor, and the main
character having an interesting (unusual?) occupation or
hobby.
(Valerie Stoj 11:16am June 15, 2015)
What a delicious read!
(Lisa Sabatini 11:31am June 15, 2015)
I love lots of suspense in a mystery and also interesting
characters.
(Shirley Younger 12:21pm June 15, 2015)
I like murder ,mystery and romance.Always makes a good read
(Jean Benedict 12:54pm June 15, 2015)
I am a die hard mystery fan. I love a feisty woman to help
solve the crime and a strong silent homicide detective with a
female partner who gives as good as she gets. Lots of intrigue
and drama and a good dose of humor.
(Denise Austin 3:11pm June 15, 2015)
I always like the quirky sidekick.
(Jean Patton 3:22pm June 15, 2015)
I like the pets---dogs, cats, whatever in cozy mysteries.
(Sue Farrell 6:05pm June 15, 2015)
Love a good mystery.
(Charline Bonham 6:11pm June 15, 2015)
Registered users may leave comments.
Log in or register now!