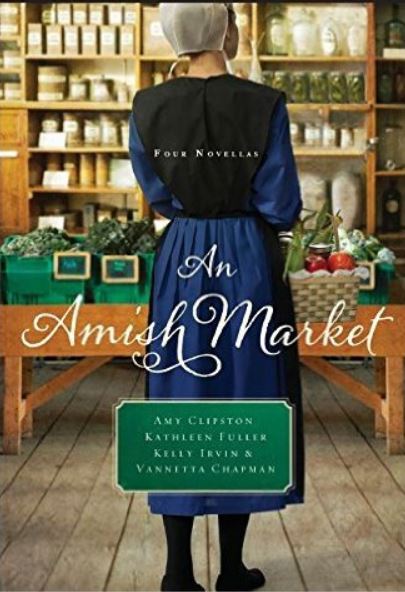 Purchase
Thomas Nelson
February 2016
On Sale: February 2, 2016
416 pages
ISBN: 0529118688
EAN: 9780529118684
Kindle: B010R5RL1I
Paperback / e-Book
Add to Wish List

All the color and variety of a quaint Amish shop in a charming collection of novellas by four of your favorite authors. Feel free to come in and browse!
Love Birds by Amy Clipston
While Ellie Lapp and her mother are still mourning the loss of her brother, Seth, Ellie starts working at one of the gift shops in town. Seth's friend Lloyd is talented at carving wooden birds, but his father disapproves and expects him to take over the family farm someday. Ellie sees the beauty in Lloyd's creations and insists Lloyd sell the birds in the gift shop where she works. As Ellie and Lloyd spend more time together, they begin to develop feelings for one another, but she accidentally betrays his trust. Will she lose any hope of a future with him?
A Bid for Love by Kathleen Fuller
Every week, Hannah Lynne brings her home-churned butter to the local market. And every week Ezra stops by to purchase some. Hannah Lynne knows not to read too much into it—Ezra is a confirmed bachelor and barely even glances her way, despite any hope to the contrary. But when Ezra bids an exorbitant amount to win the quilt she had her heart set on, Hannah Lynne can't stop her heart from taking over her mind. Could Ezra finally be in the market for love?
Sweeter Than Honey by Kelly Irvin
Shattering a jar of pickled beets wasn't the impression Isabella hoped to make on her first trip to the local Combination Store of Bee County, Texas. But as embarrassed as she was by the accident, she didn't think it warranted the frosty reaction from the handsome manager of the store, Will Glick. As she soon learns, though, Will's heart has been broken one too many times. And now, for some reason, Isabella finds herself determined to be the one to repair that broken heart and renew his faith in love.
Love in Store by Vannetta Chapman
Stella Schrock works at the Old Mill in Nappanee, Indiana, with new employee David Stoltzfus, a recent widower. When strange happenings begin occurring around town, it appears as if someone wants to close the mill. Stella and David have to work together to solve the mystery of what is happening at the Old Amish Mill, and in the process they might just find that God has more in store for their future than they would ever have dreamed possible.
Comments
81 comments posted.
Re: An Amish Market

I enjoyed this great post and can't wait to read AN AMISH
MARKET! Thanks so much for the giveaway opportunity!
(Britney Adams 3:38pm February 20, 2016)
Thanks for sharing this great post, Amy! I can't wait to
read AN AMISH MARKET!
(Britney Adams 3:41pm February 20, 2016)
Great advice n a path to make dreams a reality
Thank you for passing on your wisdom
(Amy Lou Binko 4:06pm February 21, 2016)
Enjoyed your post and look forward to reading your book.
(Carol Woodruff 7:17pm February 21, 2016)
What an interesting book! Thanks for sharing your mystery writing tips.
(Bonnie H 8:31pm February 21, 2016)
Love reading your books!
(Ola Norman 8:56pm February 21, 2016)
I think it is so kind of you to share your secrets and hints/tips for others out
there looking to get published. Thank you!
(Lily Shah 11:24am February 22, 2016)
I love all mysteries and would love to win your book. Since I live very close to OH Amish country, I'm sure many things would seem familiar to me.
(Donna Graham 2:43pm February 22, 2016)
What wonderful advice to those who have a story in their
hearts that they want to share with others. I love the
don't give up advice! Amish fiction is my favorite and The
Amish Market looks like a great book.
(Maryann Skaritka 10:09am February 23, 2016)
Thank you for your wonderful insights Vannetta. I
especially love the sprinkling of clues in a mystery book
and I like how you pair the sleuth with someone opposite of
them. I would love to read An Amish Market.
(Maryann Skaritka 10:17am February 23, 2016)
I would love to read this book . I love mysteries and love reading about the Amish people .
(Joan Thrasher 11:35am February 23, 2016)
hmm. should be at least one good story out of the bunch. i usually love collections. a good way to find new authors to follow
(Angela Parrish 11:40am February 23, 2016)
This is a book I would love to read
(Jean Benedict 3:33pm February 23, 2016)
i live around the amish most of the time im here in mo they are some of the best wrer you can find and get to knew only if they want to ilove to read them and lbog on them
(Desiree Reilly 9:35pm February 23, 2016)
I'm so glad I am a read and not a writer. I don't think I
have the brain space to remember all that needs to go into
a mystery. I'm glad Vannetta Chapman is good at writing
them.
(Terrill Rosado 2:32am February 24, 2016)
I would love to read your book! I love learning about different cultures and
people, and I always enjoyed my trips to PA where I learned some bits and
pieces about the Amish lifestyle.
(Lily Shah 12:18pm February 24, 2016)
I just admire authors that can write a good book. I have
read a lot of books and this is one that I would really
enjoy. I love reading Amish books but since I have
watched these little girls of an Amish family grow up
after years of their parents bringing them to the local
farmers market I find that their duties have changed and
that the father now walks around and visits other vendors
while the girls who now are young teens watch and run
their table.
(Peggy Clayton 12:24pm February 24, 2016)
I love mysteries and I love stories about the Amish! What a
great combo!
(Denise Austin 6:39pm February 24, 2016)
To me, true love is the husband who still takes your hand in public after 36 years of marriage, holds you when your world falls apart, finds joy with you spending time on the road with grandchildren driving for days to show them the wonder of our country with infinite patience at the moments that always arise at some point of the trip. Best of all, he's there to snuggle or and/read when we retire each night.
(Sharon Mitchell 3:42am February 26, 2016)
I love Amish stories, I would love to read this one.
(Wilma Frana 9:01am February 26, 2016)
the qualities of "true love" that I consider important? Honesty
and communication are at the top of my list!
(Deanna Stevens 10:51am February 26, 2016)
I think I am a lot like Kelly. True love is not the fireworks and bells when you kiss or get intimate. True Love is that look, that gesture, that gentle touch, that little thing he/she did just for me. Two years ago I broke my wrist and I found the depths of my husband's love it was my right wrist and I am right handed - very right handed. Bless his heart - he really loves me. Five weeks he had to do just about everything for me - did you ever realize it takes two hand to go out and have a steak dinner! The trials of true love.
(Connie Lynch 11:01am February 26, 2016)
true love is honesty and being there for each other no matter what.
(Patricia Wagner 11:08am February 26, 2016)
I think honestly and loyalty are very important in true love, along with respect
for one another.
(Lily Shah 11:15am February 26, 2016)
I think faithfulness, a good sense of humor and
communication are important. My husband has had to hold
my hand when I was in a coma for 2 days and has changed
my bandages over 300 times,yes I counted and got him a
nice steak dinner to celebrate the end of that. Your Tim
is a real keeper Kelly.
(Maryann Skaritka 11:44am February 26, 2016)
To me, it is the husband who determined he was married for life when we had those early years of disagreements getting to know each other. The husband who helped me when diagnosed with RA and trying to get stable on meds - like Kelly,washing my hair. Helping me out of the bathtub. Helping find the specialists I needed when the doctor/surgeon had done the best his knowledge could do. Praying when we didn't know before the surgery if they would find cancer or something else. Those are what romantic love is, showing the Lord's love and grace. Oh that I will have an opportunity to show him more as the years continue - as I know I haven't been nearly as loving as he has!
(Jeanie Dannheim 2:10pm February 26, 2016)
A husband is one who loves you with actions and not just
words. Treasure those little moments as you will miss him
when he is gone. For his prayer card, I found a picture of a
rose he had planted and I had it in my files. I will tell my
daughter, I want the one she took of us walking and holding
hands on my prayer card. I never minded going to the doctors
with him as he did not mind taking me to mine. I have liked
the Amish books. One I have is Amish recipes and I thought
they would be different, but same that we cook and bake as
most religions and cultures.
(Leona Olson 5:08pm February 26, 2016)
Am addition to my remarks. I met him in El Paso, he was at
Fort Bliss and I was at Hotel Dieu for nursing school.
(Leona Olson 5:11pm February 26, 2016)
True love is finding your soul mate. One to love you
through whatever life throws at you. Not just the good
times, but the bad times too. Romance can mean different
things to each of us.
Praying for you Kelly. I enjoyed reading about how Tim has
taken care of you. That's true love!
Love your books!! Thanks for the chance to win. God Bless.
(Donna Taylor 5:35pm February 26, 2016)
True love is tender, patient and kind. It's helping when
you are ill and being fair when you disagree. My husband
is assisting with the care-taking needs of my parents. Now
that's love.
(Sonja Nishimoto 6:20pm February 26, 2016)
True love first begins with God as the center of your home. We gave
ourselves, marriage, home & family to Him years ago. Through many
good times & many trials we didn't foresee, God has kept us together by
His grace. It's not always been easy accepting feelings & opinions that
differ, but we have to believe in our marriage and one another & in the end
work out the differences. Raising a handicapped child with explosive
Behaviors, can throw many rash feelings into the mix, and a couple could
turn against one another while struggling for answers. Thankfully God
allows one to be strong while the other is weak and we support one another
while seeking answers from the God that controls our hearts and homes.
This is just one example of how we've survived this thing called true love.
We love one another unconditionally. Thanks for this opportunity. God
bless.
(Linda Critcher 6:20pm February 26, 2016)
Kelly, your question and your readers' responses are wonderful. I don't think that I could add anything new. The qualities listed reflect my blessed journey with my Husband Bob. June 14th will be our 47th anniversary.
(Joanne Hicks 6:50pm February 26, 2016)
Prom dresses for $30.00? A local dry cleaner takes donated prom, bridal attendant, wedding, and cocktail dresses and cleans each one for free. This fourth year project gathered 2700 wearable dress and sold almost everyone of them. All the money (nearly $81,000) raised will go for counseling of women at Lydia House, a women's shelter. The counseling includes work coaching, living skills and emotional support.
I am proud to live in a city that has a business that cares!
(Joanne Hicks 7:07pm February 26, 2016)
Your sweet story brought tears to my eyes. It sounded just like my late husband, Steve. He was the kindest, most gentle man! I remember when I had gallbladder surgery. I was so sick when I got home. He put me on the couch, made himself a pallet on the floor right in front of the couch in case I needed him, and took care of me. I could go on and on about the great memories I have of his love and devotion to me during our 25 years of marriage. I thank God for my precious memories!
[email protected]
Susan in NC
(Susan Fletcher 7:27pm February 26, 2016)
True love is honesty, caring and respect. My husband is that
and a whole lot more. I'd be lost without him.
(Karen Gervais 9:53am February 27, 2016)
True love is knowing that as long as both of us have breath,
we will be there to care for each other
True love is not having to doubt why he is late getting home.
True love is realizing that only God could have chosen my
perfect mate and that my husband feels the same way.
True love is being proud to be known as his wife. Not because
of wealth or prestige but because he is a truly fine man.l fo
True love is never regretting marrying this man 47 years years
ago and praying that we will have many more years together.
(Connie Saunders 3:09pm February 27, 2016)
True love is wanting to be together and helping each other
through the good and bad times.
(Melissa Basnight 3:56pm February 27, 2016)
Our volunteer fire department has a fish fry and auction each
October and it is a huge event. The Amish ladies in our
community donate a quilt (sometimes two) and they normally
bring $750-$1000. The fish fry/auction is a wonderful way for
our community to show our appreciation for these volunteer
firemen and we appreciate the support that our Amish friends
offer!
(Connie Saunders 5:14pm February 27, 2016)
I really love my local towns farmers market. They do it every Friday during
the season, and I know a part of the profits goes towards things that the
town needs - whether it be for the schools, firefighters, senior center, etc. It's
nice to shop local and know you are giving back.
(Lily Shah 9:02pm February 27, 2016)
I used to go to the farmer's market, but my health prevents me from doing so anymore.
(Wilma Frana 10:43am February 28, 2016)
I've never been to one but it sounds fascinating. :)
(Theresa Norris 11:04am February 28, 2016)
Sounds like a wonderful collection.
(Theresa Norris 11:05am February 28, 2016)
All the commenters above have said what true love is including yourself . I can't say or add anymore than what has already been said . I do believe we all have some wonderful husbands including my own . He is taking care of me right now . I just got home Friday from having gall bladder surgery , and he has been right here to help with all my needs . Kelly , you will be in my prayers . May God Bless You .
(Joan Thrasher 11:59am February 28, 2016)
I haven't been to any of the markets or auctions to raise money for different causes except for pie auctions at my church . The ladies bake pies ,cakes , cookies or cobblers and they are auctioned off with proceeds going to our new church that we are trying to get paid off . I love stories of the Amish people and enjoy reading all that I get my hands on . They are fascinating people and very strong in their beliefs .
(Joan Thrasher 1:14pm February 28, 2016)
Honesty, communication, compatibility are all important aspects of true love. Also consideration and generosity in giving your time, attention, or help to your love.
(Cynthia Powers 5:15pm February 28, 2016)
It wasn't recently, but I used to go to my church's white elephant auction. The money used to go to programs to help young, disadvantaged Catholics to pay for their schooling.
(Cynthia Powers 5:30pm February 28, 2016)
Honesty and loyalty. If he lies or cheats once, he will lie and cheat 100
times so I have to have that. Which, by the way, I do!
(Vicki Hancock 6:11pm February 28, 2016)
The one I always try to buy something from, even if it's a book, is Brenda
Novak's online auction. I even got my Dad, gone now, a book by an author
he liked because he had diabetes. That was what started me buying in
there. He is gone now but I still buy one thing. It's for my Daddy, RIP.
(Vicki Hancock 6:15pm February 28, 2016)
I go to a farmers market that has an Amish couple selling
baked goods. They travel over an hour to set up their stand at
the farmers market. Great Whoopie Pies!
(Karen Gervais 7:19pm February 28, 2016)
I live in along the coast of Washington State and we do not
have an Amish population that I know of. I have heard that
there is a Mennonite community in Eastern WA. So I am
unfamiliar with any Amish markets, but I sure would love to
go to one.
(Terrill Rosado 9:47pm February 28, 2016)
For me true love is sacrifice and service. Of course,
there are many more to add to that, but my love language is
acts of service and it speaks volumes.
(Terrill Rosado 9:51pm February 28, 2016)
I used to live close to an Amis settlement in Minnesota. I love the Amish and their ways. I love any book about the Amish.
(Mary Baker 11:40pm February 28, 2016)
I wouyld love to be entered in the contest. Mary Baker
(Mary Baker 11:42pm February 28, 2016)
I have read a few Amish stories, I enjoy the diversity and looking at things in a different way than how i was raised.
(Darci Paice 12:28pm February 29, 2016)
Just local garage sales, i love them! what a great way to outfit small kids, yourself, collect books, then to free yourself of excess when the time comes.
(Darci Paice 12:31pm February 29, 2016)
I am so sorry you have been fighting such terrible health problems. You are
so lucky to have a truly special man to help you through the days and nights.
For me it is important to have someone who is honorable and has a sense of
humor. It helps a lot when you have the same interests. We will have been
married 44 years in June, and I couldn't have picked a much better soul mate.
It is so important that a couple love and understand each other. It makes the
rough spots in life easier to get through, and makes the good times so much
better.
(Patricia Barraclough 12:43pm February 29, 2016)
Silent auctions are common in our part of the country. Several organizations I
work with and volunteer for have them several times a year to raise funds. Our
church usually has a silent auction during their Fall Festival, as do many of the
other churches in the area.
(Patricia Barraclough 12:47pm February 29, 2016)
I think faithfulness and understanding are 2 of the most
important qualities of true love.
(Sue Farrell 9:30am February 29, 2016)
I always try to attend our local humane society walk for
the animals.
(Sue Farrell 9:34am February 29, 2016)
I would love to win one of your contests.
(Robin Pearson 9:43am February 29, 2016)
A sense of humor, the same values...
(Nancy Ludvik 9:51am February 29, 2016)
Farmers Markets, garage sales, thrift store visits--it's
all good!
(Nancy Ludvik 9:59am February 29, 2016)
Farmers's Markets, garage sales, shopping at thrift stores-
-it's all good!
(Nancy Ludvik 10:00am February 29, 2016)
Wow. With a husband like that you have to write romance. He is
such an inspiration.
(Kelly Erickson 10:28am February 29, 2016)
Mmmmm... Chocolate. I love my local farmers market. So many
wonderful fruits, vegetables, fresh honey, bread and pastries
still warm from the ovens, handicrafts, exotic flowers, kettle
corn, a dizzying array of foods, and so much music.
(Kelly Erickson 10:39am February 29, 2016)
An important component to true love is honesty-openness with your thoughts, your feelings and your beliefs.
(Sharon Karas 11:53am February 29, 2016)
I help out with our library's Friend's of the library's book sales. I help out with the Walk for Life annual garage sale. This year I assisted at the collection site for Christmas Boxes to be sent to children in other lands by the Franklin Graham association.
(Sharon Karas 12:06pm February 29, 2016)
Important values are loyalty, love, understanding and a
wicked good sense of humor.
(Mary McCoy 5:05pm February 29, 2016)
I love our local Farmer's Market.... yummy fresh veggies
and berries
(Mary McCoy 5:09pm February 29, 2016)
I was so happy to hear about a new author of Amish books. I love Amish stories as our family loves to take trips to Lancaster County Pa. almost every year. I am looking forward to finding out more about this series. one of my favorite places to get my spices and herbs is at Shady Maple. Thank you for the chance to win your contest. I would be delighted.
(Cynthia Blain 5:42pm February 29, 2016)
My husband had myasthenia gravis, a neurological disease,
and they do a yearly seminar that includes s silent
auction. I donate some books I win from sites like
FreshFiction. This year I also donated a set of pillowcases
I hand embroidered. We do not have Amish in my area.
(Leona Olson 8:21am March 1, 2016)
The qualities of true love that I consider important are
honesty and compassion.
(Jamie Stein 10:09am March 1, 2016)
My grand-daughter has autism so I support all causes related to
that and also breast cancer.
(Denise Austin 1:23pm March 1, 2016)
I grew up close by the Amish country. We would go to the
Amish Markets often. Can't wait to win this book to read
it.
(Merle Tolin 1:46pm March 1, 2016)
Honesty, loyalty and trust.
(Denise Austin 12:26pm March 2, 2016)
Trust. Without trust one cannot experience true love.
(Amy Morgan 3:24pm March 2, 2016)
True love is when someone loves you no matter what. They accept both the good and the bad. And this person doesn't care what kind of mood you are in, they just love you for you.
(Catherine White 3:46pm March 2, 2016)
That was so well written! I have a husband like yours. On
Aug 7 we will have been married 45 years, & I too have
lots of medical problems. I have had 3 back surgeries
that appear to be failures, I have recently been
diagnosed with thyroid cancer, had it removed, then had
to be isolated from everyone while My radiation pill wore
off. We are done with that finally! Now we are on a
holding pattern. Jake helps me walk, he lifts my legs
when I go to bed, he empties my bedside commode, does all
of the cooking, on top of babysitting our 3 grand
children. We are two very lucky ladies!LOL Can't wait to
read your novels.
(Teresa Miller 4:58pm March 2, 2016)
True love is respecting each other.
Marilyn
(Marilyn Collins 8:24pm March 2, 2016)
honest respect and faith
(Ann Unger 9:26pm March 2, 2016)
its enduring
(Debbi Shaw 10:20pm March 2, 2016)
Registered users may leave comments.
Log in or register now!