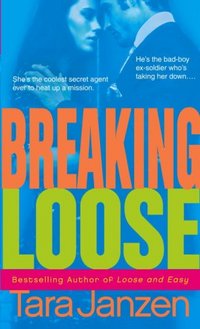 Purchase
Dell
August 2009
On Sale: July 28, 2009
416 pages
ISBN: 0440244706
EAN: 9780440244707
Mass Market Paperback
Add to Wish List

SIN AND DANGER COLLIDE WHEN THE WORLD'S HOTTEST SECRET AGENTS COMPETE FOR THE PRIZE EVERYONE'S LUSTING AFTER….

No one's ever seen it. Everybody wants it. That's why the government has just unleashed its secret weapon. Drop-dead-gorgeous art dealer Suzi Toussi has been tapped for the toughest mission of her career: to locate the Memphis Sphinx, an ancient artifact rumored to possess otherworldly powers. Tracking it to Paraguay means going up against Dax Killian, the sexy special ops agent who's planning to snatch the coveted relic right out of her hot little hands. If he can find it first…

Dax first spotted her outside a seedy bar—in three-inch heels and a too-tight dress. He'd know those curves anywhere. But what was Suzi doing in a hellhole like Ciudad del Este? Dax knows the answer: the Sphinx. Suddenly the game is on—and only one of them will walk away with the prize. With the Sphinx surfacing and passion taking Suzi and Dax under, they're headed for a showdown that could reveal the secrets of the ages…or expose them to the hottest danger of all.
Comments
48 comments posted.
Re: Breaking Loose

One thing I love about romance novels is the interaction between the main characters and not just the obvious big gestures that land them in bed. I like the verbal sparring, the stolen glances, the accidental touches - all of the subtle beats in their songs of love.
Margay
(Margay Roberge 12:34pm August 13, 2009)
I've only recently read some romance novels. For a long time, I thought they were a waste of time, but some friends convinced me, and I have been happily surprised. I'd love to win your book in the contest today.
(Christine Zibas 1:45am August 13, 2009)
I love romances, but I never could have written one: I just don't have the necessary creative juices. My mind is too logical and goes more along the lines of sentence structure, grammar and vocabulary. And, yes, I'm a word for word reader because I love words and their meanings. No touching on a few words in a sentence to get the main points of the sentence.
(Sigrun Schulz 1:56am August 13, 2009)
I love all books in all subjects I feel the more the BETTER!!!! Thanks for this chance to win I love your books my Dear.

Shawna Lewis
weloveourdogs@juno.com
(Shawna Lewis 2:24am August 13, 2009)
HOLDEN FJ: his name was Billy - it still is I suppose. Young love is like body armor nothing else penetrates.
(Mary Preston 3:21am August 13, 2009)
okay, sweeties, we're all up pretty darn late!! Margay, you are sooo right - all the really hot stuff is in the build up. I thought about that when I read the blog again, and a lot of that stuff, the heartbreaking "I'm so in love and don't know what to do next" stuff does take place in a car in BREAKING LOOSE. I've got a particular scene in mind - just tore me up writing it.
(Tara Janzen 3:41am August 13, 2009)
Dear Christine - welcome to the fold! I remember my first romance novel, a Harlequin Presents by Anne Mather - it changed my life. I read it, entranced, and thought "Gee, if people want to read stories like this, I could be a writer, because I would love to write stories like this one." Good luck to you and everyone in the contest!
(Tara Janzen 3:46am August 13, 2009)
For Sigrun, a word I love - chatoyant. I used it in THE CHALICE AND THE BLADE, written as Glenna McReynolds. A special hug for Shawna, for loving the Crazy/Loose books - you're a real number 8 on the list :-) and gee, Mary, was that an FJ Cruiser?? Inquiring minds want to know!
(Tara Janzen 3:52am August 13, 2009)
I do a lot of reading in my profession and absolutely love being swept up in a good romance whenever I get the chance. The longing, the wondering, the heat...all of it is wonderful!
(Michelle Howell-Martin 6:15am August 13, 2009)
I think it must be great to be able to work wherever you want but you would have to be very organized to get all your work done when you're an author.
(Maureen Emmons 6:19am August 13, 2009)
Just the image of writing a romance novel naked is intriguing!!!
(Joanne Reynolds 6:36am August 13, 2009)
I love a good romance novel and if I can eat chocolate, something with raspberry, all the better. Thanks for the chance to win.
(Debra Czarnogursky 7:26am August 13, 2009)
Sounds like eight great reasons to read your books!
Thanks!
Marajorie
(Marjorie Carmony 7:27am August 13, 2009)
Good morning Tara!
My idea of a perfect romance novel is one with believable characters, a little action/ adventure, a touch of humor, great 'chemistry' between the characters, and secondary characters interesting enough in insure there are no down times in the book. Wait! I just described your books! Can't wait to read Breaking Loose. It sure sounds like you got it right again!
(Kara Conrad 8:01am August 13, 2009)
Dodge Viper, I've always wanted one. Don't know if they'd be good for getting it on in though. Maybe a Hummer, a guy with one would be super sexy and there's probably enough room in one of those. Not that I would know anything about that. LOL

Deidre
(Deidre Durance 8:20am August 13, 2009)
I recall an incident in my agile youth involving a basketball player and a VW bug. Now I can't get into a Bug. LOL. It must be great to work in your jammies.
(Mare Fairchild 9:45am August 13, 2009)
I'm no writer but agree with all Eight Great Things About Being A Romance Writer. Hot Guys and Chocolate YUM!!! 1975 Doge Dart Sport and 1976 Chevy Nova Coupe(I remember them well) LOL
(Jeanette Bowman 9:56am August 13, 2009)
I love reading romance. It is a great way to relax, especially with that lovely Toblerone that I keep hidden just for me!
(Sharla Long 9:58am August 13, 2009)
After a busy day, it is great to know that I can settle down with a great romance and if I can have any type of chocolate with it I'm in heaven! By the way your new book sounds great.
(Rosemary Krejsa 10:15am August 13, 2009)
OMG! As the memories sweep over me, I'm remembering all the panting, petting, sweating, and heavy breathing in a '57 Chevy convertible! ;)
(DeeAnn Szymanski 10:40am August 13, 2009)
I love the Crazy books....the fast pace, the crazy sex, the smart sassy women and kick ass heros. I truly loved your Glenna McReynolds books and was SO thrilled when you came out with the crazy series...and I say give us more sex in cars, lol!! I love it, and the cars....
(Melissa Bradley 10:41am August 13, 2009)
Tara-

How funny! I e-mailed another author earlier in the week saying Anne Mather was my favorite Harlequin author. I remember reading my first Harlequin Presents, which was written by her way, way back in the day and being shocked by how spicy it was. Oh mama, how things have changed from that one sex scene between a couple married for convenience which would be considered PG-13 now. Love the series, but liked the covers for Cutting Loose and On the Loose better than the earlier and later ones. Why did they not stick with the more real life look?
(Anne Muller 10:53am August 13, 2009)
I love reading romances! I like everything about them, but I specially like when you feel that the hero and heroine are meant to be together and that they share a special connection. Love your books Tara, and your yummy heroes! :o)
(Julia Blanco 11:00am August 13, 2009)
Malted Milk chocolate bars.
Tried to buy one for my sister, knowing they were HER faves too, and found out they were discontinued years ago! Head Office tried telling me they were discontinued 20+ years ago, but I'm thinking I had one around 5 years ago. Talk about "time flying"! I guess I don't eat chocolate bars often enough!
Thanks for offering the contest and good luck with your book(s)!
(Elaine Seymour 11:02am August 13, 2009)
This a book that not only I would read but my husband would too. Sounds like a book that once you pick it up, you can't put it down.
(Evelyn Day 12:12pm August 13, 2009)
I personally love Romantic Suspense. That's just what I prefer to read. I would love to write - in my fantasies I'm a writer - but in reality... Oh, and, 1992 Pontiac Sunbird.
(Kelli Jo Calvert 1:07pm August 13, 2009)
My daughter and I have all of your books and absolutely can not wait for Breading Loose. There is nothing like a good romance novel with a little mystery thrown in. Way to go !
(Elizabeth Parzino 1:11pm August 13, 2009)
Milky Way
(Cheryl Snyder 1:18pm August 13, 2009)
What I love the most about romance novels is all the destinations you can visit without spending a fortune. My favorite car of all time is a 1970 Camaro for the year I was born. Have a great day.
(Roberta Harwell 1:27pm August 13, 2009)
You all know I'm grinning :-) thanks for all inside scoop, girls - inside the car scoops! Mmmm, a Malted Milk chocolate bar - oh, gosh, I wish. I used to be able to get dark chocolate covered malted milk balls, but can't find them anymore. and Anne, about those covers - you can tell they tried a few things with the covers, and the ones that were published weren't the original ones they had for HOT and COOL. Those were really awesome, and now I wished they'd stuck with them. We got to see Quinn reflected in a rearview mirror.
(Tara Janzen 1:38pm August 13, 2009)
I love romances! A good romance is one that gives me naughty thoughts which can enhance the hanky panky. By the way a favorite car 64 Mustang.
(Theresa Buckholtz 3:02pm August 13, 2009)
I love your books, Tara. I would love to have a Maybach.
(Jane Cheung 3:04pm August 13, 2009)
I really like the cars in your books, sex and all.
(Anne Jones 3:06pm August 13, 2009)
I love your stories, Tara, and the mental and physical strength you give your characters. You've made great matches for your team and I love how the romance unfolds for each of them.
(Cathy MacDonald 4:01pm August 13, 2009)
Wow! - thanks, a bunch of 8's in a row. And a big grin for Theresa - one time I got a letter from a reader, who after reading a Christian and Katya love scene in CRAZY COOL, put the kids to bed and dragged her hubby out to the minivan :-) I LOVED that letter :-)
(Tara Janzen 4:53pm August 13, 2009)
Hmmm. A great big, 1960's era Dodge or Ford of some sort. (This WAS 30-something years ago, so that's the best I can do!) The type of car that nowadays, I would categorize as "an aircraft carrier," based on it's relation in size to my 2004 Honda Civic (which has seem a bit of action itself!). I tend to put cars bigger than mine in the following size groups: tanks, aircraft carriers, and Urban Assault Vehicles (aka SUVs). My chocolate? as dark as possible without being unsweetened. The darkest I've ever had: 88%, and almost as smooth as 21-year-old Glen Turret Scotch whisky. Oh, my.

Later,

Lynn
(Lynn Rettig 5:36pm August 13, 2009)
Confession - Lynn, I've done it. I have eaten unsweetened chocolate to assuage my addiction. And OMG 88% - wow.
(Tara Janzen 8:09pm August 13, 2009)
I love romance books and when you put a funny side to it, they're even better
(Diane Sadler 8:27pm August 13, 2009)
Love snickers bars! And i absolutely ADORE the Steele Street guys and girls! Not to mention the cars. Keep them stories coming.
(Martha Lawson 9:28pm August 13, 2009)
I love romance books that make you laugh out loud, they can make a bad day so much better.
(Sherry Strode 10:36pm August 13, 2009)
I agree chocolate smoothes over everything even romance gone wrong.
(Alyson Widen 10:45pm August 13, 2009)
I like romances because they afford
escape from our humdrum lives. We
can't go back in time and be with
those highlanders, knights, pirates,
cowboys, or whatever. We can't chase
criminals or deal with vampires and
shape shifters. We can certainly enjoy
being there vicariously and get to meet
wonderful characters while we're
there.
So to all you romance writers, thank
you and keep up the good work!
(Patricia Barraclough 10:48pm August 13, 2009)
Chocolate is the food of the gods!!! Romance books with strong kick-ass females and super sexy bad boys are a sweet topper for the chocolate experience!!!!!!
(Audra Holtwick 11:00am August 14, 2009)
You have got it all. Romance, in all forms imagined. WOW...it sure cant get any better than that. You Rock.
Thanks for being there for us with less imaginations...you are greatly needed.
(Shirley Sego 12:15pm August 14, 2009)
Thanks, my dear 8's :-)I have always said that at most I can only do half of the work. I can write the book. But it doesn't come to life until a reader reads it. That's the connection we make - that's what we share -- and I'm so glad to be sharing it all with you!!
(Tara Janzen 4:49pm August 14, 2009)
Oh, my, I'm remembering a '60 Dodge Dart, the one with the fins and big as a battleship! Well, it had a very nice bench seat! (blush) That was soooo long ago, and I'm about to celebrate 43 years of marriage to the man who made love to me there
I doubt if either one of us could manage that today . . .
I'm also a romance writer who loves chocolate, the darker the better. And I've been known to write in my jammies, in shorts and t-shirts, or whatever is handy.
I remember meeting Cherry Adair and her darling hubby, David, who proudly told of his wife's work ethic. She is up, dressed with makeup --and even earrings!-- by 8:00 each morning, at the computer and puts in a full day of writing six days a week. I tried it once after meeting her, but the earrings and mascara (blink, blink) were too distracting and I couldn't write a word.
(Sherry Weddle 6:36pm August 15, 2009)
I remember romance in a Corvette in my younger years! Wow! It was challenging! Keep on with the cars and sex books, Please! Love them and have them all on my bookshelf.Love the Steele Street Gang.
(Emi Kingsnorth 9:11pm August 15, 2009)
I so enjoy romance books where I get to know the characters and look forward to the next new issue! I've been reading romance since high school (which helped shape my criteria for a husband!) and have thoroughly enjoyed your books since Chapter 1, Book 1. My cowboy husband indulges me with chocolates, flowers, and arcaic gallentry - and I love it! Hot, steamy scenes, strong fearless men, and smart sexy women. I love reading about it and live my life the same way. Best wishes to Tara Janzen and family. Oh, btw, crew cab pick-up trucks, babe... yeehaw!
(Mika Temple 2:04pm August 22, 2009)
Registered users may leave comments.
Log in or register now!