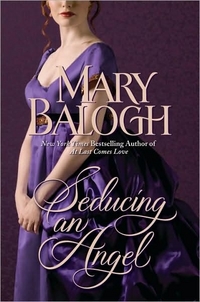 Purchase
Stephen's story
Huxtables #4
Dell
May 2009
On Sale: May 19, 2009
Featuring: Cassandra, Lady Paget; Stephen Huxtable
352 pages
ISBN: 0385341059
EAN: 9780385341059
Hardcover
Add to Wish List

A multiple New York Times hardcover bestselling author with nearly seven million copies of her books sold, Mary Balogh confirms her position as "a veritable treasure, a matchless storyteller who makes our hearts melt with delight" (Romantic Times). In Seducing An Angel, she continues the adventures begun with First Comes Marriage, Then Comes Seduction, and At Last Comes Love.
Banished, destitute, and labeled a murderess, Cassandra, Lady Paget, arrives in Regency London determined to overcome the reputation that has preceded her and to find a wealthy gentleman who can restore her to the extravagant life to which she's grown accustomed. She sets her sights on Stephen, Earl of Merton – an angelic-looking man of means who surely cannot resist her. Intrigued by Cassandra's charm, Stephen agrees to make her his mistress.
But despite his looks and easy charm, Stephen is no angel, and Cassandra soon realizes that there is a price to be paid for trying to tempt one.
Huxtables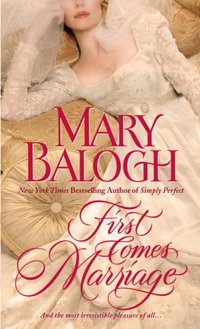 First Comes Marriage
#1.0
Amazon.com | BN.com | | |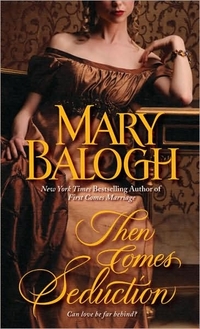 Then Comes Seduction
#2.0
Amazon.com | BN.com | | |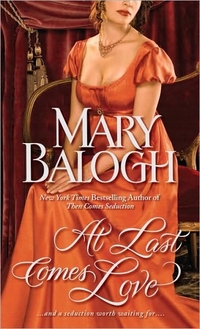 At Last Comes Love
#3.0
Amazon.com | BN.com | | |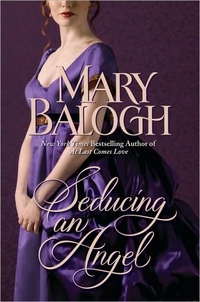 Seducing an Angel
#4.0
Amazon.com | BN.com | | |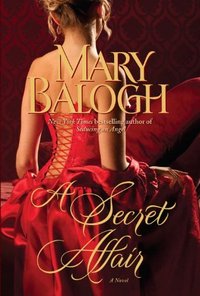 A Secret Affair
#5.0
Amazon.com | BN.com | | |
Comments
46 comments posted.
Somehow I've missed this series -- will have to rectify that immediately!! I loved the 'simply' and 'slightly' series - these are going to be just as good.
(Sandy Haber 5:28pm May 2, 2009)
Well said, Mary! Your novels
are about realistic characters
that I can relate to--no
matter the era. We all have a
need to be understood, fully
known, and loved in spite of
our shortcomings. It's a sad
thing that brutal, depressing,
bloodthirsty works of fiction
get more respect than those
that uplift and give hope.
Thank you, Mary, for giving us
beautiful alternatives.
(Lisa Perkis 11:24am June 22, 2009)
Hi Mary! I love your books! I'm a librarian in my small town and I've introduced "my ladies" to you and they all love you, too. Can't your books fast enough!! You really brighten our days with your books. Hope to read many more.
(Martha Lawson 12:07pm June 23, 2009)
Hello Mary Balogh!! :) Such a huge fan..the Bedwyn's created a love of series' for me that hasn't stopped since! Although, "Simply Dangerous" is reread at least once every two or three months. LOVE IT!!

Your books are always enlightening, true to real life and show real emotion. Please keep up the great work that you do and much appreciation from this happy reader to you :)
(Beverly Bennett 1:27am June 23, 2009)
I read many of you books and i hope to read many more I love the way you get them to fall in love and work it out and how they are going to see if each other loves the other one.cant wait to read your next [email protected]
(Stacey Smith 2:53am June 23, 2009)
Hello Mary,
That's so true about the need to love ourselves. It's wonderful to see that happen to characters who seemed unable to do that when we first meet them. Thank you for giving us some fantastic stories to enjoy.
(Leslie Gladnick 3:07am June 23, 2009)
Hi Mary,
I bow down to your greatness! I love your books for the exact reasons that you wrote about in this post. Love is so much more than romance. I have really enjoyed this new series and can't wait for Taming the Devil! Is there a reason why Angel and Devil are being released in HC when the others were PB?
(Carrie Divine 7:49am June 23, 2009)
Thank you all for the comments.
Carrie, that is a question I get asked a
lot--why are the last two books of the
quintet in hardcover? Actually, the
more relevant question would be why
the first three were in paperback. For
the last few years Dell has been
publishing me in hardcover first and
then paper a year later. But because I
was ahead of myself when this quintet
was planned and was willing to work
even harder for a while, I suggested
that the first three books be published
one after the other in paperback
before the usual routine resumed. Dell
was willing, but then they decided to
publish SEDUCING AN ANGEL in
hardcover RIGHT after the first three. I
had to put motors on my wrists to get
four books written in time! I am just
coming up to the three-quarter mark
on the writing of TAMING THE DEVIL.
(Mary Balogh 10:01am June 23, 2009)
Nice post. The section on liking and loving oneself is especially up-lifting.
(G S Moch 10:33am June 23, 2009)
Golly, I love your books.
Probably most of all because
you do write about love. The
kind of emotion that
transforms people and their
lives.

I am trying so hard not to
make a fool of myself here,
but oh well. Hardcover, paper,
I don't care. I love your
writing and the stories you
tell. Thank you very much!
(Carolyn Jewel 10:39am June 23, 2009)
I've only recently begun reading your books, because everyone recommended them so highly. I'm not sure what took me so long! Of the ones I've read so far, A Summer to Remember and Simply Perfect are my favorites. Both are, as you describe, love stories more than romances. Thanks for making that distinction, because it helps me articulate a reason for my own preference as a reader for mature characters with long story arcs. I've had both romance and love in my life, together and separately, and learned to value real love.

Thanks for your wonderful books!
(Juli McDermott 11:20am June 23, 2009)
And I like "love stories" much more than the "trashy romance" novels. I love being in love and your books help reinforce my relationship. Even though most are not set in current day, we all have issues with our relationships and remembering how much I love my husband comes out when reading "love stories."

Thank you for your books...I love being able to lose myself in your writing. Great blog.
(Elisa Abner-Taschwer 11:29am June 23, 2009)
Hi Mary, I am a great fan of your books and I am waiting for At last comes love and Seducing an Angel to come my way. I have enjoyed reading your books and I cannot wait to order Con's story...
(Kathleen O'Donnell 12:13pm June 23, 2009)
I have been a long-time fan of Mary Balogh and Mary Balogh's books. I am most anxious to get to Con's story as he is neither devil nor angel -- just a very interesting, enigmatic gentleman.

Thank you so much for all the many hours of pleasure you have give me with your wonderful stories...
(Betty Cox 12:17pm June 23, 2009)
I hear people saying things like "I LOVE chocolate" or "I LOVE Fridays" and I remember my grandfather saying that love and hate are strong emotions. If you say you LOVE (or HATE) everything, what word do you use when you really mean it?
(Karin Tillotson 12:32pm June 23, 2009)
Yes, it's funny, isn't it, that love is one of the most used and least understood words in the English language. But that very fact perhaps proves how very much love pervades our
lives in all its many guises, both trivial and profound. And finding the right word for its most profound manifestation is impossible because love transcends language and,
therefore, definition. It's frustrating, but it inspires our poetry and our religions and our souls. Oh, and my stories!
(Mary Balogh 12:46pm June 23, 2009)
I really enjoyed reading this article, and your books always touch my heart. I just picked up a copy of FIRST COMES MARRIAGE,and I am looking forward to reading the rest of this series.
(Cheryl Castings 12:47pm June 23, 2009)
Hi Mary,

Great post and so very true. I am a firm believer that we must love ourselves before we can expect others to love us.

I never met a book of yours that I didn't like and I have several (ok,,,lots) of your books on my TBR shelf including the first 3 books in this series. Could really use this book to add to my collection! LOL
(Karen Haas 1:00pm June 23, 2009)
Hello Mary. I love your books and have many of them on my keeper shelf! Very much looking forward to your new book and am so happy you came here today to talk about it.
(Jody Faltys 1:05pm June 23, 2009)
I wholeheartedly agree. And I'm happy that you made the differentiation between loving oneself and narcissism. Once one understands that to love ourselves isn't automatically narcissistic, it makes the process so much easier!
(Margay Roberge 1:05pm June 23, 2009)
I love "love stories" - they usually make me cry if I can feel their love!
(Kelli Jo Calvert 1:12pm June 23, 2009)
I suppose that Will Shakespeare had the right of it in: "Silence is the perfectest herald of joy: I were but little happy, if I could say how much." -Much Ado about Nothing. Act ii. Sc. 1. A particularly daunting thought for a writer. What I have always loved about Mary Balogh's book have been that sentiment - she makes me feel the love in the silences between her characters (I almost wrote 'people'.)
(Jane Halsall 1:55pm June 23, 2009)
Ah, a very timely comment. And what a glorious thing to say: "She makes me feel the love in the silences between her characters." In today's quota of the new book
(Constantine's story) that I have just finished writing, Con and his heroine have been sharing silence. She has been teaching him that most silences are not truly silent (and
would be undesirable, even frightening, if they were) but are filled with birdsong and insect chirpings and the rustling of leaves and grass and the distant mooing of cows,
etc. (assuming one is in the outdoors and in the countryside as they are, of course). And it becomes an eureka moment in their love story.
(Mary Balogh 2:09pm June 23, 2009)
Hello!

I was just wondering what your
thoughts are on reality shows
that have married couples or
people trying to find love
within them. Do you think that
being in a reality show gives
them an unrealistic view of
relationship? In your books
what is one thing that needs
to be in a relationship for it
to survive?
(Mallori Stoedter 2:14pm June 23, 2009)
One of the things that makes love separate from romance is the very fact that love takes many forms. Not only for a particular man and woman, but also for children and other family members, country, etc. There is also the fact that there are many articles on how to bring romance back into a relationship, but very few about how to love!
(Carol Gowett 2:27pm June 23, 2009)
Romance is definitely important but only one part of love. Love is such a complicated emotion and I think it's amazing what people are willing to do for those they love.
(Maureen Emmons 2:41pm June 23, 2009)
Beautiful definitions, and ones with which your stories can easily be identified. I especially like the order in which the three basic needs related to love are given. I can remember thinking, "Allow me to love you" before "Love me."
(Melissa Renner 2:55pm June 23, 2009)
What lovely comments everyone is making. Thank you. And Mallori. I never watch reality shows, or much else on television for that matter except Jeopardy and some sports.
So I am not qualified to comment. It's hard to narrow down the requirements for an enduring relationship to one predominant one, but since you are twisting my arm to do
just that, I would have to say trust. And I don't mean just trusting each other not to have affairs on the side. I mean the total trust that allows each partner to bare their soul
and know they will be understood, sympathized with, helped, and accepted. The sort of trust in which you can fall backward into the other's arms and know beyond a shadow
of a doubt that you will be caught and not end up on the floor with a cracked skull.
(Mary Balogh 3:51pm June 23, 2009)
Hello Mary,

Thank you for helping people understand the many different definitions of love. Plus, that loving oneself is not wrong. Have a great day.
(Roberta Harwell 3:54pm June 23, 2009)
Hi Mary! Thank you for posting such beautiful, inspiring comments and for introducing some of your old fans to the new world of Fresh Fiction! I am currently reading FIRST COMES MARRIAGE and it's wonderful!

Larry
aka
Carol Storm

www.carol63storm.blogspot.com
(Larry Rogers 3:57pm June 23, 2009)
Hi Mary!

I know what you mean. When I tell people I read a lot, they're already looking at me as if I'm weird. But when I tell them I read romance novels... Then I'm not weird but an idiot! :(
I never understood why. Love is so important in our loves. Everyone wants to love someone special and wants to be loved in return...
(Stefanie Deplancke 4:07pm June 23, 2009)
Stefanie, tell people you read love stories--"you know, like PRIDE AND PREJUDICE or THE NOTEBOOK." People take Jane Austen seriously and male writers of love stories,
especially the ones with unhappy endings. That makes them gritty and REAL!! And of course, they never end up in the romance section of a bookstore but in the real fiction
section. But if we line up with books like that, some people who never read romance will get the message. "Oh, LOVE stories!" As if they had never made the connection
between love and romance.
(Mary Balogh 4:15pm June 23, 2009)
Mary, I hear your name spoken with reverence in my writing chapter! Your books hold up to rereading, and they don't go out of style.
I agree with you on the three needs, and if you are missing #3, not able to love yourself, then you won't be able to be in a mature love relationship.
Keep up the good work! I am trying to visualize the motors on your wrists! I could use them :-)
Sherry
(Sherry Weddle 4:40pm June 23, 2009)
Mary, I've been reading your books for more years than I care to remember. The stories make me smile and ,also,shed a few tears. Love seems to be in short supply these days. We needed to be reminded that it does exist. Thank you.
(Rosemary Krejsa 5:15pm June 23, 2009)
Like they say, you have to love yourself first before you can truly love another!
(LuAnn Morgan 5:24pm June 23, 2009)
Well said Mary, I love the why you define romance and love. You are so right. I have never heard it put like that but it is oh so true. I love reading your books, so please put me in the drawing.
(Gail Hurt 10:11pm June 23, 2009)
Mary, I love you books and can't wait to read the last two books in the Huxtable series.
(Amanda Jenkins 10:33pm June 23, 2009)
Very good piece. Nice explanation of
the differences between romance and
love. Romance can be there, you can
enjoy it and appreciate it, but it won't
necessarily lead to love. A loving
relationship will survive the occasional
lack of romance because it goes much
deeper. Have enjoyed your books and
recommend them to our library
patrons when they are looking for
good "romance" books. I know they
will get more than they expected.
(Patricia Barraclough 11:17pm June 23, 2009)
Mary, I have to say that your stories are very refreshing in that there is so much growth in your characters. I can see each pairing complement each other more and more as the story continues. Thank you for sharing true love stories!
(Kate McDermott 11:20pm June 23, 2009)
This was harder work than anticipated but worth it to comment. I've enjoyed reading and re reading most of your books and will remember your thoughts about love and romance the next time I read one of your books.
PS Fresh Fiction I'm not rejecting getting your newsletter while signing up because I already do get it.
(Ann Dahl 11:26pm June 23, 2009)
I am turning off for tonight--will check again in the morning. But thank you all for your responses and comments. This has been interesting. Good luck to all in the book
draw!
(Mary Balogh 11:41pm June 23, 2009)
Thanks so much, Mary, for the meaningful explanation of what love is and how it differs from romance. I've always believed that there is a big difference between the two but have never been able to put it into words. Unfortunately, I believe that many people confuse the two concepts and that that is the reason we have so many divorces. We are in love with romance instead of really loving and accepting someone, including ourselves--warts and all--and wanting only what is best for them.

I'm truly grateful that you have chosen to write love stories and not just romances.
(Sigrun Schulz 12:36pm June 24, 2009)
Thanks for your wonderful books!
They make reading enjoyable. You Interest and Romance together into refreshing stories to be enjoyed so very much. Life is Good. Thank You
(Shirley Sego 9:11am June 27, 2009)
You are truly one of my favorite authors... thanks so much for the wonderful books that you have shared with us through the years!
(Colleen Conklin 2:18pm June 27, 2009)
I have a online bookstore and have read lots of your books before I put them out there for sale.. you have given me plenty of hours of great reading.. And you are right we must like us before we know what others feel..
(Dona West 12:13pm June 28, 2009)
You know, someday I might remember to look through the blog postings for the week before I go off and jump into Saturday's with both feet firmly implanted in mouth, so to speak. Sara Reyes blogged on "Have I read this before?", and of course, I just HAD to comment, using your latest series as my example (in a very good way, natch!). My closing line? "Now if she'd only write Constantine's story! Sigh ..." Oh, well. My apologies, for leaping before looking. I just finished reading the Huxtable series, and yes, I did read it out of order (3, 1, 4, 2), but that just happened to be the way I ended up purchasing it. I will also admit that after finishing Katherine's story, I went and re-read Margaret's story, and would have re-read Vanessa's except for the fact that I've already loaned it to my girlfriend/reading partner. Guess I'll have to make do with a re-read of Stephen's story, instead!

Later,

Lynn

P. S.: Do you know WHEN Con's story is due out? lynn
(Lynn Rettig 2:26pm June 28, 2009)
Registered users may leave comments.
Log in or register now!