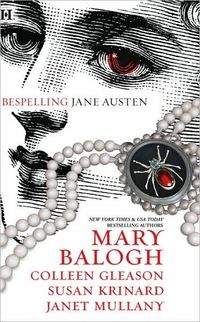 Purchase
HQN Books
October 2010
On Sale: October 1, 2010
384 pages
ISBN: 0373775016
EAN: 9780373775019
Paperback
Add to Wish List

"But even if the whole world was against them, it would not matter. They were together - again. And this time they would remain together. Until death do them part and, of course, long after that."
What if Jane Austen had believed in reincarnation and vampires? Join four bestselling romance authors as they channel the wit and wisdom of Jane Austen in BESPELLING JANE AUSTEN with New York Times and USA Today bestselling authors Mary Balogh, Susan Krinard, Colleen Gleason and Janet Mullany re-imagine the stories of one of the most beloved writers in English literature...but, this time, with most decidedly paranormal bent.
In ALMOST PERSUADED, New York Times bestselling author Mary Balogh brings together former lovers Robert and Jane from Austen's Persuasion. In this version of the Regency classic, the two paramours are allowed glimpses beyond the veil of forgetfulness that applies to most humans when they are reborn into a new human life. They came so very close toe ending up together in their last lives. This time they are determined to be together forever.
Based on Austen's Northanger Hall, Carloine's obsession with gothic novels winds up serving her in good stead for a lifetime of searching out destroying the undead with her new found beau, Thaddeus, in NORTHANGER CASTLE by Colleen Gleason.
In BLOOD AND PREJUDICE, Liz Bennett joins Mr. Darcy in modern-day New York to help him in his hunt for a cure to his vampire curse in New York Times bestselling author Susan Krinard's supernatural version of the Austen classic, Pride and Prejudice.
Janet Mullaney recasts the title character in Jane Austen's Emma as a witch in contemporary Washington D.C. who runs a paranormal dating service. But when a rival agency enters the picture she must enlist the aid of her wizard boyfriend to fend them off in LITTLE TO HEX HER.
Comments
No comments posted.

Registered users may leave comments.
Log in or register now!