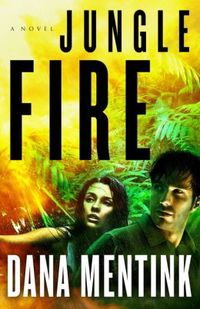 Purchase
River North
June 2013
On Sale: June 15, 2013
Featuring: Nina Truman
286 pages
ISBN: 0802405940
EAN: 9780802405944
Kindle: B00BUP1BRA
Paperback / e-Book
Add to Wish List

The deadliest animal in the jungle is the two legged kind.
Nina Truman is a missionary nurse, serving in a tiny Guatemalan town not far from the Mexican border. It's a fulfilling life, tending to the village poor, a way to serve in the country from which she was adopted. The day she leaves on furlough, is the day her life falls apart. Her bus is ambushed and she must flee from forces who inexplicably wish her dead. Trapped between a ruthless drug lord and his assassins, a corrupt police chief, and colleagues with ulterior motives, her friends may prove just as deadly as her enemies as she uncovers a plot tangled deep in the roots of her own past.
Nina's only hope of survival lies in the hands of Shaw Wilder, a man who despises missionaries and the God they serve. His skill is in handling a landmine detection dog, not helping a woman he blames for the death of his sister. When the lethal drug kingpin El Escorpion seeks to capture Nina, and the local police are no help, Shaw has to choose: flee into the Guatemalan jungle with a naive woman who has vowed never to take a life or follow his own spiritual demons and walk away. His choice may leave them both imprisoned in a jungle from which neither will escape.
Comments
41 comments posted.
Re: Jungle Fire

I LIKE ALL I DONT HAVE A PREFERENCE ON CITY,TOWN OR EXOTIC
SETTINGS AS LONG AS THE STORY IS GOOD
(Denise Smith 8:10am July 10, 2013)
I can delve into any setting, but Middle Earth and
Westeros have to be my favorite.
(Carla Carlson 8:32am July 10, 2013)
I enjoy s locale that is a charming town.
(Sharon Berger 9:08am July 10, 2013)
It's no offense to you, but the books that I've read have been centered around a small town. I haven't read any books that have to do with a jungle setting, or remote area. Yours would be the first. I suppose that's because it keeps me in a "comfort zone." I would love to read your book, however, because it does sound interesting, and I would love to shake up my Summer reading a little bit this year. The cover is quite striking, too!! Congratulations on your latest book!!
(Peggy Roberson 9:28am July 10, 2013)
I like a variety of books with all sorts of settings. I love new and exciting lands - where I can travel there in my mind at least and learn some new facts. However, I also love books set in small towns where you get to know an entire host of characters. Variety is the spice of life - and book reading. Your book sounds wonderful. Thanks for a chance to win. Best of luck with your book and all your endeavors.
(Nancy Reynolds 10:01am July 10, 2013)
I like Europe! I love Anna and the French Kiss... It works out so well with the book. :)

Congrats on your book!
(May Pau 10:10am July 10, 2013)
You know,in my younger days, I devoured every cozy mystery I could find. All those small town settings were fascinating because they were so different than my city/suburban life. I guess I just plain like any setting as long as it transports me somewhere different. ☺

Thank you for the well wishes and comments!
(Dana Mentink 10:12am July 10, 2013)
Oh I love the variety out there... one moment your exploring a rain forest... the next on a beach on some carribean location... then you could be out at a snowy mountain lodge... so many interesting places to visit between the pages of a book!
(Colleen Conklin 12:55pm July 10, 2013)
I love any really good story, but if the setting is exotic or unfamiliar I'm drawn to it because I love to learn about new places and cultures.
(Irene Menge 1:26pm July 10, 2013)
That's why fiction is so great, isn't it? ☺
(Dana Mentink 2:08pm July 10, 2013)
I am so looing forward to reading your book!
(Lyn Johnson 2:32pm July 10, 2013)
Your book sounds so interesting that I really look forward to book. Enjoy all settings. Expect this book to really climb the charts for being a best seller. Congrats and continue with such enjoyable reads.
(Shirley Sego 3:26pm July 10, 2013)
Awww. Everyone is so sweet here! Thank you for the kind words. You all are the best! ☺
(Dana Mentink 3:29pm July 10, 2013)
To me the setting doesn't matter as long as the book is a good
read. Your book sounds intense and intriguing. I'm sure it's a
great book.
Barbara Thompson
barbmaci61(at)yahoo(dot)com
(Barbara Thompson 3:51pm July 10, 2013)
I love exotic settings!
(Lazydrag0n Puff 4:06pm July 10, 2013)
I like a variety of settings. If the characters and story are interesting, I'm on
board. Your book sounds like a great read! Thanks for the giveaway!
(Linda Brennan 4:49pm July 10, 2013)
No favorite settings - books are a wonderful way to armchair travel.
(Mary C 5:54pm July 10, 2013)
Your Jungle Fire book sounds like a very exciting, hold your breath, on the edge of your seat, adventure for a missionary nurse caught in the middle. I like and enjoy a great story, so I'm hoping to win. Thank you for this chance to win your book.
(Esther Somorai 5:54pm July 10, 2013)

(Esther Somorai 5:59pm July 10, 2013)
I like all types of settings with a captivating story. Your books sounds like it will keep the reader on the edge. A jungle setting sounds like an adventure I'm ready to take!
(Linda Luinstra 6:13pm July 10, 2013)
After researching the Peten, I'm quite certain I wouldn't survive very long left to my own devices there.
(Dana Mentink 9:00pm July 10, 2013)
I'm one of those who don't really have a specific setting that they like more than others but have a leaning toward stories set in Texas.
(Ellen McDaniel 9:40pm July 10, 2013)
I'm a fan of either setting. A well written story is all that matters. Your book
sounds like a good read. Dengue does not sound like a fun activity.
(Laura Gullickson 12:08pm July 11, 2013)
As for settings, what I prefer is settings with some traction
to them-- where references to the setting are important to the
story, and don't smell of copying from reference works.
(Mary Ann Dimand 8:13am July 11, 2013)
anywhere as longas its pleasant
(Debbi Shaw 9:11am July 11, 2013)
I love small towns because you really get to know the supporting characters. But sometimes an exotic location is nice too.
(Pam Howell 10:08am July 11, 2013)
I like ordinary people in extraordinary settings and vice versa!
(Lisa Elwood 10:46am July 11, 2013)
Well put, Lisa!
(Dana Mentink 11:22am July 11, 2013)
The setting doesn't matter to me as long as it's an interesting story.
(Anna Speed 11:53am July 11, 2013)
I like variety. The setting is important for a good, interesting story. Think I prefer an exotic setting over a small town (so I'd prefer reading a jungle novel).
(Rich Cook 5:38pm July 11, 2013)
I like a variety of settings. M.C. Beaton writes books that are set in
Scotland and I love that. Also enjoy Kate Carlisle Bibliophile mysteries
that are mainly set in San Francisco but also travel to a variety
ofbsettings. Hope i win the drwlawing.
(Sarah Bauman 8:10pm July 11, 2013)
I prefer an exotic setting because I know I will probably never be able to see it in person so is fun to visit along with the storyline
(Shirley Younger 10:17pm July 11, 2013)
I wouldn't last long in a jungle, but a fabulous setting for
books.
(Mary Preston 10:31pm July 11, 2013)
I enjoy reading about the people in small towns.
(Sheila True 10:52pm July 11, 2013)
I love stories set in small towns. The people all seem to be connected in some way.
(Rita Wray 11:19pm July 11, 2013)
wow,good
(Kent Cook 11:33pm July 11, 2013)
Yes, I prefer a small town setting like I grew up in small
farming community in Kansas but an exotic jungle setting is
very fascinating too. I love the cover of your book: JUNGLE
FIRE and would truly love to win and read it this summer.
Thank You very much. Cecilia CECE
(Cecilia Dunbar Hernandez 11:39pm July 11, 2013)
I love all different setting types! It just adds more variety
to reading
(Kelsie Budhu 11:43pm July 11, 2013)
I love small town life and getting to feel that connection with the characters.
(Darci Paice 12:46pm July 12, 2013)
I love the jungle, a French, and Italian background settings. They bring a bit of intrigue in the story and plot.
(Kai Wong 1:19am July 12, 2013)
I love a small town for cozy mysteries, but anyplace that
involves a beach or culture different from the norm intrigues
me.
(Alyson Widen 6:26pm July 12, 2013)
Registered users may leave comments.
Log in or register now!