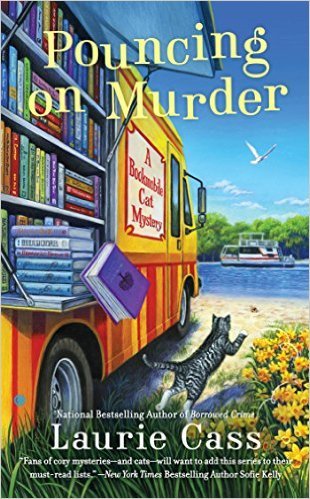 Purchase
Bookmobile Cat #4
NAL
December 2015
On Sale: December 1, 2015
352 pages
ISBN: 0451476549
EAN: 9780451476548
Kindle: B00U5LC1F6
Paperback / e-Book
Add to Wish List

Curl up with the latest from the national bestselling author of Borrowed Crime...
Springtime in Chilson, Michigan, means it's librarian Minnie Hamilton's favorite time of year: maple syrup season! But her excitement fades when her favorite syrup provider, Henry Gill, dies in a sugaring accident. It's tough news to swallow...even if the old man wasn't as sweet as his product.

On the bookmobile rounds with her trusty rescue cat Eddie, Minnie meets Adam, the old man's friend, who was with him when he died. Adam is convinced Henry's death wasn't an accident, and fears that his own life is in danger. With the police overworked, it's up to Minnie and Eddie to tap all their resources for clues—before Adam ends up in a sticky situation...
Bookmobile Cat
Comments
44 comments posted.
food
(Marissa Yip-Young 6:45am December 14, 2015)
I like novels like this because I usually learn something.
Our neighbors up the road tap their trees. Years ago we had
a bad storm and they lost one of their big trees. I like to
see the tapping as it means Spring is coming. I also took
Geology and majored in Anthropology so I know what you mean
about a degree but still glad I did it and I am sure you are
also. Looking forward to your book.
(Leona Olson 9:12am December 14, 2015)
For the most part, if I wonder about anything, I usually look
things up, so there isn't anything that comes to mind. I've
always been that way from an early age, when I took books out
of the library about all types of subjects instead of
stories. It's nice to find another Author from your home
State, although I live down by Lake Huron. I'm looking
forward to reading the 2 books that you mentioned, and found
the story about the syrup making quite interesting!! Have a
very Merry Christmas!!
(Peggy Roberson 10:01am December 14, 2015)
The background about art and artists whose work is involved
within the novel.
(Sharon Berger 12:24pm December 14, 2015)
I like ones with exocic places so I can day dream that I am there seeing the places with them
(Jeri Dickinson 2:01pm December 14, 2015)
I love books about different places because that's the only
way I can travel!
(Rebecca Booth 8:09pm December 14, 2015)
I "crawl" into a book. I get to know everybody, have
pictures of their faces and the scenery in my head. When
the book ends, I'm sad for a minute but then open another
book and off I go.
(Dagmar Finch 2:21am December 15, 2015)
I love reading books that take place abroad since it allows me to learn bits
and pieces about different places and cultures.
(Lily Shah 12:26pm December 15, 2015)
When I quit learning I'll be rolling around in my grave, learning anything!
(MaryEllen Hanneman 3:01pm December 15, 2015)
I like learning about new places that I will never get to see
(Jeri Dickinson 3:07pm December 15, 2015)
I would love achance to win this book!!
(Linda Barrier 5:10pm December 15, 2015)
I love bookmobiles! Fun read... I hope there's information about the maple
syrup community. What's sugaring? Is it their "harvest" time?
(Kathleen Costa 5:54pm December 15, 2015)
I enjoy reading books such as this. One can learn new things. I love learning new stuff. I hope to win this book. Happy holidays everyone.
(Cindy Davenport 6:17pm December 15, 2015)
Oh dear, do I really have to confess that I LOVE having a
librarian as the heroine? I read constantly and when not
reading, I'm listening to a book or reading out loud or
teaching from them.... What can I say, I'm a book person!
(Marcia Berbeza 7:59pm December 15, 2015)
Magic--always. Anything fantasy/paranormal/the unknown, I love reading about and have always wondered about their origins since we only believe what's mostly tangible (except those that are religious and believe in deities and gods).
(Lisa L. 11:42pm December 15, 2015)
Sometimes I just wonder at some outlandish event and think maybe that was from some real life event. It seems too outlandish to be made up.
(Pam Howell 9:12am December 16, 2015)
I like a little history in my books whether it is because the book happens at a time further back in history or if the characters need to do some research for their story line.
(Shirley Cochran 6:19pm December 16, 2015)
Maple syrup is one of the more interesting origins. Cranberries might be
interesting.
(Barbara Tobey 6:45pm December 16, 2015)
I like cultural and holiday traditions, travel, or mystical elements when
reading.
(Leann Griffiths 1:52am December 17, 2015)
Oh the things I've learned or investigated because of the books I've read. And the places I've traveled - literally and figuratively. The amazing gifts of each book read are wonderful. Books are so much more than the story on the pages.
(Nancy Reynolds 10:00am December 17, 2015)
As a huge fan of mythology, I am most enamored by myths and
other stories of ancient cultures. The moment I spot
something new, I rush to find out what it is XD
(Hylla Jackson 11:02pm December 17, 2015)
Wow, this sounds like a fantastic book to win and read. I
love the book cover too. What a fantastic story about
learning the art of making Maple Syrup. I can even picture
one of the Cats in your story getting maple syrup on her paw
and loving your Maple Syrup too. Thanks so much and Happy
Holidays everyone. Cecilia Dunbar Hernandez CECE
(Cecilia Dunbar Hernandez 11:32pm December 17, 2015)
I would love a chance to win this book! This offers a great
read plus you learn about making Maple Syrup. Thanks for
the chance to win you fantastic read and wish you a Merry
Christmas. Keep writing so we will keep reading as you
make it addictive.
(Shirley Sego 1:38pm December 18, 2015)
I am a cat lover too.
I wonder how authors think up their characters.
(Virginia Clayton 1:58pm December 18, 2015)
Love this series! Wish the bookmobile could visit here
(Margo Sue Bittner 4:01pm December 18, 2015)
I love to read all different genre of books. But books that
have historic people and places, make me do research on
them. I also like books that have recipes or something
extra in the back of them.
(Beverly Beltz 5:00pm December 18, 2015)
This retired cat rescuing librarian is so attracted to your book! And being a transplant from New England gives me that maple syrup flavor. Ever have maple sugar candy? Yum!
(Lyn Ehley 5:13pm December 18, 2015)
I love to read your books. I especially love books that are about or have
something to do with books.
(Sema Firestone 5:33pm December 18, 2015)
I would have to say the haunted houses that author's write about. I have
always been curious if they are from a real experience or just a great
imagination. Thank you for the chance. Love The Bookmobile
(Penny Marks 6:23pm December 18, 2015)
Sin eaters; cannot get that occupation out of my mind.
(Anna Mills 7:07pm December 18, 2015)
Sounds like a great book. I love reading different genres
of books
(Kathy Beaucourt 7:36pm December 18, 2015)
Recently read your first book and figure I will enjoy the 3 as well.
(Linda Powers 10:31pm December 18, 2015)
Meant to say the next 3 books as well.
(Linda Powers 10:34pm December 18, 2015)
I like reading books that I enjoy also ones I can go places I never been or learn something new that I didnt know about.I wish we had a bookmobile around here . thanks much
(Ann Hengst 12:58pm December 19, 2015)
I love learning things like how to make maple syrup or hooking rugs, cataloging Books but I also love travel and learning about new places in a Book. Thank you for the contest. Marilyn ewatvess@yahoo.com
(Marilyn Watson 2:31am December 19, 2015)
Want to win for a friend who would love this book
(Valerie Miller 9:01am December 20, 2015)
I love mysteries because I always wonder how the mind works
when thinking up these absolutely intriguing plots. I am a
mystery reader junkie. I would love to win!
(Denise Austin 1:31pm December 20, 2015)
I enjoy mysteries and sometimes paranormal and always wonder how the author manages to come up with such intriguing plots.
(Anna Speed 1:48pm December 20, 2015)
Your new book sounds like my kind of read. I do love a good mystery.
(B Tritt 1:56pm December 20, 2015)
There's a paranormal romance I read where the heroine had a pair of homicidal
pink bunny slippers. I would love to know what inspired that.
(Melinda Stephens 5:55pm December 20, 2015)
This book sounds like a treat. I have 2 cats, and a grand-
cat living with me. So, I'm a great cat lover. :)
(Kathy Davis 7:48pm December 20, 2015)
Books that give you a little pass background history
(Yaritza Santana 10:29pm December 20, 2015)
I always wonder how much research an author has to do when
writing a book. My favorite genre of books is cozy
mystery. I also love books with cats in them. I currently
have 2 cats! Happy holidays to you and your family!!
(Linda Herold 11:08pm December 20, 2015)
I'd really love to read this novel!
(Patricia Simpkin 9:29pm December 25, 2015)
Registered users may leave comments.
Log in or register now!