Laurie Cass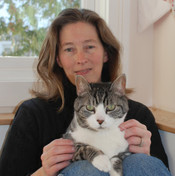 Blogging at Fresh Fiction
Pickup truck with a dead body?
August 28, 2017
And you thought the bookmobile life would be perfect: peaceful, serene rolling around the countryside, meeting new people, giving out books. But murder? Who knew Read More...
Laurie Cass | Where I Get My Ideas
August 22, 2016
To tell you the truth, I have no idea where the plots of my books originate. Not really. Not even when I'm writing them Read More...
Laurie Cass | How Things Get Into Novels
December 14, 2015
It was a blustery March weekend at the end of a long, cold winter, and my husband and I were itching to get out of Read More...
Laurie Cass | Weird Writer Habits
March 2, 2015
There are probably as many weird writer habits as there are writers. Well, more than that, really, because I know I have more than one Read More...
Pseudonym for Laura Alden.

Laurie Cass grew up in Michigan and graduated from college in the 80's with a (mostly unused) degree in geology. She turned to writing in the late nineties. After a number of years in management, she felt the need to move on and took a job with fewer responsibilities. A month later, she was dead bored and began to consider writing as a way to wake up her brain. She started reading a lot of books on writing and happened across a particular sentence: "What's it going to be, reasons or results?"
The phrase practically stuck her in the eye. She printed it out, framed it, and put it next to her computer. "Reasons or results?" At the end of her life, was she going to have a pile of reasons for not having done anything? Or was she going to sit down and write a book? Once she started looking at it that way, the decision was easy. A short 13 years later, her first book was published.
Currently, Laurie and her husband share their house with two cats, the inestimable Eddie and the adorably cute Sinii. When Laurie isn't writing, she's working at her day job, reading, attempting to keep the flowerbeds free of weeds, or doing some variety of skiing. She also write the PTA Mysteries under the name Laura Alden.
Log In to see more information about Laurie Cass
Log in or register now!
Series
Bookmobile Cat | Victoria Square Mystery
Books:
The Crime that Binds, October 2022
A Bookmobile Cat Mystery # 10
Mass Market Paperback / e-Book / audiobook
Checking Out Crime, April 2021
A Bookmobile Cat Mystery #9
Mass Market Paperback / e-Book
Gone with the Whisker, April 2020
Bookmobile Cat #8
Mass Market Paperback / e-Book
Booking the Crook, July 2019
Bookmobile Cat #7
Mass Market Paperback / e-Book
Wrong Side of the Paw, August 2017
Bookmobile Cat #6
Mass Market Paperback / e-Book
Dead, Bath, and Beyond, December 2016
Victoria Square Mystery #4
Paperback / e-Book
Cat With a Clue, August 2016
Bookmobile Cat Mystery #5
Mass Market Paperback / e-Book
Pouncing on Murder, December 2015
Bookmobile Cat #4
Paperback / e-Book
Borrowed Crime, March 2015
A Bookmobile Cat Mystery #3
Mass Market Paperback / e-Book
Tailing A Tabby, July 2014
Bookmobile Cat Mysteries #2
Paperback / e-Book
Lending A Paw, December 2013
Bookmobile Cat #1
Paperback / e-Book