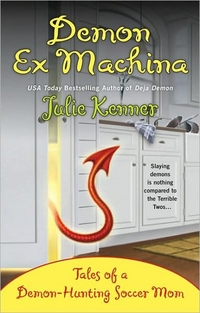 Purchase
Tales Of A Demon Hunting Soccer Mom
sSlaying Demons is nothing compared to the Terrible Twos...
Kate Connor, Demon Hunter, #4
Berkley
October 2009
On Sale: October 6, 2009
Featuring: Kate Connor
320 pages
ISBN: 0425229645
EAN: 9780425229644
Trade Size
Add to Wish List

Romance Series | Romance Paranormal
From the USA Today bestselling author of Deja Demon--slaying demons is nothing compared to the terrible twos.

Demon Hunter Kate Connor is having one hell of a month...

In between demon patrols and teaching self-defense classes to the local moms, Kate has to deal with a teenage daughter who's gung-ho on being a demon slayer in training and a toddler son entering a tantrum phase that rivals anything from the pits of Hell.
To make matters worse, ever since her current husband Stuart learned about his wife's secret life, he's been practically smothering her with attention. That wouldn't be so bad, except that now Stuart's fired up to learn everything he can about demons, and that kind of research can get a former desk-jockey killed.
That's a lot for one woman to juggle, but on top of it all, Kate has to find a way to release the demon possessing her first husband, Eric, without destroying the man inside. Because if the demon within Eric gets free, it just might be more than one seriously stressed suburban mom can handle.


Comments
40 comments posted.
Re: Demon Ex Machina

sounds like fun!
(Diane Sadler 10:54am October 5, 2009)
I love the books
(Laura Miller 11:44am October 5, 2009)
I think airplanes are magical too. I try not to think about it while I'm actually in one. Yeah for Demon Ex Machina!
(Vikki Parman 11:45am October 5, 2009)
I have never been on a plane and I seriously doubt if I ever will be, but I have visited many many places though my reading. The best part of travelling in that manner is, I get to visit the past, the present and the future.
(Patsy Hagen 11:55am October 5, 2009)
I'm glad I'm not the only one who feels out of it when science is talked about. It's like wind blowing through my mind because I don't have anything to latch onto to make sense of it all but I can program the vcr.
(Lena Lee 12:37pm October 5, 2009)
I like the way you think! I'll have to pick up your books! Thanks!
(Kelli Jo Calvert 12:45pm October 5, 2009)
I love Godiva Chocolate almost as much as books! Happy Halloween :)
(Mary Lynn Hayes 1:18pm October 5, 2009)
I love chocolate as much as books and dancing. I have never had Godiva Chocolate!
I always have to have nut free chocolate so tend to stay away from the shops that display it all together.

Thanks for the opportunity!
(Brenda Rupp 1:27pm October 5, 2009)
All I can say is "bring on the magic"!
(Robin McKay 2:01pm October 5, 2009)
Thanks for the comments, you guys!!! Sorry to chime in so late...I had a crack of dawn doc appt with my little one and then, um, fell asleep on the couch!
(Julie Kenner 2:05pm October 5, 2009)
Very much looking forward to Demon Ex Machina being delivered on Oct 6th since I pre ordered. For those who have never read anything by Julie -- get thee to a bookstore now!!!!
(Jennifer Rayment 2:09pm October 5, 2009)
Great post!
(Minna Puustinen 2:15pm October 5, 2009)
I like the idea of flying by unicorns. Anyway, magic of any kind is well... magic. I love being engrossed in something, be it Harry Potter, a good romance, the setting sun or anything that can suck me in.
(Theresa Buckholtz 2:24pm October 5, 2009)
You make willing suspension of disbelief incredibly easy. Thanks for the escape out of the ordinary world. Please don't ever stop writing you r version of magic/science!
(Norma Storms 2:24pm October 5, 2009)
Keep the magic coming!
(Marsha Saenz-Jones 2:29pm October 5, 2009)
I truly love reading an authors blog about everyday things! It makes you seem more "real" to me. Still magical in the way that your mind works but more real. You do realize that by being an author you become a magician, right? I thank you from the bottom of my heart for creating your version of reality to let me escape mine.I only hope that our very real financial situation improves to the point that I can afford to buy more escapes. I will definitely be taking advantage of the free podcast you are offering. Thank you for that.
(Dawn Detkowski 2:54pm October 5, 2009)
My Fav is the Soccor Mom who hunts Demons Series.....GREAT READS ...Keep up the Wow Job.
(Shirley Sego 3:00pm October 5, 2009)
Blogs and sweets. What could be better.
Thanks!
Marjorie
(Marjorie Carmony 3:05pm October 5, 2009)
Thanks you guys!! Shirley, the latest demon hunting soccer mom book comes out tomorrow!!!
(Julie Kenner 3:31pm October 5, 2009)
Yes, sometimes it's the small things in life that are the most impressive. Magic isn't always on a grand scale. Have a safe trip! Love your books and looking forward to more in the future!
(Jody Faltys 4:17pm October 5, 2009)
Looking forward to it being out. These are always a great fun read.
(Donna Ross 5:30pm October 5, 2009)
I love to fly just get me a plane ticket any where he he.
It the thing My DH misses most since his MVA lost his pilots license use to love to go flying on a Sunny Sunday Afternoon.
Love the except....
Ann
(Ann w 5:34pm October 5, 2009)
I look forward to the great read, I'm picking up tomorrow. I love your books.
(Betty Thompson 5:35pm October 5, 2009)
I don't know where your unicorns come from, but where mine are from, they certainly aren't invisible!! They love Godiva Chocolates, too!!

Later,

Lynn
(Lynn Rettig 7:22pm October 5, 2009)
Looking forward to reading the new book in the demon hunting soccer Mom serie
(Teresa Ward 7:43pm October 5, 2009)
Congratulations on your new book. 'Demon Ex Machine'. I love reading books that take us to a magical place and make the ordinary extraordinary'.
(Rosemary Krejsa 8:19pm October 5, 2009)
I have been waiting soooo long for DEMON EX MACHINA. It is waiting for me when we get home from vacation. Will we have to wait another year for the next book in the series? Look forward to your new series.
(Patricia Barraclough 10:51pm October 5, 2009)
Thanks for writing those great books!
(Lisa Glidewell 11:35pm October 5, 2009)
Woohoo! Give me chocolate and a good book and I'm blissfully happy. Thanks!
(Teresa Balderas 11:38pm October 5, 2009)
Great blog.. and why I truely think of writers as artist. Even if you have a great imagination it doesn't mean you will be a good storyteller/writer. I think you all are able to see more of the possibilities in the wide world..
As for the elves not getting to the kitchen. That might be because it's usually brownies that care for the house. They're probably pissed you're giving the credit to the elves.. lol
Congrats on your new release & thanks for the chance at embrosia
(Jo Ann Jansing 12:23pm October 6, 2009)
Congrats on the new book! I can't wait to get it, should go super with chocolate!!! :)
(Sharon Knight 12:36pm October 6, 2009)
There is nothing better than losing oneself in the magic of a book, except eating chocolate & reading.
(Mary Preston 1:22am October 6, 2009)
Great blog but I always felt myself alone in wondering how things work. I even subscribe to a science website for kids entitled "How Things Work" to ease my frustration over how cell phones work & radio waves. Maybe if I had just blamed these mysteries on Magic I wouldn't have been so frustrated for half a century. Good luck with this new book.
(Susan Lathen 3:18am October 6, 2009)
So when the elves are done with your kitchen, will ya please send them over to my place? And tell them to bring the chocolates with 'em! Thanks.
(DeeAnn Szymanski 8:32am October 6, 2009)
This really sounds like fun! I like a scary genre mixed with a bit of humor and chocolate to boot! Who wouldn't love to enter your contest! Thanks!
(Cecilia Huddleston 10:28am October 6, 2009)
The reason I read is for the magic that certain lucky persons can create.
(Sandra Furlotte 11:30am October 6, 2009)
I just picked up DEMON EX MACHINA. I
can't wait to start reading it. I love your
books.
(Sarah Mangus 4:42pm October 6, 2009)
I hate flying but I love chocolate!!! Congrats on the new book.
(Mitzi Hinkey 1:45am October 8, 2009)
I really enjoy your books and what more perfect day was it to release, I mean it is my son's bday and all. :)
Love the blog, you had me laughing and I totally agree about the house elf...yeah only problem mine hasn't shown up either! hehe
(Chris Jones 2:09am October 8, 2009)
This sounds like a very interesting FUN Read. What a Wonderful plot...great imagination..looking forward to getting this.
(Shirley Sego 5:14pm January 5, 2010)
Registered users may leave comments.
Log in or register now!