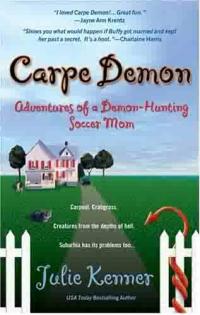 Purchase
Carpe Demon : Adventures of a Demon-Hunting Soccer Mom
Julie Kenner
Carpool. Crabgrass. Creatures from the depths of hell. Surburbia has its problems too.
Soccer Mom #1
Berkley
July 2005
Featuring: Kate Connor
368 pages
ISBN: 0425202526
EAN: 9780425202524
Trade Size
Add to Wish List

Contemporary Chick Lit | Contemporary | Paranormal
Lots of women put their careers aside once the kids come along. Kate Connor, for instance, hasn't hunted a demon in ages.
That must be why she missed the one wandering through the pet food aisle of the San Diablo Wal-Mart. Unfortunately, he managed to catch her attention an hour later-when he crashed into the Connor house, intent on killing her.
Now Kate has to clean up the mess in her kitchen, dispose of a dead demon, and pull together a dinner party that will get her husband elected to County Attorney-all without arousing her family's suspicion. Worse yet, it seems the dead demon didn't come alone...
It's time for Kate Connor to go back to work.
Comments
No comments posted.

Registered users may leave comments.
Log in or register now!