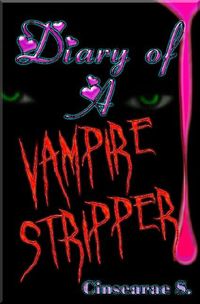 Purchase
Diary of a Vampire Stripper
Cinsearae S.
Her best friend is a werewilf. Her boyfriend is a ghoul. And she really, REALLY can\'t stand her vampire husband.
Author Self-Published
June 2012
On Sale: June 1, 2012
Featuring: Audra; Lucinda; Paul
270 pages
ISBN: 146995916X
EAN: 9781469959160
Kindle: B0087I2GR2
e-Book
Add to Wish List

Paranormal | Mystery Paranormal | Fantasy Urban
Trying to juggle college tuition and rent, young Audra Perez seeks a fast fix to her financial woes by auditioning as a stripper for the Hoochie Coochie Club. What she didn't expect was to actually be chosen. Barely a few months into her new job, she becomes acquainted with a mysterious, distinguished gentleman by the name of Darren Von Eldon, and they secretly begin dating against club rules. Then one passionate night at his beach house changes Audra's life forever.
Now as a newly-awakened vampire, this only adds to her day-to-day mundane burdens. Refusing to drain humans, she hunts birds for nourishment, and finagles a way to avoid going to classes during the day. But bigger problems loom ahead. Radical cops that know about her kind roam the night, seeking to destroy any and all 'monsters', and her best friend's family has a bone to pick with Audra's. Headless human bodies are turning up on vamp and were turf, each side blaming the other for the murders. It's up to Audra and her friend Lu to figure out who's doing the killings before an all-out war happens between their families, their search leading them beneath the city streets to encounter an abomination neither one of them will ever forget.
And the relationship issues? Well, it's not easy dealing with a boyfriend and a vampire husband, so let's not even go there...
Comments
31 comments posted.
Re: Diary of a Vampire Stripper

Sounds like a very interesting book. I absolutely love to read about vampires. Would be thrilled to receive a copy. Thank you.
(Geraldine Austin 9:53am September 26, 2012)
Love Vampire stories and this sounds very interesting with fun. First I have heard of a Vampire Stripper so this has to be a fun read. Can hardly wait to get this. :)
(Shirley Sego 10:00am September 26, 2012)
Just got off the phone with Frank Langella. He says he admires your passion as well, and said he feels the most passionate thing to do at this point in your career would be to allow me to win Diary of a Vampire Stripper! (ok I lied a little, but winning would be nice!) Best of luck with the book!
Shane
(Shane Scott 10:22am September 26, 2012)
sound s great, putting on my list to read.
(Debbi Shaw 10:27am September 26, 2012)
I loved Vincent Price's voice. It's nice to read a post about the attractiveness of men can be based on more than just a cut, ripped body (but please give me those covers anyway ;-) ).
(Anne Muller 10:41am September 26, 2012)
I didn't notice that I have "creepy" taste in men - Vincent Price, as a child I fell for his looks and voice in Laura, Christopher Walken - makes you understand the affair Natalie Wood had with him, Alan Rickman had me captivated with Die Hard- Maybe it is the creepy that add intrigue and a certain mystery that you want to uncover (amongst other things on their person)
(Carla Carlson 11:06am September 26, 2012)
You have many situations in this story that make for a hot read. Definitely sounds like a good read. I am putting this at the top of my list...
(Angelina Daniels-Shaw 11:42am September 26, 2012)
Great title
(Sandy Giden 11:56am September 26, 2012)
This sounds like it will quite interesting.
(Cynthia St. Germain 1:21pm September 26, 2012)
Ok, so can I win it? would love to.
(Mary Hay 2:15pm September 26, 2012)
Comment NOT Added. Please try again. takes a thousand times
before blog goes thru on all these blog contest
(Kent Cook 3:07pm September 26, 2012)
The title grabbed me from the start! I love vampires and reading any diary always gives away secrets!
(Elizabeth Haney 3:14pm September 26, 2012)
THIS BOOK SOUND VERY INTERESTING I CAN'T WAIT TO READ IT PICK
ME.
(Shelly Caggiano 3:48pm September 26, 2012)
How fun! I love creepy stories especially when humor is added. I look forward to reading this one. Thanks for the offer!

And Vincent Price was a favorite of mine too! His movies were delightfully scary to me as a kid. :)
(Debbie Wright 4:53pm September 26, 2012)
Sounds like a great read!!! Thanks for the chance to win!!
(Natasha Donohoo 5:05pm September 26, 2012)
A creepy girl may find a regular person something that takes her breath away. Looks like a gripping read.
(Alyson Widen 5:32pm September 26, 2012)
The best Dracula ever to star in movies was Bela Lugosi... he was very scary, creepy, and realistic. My sister and I used to watch Dracula movies (when everyone else in the family was sleeping) late every Fri. night (of course, this ages me--it was so many years ago). We were scared out of our wits, and my sister would not leave my side even when they ended and it was time to get into bed! I always had to reassure her that it wasn't real, but she never believed me! Your blog today brings back such treasured memories from my childhood. Anyone that loves vampires would love these older movies he starred in. I also loved Vincent Price in everything. Your book sounds good, however, I do not own any type of e-reader, so don't enter me in your contest. Thanks!
(Linda Luinstra 5:36pm September 26, 2012)
i agree bela lugosi got me hooked!!! i can't wait to read!!
(Jennifer Beck 6:05pm September 26, 2012)
Your book sounds like a lot of fun! Thanks for the chance to win a copy!!!
(Christine Mead 6:39pm September 26, 2012)
What an interesting concept!!!!
(Susan Coster 6:40pm September 26, 2012)
Sounds like an interesting take on vampires.

Your list of creepy crushes was great. I'm a Vincent Price lover from way back.
(Lisa Elwood 7:12pm September 26, 2012)
I guess I never considered my taste in men creepy. Alan Rickman (YUM)
as Dracula, yes please!
(Ann Sheiring 7:51pm September 26, 2012)
the book sounds great and can't wait to read it..i love your cover..the pink is great..good job all the way around
(Kimberly Hoefs 8:06pm September 26, 2012)
I'm also a bad fan of Vincent Price. He just have that voice that is so great for telling scary stories. I usually spend my Halloween time just watching his classic movies like the Raven.
(Kai Wong 8:26pm September 26, 2012)
I've always loved vampire movies, so glad that there are now so many contemporary novels about vampires. I cannot wait to read Diary of a Vampire Stripper, so I hope I win!
(Lynne Mauro 8:41pm September 26, 2012)
sounds like a fun read... thank you.
(Holly Vanderhule 9:34pm September 26, 2012)
Great Blog. Book sound like an interesting read.
(Sheila True 11:39pm September 26, 2012)
Stripping Vampire...Ok you piqued my interest; sounds like a
great read.
(Diane Chenier 11:46pm September 26, 2012)
Why is it that every world which has vampires also has werewolves? Apart from the original few vampire stories, today we seem to find them side by side all the time. This tale looks like a blend of The Ivy League Stripper and Sookie Stackhouse, it's got to be interesting!
(Clare O'Beara 5:15am September 27, 2012)
I love the vamp books and movies. I read all 4 Twilight books in 7 days! drove my husband crazy! Can't wait to read about your vamp stripper! Thanks!
(Teresa Sullivan 9:42am September 27, 2012)
love love vampires and always will! and been a long time
follower of Cinsearae
(Tami Bates 6:11pm September 27, 2012)
Registered users may leave comments.
Log in or register now!