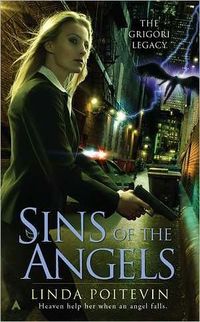 Purchase
Grigori Legacy #1
Ace
October 2011
On Sale: September 27, 2011
Featuring: Alexandra Jarvis; Aramael
336 pages
ISBN: 0441020917
EAN: 9780441020911
Kindle: B0052RETT4
Paperback / e-Book
Add to Wish List

Out of Print
A detective with a secret lineage. An undercover Hunter with a bullet-proof soul. And a world made to pay for the sins of an angel...
Homicide detective Alexandra Jarvis answers to no one. Especially not to the new partner assigned to her in the middle of a gruesome serial killer case-a partner who is obstructive, irritatingly magnetic, and arrogant as hell. Aramael is a Power--a hunter of the Fallen Angels. A millennium ago, he sentenced his own brother to eternal exile for crimes against humanity. Now his brother is back and wreaking murderous havoc in the mortal realm. To find him, Aramael must play second to a human police officer who wants nothing to do with him and whose very bloodline threatens both his mission and his soul.
Now, faced with a fallen angel hell-bent on triggering the apocalypse, Alex and Aramael have no choice but to join forces, because only together can they stop the end of days.
Grigori Legacy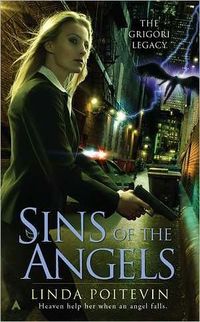 Sins Of The Angels
#1.0
Amazon.com | BN.com | | |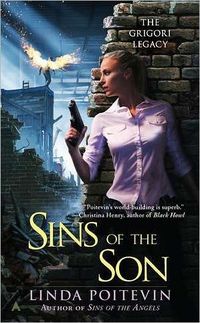 Sins Of The Son
#2.0
Amazon.com | BN.com | | |
Comments
48 comments posted.
Hope I win the contest today!
(Carol Funfar 12:07pm June 24, 2012)
You say their are 4 key reasons a writer writes. I say
whatever it takes, keep it up - I enjoy reading the fruits of
their labour, cheers Chris
(Chris Coulson 12:25pm June 24, 2012)
I would love to win your contest. Thanks for the chance.
(Amy Milne 12:56pm June 24, 2012)
I agree with every one of your reasons and I hope that I'll be able to
be just as good a writer as you someday. Thanks for the contest
opportunity! =)
(Samantha King 3:02am June 24, 2012)
Ok, when I logged in there were 4 comments posted! I made it number 5....yipes :)
(Darci Paice 3:26am June 24, 2012)
I love it those are really good reasons!!!
(Deborah Garcia 3:41am June 24, 2012)
I am just glad that so many write so that I can read.
Blessings,
Marjorie
(Marjorie Carmony 6:04am June 24, 2012)
Great post! What great points you make like the author rules the world, at least the one in his/her head.
(Maureen Emmons 6:14am June 24, 2012)
I enjoyed reading why it is that you write, and that you think other authors do the same. If you read Sue Grafton you will know that she spent hours thinking of ways to kill her ex-husband, but couldn't think of a way to do it without getting caught. So she wrote him into a book and killed him there (in self-defence). That was A Is For Alibi. She's most of the way down the alphabet in titles by now. Guess her ex isn't feeling too important and wealthy anymore.
Separately, how is you you feel so powerful when characters constantly go off on their own and surprise authors as they work?
(Clare O'Beara 6:19am June 24, 2012)
really great books love to win
(Denise Smith 7:58am June 24, 2012)
It's like you took these right out of my mind... Lol. Loved this post.
(Nacomy Blue 8:41am June 24, 2012)
Yes, I agree with number four....power. You truly have us in your complete power from page one to the last. Keep writing!

Patricia Pascale
(Patricia (Pat) Pascale 9:05am June 24, 2012)
Glad you're all enjoying the post -- I had great fun writing
it. :) To answer your question, Clare, it's true...there are
some days where my characters are only too happy to remind me
who wields the REAL power, lol! Still...the illusion is nice.
:)
(Linda Poitevin 9:13am June 24, 2012)
Linda,
Reading is my escape so I'm glad some authors write to escape!
Crossing fingers!
(Tobi Helton 9:22am June 24, 2012)
Whatever the reasons you have...please keep writing...the faster the better!!! HA Thanks
(Bonnie Capuano 9:28am June 24, 2012)
Great post. I love to read, hope I win the contest.
(Wilma Frana 10:27am June 24, 2012)
I love to read REAL books!
(Jeff Danner 11:09am June 24, 2012)
There are times when I imagine people who I know are the characters in books, specially when they are disposed of. I love to read.
(Pat Freely 11:29am June 24, 2012)
I'm not surprised--how great to be fully in charge of an entire world! =)
(Kathleen Conner 11:34am June 24, 2012)
I love to read
(Cindy Vinzant 11:39am June 24, 2012)
Part of me is surprised at the control aspect of your reason for writing but
then again it is not all that strange when you think about it. We all need an
outlet and if you are a talented writer it is an excellent and harmless way of
venting!
(Liesl Lane 1:07pm June 24, 2012)
Sounds like an exciting read
(Catherine Myers 1:09pm June 24, 2012)
thanks for the contest :)
(Danielle Duffield 1:23pm June 24, 2012)
Sounds like you use that power to entertain us readers so more
power to you ;)
(Ilona Fenton 1:25pm June 24, 2012)
I've always thought as much - I'd like to write some people out myself.
(Beth Elder 1:31pm June 24, 2012)
Great post! This series sounds fantastic!
(Chelsea Brooks 1:36pm June 24, 2012)
Great list, makes me look at some authors differently now.
Good luck and happy writing!
(Tracie Travis 1:51pm June 24, 2012)
Hope to win these great reads as they sound fantastic!!
(Shirley Sego 1:53pm June 24, 2012)
Love that there are so many talented writers out there that share their worlds and characters with us...
(Colleen Conklin 2:07pm June 24, 2012)
number 2 is the best reason ever.. lol.. i would love to hear about some of those annoying killed offs..
(Alaina Armbruster 2:12pm June 24, 2012)
I am no angel but a DEVIL DOG because I want not one, but both Sins of The Angel & Sins of The Son to read, from that singular Mistress of Enchantment: Linda Poitevin!
(Nina Crespi 2:42pm June 24, 2012)
Surprised, not in the least. You write what you see in your head and we as readers eat it up. Thanks for the stories and the enjoyment.
(Maude Allen 3:25pm June 24, 2012)
Enjoyed your blog. I'll never be a writer, but do enjoy a good read.
(Sheila True 3:32pm June 24, 2012)
I enjoyed reading your list about all your reasons for writing. Would love to win and read one of your books!
(Linda Luinstra 3:44pm June 24, 2012)
Your 4 reasons to be a writer sound great, especially the Mwahahahahah...You've got that sinister world domination laugh going on!
(Catherine Lee 3:58pm June 24, 2012)
Power! Well,that explains it!
(Janie McGaugh 4:27pm June 24, 2012)
Fun list and I'm not at all surprised.
(Alyson Widen 4:51pm June 24, 2012)
Loving all the comments, everyone! Thank you so much for
taking the time to read my post -- and for those of you who
might be wondering about me, rest assured that this really was
a tongue-in-cheek piece. Honest. I swear. ;)
(Linda Poitevin 5:47pm June 24, 2012)
Sounds like great books!
(Megan Jirschele 6:05pm June 24, 2012)
You can say the same with readers. I read to escape and imagine a life that is not my own - way better with super powers!
(MaryAnne Banks 6:10pm June 24, 2012)
I enjoyed your post!
(Robin Daily 8:35pm June 24, 2012)
I'm glad writing is an escape for you, so reading can be mine!
(Bethany Cardone 9:17pm June 24, 2012)
I believe that you hit the nail on the head with your remarks, because I've always wanted to write a book!! I'd love to tell you which category I fall under, but you're going to have to guess!! lol I would love to read your book, since I think that we have the same mind-set, so I know I would adore your book!! I apologize for not being familiar with you, but I've been out of the reading loop for a while, and have some catching up to do!! Good luck with your future writing, although I don't think you're going to have any problems!!
(Peggy Roberson 9:56pm June 24, 2012)
You have a great sense of humor, but there may be more truth than humor in your reasons that writers write. LOL
(Gladys Paradowski 11:06pm June 24, 2012)
Not surprised at all! :)
(Roxana Perez 10:38am June 25, 2012)
Fun list. :) Yeah... I know a few people I could definitely write into a
story... >;)
Thanks for the contest!
(Debbie Burdeen 10:38am June 25, 2012)
very interesting read; thanks for the draw:)
(Barbara Studer 3:35pm June 25, 2012)
They sound totally reasonable to me. Interesting thank you.
(Mary Preston 9:09pm June 25, 2012)
Registered users may leave comments.
Log in or register now!