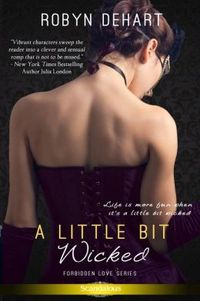 Purchase
Forbidden Love #1
Entangled Scandalous
December 2012
On Sale: December 2, 2012
Featuring: Marcus Kincaid; Vivian March
ISBN: 0015827488
EAN: 9781622668168
Kindle: B00BFQAQ0C
e-Book
Add to Wish List

Marcus Kincaid has returned to England after a ten-year absence as the Earl of Ashford after his brother's untimely death. Unfortunately, his younger sister is embroiled in a potential scandal that could ruin her chance at marriage, and his aunt has already called in reinforcements—The Paragon.
Vivian March is known simply as The Paragon. She moves through every circle within Society, smoothing out scandals and stopping gossip in its tracks. Everyone in London knows that if she aligns herself with you, Society will forgive your sins. What they don't know is that she uses their secrets to cover her own jaded past.
But with every kiss and every touch that Marcus thrusts upon her, Vivian comes to believe life is infinitely more fun when you can be just a little bit wicked…
Comments
71 comments posted.
Thanks for the giveaway! Hope you have Happy New Year
(Carolyn Helms 12:13pm December 29, 2012)
Happy Holidays! Thanks for the giveaway! :)
(Lazydrag0n Puff 12:19pm December 29, 2012)
I don't really have any particular goals or resolutions for the New Year. Thanks for the giveaway & Happy Holidays!
(Chelsea Knestrick 12:53pm December 29, 2012)
I tend to work well with a goal in mind and do feel it is
useful to analyze past to get better results in future. My
current one is being a better parent for my teens. The kids
have changed and I must, too.
(G. Bisbjerg 4:38am December 29, 2012)
I have both definite & general goals I set. Not really New
Year resolutions.
(Mary Preston 4:58am December 29, 2012)
Looks like a great new yr. contest.
(Kent Cook 6:17am December 29, 2012)
Yes, I always set goals. I am not sure what it will be this year, but I did a very good job trying to meet last year's goal.
(Debbie Penny 6:18am December 29, 2012)
I think that goals and plans to reach those goals are vital.
Blessings,
Marjorie
(Marjorie Carmony 6:42am December 29, 2012)
I make New Year's resolutions every year, but break them every time. I'll try again, though, because like you I believe it's important to aim for something.
(Michelle Donaldson 7:52am December 29, 2012)
Doing better in life is something I'm always working on and
make the decision at anytime of the year. When ever I notice I
should improve on something, no matter how small I start then.
(Theresa Norris 8:28am December 29, 2012)
I think setting goals is important. With 4 generations living under one roof, my goal for 2013 is to better organize our home. All of the women in the house read... we range from 88 to 4 years old and our books are abundant. But there is always room for more... Thanks for the give away!
(Sonja Warmath 8:55am December 29, 2012)
Hi
Your book sounds great and I am excited to read.
I do not have any resolutions but I do have some simple
goals that may be several years in the making. Nothing that
I would feel bad about if I did not complete this year.
Thanks for the chance
(Pam Brewer 9:07am December 29, 2012)
Thanks so much for giving me a chance to win this book...can't wait to read it!!
(Bonnie Capuano 9:18am December 29, 2012)
I set goals but don't always accomplish them. I can be a procrastinator as my husband likes to point out! Good luck with the exercising. Since May, hubby and I have been going to the Y to workout 3 times a week. For the most part, we actually have been doing it!

Happy New Year!
(Sue Galuska 9:26am December 29, 2012)
I do set goals for the new year and although I might not accomplish as much as I want it does inspire me to keep trying.
(Maureen Emmons 9:28am December 29, 2012)
I don't set New Year's resolutions, but I am a big weekly list maker! There's nothing like drawing a line through things I've accomplished. Best of luck with your book, the cover is really cool!
(Renee Pajda 9:29am December 29, 2012)
Happy New Year!
(Roxana Perez 9:31am December 29, 2012)
For me, I have to set goals a week/month at a time. I can't
concentrate on overall goals, but specific ones are okay. I'm
a list person. I might make a list of things to do for the
month and set goals for each week.
(Karin Anderson 9:33am December 29, 2012)
I always start the new year with the best of intentions. This year, I have to get more organized at work and finally decide if I'm going to go for another (and terminal) degree.
(Catherine Lee 10:01am December 29, 2012)
I'm going to do more for myself. Enjoy life.
(Stacy Stewart 10:16am December 29, 2012)
I don't do the weight resolution because that usually fails, but I do have a list of things I would like accomplished by the end of the next year. 2012 saw only two of my goals accomplished. I would like to sell our home and move in 2013. Hopefully we can get that done.
Happy New Year!
(Monica Vargo 10:21am December 29, 2012)
I'm doing the exercise resolution this year---I need to shape up and lose some weight.
(Sue Farrell 10:42am December 29, 2012)
No resolutions for the new year. Thanks for the chance to win
this story.
(Mary Hay 11:19am December 29, 2012)
I set goals for the new year. I do something that I really want to reach so I stay encouraged to reach my goal. Thank you for the chance to win this book. I will be adding it to my wishlist as it sounds like a great read.
(Emily Bowes 11:25am December 29, 2012)
Goals are important i always write lists or goals as i am
kinda scatter brained and get off track... I have 10 lbs to
go to be a my ultimate weight goal and plan to be there by
febuary. I have met the goals i made for last year plan on
meeting the ones i make this year too. thanks for the chance
to win.
(Jeannie Platt 11:51am December 29, 2012)
I have all the "usual suspects" on my resolution list -- lose
some weight, work out more, etc.

Happy New Year & thanks for the amazing giveaway!
elizabeth @ bookattict . com
(Elizabeth Hyatt 11:59am December 29, 2012)
Do a bit more for myself and work on being more positive.
(Leslie Davis 11:59am December 29, 2012)
I'm going to relax, not put too much pressure on myself. HAPPY NEW YEAR!
(Anna Speed 12:23pm December 29, 2012)
I am hoping to focus on a healthier me... take time to do things right.
(Colleen Conklin 12:32pm December 29, 2012)
Goals and reminding myself of how much I have no matter how crazy the
kids can drive me..I have healthy fantastic kids and need to make these
moments count because they grow up so quickly and someday won't want
to be bugging me :) they will be following their own path vs needing
guidance
(Darci Paice 12:36pm December 29, 2012)
If I set a goal or resolution, I just break it and it becomes disheartning. So I've learned to just promise to myself to make the New Year better than the last and try to tie up any loose ends which may be floating around.
(Amy Conley 12:46pm December 29, 2012)
I try to set a goal that is realistic. I think walking everyday is a manageable
goal. I think I can take 15 minutes out of my day to take a short walk. I
know once I get started I will go for longer walks.
(Ann Sheiring 1:28pm December 29, 2012)
My goal is to have all the Holiday dinners at my home and hopefully, I have my new home furnished at then. Yes, I recently became a home owner.
(Kai Wong 2:23pm December 29, 2012)
I agree with Amy (above). I have found that any "resolution" I make tends to get broken within the first month, if not sooner. I learned early on to just go with the flow, and work at making the future better than the past was as much as possible.

Later,

Lynn
(Lynn Rettig 2:34pm December 29, 2012)
I have never been good at setting goals or resolutions so I don't even bother. Enjoyed your bolg.
(Sheila True 2:35pm December 29, 2012)
I have tried to not have New Year's resolutions because then I just feel like a failure when I don't follow through. I was really ill the last few years so I am just hoping that 2013 is a healthier year. I liked reading your blog, now I have to go take down some decorations. LOL
(Patti Paonessa 2:37pm December 29, 2012)
A kind of vague "do better" is all I've got. Happy New Year to all.
(Penny Mettert 3:00pm December 29, 2012)
I am looking forward to making 2013 the best year yet. I say that every year and it seems to work. It may be true or the memory getting fuzzy. Either way tomorrow keeps coming faster and faster so I try not to dwell too much on yesterday.
Good luck and happy writing!
(Tracie Travis 3:31pm December 29, 2012)
I usually don't make any New Year's resolutions, because it's difficult to keep them. I've done so much better just writing down what I want to accomplish by writing them down and keeping the list out, so it stares me in the face til I get them done...one at a time. I find myself crossing many off, but then adding on new ones. I like organization, so it gives me a great feeling to work at something. I, also, would like to lose a few pounds and have become much more health conscious and watch what I eat. Where I live there are so many overweight people and kids, and I attribute it to so many fast-food restaurants everywhere in a city of 60,000 people. Would love to read your book, and good luck with the exercising and weight loss. It's all in disciplining yourself to do it and then stick with it. I've always done better when I do it with a friend or two, and then, see results.
(Linda Luinstra 3:42pm December 29, 2012)
Hope to be more organized in 2013. Thanks for your awesome give way. Hope to be a winner as would like your book to read.
(Shirley Sego 4:07pm December 29, 2012)
I seem to set the same goals each year, but I am always optimistic that this will be the year:

get fit, get organized, and get a bit more disciplined
(Devon Gainer 4:34pm December 29, 2012)
Sounds like a great contest. I'd love to win.
(Wilma Frana 5:02pm December 29, 2012)
FANTASTIC GIVEAWAY LOVE TO WIN!!!!!!
(Shelly Caggiano 5:24pm December 29, 2012)
I always feel a new year is a fresh start for any goal you have.
(Margaret Murray-Evans 5:34pm December 29, 2012)
I do set goals but they are usually long term goals and I get closer to them every year. I think that it is a good idea that I exercise more this year. I realize that I have been slipping lately.
(Kathleen Yohanna 6:21pm December 29, 2012)
What a great cover sounds great too. Can't wait to read it.
(Alisha Woods 6:36pm December 29, 2012)
When I was younger, I would set goals or resolutions, but I found, like just about everyone else, I would tend to get bored with the idea and break it after a while. One year I decided that I was going to be a better person, out of the blue, and stuck with it, after all these years. This coming year, I sort of have ideas of what I want to do with my life, under that same vein, and hope I can follow through. I have a gut feeling that the coming year is going to be a good one for me for a change, and I want to be prepared for it. These past years have been full of heartbreak for me, and I want to be ready for the good that is to come. I will be starting early for this coming year, even if it is a couple of days away, but it will take a lot of work. I hope your New Year is as lovely as mine is going to be!! Give your boys a kiss from me!!
(Peggy Roberson 6:41pm December 29, 2012)
I quit making new year's resolutions long ago...I never stuck
to them, so I was constantly failing. I'm a mess & I know it!
Also, I'm a procrastinator...I'll get around to setting goals
one of these days! ;-) Happy New Year!!!
(Robin Weiss 6:50pm December 29, 2012)
I plan to do more for my health. Run more, drive less. I also need to get
the clutter under control. Wishing you all a happy, healthy new year.
(Donna Antonio 6:52pm December 29, 2012)
I always make resolutions, that I always break. Thanks for a chance to win your book. Happy New Year!
(Linda Hall 6:52pm December 29, 2012)
I started on my New Year Resolutions early this year -- to take care of my
health and my family's health as well.

We're eating more fruits and vegetables and exercising!

Good luck with your resolutions! Thanks for the great giveaway!
(Khristine C Chua 7:39pm December 29, 2012)
I plan to organize my desk.
(Cheryl McEwen 7:49pm December 29, 2012)
Oh...resolutions just make you feel badly about yourself when you fail to fulfill them. One thing I know is, those things that are most important to me will get done. My main priority is family, so, they will come first!
Good to get a chance to get acquainted with a 'new to me' auothor.
(Gail Goodenough 8:31pm December 29, 2012)
My biggest goal is just to be the best Mom I can
possibly be. My boys deserve the world and are
definitely the most amazing part of me.
(Megan Grimm 8:40pm December 29, 2012)
Happy New Year!!! Love the giveaway. Organize family genealogy
(Cynthia St. Germain 9:14pm December 29, 2012)
I set monthly goals because long term goals are harder for me to successfully accomplish. My short term goals can be repeated with success. Example: I've learned to relax and to believe in myself. My next goal: to declutter my house!
(Joanne Hicks 9:16pm December 29, 2012)
No. I don't officially make a goal list. I always have goals and the end of the
year doesn't change my list any. I also don't wait until then to start a list of
goals. I am always trying to improve...might now happen, but I do try:)
(Nicole Nobles 10:12pm December 29, 2012)
The biggest thing I want to accomplish in the New Year is to get my house cleared of the junk and everything organized!! Happy New Year and thanks for the giveaway.
(Martha Lawson 10:26pm December 29, 2012)
Many apologies for not responding earlier in the day. I kept trying, but we're in
the process of upgrading our internet equipment and the DH has been wrestling
with that all day. In any case it seems to be working for the time being.

I'm glad to see some other goal setters here - I definitely think it's the way to
go. But I know many successful people who just go with it and it works out for
them. Wish I could be that free spirited. Thanks to all who've posted! I wish you
could all win the giveaway.
(Robyn DeHart 10:39pm December 29, 2012)
I try to set goals to improve upon my as a person. But these are things that I am constantly evaluating and working on. There are also ongoing home improvements among other things.
(Angelina Daniels-Shaw 10:42pm December 29, 2012)
I haven't made New Year resolutions since I was around 13 and finally decided that I wasn't ever going to follow through with them. I make goals as I need to and, if I'm determined, do a pretty good job at meeting them.
(Janie McGaugh 11:16pm December 29, 2012)
you have a great giveaway and have a great holiday season...
(Kimberly Hoefs 11:18pm December 29, 2012)
I hereby resolve to be more thankful for all I have been given, to offer thanks for each act of kindness, to write more notes of gratitude, and say fewer harsh words. Oh, and to eat less, spend less, save more!
(Beth Fuller 12:00pm December 30, 2012)
Thi year my big goal is to be able to walk again without the aide of a cane, walker or having to use a wheelchair. I was in a bad accident and was non-weight bearing on on foot for 3 yrs & multiple surgeries. One more to go and praying to be able to do many of the things I did priorhe accident. I set goal but I don't do resolutions. Wishing each of you a blesed and Happy New Year.
(Pat Moore 10:22am December 30, 2012)
My resolution every year is to relax more. Not just vacation, take things in stride.
(Kathy Sullivan 11:25am December 30, 2012)
Resolutions never worked for me, from the day to day hustle that swallows them alive, to the outrageous things I say I want to do -- but goals, yes, those wonderful achievements that allow you to set the bar every month, week, day to jump over and even raise it for the next time. My health must be top priority and random acts of kindness.
(Carla Carlson 4:23pm December 30, 2012)
What a great book and a great opportunity to win - I have so many changes to make in my life and home that I don't know where to start but the first definitely has to be to get back on track with my weight loss! With good health everything else is possible.
(Felicia Ciaudelli 7:32pm December 30, 2012)
Can't wait to read your book. Thanks for the contest and have a Happy New Year.
(Debbie Rudder 7:34pm December 30, 2012)
Yes, goals are important and I set mine that I try to be a better person and friend to others. Thank you for the contest. Hope your New Year is a great one and blessed.
(Diane Castiglione 4:42pm December 31, 2012)
Happy new year ! I do have a few goals in mind for the coming year: lose weight , quit procrastinating and stop smoking
(Danielle McDonald 8:20pm December 31, 2012)
My biggest goal is to continue losing weight - I've lost 35 pounds. I will take more time to read and less time to complain if things don't go "exactly" as I planned.
(Angee Bartlett 9:09pm December 31, 2012)
Registered users may leave comments.
Log in or register now!