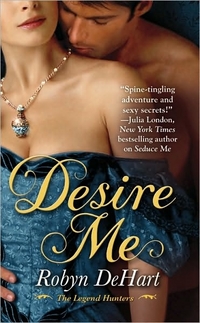 Purchase
The Legend Hunters #2
Forever
June 2010
On Sale: June 1, 2010
384 pages
ISBN: 0446541974
EAN: 9780446541978
Mass Market Paperback
Add to Wish List

Romance Paranormal | Romance Historical
The Legend Hunters . . .

The Men of Solomon's meet in secret, their very existence only a rumor among the best of Victorian society. They are treasure hunters, men of wealth and title, seekers of myths and legends. And no legend is as mystifying as the lost city of Atlantis . . .

DESIRE ME

Years ago, Maxwell Barrett found a map to Atlantis and dedicated his life to the search for the mystical lost continent. But when an alluring woman makes a wager for the priceless artifact, he may have discovered an even greater treasure.

A descendant of Atlantis, Sabine Tobias needs the map to decipher an ancient prophecy. What she doesn't need are the sparks flying between her and Max. He's too devilishly charming to be trusted: The fate of her people is at stake as well as her heart. Yet a ruthless killer also covets the map. Now Max and Sabine must race to decode the prophecy's riddle before this criminal fulfills his deadly mission.
Comments
44 comments posted.
Re: Desire Me

Enjoyed the blurb. Thanks!
(JoAnn White 1:11am June 8, 2010)
Yes, our church group of youngsters were sent on a scavenger hunt a bit different than the one you describe. Adults had previously hit clues all throughout the neighborhood...under rocks in people's yards, in mailboxes, etc...and each numbered clue led us to the next clue. When we finally found the last clue it led us to a park far away from our church, where more adults had planned a fun picnic for us. We had a blast! I also had a similar experience to yours regarding politics. A college government class I took happened to occur at the time men were trying to become the candidates for President for the different parties. The professor had us research everything we could find about all of the potential candidates...in newspapers, magazines, radio ads, wherever... We had to decide which man we liked the best and be able to defend our choice both orally and in a written report. It was great and it did, as you mention, make us very interested in the election. Some of the students were old enough to vote. I wasn't.
(Gladys Paradowski 2:09am June 8, 2010)
Of course I meant to say "hid" clues, not hit them. Maybe I am up too late. LOL
(Gladys Paradowski 2:11am June 8, 2010)
Have never taken part in a scavenger hunt, but sounds so exciting.
(Joanne Reynolds 6:21am June 8, 2010)
In my youth, scavenger hunts were wonderful. The youth of today need to do things like that.
Blessings,
Marjorie
(Marjorie Carmony 9:55am June 8, 2010)
I used to have scavenger hunts for birthdays. They were lots of fun
(Pamela Stewart 10:17am June 8, 2010)
I attended a scavenger hunt for a birthday of a friend in high school but.,...that was a long, long time ago
(Yvonne Butler 10:18am June 8, 2010)
Though I've never had a chance to take part in a real scavenger hunt, what I've heard of them always intrigued me. Like others here, I think this and similar entertainments where the brain and body actually come into play, would be a much better alternative for young and old alike to while away time.
(Sigrun Schulz 10:20am June 8, 2010)
I love books like this! I like to try to figure the clues out and rarely do I guess them correctly. :) Thank you so much for posting today so that I know more about your books. They sound wonderful!
(MaryAnne Banks 10:24am June 8, 2010)
Great excerpt. Love the concept for this book.
(G S Moch 10:31am June 8, 2010)
Yes, our youth had scavenger hunts - back in the day. I really enjoyed them. Should also have fun with this book!
(Karin Tillotson 10:49am June 8, 2010)
When my children were younger, every easter I would leave clues that led to the next clue and then the next clue and so on until they got to the easter egg at the end. I had them running all over the house and garden so they had really earned the egg.
(Barbara Hanson 10:56am June 8, 2010)
I was never into scavenger hunts but one of my many sisters-in-law used to have the most unbelievable hunts for her kids.
(Diane Sadler 11:03am June 8, 2010)
I've been on a road rally. It sounds similar.
I loved the excerpt and look forward to reading the book.
(Elaine Carlini-Davis 11:06am June 8, 2010)
this book sounds real good....
(Debbi Shaw 11:07am June 8, 2010)
My kids last year for christmas did a hunt for me around the house for their gift to me it was a ton of fun for them amd myself, Your book sounds great and fun all together and I'm sure it is going to be a hit.
(Vickie Hightower 11:25am June 8, 2010)
Scavenger hunts, any type, brings back wonderful, warm memories of my youth.
Keep writing.
Patricia R.
(Patricia (Pat) Pascale 11:40am June 8, 2010)
The scavenger hunts from my teens and before were fun, knocking on doors, asking for random small items, and crossing them off the list and racing back home. I remember sending my kids on similar missions and the looks on their faces told a lot about the effort they put in the competition. Thanks for reminding me of those times.
(Alyson Widen 11:44am June 8, 2010)
I've never been on a scavenger hunt before, but they always sounded like they'd be so much fun!! I really enjoyed reading your excerpt, and can't wait to read the book. I also enjoyed the little peek into part of your past as well.
(Peggy Roberson 11:51am June 8, 2010)
We planned a scavenger hunt for my son's birthday one year. We had several neighborhood families in on it, so it was great.
(Robin McKay 12:07pm June 8, 2010)
The only scavenger hunts that I've done have been online contests. In books and movies the hunts always lend a great deal of suspense and I am looking forward to reading this trilogy.
(Leni Kaye 12:33pm June 8, 2010)
I enjoyed your excerpt. I always like a hero with slightly rough edges and a sense of humor. I will be looking for this one.
(Dolores Feagin 12:38pm June 8, 2010)
I loved Desire Me. Seduce Me sounds even better. Loosing lust from Pandora's box is original and should be fun. I'm out to BN tomorrow to buy it.
(Sandra Dickey 1:04pm June 8, 2010)
I really enjoyed reading the excerpt.

Yes, years ago when I was very pregnant with my second child I went on a scavenger hunt. My mom was at a nurses convention and this was one of the activities. On Jekyll Island you started off with your list of clues, history of the island and a map then we drove like crazy all over the island looking for the prize slips. We were the big winners accumulating 6 of the 10 prizes. It was so much fun and figuring out the riddles was a hoot.
(Gigi Hicks 1:36pm June 8, 2010)
great excerpt... always loved searching out clues, trying to find things... scavenger hunts are fun!
(Colleen Conklin 1:38pm June 8, 2010)
A scavenger hunt always made me feel like an intrepid girl detective who would solve the mystery and save the day! Desire Me sounds great!
(Rosemary Krejsa 1:58pm June 8, 2010)
Oh, the excerpt is wonderful. Count me in :)
(Cathie Veres 2:18pm June 8, 2010)
Great excerpt! I love scavenger hunts although I don't recall participating in any after about age 12.
(S Tieh 3:16pm June 8, 2010)
I enjoy romance with a little mystery mixed in.
(Sherry Russell 3:38pm June 8, 2010)
Have never participated in a scavenger hunt but always thought it would be a fun activity. Can't wait to read your book the excerpt sounds good.
(Teresa Ward 5:58pm June 8, 2010)
I'll never forget the shock I got when I looked over my teens scavenger hunt list and asked what roadkill was.
(Linda Leonard 6:23pm June 8, 2010)
I haven't done a scavenger hunt in years,hope to read your book.
(Deb Pelletier 6:51pm June 8, 2010)
I went on a scavenger hunt with the Girl Guides once. We had such a brilliant time. Good fun!!
(Mary Preston 6:54pm June 8, 2010)
i had scavenger hunts when i went to summer camp and girl scouts. they were tons of fun. i think i will have to make one for my kids!
(Christy Mitchiner 7:29pm June 8, 2010)
The youth at church frequently
have scavenger hunts and they are
always a hit.
(Lisa Richards 8:15pm June 8, 2010)
I've got Desire Me in my TBR pile. Seduce Me sounds like a great book. I had a birthday scavenger hunt once where I had little presents in each spot as well as clues to the next spot to locate. My mom was always doing something fun like that.
(Deb H. 8:39pm June 8, 2010)
The only scavenger hunts I have particpated in are on author sites. Never done one in real life. Sounds like fun!
(Brenda Rupp 10:37pm June 8, 2010)
I've done scavenger hunts before and they are fun. What a great way to win this book and start on a great trilogy.
(Armenia Fox 11:12pm June 8, 2010)
Man, you leave your desk for a day
and look at all the comments! Y'all are
awesome. Thanks so much for your
kind words, I hope you enjoy the
book. And I'm glad to see everyone
likes scavenger hunts as much as I do.

I'll post the winner tomorrow. So keep
those comments coming tonight!
(Robyn DeHart 11:22pm June 8, 2010)
We used to do scavenger hunts when I was younger, they were such fun. Loved the excerpt, can't wait to start the Legend Hunters series.
(Barbara Elness 11:46pm June 8, 2010)
I've never gone on a physical
scavenger hunt. But I've participated
on several website based ones which
I've enjoyed.

I've got Desire me in my TBR pile so I
need to get my hands on Seduce Me
before I can read it.
(Sue Ahn 2:19am June 9, 2010)
Some of my fondest memories during my pre-teen and teen years were doing scavenger hunts at parties. I actually won a baby duck chick and when I brought it home...my mom said...What we to do with this???? I followed my around for a couple weeks (like I was it's mommy, until I found a family with a acreage/pond that I could give it to. Those were fun fun times!!!
(Mitzi Hinkey 2:45am June 9, 2010)
I have never been on a Scavenger Hunt. They sound like they could be a lot of fun. Friends who have been on one say they had a lot of fun. I feel so deprived!
mom1248(at)att(dot)net
(Patsy Hagen 11:27am June 9, 2010)
Thanks for all the wonderful
comments!

Congrats to MaryAnne Banks for
winning the copy of SEDUCE ME.
MaryAnne, just send me an email
robyndehart @ gmail .com with your
mailing address.
(Robyn DeHart 2:04pm June 9, 2010)
Registered users may leave comments.
Log in or register now!