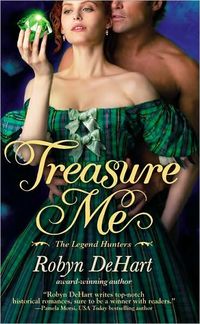 Purchase
The Legend Hunters
Forever
March 2011
On Sale: February 22, 2011
Featuring: Vanessa Pembrooke; Graeme Langford
352 pages
ISBN: 0446541982
EAN: 9780446541985
Kindle: B0047Y0F8W
Paperback / e-Book
Add to Wish List

The Legend Hunters . . .
The Men of Solomon's meet in secret, their very existence only a rumor among the best of Victorian society. They are treasure hunters, men of wealth and title, seekers of myths and legends. And no legend is as captivating as the Loch Ness monster . . .
Graeme Langford, Duke of Rothmore, has always been torn between his beloved Scottish homeland and his duty to the English Crown. Yet his is truly an adventurer's soul-and he's determined to find a long-lost stone hidden near Loch Ness.
Bookish Vanessa Pembrooke heads to the Highlands to prove the existence of the legendary beast. Instead she finds the first man who has ever shared her hunger for adventure. Soon Graeme and Vanessa are fighting a dangerous battle as well as their own simmering attraction. As their passion grows, so does the danger. Ultimately, they must risk everything to keep the cursed stone out of a murderer's hands. But can they survive without losing the greatest treasure of all-their love?
Comments
46 comments posted.
Re: Treasure Me

Thanks for the post and the giveaway, Robyn.

I can't think of any phase of writing I don't like. Really. Nor any I enjoy more than the rest. But I doubt I'm a representative example.

Yes, I dig these glimpses inside a writer's life and the writing process. The more detailed and personal, the better. I say this as both a reader and a writer.

Good luck with your new and upcoming releases.
(Mary Anne Landers 1:12am March 3, 2011)
Thanks for sharing yourself with us, Robyn!

I enjoy reading about authors. It's always interesting to see how their personalities are reflected in their writing. I especially like to learn the process they use to build their characters and story lines.
Good luck and happy writing!
(Tracie Travis 1:45am March 3, 2011)
I love reading about authors, authors blogs and finding out what gives them inspiration to write the stories and find the characters that they do.
(Darci Paice 2:01am March 3, 2011)
I do enjoy the inside peeks & the first sentence is all important to me.
(Mary Preston 2:44am March 3, 2011)
The first sentence is what draws me in! Me and my guy often do the first sentence when we watch people- a fun way to stay entertained! Thank you for giving us a glimpse into what it's like for you...I love the whole process. After years of always wanting to write, I am just now finding the time to do so.
(Patti DelValle 3:51am March 3, 2011)
I find beginnings difficult to read. But once I get the lay of the land, so to speak, that is when I can't put a book down. Good luck with the new book. I like the exerpt.
(Pam Howell 7:15am March 3, 2011)
Beginnings. So much like life. We start by learning to put one foot in front of
the other. Then comes a big grin. "Let's see where we can go from here."
Books like life are adventures with lots of possibilities. So many choices. So
many changes. All good. All enticing. We must start somewhere. Beginnings
of books unlike life can be revised, rewritten, relived. So just start somewhere
and know your readers are waiting, some with baited breath, to follow you
anywhere.
(Sandra Spilecki 7:42am March 3, 2011)
A Scottish historical! The very best subject!
Blessings,
Marjorie
(Marjorie Carmony 8:30am March 3, 2011)
I love it when the authors share their thoughts and ideas. It is fun to see where and how the characters are created.
(Dawn Staniszeski 9:31am March 3, 2011)
I'm a reader, and yes, I do enjoy the inside peaks of an author's life. I had no idea how rewarding and punishing writing could be. Well, the punishing part, yes. I admire an author because just writing this little bit is a struggle for me.
(Cynthia Netherton 9:31am March 3, 2011)
I always enjoy reading tidbits about how an author thinks, and what processes he or she uses when writing a book. I find it fascinating. I've thought about writing, but at this point, have not done so. Anyway, not only did I enjoy your blog posting, but I did enjoy the glimpse into your book. It's not something I would normally read, but you have a way with words that would attract a person into reading one of your books. Congratulations on your new book. I'm sure it will do well, and you now have a new reader!!
(Peggy Roberson 9:50am March 3, 2011)
I enjoy learning a little about the authors whose books I enjoy reading. Your books sound really good and you can never go wrong with a Scottish Highlander, or maybe that's just me?
(June Manning 10:03am March 3, 2011)
I am not a writer but can well imagine looking at a blank screen or blank page and trying to set words down.
(G. Bisbjerg 10:16am March 3, 2011)
I enjoy hearing a writer talk about their process when writing. What one writer loves another hates and so forth. Thanks for the insight.
(Maude Allen 10:37am March 3, 2011)
Robyn - Don't put me in the drawing because I already read Seduce Me and Desire Me (which I just re-read getting ready to read Treasure Me), but I hope that at some point you return to this series which I've loved. I know I'll love new your series but what about a Treasure Hunter book titled "Adore Me" - come on - just one more!
(Jeanne Miro 10:50am March 3, 2011)
Hello Robyn!
I really enjoy learning about the writing process. I follow a few writer blogs/vlogs and I find it very interesting how long the process takes from idea to finished product. Good luck with your new release! The trilogy sounds fun!
(Stacie Deramo 10:52am March 3, 2011)
I'm so glad to know that us writers don't bore you readers with our tales of
woe. :-) Even though writing can be challenging, I wouldn't trade it for
anything in the world, I just love it.

And I see some Scottish fans out there - this is my first book set in Scotland
and man, there is just something about a big hulking man in a kilt. And I had
to look at pictures of Gerard Butler to get inspired, boy my job is tough...

Jeanne Miro, hugs to you! Adore Me is a wonderful title. I won't say never
because I've loved the this series, glad to see I have a faithful fan out there.
Hope you love Treasure Me as much as the other two books.

And for those of you who haven't read me before, I hope you enjoy my books.
You can read more excerpts on my website.
(Robyn DeHart 11:05am March 3, 2011)
I love books set in Scotland! This books sounds like a great read!
(Marguerite Guinn 11:36am March 3, 2011)
Oh I love it all - writing the beginning and the end are extra special, but so is everything in between. The only thing I really don't like is revising, but oh well.
(Birgit Lehner 11:53am March 3, 2011)
Your books draw me in. Thanks you for this opportunity.
(Felina Pence 12:17pm March 3, 2011)
I enjoyed reading your comments about the creative process of writing your books. Desire Me has just what I like --- an exciting adventure, a mystery with romance as an added spice.
(Anna Speed 12:30pm March 3, 2011)
I'm a reader & I enjoy these posts about the writing process. It's fun to see the differences in how authors feel about and approach their profession.
(r w 12:40pm March 3, 2011)
I love your book, they are awesome. I love the little peaks into a writers life. If they are a favorite I want to learn as much about them as I can. Authors make our world so much better because they give us different places to travel to.
(Gail Hurt 12:40pm March 3, 2011)
Always enjoy little background bits from authors... alittle extra insight to their writing...
(Colleen Conklin 1:05pm March 3, 2011)
This sounds fabulous! I want to take a second and cheer you on, and thank you for this opportunity.
(Debra Simning-Chapman 1:52pm March 3, 2011)
I love, strong charactors always make for a good story.
(Tammy Sommervold 1:54pm March 3, 2011)
I enjoyed your post. This series sounds great. Thanks.
(G S Moch 2:16pm March 3, 2011)
your book will do great and would love to read and blog on them
(Desiree Reilly 3:28pm March 3, 2011)
I enjoyed the excerpt - I'd love to get a chance to read everything!!
(Jessica Brainerd 3:30pm March 3, 2011)
Who knew writing was so stressful.But good for us readers.
(Deb Pelletier 4:28pm March 3, 2011)
I'd love to win this book. Writing is a very admirable passion!
(Roseann Kies 5:05pm March 3, 2011)
I check Fresh Fiction everyday because I love to hear from all the different authors! I also love a book that jumps right into the action and the excerpt of your book definitely did that. Thanks for the opportunity of the giveaway.
(Renee Pajda 5:05pm March 3, 2011)
The only writing I do is for my job and tends to be technical. When I write, I like to go where my inspiration takes me. Then I come back and do the logic of what I really need to do before I start to add, revise and delete. I almost always have to go back and add or heavily revise the beginning because I have to know where everything is going to get a beginning that makes sense.
(Carol Drummond 6:52pm March 3, 2011)
Robyn, I am a reader. I also wonder where the writer gets his/her inspiration for a story. You would think that writing is an easy job to come up with the story. It's great to know that through the peek in the writer's life, the writers are just like us but only they took the time to write and share their stories.
(Kai Wong 9:46pm March 3, 2011)
I always tell my kids when writing any sort of paper, getting started is the hardest part. As for the storyline, I always love when the heroine is a bluestocking, it usually provides for some humor along the way. Thank you for your work.
(Michelle Whitwam 9:54pm March 3, 2011)
I love reading about Scotland and its beautiful history. Love the excerpt and can't wait to read it! Thanks for the contest!
(Teresa Ward 9:55pm March 3, 2011)
Reading about Scotland just makes me want to go there so much more. My husband's family were from there.
dancealert at aol dot com
(Brenda Rupp 10:33pm March 3, 2011)
I do like the glimpses, it let's us readers appreciate what you all go thru - thanks for the work you do to entertain & enlighten us!
(Diane Sallans 10:34pm March 3, 2011)
I need a good beginning in a book. I want to be drawn in quickly. If it's only a so-so beginning, I'll struggle through, hoping it gets better; sometimes I get lucky and it does. This beginning is terrific, I love it, and can't wait to read the book. And I do like getting insights to the difficulties a writer experiences. Thank you for going through all that angst to give us your wonderful books!!
(Karen Cherubino 10:49pm March 3, 2011)
I enjoyed reading the excerpt from your book. Sounds like it's going to be good.
(Ginger Hinson 11:35pm March 3, 2011)
Thanks for giving me a chance to win your book,sounds wonderful. I would love to go to Scotland one day if I can.
(Linda Hall 11:54pm March 3, 2011)
Understand where you're coming from, sometimes it takes me half a day just trying to state a letter. Book sounds great.
(Sheila True 12:04pm March 4, 2011)
Thanks so much for joining me with my guest blog. I'm glad to know there are
so many readers out there who enjoy books set in Scotland. Hope you love
Treasure Me.
(Robyn DeHart 11:00pm March 4, 2011)
I love reading the bits and pieces that go into an author's writing process, so thank you! As to what I like best - the beginning is always exciting if it is done well (and yours are.) Something that draws in the reader, enticing us in some special way.
If I win (smile) an autographed bookplate would be wonderful, I own both books already, and can just add it to my copy. Maybe you can send the book to someone else, and send an electronic version?
(Mickey McCall 12:04pm March 5, 2011)
I've been to Scotland (and England) twice so far, and I love stories about both countries. Your story sounds attractive.
(Ann Garland 1:36am March 8, 2011)
Scottish characters seem to have a little extra something encompassing charm and a lilt in their dialogue. I do like to read about cultures and countries different from mine with the music, the neighborhood and of course, the food.
(Alyson Widen 12:17pm March 8, 2011)
Registered users may leave comments.
Log in or register now!