Shobhan Bantwal | Sex and the Sari

August 1, 2011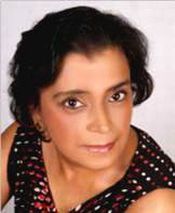 When I first decided to write mainstream women's fiction with romantic elements, I was plagued by doubts. With romance comes sex. Was I capable of writing convincing love scenes? Would Indian characters wearing saris and kurtis and indulging in carnal pleasures sound realistic to my readers? I realized I would never find out unless I tried to work in a sex scene here and there—lift the sari.
I could envision the scandalized looks on the faces of my conservative family and friends when they discovered that wholesome Hindu men and women were reveling in hot, glorious, mind-numbing sex in my stories. And this notwithstanding the fact that India is probably the only ancient culture that boasts a seventeen hundred year-old textbook on the art of love-making, the Kama Sutra. Erotic sculptures abound in centuries-old Indian temples, too. I wonder when Indian society turned prudish.
Unlike my fellow South Asian authors, who generally write literary fiction, I had never truly enjoyed the slice-of-life type of fiction I was forced to read for my English literature classes in college. Even the rare love scene was a work of lyrical beauty but sadly lacking in sizzle.
I was always a romance reader, in most all of its sub-genres. So at the age of 50, teetering on menopause, I decided to take the plunge and write what I liked—women's fiction peppered with romance. And so began my adventurous journey to becoming a published author of romantic Indian fiction—a tricky path that very few, if any, Indian writers have chosen to tread.
It has not been an easy journey. I often get denigrated for writing what some fellow South Asians label "trashy" fiction. Nonetheless, I firmly believe there is a large readership that enjoys commercial fiction with romantic elements.
My writing is a colorful potpourri, "Bollywood in a Book," full of high drama, emotion, romance, and cultural details. I try to entertain as well as educate my readers by introducing them to my Indian culture.
THE FULL MOON BRIDE, my fifth book, explores the fascinating subject of arranged marriage, as a young Indian-American attorney navigates the gulf between desire and tradition.
To learn more about my unique Bollywood in a Book novels, author events, recipes, photographs, short stories, and to contact me, go to my website.
Leave a comment and you might win a copy of THE FULL MOON BRIDE
Comments
43 comments posted.
Re: Shobhan Bantwal | Sex and the Sari

I have never read a love story that included a couple from India. This sounds really interesting. Good luck with your book.
(Kathleen Yohanna 1:06am August 1, 2011)
I'm trying to learn more about Indian culture through contemporary literature - I love your books!
(Beth Fuller 1:13am August 1, 2011)
"Bollywood in a Book" - I love that. I am sorry you are denigrated for your work. That saddens me.
(Mary Preston 5:17am August 1, 2011)
Your courage to write what you want is encouragement for us all.
(Theresa Norris 6:10am August 1, 2011)
I would love to read this. I admire you for writing as you want.
(Lisa Garrett 6:26am August 1, 2011)
Realistic writing, how wonderful!!
Blessings,
Marjorie
(Marjorie Carmony 6:40am August 1, 2011)
May your journey continue on the road to success. With your writing in this
genre you will probably be surprised at the positive feelings you generate and
those who mock you will be the ones shown the error of their ways. Thank you
for today's blog. I look forward to your newest book with great impatience.
(Sandra Spilecki 7:04am August 1, 2011)
Thank you for making the transition in to Romance. I look forward to reading this book. Best Wishes.
(Barbara Ryan 7:09am August 1, 2011)
I LOVE THE PREMISE OF YOUR BOOK AND AM IN IT TO WIN IT!
(Silvana Moscato 7:31am August 1, 2011)
I love this genre and want to thank you for writing it; even if there are people who may think it is beneath them. Stay strong and follow your beliefs.
(Jody Hollenbeck 7:32am August 1, 2011)
Thank you, ladies, for the lovely remarks and words of encouragement. Good luck in winning the signed copy of The Full Moon Bride...
Shobhan Bantwal
(Shobhan Bantwal 9:07am August 1, 2011)
This books sounds so interesting. I can not wait to read it.
(Christine Arcidiacono 9:24am August 1, 2011)
Your books are amazing and enlightening...I have loved the way
your portray love scenes in your books..You portray these
scenes tastefully and with such eloquence that all of the
emotion is felt by the reader...I am about to start The Full
Moon Bride...I cannot wait ...Best wishes...
(Beth Geltman 9:57am August 1, 2011)
This book should be very interesting to learn about a different culture. I always love finding an author I haven't read about before...Your books will be put on my list to read..Thanks for sharing.
(Dawn Staniszeski 10:17am August 1, 2011)
the cover is beautiful and the story sounds great. i can't wait to read it.
(Tammy Ramey 10:30am August 1, 2011)
The book sounds great! I have read all of Shobhan's books and
LOVE them. I share them with anyone I can find and they love
them as well. I am looking forward to reading The Full Moon
Bride!
(Christine Shivecharan 10:36am August 1, 2011)
I've always read that writing what is in your soul turns out the best books so am sure it is a winner. Sounds like a great book too.
(Vicki Hancock 12:33pm August 1, 2011)
I loved where I used to live on Sat. there was a 2 hour public access
program that focused on the Indian culture, what was happening,
bollywood, and the music videos. I would sit entranced by the beautiful
imagery and saris. The videos shown seemed to always tell a story about
love. I miss those quiet mornings. Your book sounds just as entracing.
(Carla Carlson 12:59pm August 1, 2011)
Is a "kurti" the little shirt/top/thingie worn under the sari? I've always wondered what is was called. A friend has always promised to help me find a sari, but he's back in India now, and has probably forgotten his promise, since it was made on the fly.

I haven't been able to purchase any of your books yet, but they are all on my "To Be Bought" list, quite near the top. Not only have I found the excerpts on your website and in your newsletter fascinating, but another Indian friend (this one a woman) recommends them highly.

Later,

Lynn
(Lynn Rettig 1:23pm August 1, 2011)
Love reading about India. Look forward to reading The Full Moon Bride
(Phyllis Lamken 2:28pm August 1, 2011)
I'm so glad that women from cultures that most of us know nothing of are writing more books. Former neighbors of our family were from India too and I've always felt that it made our family very fortunate. We also have friends who came from Ghana, though I have never seen a book by a Ghanaian, man or woman. I think books are very important for us to be able to understand and appreciate each other better. I've been looking for your books too. Are they for sale in Canada?
(Sigrun Schulz 2:33pm August 1, 2011)
Thank you, all, for your supportive and warm comments. Lynn, yes, a kurti is a tunic top. Sigrun, yes, all my books are sold in Canada.

Ladies, happy reading to all of you. And good luck in winning that one signed copy.
Shobhan
(Shobhan Bantwal 3:45pm August 1, 2011)
This book sounds just lovely. A good Indian friend of ours is married to an
American woman and they are so very happy together. Whether you are
combing cultures or are from the same culture, a couple should always be
open with one another and never, ever stop communicating. After 45 years
with my wonderful husband, I feel as though I can speak from experience. I'm
looking forward to reading your novel, Shobhan, and wish you all the best.
Connie Fischer
conniecape@aol.com
(Connie Fischer 4:31pm August 1, 2011)
The best part of reading is learning new things. My grandparents (from Sicily) had an arranged marriage that lasted over 50 years :) Your book sounds wonderfully interesting!
(Jeanne Sheats 4:31pm August 1, 2011)
Sounds fascinating and challenging. I look forward to reading
your work. Even if I don't win, I'm very interested. I write
free reviews if you'd like to contact me. ~ Dellani
(Dellani Oakes 4:53pm August 1, 2011)
Thank you for writing from your heart! I think that is so amazing!
(Marguerite Guinn 5:11pm August 1, 2011)
Your book will be a great way to learn more about Indian culture.
(Diane Pernick 5:15pm August 1, 2011)
Beautiful cover, I can't think of amny who son't know where the kama sutra originated so I can well believe you had nopause in beginning anew in this new genre.
(Marcelle Cole 5:48pm August 1, 2011)
I'm fascinated about learning of cultures that are exotic or so much different from traditional western values.
(Alyson Widen 6:10pm August 1, 2011)
As long as the book is an old-fashioned romance story, I love to read it. The arranged marriage is going to be a little different to read. I know in your culture, that's second nature to you, but in a way it's like you want our culture to just accept it. I realize you want to tell a totally different type of love story, but I'm still having a hard time getting my head around having to accept everyone else's way of living as the norm, instead of the other way around. Perhaps after reading the book I'll have a different way of looking at things, but my Grandparents had to adapt to the American way of life, and that was it. In no way are my remarks made to offend. It's just made as an opinion.
(Peggy Roberson 7:12pm August 1, 2011)
Far from finding your books 'trashy' fiction, I am so grateful to find a south asian writer that isnt afraid to explore various scenarios and push boundaries in order to explore the challenges that those of us growing up in North America face, trying to keep one foot in both cultures.

Thank you for writing for women like myself who see our own struggles, challenges and identity mirrored in your characters.
(Anju Jain 8:06pm August 1, 2011)
I have never read any of your books, but this one may have to be my 1st.
Thanks for the post.
(Patti Paonessa 8:19pm August 1, 2011)
The brides of India has been featured in many stories the past few years and not all are pleasant to read about. Most are written by journalist. I would love to read your novel and get your true personal input into this story. The cover
of your book is lovely and has a quiet aura. Much success to you Shobhan.
(Rosemary Simm 8:50pm August 1, 2011)
Your book sounds wonderful. Thanks for giving me a chance to
win it. I love the cover.
(Linda Hall 8:56pm August 1, 2011)
WOW, your Book The Full Moon Bride with your India Culture sounds like fantastic reading and I Pray that I Win a copy so I can check it out. I am sure that GOD is Proud of YOU writing about your Indian Culture and sharing it with all of us in the World to enjoy. Please keep up the good work and may God bless YOU with lots of Success in your Writing. Thanks, Cecilia CECE
(Cecilia Dunbar Hernandez 9:09pm August 1, 2011)
I don't totally understand the idea of an arranged marriage because marriage to me is about love. I have actually known people in arranged marriages and they were all happy. I would love to read this book.
(Jennifer Beyer 10:15pm August 1, 2011)
I don't think I've ever read a romance where the couple was
from India, either. Sounds like one I MUST add to the wishlist.
(Lisa Richards 10:32pm August 1, 2011)
The book sounds interesting. What a great way to learn about another culture. I have seen movies regarding India culture but a book gives a better explanation than the movies especially if it is told in a story.
(Kai Wong 10:52pm August 1, 2011)
Shobhan, I love your books! Can't wait to read this one.

Misa
(Misa Ramirez 10:54pm August 1, 2011)
As so much has already been done it is refreshing to find a new path to explore.
Good luck and happy writing!
(Tracie Travis 10:57pm August 1, 2011)
Learning something about a culture that I am not familiar with plus reading a good romance novel---sounds like a super combination to me.
(Sue Farrell 9:13am August 2, 2011)
I'm very interested in the Indian culture so this would be a great way to become more enlightened about it...thanks for the opp.
(Sheila Calabretta 11:55am August 2, 2011)
I've always wanted to read one of your books I'm always interested in other cultures and your books look fascinating!
(Brenda Rupp 9:29pm August 28, 2011)
Registered users may leave comments.
Log in or register now!