Leslie Langtry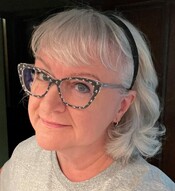 Blogging at Fresh Fiction
Leslie Langtry | Title Challenge: MUNCHIES AND MURDER
July 11, 2022
Hello! Leslie Langtry here to tell you about my book Read More...
Leslie Langtry | Who, What, and Why...a Mystery Writer's Profile
June 29, 2015
Author: Leslie Langtry Writes: The Merry Wrath Mystery Read More...
Leslie Langtry | Greatest Hits Series
February 21, 2008
Hello! Thanks to Fresh Fiction for inviting me to blog today! As some of you may know, I write the Greatest Hits Series Read More...
Leslie Langtry grew up in the small town of DeWitt, Iowa. After living in Virginia, then back in Iowa, Leslie now lives in Illinois in the Quad Cities area with her husband and two children. She believes that living in the Midwest has warped her enough to come up with the Bombay Family - and she wouldn't have it any other way.
Log In to see more information about Leslie Langtry
Log in or register now!
Series
12 Days of Christmas | Merry Wrath Mystery | Greatest Hits Romance | Aloha Lagoon Mystery
Books:
Munchies and Murder, July 2022
Merry Wrath Mysteries #23
e-Book
Mardi Gras Murder, April 2022
Merry Wrath Mysteries #22
Paperback / e-Book
Mayor for Murder, February 2022
Merry Wrath Mysteries #21
e-Book
Manga and Murder, November 2021
Merry Wrath Mysteries #20
e-Book
Mad Money Murder, October 2020
Merry Wrath #16
Paperback / e-Book
Musket Ball Murder, April 2020
Merry Wrath Mysteries #14
e-Book
Map Skills Murder, July 2018
Merry Wrath #7
e-Book
Ukulele Murder, July 2016
Aloha Lagoon Mystery #1
e-Book
Marshmallow S'More Murder, April 2016
Merry Wrath #3
Paperback / e-Book
Mint Cookie Murder, July 2015
Merry Wrath Mystery #2
e-Book
Have Yourself a Deadly Little Christmas, May 2015
Greatest Hits Romance #8
e-Book
Merit Badge Murder, October 2014
Merry Wrath Mystery #1
e-Book
Mystery Spring Fling, March 2014
e-Book
Four Killing Birds, December 2013
12 Days of Christmas
e-Book
My Heroes Have Always Been Hitmen, November 2013
Greatest Hits Romance #7
e-Book
Snuff the Magic Dragon, August 2013
Greatest Hits Romance #6
e-Book
Paradise by Rifle Sights, June 2013
Greatest Hits Romance #5
e-Book
I Shot You Babe, July 2009
Greatest Hits #4
Mass Market Paperback
Stand By Your Hitman, September 2008
Greatest Hits #3
Mass Market Paperback
Guns Will Keep Us Together, February 2008
A Greatest Hits Romance #2
Paperback
'Scuse Me While I Kill This Guy, August 2007
A Greatest Hits Romance #1
Mass Market Paperback