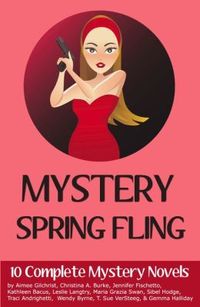 Purchase
Gemma Halliday Publishing
March 2014
On Sale: March 12, 2014
ISBN: 0045768455
EAN: 2940045768450
Kindle: B00IZNOFVE
e-Book
Add to Wish List

Romance Suspense | Mystery Woman Sleuth
10 romantic cozy mystery novels by New York Times, USA Today, and National Bestselling authors! Mystery, murder, laughs, romance, and tons of fun!
This bargain priced collection is available for a limited time only, and includes the FULL LENGTH novels:

CALAMITY JAYNE
by Kathleen Bacus

QUEENIE BABY: ON ASSIGNMENT
by Christina A. Burke

GEMINI MOON
by Maria Grazia Swan

'SCUSE ME WHILE I KILL THIS GUY
by Leslie Langtry

LIMONCELLO YELLOW
by Traci Andrighetti

FASHION, LIES, AND MURDER
by Sibel Hodge

THE TELL-TALE CON
by Aimee Gilchrist

I SPY DEAD PEOPLE
by Jennifer Fischetto

LUCK BE A LADY
by Gemma Halliday & T.Sue Versteeg

and the novella:

THE CHRISTMAS CURSE
by Wendy Byrne
Comments
17 comments posted.
This is so awesome to have the proceeds go to a library. I
know that the one that wins will be so lucky. Our library
has many sponsors and I just hope that there is one out there
that can really use the help. I know that is how I will vote
for. Thank you all of the generosity.
(Tina Ullrich 2:19am March 21, 2014)
Thanks, Tina! We're excited about this too. We keep asking Gemma when we'll
get to find out which library won!
(Traci Andrighetti 4:54am March 21, 2014)
Sooo pleased to be involved in Mystery Spring Fling with
you, Traci, and the other funtabulous authors! 10 fun
mystery books for only $0.99, and the proceeds go to a great
cause.
Happy reading!
Sibel Hodge :) xx
(Sibel Hodge 5:54am March 21, 2014)
Great Post Traci! I love working with you at GHP!
(Leslie Langtry 9:09am March 21, 2014)
I love a great mystery! And you really can't beat 10 at such a great price! THANKS!
(Sandy Fielder 12:01pm March 21, 2014)
10 complete stories in one book!? Freakin' fabulous!!
(Lisa Hutson 2:29pm March 21, 2014)
this is a great cause. hope you get lots of nominees.
(Barbara Studer 3:29pm March 21, 2014)
This book sounds really good and I can't wait to read it
(Jeri Dickinson 5:27pm March 21, 2014)
Sounds like a great collection, for a great cause. Thanks for the post and giveaway.
(G S Moch 5:41pm March 21, 2014)
This is a great collection of books and a great cause to support local libraries.
(Kai Wong 10:18pm March 21, 2014)
Always in the mood for a mystery.
(Pamela Fox 8:53pm March 22, 2014)
i love the idea of all money raised goimg to a library, i have spent many a happy hour in one library or another. it has always been one of the frist things i did whenever i moved, to acquire a library card. i just wish that it could also come in print, some of us cannot afford fancy electronics.
(Sue Hieber 8:57pm March 22, 2014)
I do think that libraries need to be supported.
(Mary Preston 12:33pm March 23, 2014)
thanks for the contest and hope you have a great spring.
(Gloria Vigil 1:20pm March 23, 2014)
Wow! So many great mysteries just for the asking! What can be better? I love mysteries.
(Vennie Martinisi 2:03pm March 23, 2014)
Love to read and this book sounds good
(Jeri Dickinson 2:32pm March 23, 2014)
What a fun contest, thanks!!
(Kathleen Conner 10:36pm March 23, 2014)
Registered users may leave comments.
Log in or register now!