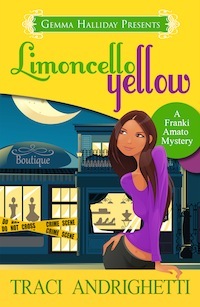 Purchase
From debut author, Traci Andrighetti, comes a tale of murder, mayhem, and meddling Sicilian grandmas...
Franki Amato Mystery #1
Gemma Halliday Publishing
January 2014
On Sale: January 4, 2014
Featuring: Glenda O'Brien; Veronica Maggio; Franki Amato
ISBN: 1493690817
EAN: 9781493690817
Kindle: B00GK3LY92
Paperback / e-Book
Add to Wish List

Mystery Woman Sleuth | Romance Contemporary
Francesca "Franki" Amato is a tough-talking rookie cop in Austin, Texas—until an unfortunate 911 call involving her boyfriend, Vince, and a German female wrestler convinces her once and for all that she just isn't cut out for a life on the police force. So Franki makes the snap decision to move to New Orleans to work at her friend Veronica's detective agency, Private Chicks, Inc. But Franki's hopes for a more stable life are soon dashed when Private Chicks is hired by the prime suspect in a murder case to find out what really happened to a beautiful young boutique manager who was found strangled to death with a cheap yellow scarf.
When she's not investigating, Franki is hoping to seduce handsome bank executive Bradley Hartmann, but most of her time is spent dodging date offers from a string of "good Italian boys"—make that not-so-good aging Italian men—that her meddlesome Sicilian grandma has recruited as marriage candidates. As Mardi Gras approaches and the mystery of the murdered shop girl gets more complicated, Franki must decipher the odd ramblings of a Voodoo priestess to solve both the murder and the mystery of her own love life.
Franki Amato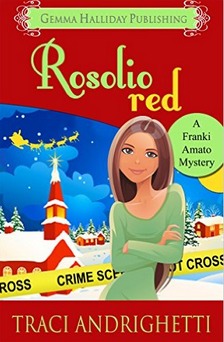 Rosolio Red
#2.5
Kindle | BN.com | Apple Books | Kobo | Google Play
Comments
30 comments posted.
Got a gift of Limoncello Yellow from Italia and waiting for an opportunity to open it and celebrate. Perhaps I will win your book and that will be the moment. Hopefully.
(Patricia (Pat) Pascale 5:00pm January 8, 2014)
Sounds like a fun mystery. A tough young female. Love it.
(Lisa Hutson 12:43pm January 14, 2014)
I really love Chicago. Michigan Ave. is amazing! Then you have Navy Pier,
and Grant Park. The list goes on and on. The whole city has so much to
experience. I consider it very colorful!
(Michelle Whitwam 6:16am January 14, 2014)
WOW! This book has it all: mystery, thriller, love, location, interesting characters all included in one book. Can't wait as I love a good mystery to read.
(C Culp 6:43am January 14, 2014)
Sounds great ! Would love to win !
(Patricia Neely-Dorsey 8:42am January 14, 2014)
Wonderful post and so interesting regarding your heritage,
Italian and Limoncello which captivated me. The most colorful
city would be Miami.
(Sharon Berger 9:55am January 14, 2014)
I think I would have to pick Venice, California, since New Orleans has already been chosen. I picked this city on what I've heard from people I know who live there. First of all, you have people who live by the canals, and they have boat parades there for certain occasions. I've seen photographs, and they not only decorate these small to large boats, but they put lights on them, so they can parade them at night as well!! Then you have Venice Beach with their boardwalk, shops, artists, and collection of people who congregate there. Need I say more!! There are so many places that I could have chosen that fit the bill for different reasons, but in a few mile radius, this city packs more color in a few square miles than any other place, outside of New Orleans, than any other place that I know of, mainly due to the crush of people that come to see what the big draw is. I'm really looking forward to reading your book!! I love the cover, and know I'm going to love what's inside it even more!! I have a girlfriend that lives in New Orleans, and she fills me in about what happens out there all the time!! This book will be a joy to read!!
(Peggy Roberson 10:21am January 14, 2014)
I would have to say Las Vegas because of all the lights. I would love to win this book.
(Denise Austin 12:26pm January 14, 2014)
I'm from south Louisiana, so of course I agree with the selection of New Orleans. I've visited other US cities I'd rate as colorful--Charleston, San Francisco, and Washington, D.C. come to mind.
(G S Moch 1:47pm January 14, 2014)
Sounds intriguing!
(Richard Proctor 2:06pm January 14, 2014)
LOVE the title! Sounds like a great book!
(Maria Proctor 2:17pm January 14, 2014)
I have to go with New York City because there's always something going on there.
(Sandy Giden 2:27pm January 14, 2014)
A toss up - Austin - San Francisco - New Orleans - all have a lot of music going on - Austin (my hometown) has several music festivals which draw wonderful talent.
(Annette Naish 2:31pm January 14, 2014)
This sounds really good. Something light and yet interesting. A voodoo priestess and all!
(Vennie Martinisi 3:14pm January 14, 2014)
San Francisco...its' trolleys, Lombard St, the Waterfront where all the action is...love it. Just got a gift of Lemoncello from friends returning from Italia. I will open it to celebrate your new book...sounds like a good one.
(Patricia (Pat) Pascale 3:52pm January 14, 2014)
I'm nominating my home town, Chicago. We have a little of everything and everywhere here. I love how you thought to incorporate Limoncello Yellow together into the title, characters and story. Looking forward to reading this book. :)
(April Harvey 4:50pm January 14, 2014)
New York City - love the museums and theaters!
(Mary C 5:19pm January 14, 2014)
nyc for me
(Debbi Shaw 5:32pm January 14, 2014)
I love San Antoino and miss it since I have moved from the
Austin area. The Riverwalk and all the different foods
available.
(Leona Olson 5:48pm January 14, 2014)
love books that are set in new orleans
(Tami Bates 5:48pm January 14, 2014)
well i live in lewistown pa so im nominating us
(Denise Smith 6:27pm January 14, 2014)
sounds like good reading
(Ron Frampton 7:20pm January 14, 2014)
I choose Las Vegas would be my pick. What happens stays there?
(Barbara Wells 9:25pm January 14, 2014)
Las Vegas. The lights are always on at night.
(Kai Wong 10:22pm January 14, 2014)
I'm from Nashville. Color us Country.
(Sheila True 11:11pm January 14, 2014)
Wow, Congrats on your new book: LIMONCELLO YELLOW. I like the
book cover too! Wow, it is great that your new book takes
place in Austin, TX where I am living too. I would love to
win and read your fantastic new book in this New Year 2014.
Thank You very much. Cecilia CECE
(Cecilia Dunbar Hernandez 11:14pm January 14, 2014)
Venice Beach, California the blue of the ocean, the colorful shops and the amazing people a very colorful mixture.

Book sounds like a must read.
(Roseann Moss 11:26pm January 14, 2014)
I would probably pick New Orleans. With the constant parades, mix of cultures, the various lifestyles, religions, and regional differences all housed within the city's borders, there is little one can't find. It is about as colorful a city as one can find anywhere in the world.
(Michelle Willms 8:18am January 15, 2014)
new york city is the most colorful altho I would never want to live there. Book sounds like a good read to add to my list.
(Barbara Studer 8:40am January 15, 2014)
To answer the question I would have to say New York City.
(Mary Preston 3:25am January 16, 2014)
Registered users may leave comments.
Log in or register now!