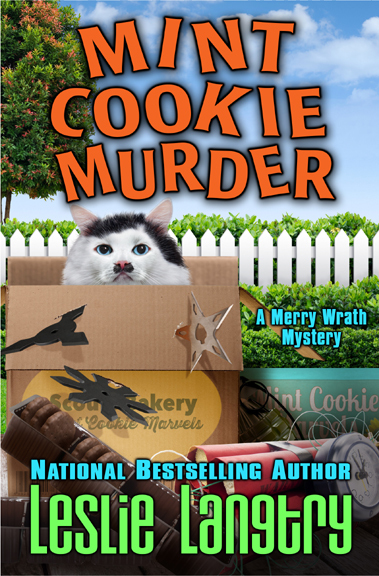 Purchase
Merry Wrath Mystery #2
Gemma Halliday Publishing
July 2015
On Sale: June 30, 2015
Featuring: Rex; Riley; Merry Wrath
199 pages
ISBN: 015188935X
EAN: 2940151889353
Kindle: B010IZZYXE
e-Book
Add to Wish List

Mystery Cozy | Mystery Woman Sleuth
From national bestselling author, Leslie Langtry comes another Merry Wrath Mystery that will leave you laughing 'til it hurts—scout's honor!
Ex-CIA agent turned suburban scout leader, Merry Wrath, is just trying to live a normal, quiet life. But all that goes out the window when a convicted traitor (who's inconveniently not in his prison cell) dies on her doorstep, and an obese cat, who bears a disturbing resemblance to Hitler, decides to move in.
To make things worse, it's time for the annual troop cookie sale, her new boyfriend's old college flame shows up to win him back, and someone's shooting at Merry in the frozen foods section of the grocery store. Is the assassin after her or the cat? Is Riley, her hot former CIA handler, hitting on her? Is Rex, her boyfriend, going to dump her? Will she sell enough cookies to take her troop to Winter Sniper Camp? If Merry doesn't find answer to these questions soon, it may be too late!
Merry Wrath Mystery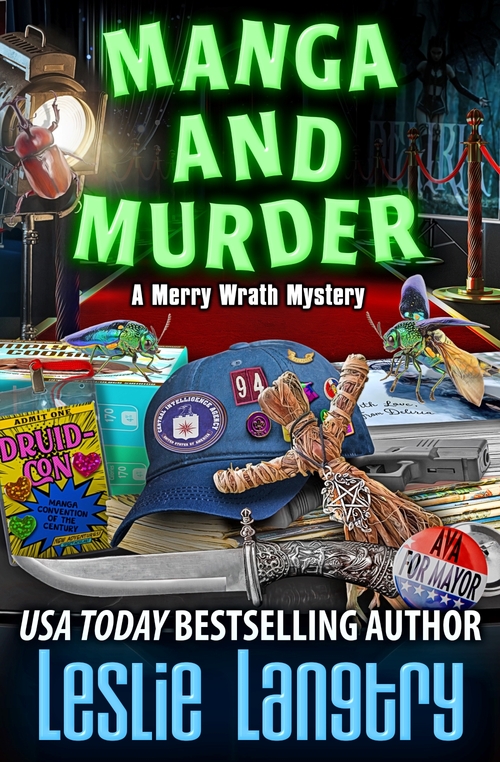 Manga and Murder
#20.0
| BN.com | Apple Books | Kobo | Google Play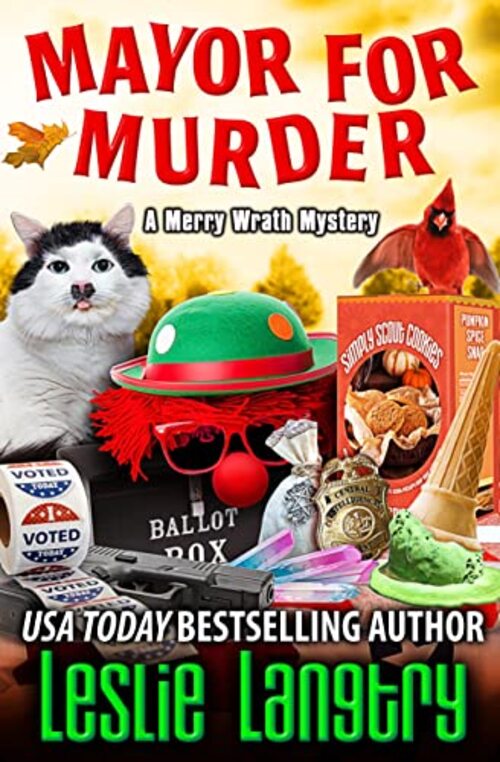 Mayor for Murder
#21.0
Kindle | BN.com | | |
Comments
33 comments posted.
Humor, mystery and cats. Sounds like fun to me.
(Kerry Shaw 12:46pm June 29, 2015)
It's a regular feline fazizzle, Kerry!
(Leslie Langtry 12:54pm June 29, 2015)
Love the sound of all this...what fun..
Marilyn [email protected]
(Marilyn Watson 1:13pm June 29, 2015)
Thanks Marilyn! I hope you like it!
(Leslie Langtry 1:23pm June 29, 2015)
Boy ! Sounds like TROUBLE every time you turn around . This book will be a GRRREEEAAAT read , and plus trouble with the boyfriend and his ex . Thank you for this giveaway.
(Joan Thrasher 2:19pm June 29, 2015)
I've been wanting to start this series, I just bought the
first one!
(Bobbie Jones 2:34pm June 29, 2015)
love stories with cats in them
(Jeri Dickinson 2:40pm June 29, 2015)
Love that Leslie was a Girl Scout leader. I spent many years
as a scout and a scout mother. I am excited to win a copy of
The Mint Cookie Murder.
[email protected]
(Betty Jo English 3:05pm June 29, 2015)
Cake is our friend! Can't wait to read Mint Cookie!
(Joelle Beebe 4:25pm June 29, 2015)
Sounds yummy~
(Marissa Yip-Young 5:02pm June 29, 2015)
I was a Cub Scout Den Mother. I wonder if that's as much fun as herding
little girls....
(Connie Williamson 1:25am June 30, 2015)
The moment I saw the first Girl Scout reference in Merit Badge Murder I knew you were the real deal! As yet another GS Leader survivor (I loved every minute of it...well, except for the time in about 1984 when in the middle of a troop meeting Jenny asked me WHY she shouldn't call the other girls dildos...)

Before I read any further I immediately down loaded ALL of your books and read them one after another... I love the Bombay family and especially enjoy having met them all up close and personal. Your humor is delicious, your plotting keeps me reading, and the entire premise is intriguing. Can't wait to get my hands on Mint Cookie Murder!
(Dianne Ward 5:13am June 30, 2015)
Sounds like a good book to read while I eat some cake.
(Blanche Nixon 8:25am June 30, 2015)
Sounds like a fun book! I can't wait to read it
(Nicole Bouchey 9:22am June 30, 2015)
Love reading your books. Laughing out loud.
(Mary Tharp 11:26am June 30, 2015)
I like books that can make me laugh---this one sounds
super!
(Sue Farrell 1:20pm June 30, 2015)
I love all of your books. I can't wait to download this
one.
(Deidra Hartman 1:32pm June 30, 2015)
Sounds scrumptious. Everything I love in one book.
(Sharon Mitchell 1:33pm June 30, 2015)
The book sounds like it is really funny. I'd love to read
it and win it too!
(Janice Santillo 3:12pm June 30, 2015)
What a delightful and captivating book.
(Sharon Berger 3:17pm June 30, 2015)
I like books that have cats that help solve crimes
(Jeri Dickinson 5:07pm June 30, 2015)
This book goes on my MUST read list
(Roseann Moss 5:30pm June 30, 2015)
Sounds like a book I would read.
(Gloria Walshver 5:33pm June 30, 2015)
If this post is an example of the humor in your books then I'm in. I'll be looking you up on my kindle tonight and hoping I win.
(Mary Songer 7:22pm June 30, 2015)
Your post was funny. I mostly read mysteries and lots of cozies and I have cats. I love mint cookies, too, such as Keebler's Grasshoppers. Great title.
(Michelle Fidler 8:15pm June 30, 2015)
Sounds good to me. Thanks for this opportunity.
(Nancy Luebke 8:46pm June 30, 2015)
What a delightful cover, it made me smile and want to read it. Sounds delicious.
(Rosemary Simm 11:48pm June 30, 2015)
Having been owned by many cats over my lifetime, including 2 "Tuxedo" cats, having a cat who looks like Hitler wouldn't faze me at all.

Now if s/he was eating my cake, that's another matter altogether!!
(Lynn Rettig 12:53pm July 1, 2015)
I was also in Girl Scouts and because I had sons I was
involved in Boy Scouts. These are a must read for sure. They
say write what you know.
(Leona Olson 8:33am July 1, 2015)
I loved your posting!! Your book sounds like a soap opera
between the covers!! The only thing that I'm sorry about is
that I haven't come across your books sooner, because I have
a sneaking suspicion that I'm going to fall head over heels
in love with your books!! Being the owner of 2 fur babies
myself, one a bit weight-challenged, is going to make
reading this book fun!! Thank you for coming here and
letting us know about your latest book, which should take
off like a rocket!!
(Peggy Roberson 11:51am July 1, 2015)
Where was all this fun when I was a Girl Scout?
(Irene Menge 12:00pm July 1, 2015)
Cats and cookies what could be better
(Jeri Dickinson 3:00pm July 1, 2015)
These sound fabulous. Tell me they're being recorded for
Audible!!
(Marcia Berbeza 8:25pm July 1, 2015)
Registered users may leave comments.
Log in or register now!