Julie Rowe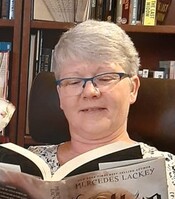 http://www.julieroweauthor.com/
Contests
Eternal Desires Giveaway: Win a $20 Amazon Gift Card from Julie Rowe!

Social Media:
TWITTER
BOOKBUB
AMAZON
GOODREADS
FACEBOOK

E-mail me when Julie Rowe releases a new book.
Blogging at Fresh Fiction
Julie Rowe | What Write What You Know Really Means (to me)
May 13, 2021
The write what you know writing advice is so well known and repeated it's a cliche. It's often Read More...
Julie Rowe | Top 5 Things I Love About October + GIVEAWAY!
October 7, 2020
1. Autumn colors!--and not just the spectacular varieties of leaf color, but also walking through the leaves. The brush Read More...
Julie Rowe | On the Hunt for Awesome Reads!
September 21, 2020
Reading has always been my favorite pastime, but since Covid-19, I've increased the number of books I read every week. As Read More...
Julie Rowe | Top 5 Favorite Comfort Reads
August 26, 2019
I reread my books. There I said it. Yes, I have a TBR pile a mile high, but sometimes, I don't want Read More...
Julie Rowe | How Staying Creative Through the Bad Times Can Save Your Life
February 4, 2019
The last couple of years have been a challenge. 2016 saw a massive wildfire force the total evacuation of my home city (Fort McMurray Read More...
Julie Rowe | When You Don't Want the Story to End – giving life to secondary characters
May 29, 2017
The first time I met River, the hero of VIABLE THREAT (out May 22nd) was Read More...
Julie Rowe's first career as a medical lab technologist in Canada took her to the North West Territories and northern Alberta, where she still resides. She loves to include medical details in her romance novels, but admits she'll never be able to write about all her medical experiences because, "Fiction has to be believable". Julie writes romantic suspense and romantic military thrillers.
Log In to see more information about Julie Rowe
Log in or register now!
Series
Biological Response Team | Outbreak Task Force | Trapped with Him | Sinners Never Die
Books:
Sinner's Sacrifice, November 2023
e-Book / audiobook
Sinner's Secret, March 2023
Sinners Never Die
e-Book
The War Girls, July 2022
e-Book
Trapped with the Ice Station Chief, January 2022
Trapped with Him #5
e-Book
Trapped with the Reclusive Playboy, December 2021
Trapped with Him #4
e-Book
Trapped with the Covert Ops Soldier, October 2021
Trapped with Him #3
e-Book
Trapped with the Secret Agent, May 2021
Trapped with Him #1
Audio / e-Book / audiobook
Trapped with the Undercover Prince, May 2021
Trapped with Him #2
e-Book
Hell & Back, October 2020
Outbreak Task Force #5
e-Book
Trapped with the Secret Agent, June 2020
Trapped with Him #1
e-Book
Search & Destroy, September 2019
Outbreak Task Force #4
e-Book
Sleight of Hand, February 2019
Outbreak Task Force #3
e-Book
Smoke & Mirrors, March 2018
Outbreak Task Force #2
e-Book
Viable Threat, June 2017
Outbreak Task Force #1
e-Book / audiobook
Viral Justice, February 2016
Biological Response Team #3
e-Book
Lethal Game, October 2015
Biological Response Team #2
e-Book
Deadly Strain, June 2015
Biological Response Team #1
Paperback / e-Book / audiobook
Molly Gets Her Man, February 2014
e-Book
Timeless Keepsakes, November 2013
Paperback / e-Book
Saving the Rifleman, October 2012
War Girls #1
e-Book
North of Heartbreak, April 2012
e-Book
Icebound, November 2011
e-Book