1. Autumn colors!--and not just the spectacular varieties of leaf color, but also walking through the leaves. The brush and crunch underfoot add music to wherever you walk and the colors a feast for your eyes. Get outside, be active, and enjoy the season.
2. Cozy sweaters--I love snuggling into a soft warm sweater on cool mornings and evenings. Add a cup of hot chocolate or apple cider, and a good friend to talk or binge-watch TV with and I'm having a great time.
3. Crafting with friends--I start working on Christmas craft projects in October. I'm a paper crafter, so handmade Christmas cards are a must, but also paper ornaments, exploding box cards, and folded books. Here some pics of projects I've already completed.
4. Pumpkin. . . everything--Latte, pie, or muffin, I love it all. Did you know Kraft Dinner has a new Pumpkin Spice flavor this year? I'm trying to find it so I can try it, but I haven't been able to get my hands on any yet. If you've tried it, please let me know in the comments what you think of it.
5. Catching up on a good book. . . or three--I'm reading more than I ever have in my life! Please share your book recommendations--I need more good books!
I'm sharing my love of October by offering VIABLE THREAT, the first book in my Outbreak Task Force series, for FREE all month! http://www.julieroweauthor.com/hell--back.html
Viable Threat excerpt:
She rested her head against the back of the seat and gave him a strange sort of sad smile. "You know what I'd like to do right now?"
He grunted and wagged his index finger. "That is a trick question."
She laughed. "Yeah, I guess it is."
He liked seeing the smile on her face. He liked seeing her face, period. "Tell me, Mouse, what would you like to do right now?"
She waved him closer, and he leaned toward her. She did it again, then put a hand on his shoulder and pulled herself up so she could whisper in his ear, "I'd like to take that respirator off you and kiss you, silly."
She let go of him and resumed her previous position on the seat. He sat perfectly still. It took just about everything in him to not rip the mask off and grant her wish.
"I'm sorry," she said, with as close to soundless as a voice could get. "I didn't mean to make you feel uncomfortable."
He looked at her and realized she thought he was embarrassed or some shit like that.
"I'm uncomfortable," he murmured. "Because I've had a damned hard-on since I bandaged you up." Her pupils widened, and her mouth dropped open. "When this is over, you can kiss any part of me you want for as long as you like, just as long as I can return the favor."
"Oh," she breathed out. When her tongue licked over her lips, he had to chain his hands to his sides to keep from grabbing her.
Though a blush heated her cheeks, tears filled her eyes until they spilled over and tracked down her face. "Chances are, that's just a dream."
It just about killed him to see her so sad. "Hey." He couldn't keep the growl out of his voice. "No Negative Nancys allowed on this trip."
"I've got a headache, River. A fever can't be far behind."
"That happy bastard Henry is going to come up with some kind of magic potion that will kick this bug's ass."
"If that were possible, we'd know."
"We've been so busy blowing shit up, we might not have been told."
She slanted a disbelieving glance at him. "You just spoke with our boss. I think she would have mentioned any magic potions, if they'd been available."
He ran his hands through his hair. "Could you work with me, Mouse? We've got a mass murderer to catch, and I need you ready and able to help reel in the son-of-a-bitch."
"Ah, I see what you're doing. Trying to put me in a good mood."
"Jesus fuck, woman, you think I'd tell you how much I want you just to put you in a good mood?" He leaned down, grabbing the top of the seat on either side of her head. "Do I look like a motivational speaker?"
She studied him, her gaze flicking across his face and uniform. Covered in dirt, debris, and blood, he looked like a walking nightmare. "You look like a soldier on a mission."
"That's true, but not all of it." He whispered, "I've got another mission. A personal one. You."
(C) Julie Rowe, Entangled Amara, 2020. Reprinted with permission from the author and publisher.
--
COMMENT TO WIN: What book have you read recently? Julie Rowe is generously giving away a $25 Amazon Gift Card! Leave a comment below and you'll be entered win. GOOD LUCK!
--
Special Forces soldier and medic Walter River would give anything to snatch more than a few seconds of down time to see if he can rattle the no-nonsense and incredibly hot Dr. Lloyd he's protecting, but dodging explosions, snipers, and student radicals who've unleashed a lethal bio-engineered microorganism have made that almost impossible. Maybe he'll get a chance--if he can figure out how to keep them both alive.
CDC microbiologist Ava Lloyd races to find a cure for a bio-terrorism organism sweeping El Paso. The few stolen moments with her very hunky bodyguard River have been explosive, but no matter how alluring he is, she can't afford to get distracted. The clock is ticking, people are dying by the hundreds, and once this crisis is solved, they'll both be off on their next assignment, thousands of miles apart.
Romance Military | Romance Suspense [Entangled Suspense, On Sale: May 22, 2017, e-Book, ISBN: 9781633759497 / eISBN: 9781633759497]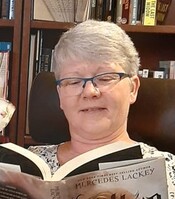 Julie Rowe's first career as a medical lab technologist in Canada took her to the North West Territories and Fort McMurray, Alberta, where she still resides. She loves to include medical details in her romance novels, but admits she'll never be able to write about all her medical experiences because, "Fiction has to be believable". Julie writes romantic suspense and romantic thrillers. Her most recent titles include Hell & Back book #5 of the Outbreak Taskforce series and Trapped with the Secret Agent book #1 of the Trapped with Him series. You can find her at www.julieroweauthor.com , on Twitter @julieroweauthor, or at her Facebook page: www.facebook.com/JulieRoweAuthor
11 comments posted.