Cleo Coyle | On Bosses from Hell, Thunder Thighs, and Making Crime Pay

September 20, 2011
Crime writing can be a challenge at times, but it can also be barrels of fun— double barrels. Where else can you get even with a boss who lays you off with the line: "I wanted to do this myself because it's such good experience for me as a new executive!" (No kidding. That's how she did it.)
In one of my mysteries, I cast this sadistically perky charmer as the murderess and brought her to justice via a smack to her noggin with a thick bestseller. In another, her lifeless body was found on the floor of a women's room. (She'd mistakenly ingested a poisoned soy muffin.)
I put a version of her in my latest culinary mystery, MURDER BY MOCHA, too. But I won't spoil the fun for you. You can guess how I cast her by reading the book yourself. (Click here to see the first chapter.)
When Crime (Writing) Pays
Eight years after my ignominious layoff, I am happy to report that the pen is mightier than the corporate pink slip. I am now fully self-employed writing THE COFFEEHOUSE MYSTERIES—an urban cozy series set in a landmark coffee shop that blends crime, romance, and humor.
I also write the HAUNTED BOOKSHOP MYSTERIES, in which a prim New England widow solves murders with the help of a dead PI—i.e. the prickly spirit of a hard-boiled detective who was gunned down in her shop sixty years before. Look for these "Ghost" titles under my other pseudonym, Alice Kimberly.
My husband, Marc, is my collaborator on all of these books; and, thanks to the popularity of the cozy mystery (and our very kind readers), both series have been national bestsellers. Our latest title, MURDER BY MOCHA, even nailed a Top-7 spot on Bookscan and two Top-10 Cozy Reads lists.
Note to former boss: Stick that in my exit interview file! (Kidding, kidding...)
Growing Our (um...) Assets
Of course, there are drawbacks to this full-time writing life. For one thing, failure is only one book away. All authors know that; but, if you're going to write for a living, you should know something else, something that's seldom discussed in literary circles. We authors are continually challenged not to stuff our faces.
For most of us, a trip to the fridge constitutes a brain break. New chapter, new sequence, new reason to nosh.
What should Clare retort to her ex-husband when he gives her grief? Perhaps I'll find the answer inside a square of that Hazelnut Fudge I made last night...(Click here if you'd like my fudge recipe.)
I've battled the bulge all my life. I was a chunky monkey as a kid and I'm far from svelte now. The good news: my love of food has helped my career. As a culinary mystery writer, it's now my job to dream up and bake up delectable treats like Chocolate-Stuffed Peanut Butter Cookies. (Click here for that recipe, which was recently picked up by New Jersey Family magazine.)
The bad news: putting my protagonist through heart-pounding perils doesn't do much for my own cardiovascular health. In fact, most of my days are spent sitting on my assets.
So what's my solution?
Walking Around Your Writer's Block
Lately, when cogitating, I've taken to strolling around the block instead of to the fridge. When I do drift toward the kitchen, I try to eat healthier fare. Raw veggies and low-fat dips help. (Click here for my Roasted Garlic Dip recipe.)
I also rely on coffee—and I'm not talking "Thunder Thighs," which is actual coffee shop ordering slang for a mocha latte with whole milk and extra whipped cream. For me, a regular old cup of joe can help tame the Snack Monster, especially with a few of my Healthier Oatmeal Cookies. (For that recipe click here.)
Food for Thought
The legendary Julia Child once said that she loved the food world because she learned something new every day. That's why I love the culinary world, too, along with this world of writing.
Sure, writer's block can rear its ugly head. Ironically, I battle it the same way I battle the Snack Monster—I look for new things to feed me. This is something most writers know, yet we still need to remind ourselves...
If you feel a block coming on, learn something more about your setting, background, or characters' occupations. Dig deeper into your research and you'll soon be discovering inspiring ideas that (like a good meal) fuel and renew.
Thanks for listening, everyone, and a big thank you to Fresh Fiction for letting me visit with you today.
Finally, I can't help wondering—if any of you have trouble with the Snack Monster, how do you battle or feed it? What are your favorite healthy (or not-so-healthy!) snacks?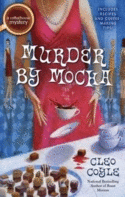 Leave a comment on this post today and you will be entered to win a Gimme Coffee Latte Cup and Saucer (made in Italy) and a signed copy of Cleo Coyle's new bestselling culinary mystery, MURDER BY MOCHA: A Coffeehouse Mystery.
More Contest Fun!
Win a $25.00 Gift Card
Part of my Fresh Fiction prize package this month. Click here to enter.
Win a Gourmet Chocolate Tasting
Tell me your favorite Coffeehouse Mystery character, other than Clare Cosi, and you could win a gourmet chocolate tasting. Learn how to enter by clicking here.
Win Free Coffee
To download more of my recipes; sign up to win free coffee in my weekly drawings; or learn about my two bestselling mystery series, visit my online coffeehouse at www.CoffeehouseMystery.com
Three recent titles in Cleo Coyle's long-running Coffeehouse Mystery series...
Comments
52 comments posted.
Re: Cleo Coyle | On Bosses from Hell, Thunder Thighs, and Making Crime Pay

My favorite snacks are a hard boiled egg with a little salt, a handful of pistachio nuts, or fresh, ripe seasonal fruit. I love your Coffee House mysteries.
(G. Bisbjerg 1:02am September 20, 2011)
My favorite snacks are a grilled cheese sandwich, cold chicken, butter pecan ice cream and the oh so yummy pumpkin or apple pie.
Great post.
(Patti Paonessa 1:17am September 20, 2011)
Oh I fight the "snack monster" ... crackers, popcorn, ice cream are just a few of the culprits!
(Diane Brixius 7:12am September 20, 2011)
Have enjoyed the coffeehouse mysteries, but had no idea about the haunted house series. More fun! Thanks.
(Liz Veronis 8:32am September 20, 2011)
I'm a big fan of "food-oriented" mysteries. I've just recently learned of this series and am very anxious to get hooked on it. Woo hoo!
(Stephanie Strausberger 10:18am September 20, 2011)
My favorites are fresh fruits & veggies, ice pops in the summer, fresh berries w/yogurt topped w/granola...sometimes cookies, ice cream or crackers. I like your series & the recipes. Thanks for sharing.
(Beverly Beltz 11:15am September 20, 2011)
My favorite snack is popcorn, I have discovered the buttered air puffed popcorn and I love it. I also get the urge for chocolate and always have it around -- usually too close
(Shirley Younger 12:56pm September 20, 2011)
I usually go to making a cheesecake, it's rich so I only need one slice. Of course I add a cup of coffee with that but it sure takes the blues away and who can blame anyone for needing something to cure those blues :)
(Jean Johnson 1:02pm September 20, 2011)
I'm afraid I tend to choose unhealthy (ie, yummy) snacks too frequently. When I'm feeling virtuous, my favorite healthy snack is an apple.
(G S Moch 1:45pm September 20, 2011)
Well, last night I made a Devils Food Cake with Whipped Vanilla Icing, so you know what kind of snack I think of.
(Terry Parrish 2:27pm September 20, 2011)
my favorite snack is something salty - like chex mix - or something (anything) bread-like! yum yum
(Marguerite Guinn 2:39pm September 20, 2011)
I wasn't aware of your haunted bookshop series. Now I must look for it at the bookstore.
(Sue Farrell 3:09pm September 20, 2011)
My favorite snack lately ---candy corn!!! I just love the stuff and eat it like crazy every fall.
(Sue Farrell 3:11pm September 20, 2011)
I always have a box of good & plenty stashed away. Of course cinnamon rolls are always devoured.
(MaryEllen Hanneman 3:27pm September 20, 2011)
Oh I love mysteries! I just bought "Holiday Grind" and am
really looking forward to reading it, especially with
Christmas (almost) around the corner :-D !
BTW The Haunted Bookshop mysteries sound fantastic too!!
(Birgit Lehner 4:15pm September 20, 2011)
What creative ways you have to do away with the villains.
Blessings,
Marjorie
(Marjorie Carmony 5:05pm September 20, 2011)
Love the recipes on your website and that they're easy. I always reach for chocolate.
(Alyson Widen 5:34pm September 20, 2011)
I loved Murder by Mocha! The characters keep getting better
and better. And I'm looking forward to the next Haunted
Bookshop book.
I like a treat that's both sweet and salty. Right now, my
favorite is dark chocolate-covered caramel sprinkled with
coarse sea salt. Just divine. Along the same lines, hubby
likes chocolate-covered potato chips.
(Janet Morrissey 5:35pm September 20, 2011)
Well, I choose Matt for the contest answer. I have not had a chance to read your great books yet but look forward to reading them in the near future. Please enter me in your great contest. I love to eat veggies or veggie chips with french onion dip. Yes, apples and pears and other fruits are great too. Yogurt too. Thanks, Cecilia
(Cecilia Dunbar Hernandez 5:39pm September 20, 2011)
My favorite treat is coffee ice cream. Thank you for giving me a chance to win your book.
(Linda Hall 5:45pm September 20, 2011)
Depending on mood - dsrk chocolate, popcorn, peanut butter, nuts and hummus.

Love the Coffee House mysteries - will be checking out the
Haunted Bookshop mysteries.
(Mary C 5:45pm September 20, 2011)
I love cozy mysteries so I'm definitely going to read your books! My favorite snacks: popcorn and soda or tea and cookies!
(Cheryl Lynne 5:51pm September 20, 2011)

(Teresa Ward 6:12pm September 20, 2011)
Loved the coffeehouse mysteries and looking forward to reading the haunted bookshop series. My favorite snack is a cup of coffee and a apple fritter.
(Teresa Ward 6:14pm September 20, 2011)
I am addicted (no joke) to raspberry zingers! I try to offset it with sugarfree jello but the zingers win everytime.
(Kathleen Bianchi 6:15pm September 20, 2011)
My favorite snack is coffee and a large cup of coffee. Not
very interesting but very comforting.
(Linda Juister 6:31pm September 20, 2011)
That's coffee CAKE ;-)
(Linda Juister 6:31pm September 20, 2011)
Cheese & Crackers are my weakness when it comes to snacks. Very more-ish.
(Mary Preston 7:12pm September 20, 2011)
My favorites when it come to snacking are pretzel rods dipped in the tubs of cheddar cheese spread, Granny-Smith apple slices dipped into caramel, nuts (like cashews, sea-salted almonds, etc), and cheesecake (any kind). All great for "thunder thighs" and then some but so-o good! And, I forgot to add, cheese popcorn--love that, too. All goes good while reading or taking a break in between!!!
(Linda Luinstra 7:46pm September 20, 2011)
my favorite snack is frozen yogurt. almost any flavor will do
(Josephine Plungas 8:36pm September 20, 2011)
my favorite snack is pretzels. ...it sounds so good.....crave a lil salty snack at times.....would luv 2 win a copy of the book......babyruthmac16@yahoo.com
(Lnda McFarland 8:49pm September 20, 2011)
me i eat choc and pretzels
and then your book are great covers
(Desiree Reilly 8:53pm September 20, 2011)
I don't get cravings for snacks all that often, but when I do, I have varied tastes. Sometimes I'll have some cut up cauliflower with ranch dip on the side. Other times I might have a cup of peppermint tea with honey. Having a few Jordan Almonds will take care of your craving for sweets, while giving you the health benefit from the almonds. Even things like Goldfish crackers that you could keep by your computer. Just put a few in a small bowl to snack on, and I'm sure you'd be back to typing in no time!! Your new book sounds good, and I can't wait to read it!! I'll be looking for your other series as well. Thanks for stopping by today and saying hi.
(Peggy Roberson 9:25pm September 20, 2011)
I give in to the snack monster when he strikes or else I will eat the whole container of brownies or bag of chocolate. I found that if I have a few bites or serving, my hunger is satisfied. If I ignore than I OVER indulge. No healthy overindulging here- mostly I crave chocolate in every form.
(Christine Arcidiacono 9:44pm September 20, 2011)
I have to say I'm quite the emotional eater but one of my faves that cuts back on calories is roasted red pepper hummus and Tricuits Hint of Salt crackers. YUM! And I agree with you on the coffee...always a winner!
(Kristi Tanner 9:45pm September 20, 2011)
I have not started this series yet but want to! Thanks for the giveaway!
(Lisa Garrett 9:51pm September 20, 2011)
If I want a snack I'll eat it. My favorites are all desserts. The healthiest snacks for me are fresh fruit and yogurt.
(Leni Kaye 9:56pm September 20, 2011)
Cleo Coyle here, dropping by to say THANK YOU so much to all
of you for your wonderful comments! I am enjoying your snack
suggestions and your kind words about my books. BTW - If you
are new to me or my books, you can find me on facebook, and
I invite you to friend me there at
www.Facebook.com/CleoCoyle My website has a message board,
too. You can find that at www.CoffeehouseMystery.com Good
luck to everyone on the contest. (I'll drop back again later
tonight...) Cheers! ~ Cleo
(Cleo Coyle 10:02pm September 20, 2011)
I've been keeping individual cups of Fage Greek yogurt and
fruit handy for snacks; they're filling, delicious, and very
healthy. Coffee (daytime) and herbal tea (later) is always
great and keeps me going until mealtime. It's fall, and for
me that means it's time for pumpkin spice lattes at
Starbucks. I'm crazy for those things. My local Whole Foods
does a great caramel pumpkin spice latte as well.
(Aurora Martinez 10:18pm September 20, 2011)
I am a snacker! I love popcorn and I have learned to love strawberries. But, don't come between me and my chocolate!
(Jennifer Beyer 10:32pm September 20, 2011)
I love that story of ultimate literary revenge on the "new executive"! Way to go. It would be so cool if that person actually read that book, and recognized what impact she had so as not to do that anymore.

I'm not a coffee drinker but adore the whole coffeehouse atmosphere, and will have to take a look at this new to me series.

my weakness is baked goods, preferably with some kind of custard or whipped cream.....
(Maya Missani 10:44pm September 20, 2011)
Looking forward to reading your new mystery, "Murder By Mocha", just love your books. I just printed out your Pumpkin Pancake receipe, it looks delicious, can't wait to make them!!!! Keep up the good work, Cleo!!!!!
(Maureen Marcotte 10:46pm September 20, 2011)
I just discovered your series, and being a New York I particularly enjoy
reading about people and places I actually know! I think everyone battles
the snack monster, I know dark chocolate is my favorite indulgence, and if
I can mix coffee with it, so much the better! Thanks for writing such great
books. I live with chronic illness, and it is always nice to escape to
another world through a great read.
(Maureen Hayes 11:08pm September 20, 2011)
CHOCOLATE!!!!!i love to just let it melt in my mouth!!!
(Jennifer Beck 11:10pm September 20, 2011)
omg... you just made me more hungry... Congrats on your book!
(May Pau 6:46am September 21, 2011)
My favorite snacks are beef sticks and pretzels. I also love popcorn. All that food is making me hungary. You are a new author for me and would love to win and read your books. I love series of books where you get to follow along with the story. Thanks for the giveaway and the chance to win.
(Chris Bails 10:28am September 21, 2011)
apples!! cut into slices and served with sliced cheese. preferably colby jack.
(Anne Harris 12:24pm September 21, 2011)
I love sweet than salty. My fab is cannolis, I can
even just eat the cream like it was sherbert, but
now I can't eat dairy or soy, I have an allergy to
nuts, so my fantasies involve eating the
decadent food I used to. I stick to berries, freeze
a banana, top add a coat of sugar, mix, .. it takes
that sweet tooth and satisfies it. Salty, I love
fingerling potatoes with olive oil, rosemary,
garlic, and spice.. good and filling too.
Also, you are not alone with the boss from hell
story.
(Carla Carlson 1:44pm September 21, 2011)
My favorite snacks are string cheese and a handful of almonds. I find them satisfying and healthful. Great to snack on while reading.
(Grace Irelan 3:30pm September 21, 2011)
This is one of the reasons I love, love Goodreads for learning of authors or new authors is fantastic!!!!!!! Your books sound great, right up my alley!! Bring on the Latte!
(Joanne Bozik 6:13pm September 21, 2011)
Lately, I've been eating crushed ice. Plain ice...gives me extra water which is good. And it's crushed so not breaking teeth on it. As a matter of fact, I pick out the bigger chunks for my water or ice tea glass. I would really like a sno-cone kind of machine! :) I also eat chocolate (tho' I try to keep a lid on it) and lately, fat pretzel rod chunks. Tho' if I eat too many of those, the salt gets to me. I have lost weight since I got on the ice kick. :) I also sometimes, snack on cheese and tomatoes and various colors of sweet peppers. So, I get good for you and junk food depending on what I crave...besides the ice! :)
(Penny Mettert 2:40am September 22, 2011)
Hazelnut Fudge mmmmmmm - I know what I'll be making this weekend AGAIN lolol - that stuff is addictive! :) Oh and Saturday is pancake day WOOOHOOO!
(Joyce Taber 9:35am September 22, 2011)
Registered users may leave comments.
Log in or register now!