Cleo Coyle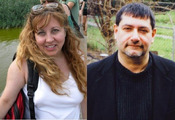 Blogging at Fresh Fiction
Cleo Coyle | Author-Reader Match: HONEY ROASTED
January 24, 2022
Instead of trying to find your perfect match in a dating app, we bring you the "Author-Reader Match" where Read More...
Cleo Coyle Shares a Brewed Awakening + Giveaway
July 1, 2021
My husband and I have had plenty of ups and down, and we always try to put the pain, joy, and absurd humor of Read More...
Cleo Coyle | Exclusive Interview: BREWED AWAKENING
December 2, 2019
By Fresh Fiction Senior Reviewer Teresa Cross *** First, I have Read More...
Cleo Coyle | Top 5 Reasons Readers Demanded More Haunted Bookshop
September 24, 2018
Some characters haunt you long after the book is done. That's what fans of our Read More...
Dead Cold Brew: A Coffeehouse Mystery by Cleo Coyle
January 16, 2017
It's official. After sixteen books, our Greenwich Village coffeehouse manager, Clare Cosi, finally becomes engaged to her boyfriend, NYPD Detective Mike Quinn. Unfortunately, the Read More...
Cleo Coyle | Escape to Washington in the new Coffeehouse Mystery
December 7, 2015
How does a hard-working single mother and coffee shop manager go from befriending the First Lady and catering a glittering party at the Smithsonian Read More...
Cleo Coyle | Once Upon a Grind and a Magic Bean Necklace Giveaway
December 6, 2014
Do you have a favorite fairy tale? Mine is Cinderella, but I am no Disney princess. While I love pumpkins, I'd rather turn one Read More...
Cleo Coyle | Billion Dollar Brew and a Latte Cup Giveaway
August 25, 2014
My amateur sleuth grew up much like I did, in a family of food-loving Italian Americans. By the age of eight, I was learning Read More...
Cleo Coyle | Billionaires Can Be Murder (with Recipes)
December 3, 2013
Wonderful reviews are coming in for my new culinary mystery Billionaire Blend Read More...
Cleo Coyle | Coffee. It Can Get a Girl Killed!
August 6, 2013
It's true. In all twelve of my culinary mysteries, coffee can get a girl killed. Today I'm happy to tell you—it Read More...
Cleo Coyle | Holidays are Murder—with Recipes
December 4, 2012
"Pluck" is a word I usually associate with chickens. On the other hand, Booklist was kind enough to describe my amateur sleuth as Read More...
Cleo Coyle | Fresh Brewed Murder
August 7, 2012
How do you keep things fresh? An important question for any author writing a long-running series. Read More...
Cleo Coyle | On Bosses from Hell, Thunder Thighs, and Making Crime Pay
September 20, 2011
Crime writing can be a challenge at times, but it can also be barrels of fun— double barrels. Where else can you get even Read More...
Cleo Coyle | Holiday Grind and Fun Recipes
November 5, 2010
What do you most look forward to tasting every holiday season? Pumpkin pie? Gingerbread? Candy canes? Thumbprints? Rum balls? Stollen? Latkes? When I Read More...
Cleo Coyle | Latte Cup Giveaway and My Recipe for Blueberry Firehall Pancakes!
August 14, 2010
Who loves pancakes? Raise your hand! I'll bet you all have special memories associated with a tall, hot stack, drenched in butter and swimming Read More...
Pseudonym for Alice Kimberly.

CLEO COYLE is the New York Times bestselling pseudonym for Alice Alfonsi, collaborating with her husband, Marc Cerasini. With more than 1 million copies of their books sold, Alice and Marc have written 18 entries in their long-running, critically acclaimed Coffeehouse Mystery series.
They also write the national bestselling Haunted Bookshop Mysteries. Alice has worked as a journalist in Washington, D.C., and New York City, and has written popular fiction for adults and children. A former magazine editor, Marc has authored espionage thrillers and nonfiction for adults and children. Alice and Marc are also bestselling media tie-in writers who have penned properties for Lucasfilm, NBC, Fox, Disney, Imagine, Toho, and MGM. They live in New York City, where they haunt coffeehouses, hunt ghosts, wrangle rescue cats, and write independently and together.
Log In to see more information about Cleo Coyle
Log in or register now!
Series
Coffeehouse Mystery | Haunted Bookshop
Books:
The Ghost Goes to the Dogs, May 2023
Mass Market Paperback
The Ghost and the Stolen Tears, October 2022
Haunted Bookshop Mystery #8
Mass Market Paperback / e-Book / audiobook
Honey Roasted, February 2022
Coffeehouse Mystery #19
Hardcover / e-Book
Brewed Awakening, July 2021
Coffeehouse Mysteries #18
Mass Market Paperback / e-Book / audiobook (reprint)
The Ghost and the Haunted Portrait, May 2021
Haunted Bookshop Mystery #7
Mass Market Paperback / e-Book
Brewed Awakening, December 2019
Coffeehouse Mystery #18
Hardcover / e-Book
Shot in the Dark, September 2019
Coffeehouse Mystery #17
Mass Market Paperback / e-Book (reprint)
The Ghost and the Bogus Bestseller, October 2018
Haunted Bookshop #6
Paperback / e-Book
Shot in the Dark, April 2018
Coffeehouse Mystery #17
Hardcover / e-Book
Dead Cold Brew, March 2018
Coffeehouse Mystery #16
Mass Market Paperback / e-Book (reprint)
Dead Cold Brew, January 2017
Coffeehouse Mystery #16
Hardcover / e-Book
Dead to the Last Drop, September 2016
Coffeehouse Mystery #15
Mass Market Paperback / e-Book (reprint)
Dead to the Last Drop, December 2015
Coffeehouse Mystery #15
Hardcover / e-Book
Once Upon A Grind, September 2015
Coffeehouse #14
Paperback / e-Book (reprint)
The Cozy Cookbook, April 2015
Paperback / e-Book
Once Upon a Grind, December 2014
Coffeehouse Mystery #14
Hardcover / e-Book
Billionaire Blend, August 2014
Coffeehouse Mystery #13
Mass Market Paperback / e-Book (reprint)
Billionaire Blend, December 2013
Coffeehouse Mystery #13
Hardcover / e-Book
A Brew to a Kill, August 2013
Coffeehouse Mystery #11
Mass Market Paperback / e-Book (reprint)
Holiday Buzz, December 2012
Coffeeshop Mystery #12
Mass Market Paperback / e-Book
Murder By Mocha, August 2012
Coffeehouse Mystery #10
Paperback / e-Book (reprint)
A Brew To A Kill, August 2012
Coffeehouse Mystery #11
Hardcover / e-Book
Holiday Grind, November 2011
Coffeehouse Mystery #8
Paperback / e-Book (reprint)
Roast Mortem, August 2011
Coffeehouse Mystery #9
Paperback / e-Book (reprint)
Murder By Mocha, August 2011
Coffee House Mystery #10
Hardcover / e-Book
Holiday Grind, November 2010
Coffeehouse Mystery #8
Paperback / e-Book (reprint)
Roast Mortem, August 2010
Coffeehouse Mystery #9
Hardcover / e-Book
Holiday Grind, November 2009
Coffeehouse Mystery #8
Hardcover / e-Book
Espresso Shot, October 2009
Coffeehouse Mystery #7
Paperback / e-Book (reprint)
Espresso Shot, October 2008
Coffeehouse Mystery #7
Hardcover / e-Book
French Pressed, April 2008
Coffeehouse Mystery #6
Mass Market Paperback / e-Book
Decaffeinated Corpse, July 2007
Coffeehouse Mystery #5
Paperback / e-Book
Murder Most Frothy, August 2006
Coffeehouse Mystery #4
Paperback / e-Book
Latte Trouble, August 2005
Coffeehouse Mystery #3
Paperback / e-Book
Through The Grinder, October 2004
Coffeehouse Mystery #2
Mass Market Paperback / e-Book
On What Grounds, September 2003
Coffeehouse Mystery #1
Paperback / e-Book

Videos