Instead of trying to find your perfect match in a dating app, we bring you the "Author-Reader Match" where we introduce you to authors you may fall in love with. It's our great pleasure to present CLEO COYLE!

Writes:
Cleo Coyle writes the New York Times bestselling Coffeehouse Mysteries, a fun series of endearing and suspenseful murder mysteries set in a landmark coffeehouse in New York's picturesque Greenwich Village. Don't miss HONEY ROASTED, the latest release in Cleo's long-running, richly layered series.
About:
Cleo has sold more than one million page-turning cozy adventures to her longtime fans and would be honored to welcome you to her Coffeehouse world. Cleo writes books in collaboration with her husband, which is why the complicated love life of her amateur sleuth (coffeehouse manager and master roaster Clare Cosi) and the two men in her life (globetrotting coffee hunter Matt Allegro and NYPD detective lieutenant Mike Quinn) is so entertaining. As devoted partners, Cleo and her husband are able to portray the ups and downs of romantic relationships with real-world insight and a unique blend of wit, wisdom, and (above all) honesty.
Cleo's ideal reader match will enjoy. . .
-The roller-coaster fun of a twisty murder mystery with plenty of warmth, humor, and witty banter
-An amateur sleuth whose complicated love life always keeps the subplots simmering!
-A cast of quicky characters you'll want to be friends with—and continue to visit
-The delicious bliss of a culinary mystery, including bonus recipes at the end of every book
What to expect if you're compatible with Cleo:
If you're compatible with Cleo, you'll want to return to her Coffeehouse world again and again—and read Cleo's earlier Coffeehouse Mysteries, starting with her very first bestseller, ON WHAT GROUNDS. You'll also want to keep in touch with Cleo by subscribing to her free COFFEE CLUB NEWSLETTER, where she shares bonus recipes, book news, and giveaway contests for autographed novels, premium coffee, tote bags, and more!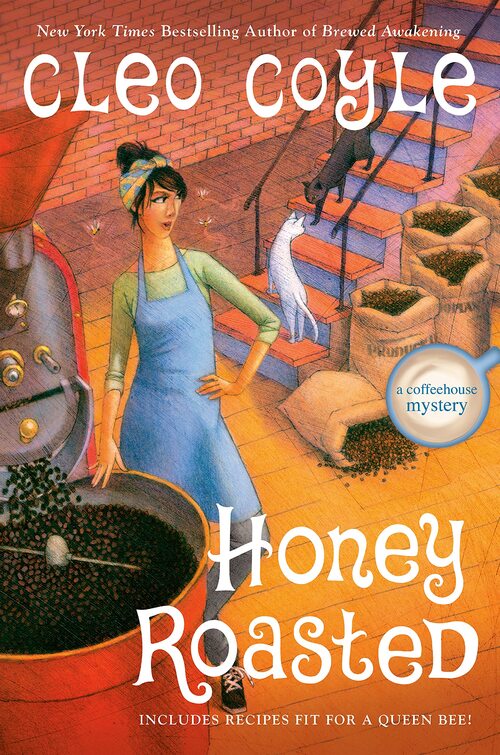 Clare Cosi is busy as a bee planning her honeymoon when murder buzzes into the Village Blend in this all-new mystery in the beloved New York Times bestselling Coffeehouse series by Cleo Coyle.
While struggling to find a romantic (and affordable) destination for her upcoming honeymoon, coffeehouse manager Clare Cosi whips up a honey of a drink made from honey-processed coffee. Clare plans to serve her outstanding new Honey-Cinnamon Latte at her spring wedding to her longtime honey, NYPD detective Mike Quinn. The culinary world is also abuzz about the amazing honey that Clare was lucky enough to source for her shop's new latte. Produced by Madame's old friend "Queen" Bea Hastings, the rare, prize-winning nectar from Bea's rooftop hives commands a premium price, and top chefs compete for a chance to use it in their signature seasonal dishes.
One night, a swarm of escaped bees blanket the Village Blend's chimney, and Clare discovers Bea's unconscious body after she seemingly fell from her high-rise rooftop-hive setup. The police want to rule it as a tragic accident or possible attempted suicide, but Clare does not believe either theory. Like Madame, she knows this Queen would never abandon her hive. To sort out this mystery, Clare investigates a world of cutthroat chefs, culinary start-ups, and competitive urban beekeepers. But can she uncover the truth without getting stung?
Mystery Culinary | Mystery Cozy [Berkley, On Sale: January 25, 2022, Hardcover / e-Book, ISBN: 9780593197561 / eISBN: 9780593197578]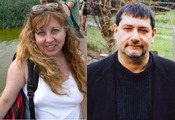 CLEO COYLE is the New York Times bestselling pseudonym for Alice Alfonsi, collaborating with her husband, Marc Cerasini. With more than 1 million copies of their books sold, Alice and Marc have written 18 entries in their long-running, critically acclaimed Coffeehouse Mystery series with their 19th, HONEY ROASTED, coming in January 2022 from their longtime publisher, Penguin Random House. They also write the national bestselling Haunted Bookshop Mysteries with THE GHOST AND THE HAUNTED PORTRAIT (7th in the series) recently released by Berkley Books. Alice has worked as a journalist in Washington, D.C., and New York City, and has written popular fiction for adults and children. A former magazine editor, Marc has authored espionage thrillers and nonfiction for adults and children. Alice and Marc are also bestselling media tie-in writers who have penned properties for Lucasfilm, NBC, Fox, Disney, Imagine, Toho, and MGM. They live in New York City, where they haunt coffeehouses, hunt ghosts, wrangle rescue cats, and write independently and together.
No comments posted.