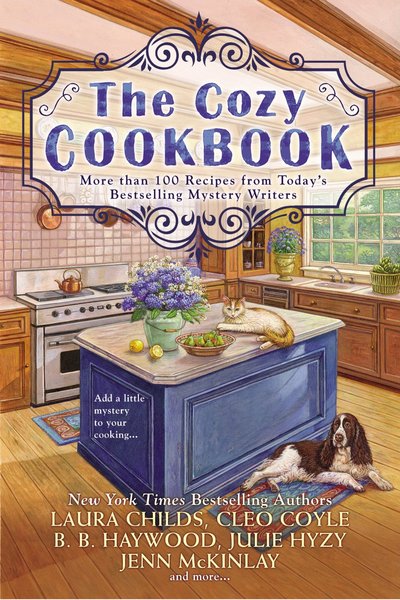 Purchase
More than 100 Recipes from Today's Bestselling Mystery Authors
Berkley Prime Crime
April 2015
On Sale: April 7, 2015
384 pages
ISBN: 0425277860
EAN: 9780425277867
Kindle: B00I3N63LG
Paperback / e-Book
Add to Wish List

MORE THAN 100 RECIPES FROM
AVERY AAMES/DARYL WOOD GERBER
ELLERY ADAMS
CONNIE ARCHER
LESLIE BUDEWITZ
LAURA CHILDS
CLEO COYLE
VICTORIA HAMILTON
B. B. HAYWOOD
JULIE HYZY
JENN McKINLAY
PAIGE SHELTON

Great meals don't have to be a mystery—but they can come from a mystery. Selecting the most delicious recipes from some of the most popular names in crime solving, The Cozy Cookbook serves up mouth-watering appetizers, entrèes, and desserts that will leave your family or book club group asking, "Whodunit?"

In addition to recipes, choose a sleuth du jour from our menu of mystery series and get a taste of each of our authors' bread and butter—page-turning puzzles and stay-up-all-night suspense in excerpts from their bestselling works.

Whether you like your meals sautéed, roasted, baked, or served cold like revenge, The Cozy Cookbook has something to satisfy every mystery fan.
This book contains previously published material.

Media Buzz
News at 4: Wednesday Reads - April 8, 2015

Comments
39 comments posted.
My grandmother got me cooking at 2yrs old. I enjoy it
and love to try new recipes. My favorite memory of her
is going thru magazines looking for recipes to "tweek".
We found one that was for Jambalaya.

1 pkg Smoked Sausage - or Sweet Italian Sausage (or
change)
1 large can of chunked pineapple. We used 2 cans
4 cups cooked rice we used 2 and 2 boxes of rice a
roni's Rice Pilaf
1 large can diced tomatoes.
mix all ingredients together in dutch oven simmer on low
until sausage is cooked.

We added 1 bag of mixed vegies that had zucchini,
mushrooms, squash, peppers.

serve with honey cornbread. Thats cornbread that you pour
honey over when it comes out of the oven hot. LOTS OF
HONEY.
(Tina Ullrich 2:44pm April 13, 2015)
One of my all time favorites is a comfort food for my family.
Nothing really exalted, just fried rice. But it is made
incredibly wonderful by the addition of minced garlic in the
cooking of the dish. Leftover meat and rice, eggs, diced
vegetables (often a frozen mixed veg), garlic, salt or soy.
(G. Bisbjerg 2:48pm April 13, 2015)
don't know any recipes. I don't ever really cook. can barely boil water.
(Angela Parrish 4:31pm April 13, 2015)
What could possibly be better than suspense and good food? I
can't imagine!
(Dagmar Finch 1:00am April 14, 2015)
My husband loved a simple grilled cheese sandwich.
Velvetta (the block, sliced thin.
Bread 2 slices
Butter
Yellow mustard for him, spread on both sides of bread.
Spread butter on bread, add sandwich to the pan and cook
until cheese has melted.
Serve usually with tomato soup.
You sound like you had fun making these recipes.
(Leona Olson 8:45am April 14, 2015)
One of my Mother's comfort foods was her version of Ambrosia
salad. The ingredients are:
1 can of mixed fruit in syrup, drained
1 can of mandarin oranges, drained and cut smaller
additional maraschino cherries for color, taste, and if
desired
miniature marshmallows - amt. decided by cook. just enough
to offset with fruit
some sweetened coconut is optional
Sour cream - amt needed to moisten salad
Take your drained mixed fruit, and add your mandarin
oranges, and the amount of cherries you would like to add,
or you could add the cherries towards the end. Take your
miniature marshmallows, and add them, a few at a time, until
it looks like there is about an even proportion of fruit and
marshmallows. If you want to add coconut, sprinkle the
sweetened coconut over the top, then add your sour cream, a
little at a time, until moistened. Be sure that it's quite
moistened, then allow to sit in the refrigerator for a
couple of hours before serving, to allow the flavors to
absorb. As a side note, you might even want to save less
than a teaspoon of juice from your fruit, to add to the
salad, to be sure that you have added flavor. This is the
time of year for Ambrosia, and don't let the sour cream
scare you off!! It's not really as fattening as you may
think!!
(Peggy Roberson 9:25am April 14, 2015)
I'm in love with Stuffed pepper Soup.
Stuffed Pepper Soup
Serve 6 (or 3 hungry bikers)
398 cals 5.6g fat (1.9g saturated) (without cheese)

1lb LEAN ground beef
1 lg onion, diced
1 cup uncooked or 2 cups cooked rice (I love to use wild rice)
1 can Hunts flavored diced tomatoes (Red pepper and fennel, roasted garlic, sweet onion etc) (14.5oz can)
1 can tomato sauce (14.5oz can)
1 tsp dried oregano
1 tsp basil
½ tsp salt
¼ tsp pepper
1 box chicken stock (32oz)
2 cups water
2 tbsp powdered beef stock
3 bell peppers (I use 1 big green pepper then 4-5 red and 4-5 yellow BABY bell peppers)
Cheese for topping (optional)
Fresh cracked black pepper for garnish (optional)

In a large soup pot coated with cooking spray, over medium-high heat, brown the grown beef with the onions and rice. I know that sounds odd, but browning the rice gives it a nice nutty flavor – do not allow it to burn!!
Meanwhile dice your peppers into small ½" pieces, set side
Add in the diced tomatoes, tomato sauce, oregano, basil, salt, pepper, chicken stock, water, and powdered beef stock, then allow it to come to a boil.
Reduce heat, cover and allow it to cook 20 minutes then add the peppers and allow it to cook another 20-30 minutes (some types of rice may need longer cooking times)
Serve with cheese on top (optional)
(Cathy Thomas 9:32am April 14, 2015)
Simple and quick, my family loves my deviled eggs. I also use them for potluck dishes and they disappear quick. After boiling, shelling, and cutting them in half mix the yolks with mayonnaise, mustard and salt. Scoop mixture back into the white halves and top with paprika. Delicious.
(Brenda Rumsey 9:37am April 14, 2015)
Sounds yummy.
(Marissa Yip-Young 9:52am April 14, 2015)
Wow. Some great recipes just in the responses. I love to make some great yogurt mixtures for my breakfast. My favorite, go-to is: "some" non-fat plain yogurt and "some" natural applesauce stirred together with some cinnamon and crushed walnuts. Yummy start to the day. These books and recipes all sound scrumptious. Thanks for the chance to win
(Nancy Reynolds 9:59am April 14, 2015)
My go-to dip is made from one package of Philadelphia cream
cheese, 1 can of flaked ham, 1 tablespoon Worchestershire
sauce, some onion powder, and blue cheese to taste, usually
about a tablespoon. Extemely addictive.
(Deb Philippon 11:27am April 14, 2015)
Wow Tina, that's amazing that you started so young! Love
that it was with your grandmother--great recipe!
(Kym Roberts 11:48am April 14, 2015)
My favorite and easy appetizer is bruschetta and this is
wonderful with tomato basil soup.
(Sharon Berger 12:04pm April 14, 2015)
G.B. I wish I could make fried rice--it seems so simple,
yet it escapes me. ;(
(Kym Roberts 12:21pm April 14, 2015)
My favorite is eating at my sisters house!
(MaryEllen Hanneman 12:41pm April 14, 2015)
LOL,Angela and MaryEllen, you're my kind of cooks ;)
(Kym Roberts 2:06pm April 14, 2015)
Mine is more like of a dessert because why not haha..
More of like fudge brownies..best food ever!

INGREDIENTS

6 ounces fine-quality bittersweet chocolate, chopped
2 ounces unsweetened chocolate, chopped
3/4 cup unsalted butter
1 1/2 cups sugar
2 teaspoons vanilla
4 large eggs
1 teaspoon salt
1 cup all-purpose flour
1 cup semisweet chocolate chips
PREPARATION

In a metal bowl set over a pan of barely simmering water
melt the bittersweet chocolate and the unsweetened
chocolate with the butter, stirring until the mixture is
smooth, remove the bowl from the heat, and let the
mixture cool until it is lukewarm. Stir in the sugar and
the vanilla and add the eggs, 1 at a time, stirring well
after each addition. Stir in the salt and the flour,
stirring until the mixture is just combined, and stir in
the chocolate chips. Pour the batter into a well-buttered
and floured 13- by 9-inch baking pan, smooth the top, and
bake the mixture in the middle of a preheated 350°F oven
for 25 to 30 minutes, or until a tester comes out with
crumbs adhering to it. Let the mixture cool completely in
the pan on a rack and cut it into 24 bars.
(Daiane Chen 6:01pm April 14, 2015)
Crock Pot Coca-Cola Roast

1 beef roast
whole potatoes
carrots
onions slices
2 liter bottle of coca cola
1 packet of Lipton onion soup
1 can of crushed tomatoes

Place roast in crock pot
place veggies around it
Dump can of crushed tomatoes, juice and all, on top of
roast
Pour entire packet of soup on top of roast
Pour 3/4 of a 2 liter bottle of coca cola on top of
everything

Cook on Medium for 8 hours of High for 6

It makes the sweetest meat that just falls apart.
(Bonnie Davis 6:44pm April 14, 2015)
Gosh, so many people sharing recipes in the last couple of
days. Before I share mine, I have to tell you about a FB
group an old high school friend just started. She's been
battling cancer for several years and she recently got the
news that it's spreading. Nothing can be done. BUT she is an
amazing cook, so she started a FB page that documents her
recipes with pictures of every stage of the recipe and the
final product. A lot of our friends have joined in and are
sharing their recipes in a pictoral format as well. Some of
them are these fabulous Italian recipes with pasta from
scratch.

So, I'm sharing Marcy's Marinated Mushrooms
I usually use either a pound of sliced white mushrooms or 2 or
3 sliced up portobellos.
Pour 2 cups of white zinfandel in the bottom of a frying pan.
Add a dash of dark Chinese soy sauce (there is no name brand,
we go to an oriental store to purchase it)
Add about 1/2 teaspoon of lemon pepper, and 2 tsp of dill
weed.
Place mushroom in the frying pan and allow them to set and
absorb the wine for about 10-15 min.
Turn the heat on high until it starts to simmer, reduce
slightly so that it continues to simmer. Allow the liquid to
reduce. Cook them down until there is a very small amount of
thickened liquid left.

You can serve them alone, on potatoes, in meats or add to
gravies. Because the flavor is locked in, they add an extra
sweet flavor to any dish. Do NOT add any salt. Any soy sauce
is liquid salt.
(Marcia Berbeza 9:07pm April 14, 2015)
Favorite recipe is Hawaiian Chicken--I use 4 chicken breast but other chicken parts can be used. I cook in 4 qt. sauce pan. Brown the chicken in 2 Tablespoons of butter. Mix 1 can Cream of Chicken soup and 1 can of pineapple chunks together then add 1/4 teaspoons cinnamon. Pour this mixture over browned chicken, cover and let chicken simmer until done usually takes about 45 minutes. Soup mixture may be served over rice, noodles, mashed potatoes, etc.
(Regina Patrick 9:15pm April 14, 2015)
My favorite thing is to make oatmeal the night before the easy way. Mix 6
ounces of any flavor yogurt with 1/4 cup of old fashioned or quick cooking
oatmeal . In a tight fitting container mix it. Then put in the fridge overnight
(eight hours) and eat in the morning. You can add fruit or chocolate chips,
etc if you wish. (I use low fat yoplait yogurt.)
(Susan Mahaffey 9:30pm April 14, 2015)
I love that coca cola roast beef. It does fall apart and melts in your mouth . Yum Yum
(Joan Thrasher 11:31am April 15, 2015)
chocolate cake
(Susan Clickner 2:02pm April 15, 2015)
My favorite recipe is:

This is my creation, I have never seen it anywhere's else so I named the recipe,
"SLOP"

1 pound hamburger
1 can of Taco Bell Refried Beans
1 jar of jalepeno cheese sauce
2 packets of Taco Bell Taco or Burrito Seasoning

Cook the hamburger until done. Salt and pepper to your taste. Drain all grease out.
When all of the grease has been drained, put the hamburger back into the pan, adding
enough water to cover the bottom of the pan slightly. Then add both of the seasoning
packets and mix around until all has been mixed thoroughly. Turn the burner down to a
simmer (approx. 4-5 minutes), and simmer the rest of the seaoning until it thickens
slightly (kinda like a thick paste). Make sure each piece of hamburger is coated
thoroughly with the thickened mixture.

Heat the refried beans, adding water to make them more smooth and not as thick.

In a large bowl, combine the hamburger, the refried beans, and the cheese. Mix
thoroughly.

Put a good quantity in the middle of a soft shell burrito flour. Add shredded cheese
in the middle. It is also good if you addd lettuce and tomato.

HERE IS ANOTHER WAY YOU CAN EAT THEM IF YOU DO NOT LIKE BURRITOS:

Fix everything the same way but instead of putting the mixture in a burrito, layer a
plate or bowl full of Dorito's chips and then spoon the mixture over the Dorito's,
adding shredded cheese, lettuce and tomatos if you like.

IF ANYONE TRIES THIS, PLEASE LET ME KNOW IF YOU LIKE IT OR NOT! PLEASE! THANK YOU!!!
:) :) :) :) :) :) :)
(Renae Kelly 6:23pm April 15, 2015)
I really enjoy cozy reads. Thanks for this opportunity.
(Nancy Luebke 7:49pm April 15, 2015)
Homemade Cole Slaw
1 head of cabbage shredded
1 lb. bag of carrots peeled and finely shredded
1/2 cup sugar
mayonnaise

Combine cabbage and carrots in a large bowl. Add sugar
and lemon juice and stir well. Cover bowl and let sit
in refrigerator for at least one hour. (Sugar draws
the water from the cabbage and carrots and if you put
the mayonnaise in too soon, the results will be
watery.) Add mayonnaise and stir well. Repeat until
the cole slaw is creamy. Add more lemon juice as
desired.
(Irene Menge 8:04pm April 15, 2015)
There are some awesome recipes in our comment section,
thank you everyone for sharing! Marcia, blessings to
your friend, thank you for sharing her wonderful
marinated mushrooms.
This is just the icing on the cake, if you love good
recipes, you really need to pick up a copy of The Cozy
Cookbook ;)
(Kym Roberts 9:38pm April 15, 2015)
Love your recipes. Thank you for the giveaway.
(Sharon Sommer 10:01pm April 15, 2015)
i share mysteries with my 77yr old neighbor
(Susan Gannon 6:46am April 16, 2015)
MY favorite recipe is for lava cupcakes that we call heart of darkness cakes.
(Pam Howell 11:29am April 16, 2015)
I tend to enjoy baking more than anything. My go to recipe is
a chocolate cake from the depression era called poor man's
cake.
2 1/2 cups flour
2 cups sugar
3/4 cup baking cocoa
1/2 tsp salt
1/2 tsp cinnamon
2 tsp baking soda
2 tsp baking powder
2 tsp vanilla
2 Tbsp white vinegar
2 cups cold water

Mix all ingredients until smooth. Pour into greased and
floured pan(s). Bake at 350° for 30-35 minutes or until cake
tests done.

It is a delicious and super moist cake.
(Rachel Collings 1:24pm April 16, 2015)
I don't have a favorite recipe. So I need this cookbook so I
can find one!
(Denise Austin 2:25pm April 16, 2015)
I love cooking and am a collector of recipes. I have so many favorite dishes and family favorites. My children would always beg me to make my homemade Cheesy Macaroni & Chicken for them. It's simple to put together and far better than anything from a box.
CHEESY MACARONI & CHICKEN
2 cups uncooked macaroni noodles
1 to 2 pieces of leftover cooked chicken (I use breast portions that have more meat) torn into pieces
1 can cream of chicken soup
1 cup milk
2 cups shredded cheddar cheese
Cook noodles and put into a 2-qt. casserole dish. Add chicken pieces, soup, milk, and cheese. Stir together til combined. Mixture should be a creamy consistency. If too thick, add a little more milk to it. Cook in oven at 350 degrees for 25 minutes covered and last 5 minutes, uncovered. Use a cookie sheet under casserole dish to catch drips. This can also be microwaved on High for 15 minutes, covered.
My son adds broccoli into this recipe when he makes it. It's very good. Refrigerate leftovers for next day.
(Linda Luinstra 7:12pm April 16, 2015)
My hot weather go-to is fresh veggies and a simple dip.
1 cup sour cream
1 cup Miracle Whip (not mayo)
Fresh dill or dill weed to taste.
Mix all ingredients. You want a dip that is infused with green rather than
mostly green. Start with a tablespoon of dill weed and add a little at a time
until you like it. It doesn't get any easier than this and even your kids will
eat fresh veggies!
(Susan War 7:14pm April 16, 2015)
One of my favorite chicken recipes is Baked Cheesy Chicken Penne.

Baked Cheesy Chicken Penne
6 tablespoons butter
kosher salt and black pepper
1 pound penne rigate
1 teaspoon olive oil
2 boneless, skinless chicken breast halves
1/2 cup plus 2 tablespoons flour
6 garlic cloves, finely minced
6 cups whole milk
10 ounces mushrooms, trimmed and thinly sliced
1 cup sliced oil-packed sun-dried tomatoes, drained
1 1/2 cups shredded provolone (6 ounces)
1 1/2 cup freshly grated Parmesan (about 6 ounces)

Preheat oven to 400. Butter two shallow 2-quart baking dishes. In a large pot of boiling salted water, cook pasta 3 minutes short of al dente; drain pasta and set aside.
While pasta is boiling, heat oil over medium-high heat in a large skillet. Season chicken with salt and pepper; cook until opaque throughout, 3 to 5 minutes per side. Halve each piece lengthwise, then thinly slice crosswise. While chicken pan is still hot, toss the mushrooms in and saute until golden brown (3-4 minutes). Use a little extra olive oil if needed.
In a 5-quart Dutch oven or heavy pot , melt butter over medium. Add flour and garlic; cook, whisking, 1 minute. While whisking constantly, gradually add milk; bring to a simmer. Keep whisking frequently as sauce thickens, about 1 minute more. Add mushrooms and tomatoes; cook 1 minute. Take the pan off the heat and and gradually stir in provolone and 1/2 cup Parmesan.
Add chicken and pasta to pot; season with salt and pepper to taste. Divide pasta mixture between baking dishes. If freezing, place remaining parmesan cheese in a zip-top baggie. If cooking, sprinkle on top.
Bake, uncovered, until top is golden and bubbling, about 25 minutes. Let stand 5 minutes before serving.
(Bonnie H 10:04pm April 23, 2015)
All of the posted recipes.sound amazing. The following isn't an actual
recipe...just something I make for a healthy veggie sandwich. Spread
favorite bread (both slices)with veggie cream cheese then top with
lettuce,tomato,onion,broccoli slaw and favorite cheese. I know it sounds
weird but it is really good
(Verna Gass 3:35pm April 28, 2015)
Our go to appetizer/dip is the spinach dip made with ther
Knoor's vegetable soup mix and frozen chopped spinach,
served in a cut out round bread loaf. It's delicious and
your getting vegees, what's not to like?!
(Patrice Eannucci 1:13pm May 6, 2015)
I got e-mail that I had won this wonderful giveaway. I am so excited about this and I thank you so much . My address is :
Joan Thrasher

949 Lowder Rd.

Booneville, Ar. 72927
(Joan Thrasher 7:01pm May 6, 2015)
Oh no, sorry , wrong place .This is for last months. Good luck to you all.
(Joan Thrasher 8:45pm May 6, 2015)
Registered users may leave comments.
Log in or register now!