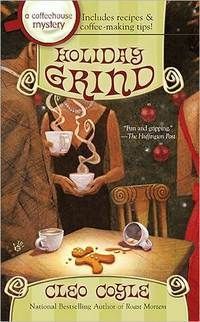 Purchase
Welcome to the Village Blend, where coffee and crime are always brewing...
Coffeehouse Mystery #8
Penguin
November 2010
On Sale: November 2, 2010
Featuring: Clare Cosi
384 pages
ISBN: 0425237885
EAN: 9780425237885
Kindle: B002DW935G
Paperback / e-Book (reprint)
Add to Wish List

Other Editions
Hardcover (November 2009), Paperback (reprint - November 2011)
There's nothing cozier than a winter evening in Greenwich Village. Streetlights shimmer through icy flakes. Cafés glow with welcoming warmth. Boots crunch along cobblestones, and a layer of snow dusts historic townhouses like powdered sugar on Christmas confections. Murder has no place in such a pretty picture, until now...
Coffeehouse manager Clare Cosi has grown very fond of Alfred Glockner, the part-time comic and genuinely jolly charity Santa who's been using her Village Blend as a place to warm his mittens. When she finds him brutally gunned down in a nearby alley, a few subtle clues convince her that Alfred's death was something more than the tragic result of a random mugging—the conclusion of the police.
With Clare's boyfriend, NYPD Detective Mike Quinn, distracted by a cold case of his own, and ex-husband Matt investigating this year's holiday lingerie catalogs (an annual event), Clare charges ahead solo and discovers Santa had a list that he was checking twice—and the folks on it were not very nice. Then someone tries to ice Clare, and she really gets steamed. Between baking delicious Christmas goodies and fending off the attentions of a persistent professional elf, Clare sets out to solve Santa's slaying. But she'd better watch out, because if she fails to stop this stone cold killer, she may just get the biggest chill of her life.
This very special, holiday entry in Cleo Coyle's nationally bestselling series includes an extra-large bonus section of delicious holiday recipes as well as a glossary of coffeehouse terms, instructions on making espressos and lattes without an expensive machine, and tips for creating your own tasty coffeehouse syrups at home.
Comments
74 comments posted.
Re: Holiday Grind

Just the right book to read over the holidays. I look forward to enjoying this great book with my favorite venti double espresso vanila latte. Thanks for sponsering this awesome giveaway.
(Karen Appleby 1:51pm November 4, 2010)
I just love cuddling up with a good book and a nice hot drink. It sounds like the book and the recipe are both winners.
(Pamela Stewart 12:43pm November 5, 2010)
I am from the south so I would have to say Pecan Pie and Red Velvet Cake. No one makes it like my sweet Mother-in-law. Shes also a big reader and a great cook.
(Pamela Wood 2:04am November 5, 2010)
Gingerbread for me. It just tastes right for the winter and I look forward to it every year.
(G. Bisbjerg 2:19am November 5, 2010)
Oh, sweet! Four comments already. Ho, Ho, Ho!!! Thank you. :) Looking forward to reading more delicious "taste of the holiday" memories all day. ~ Cleo (who writes at night)
(Cleo Coyle 2:48am November 5, 2010)
So who's next? What do you look forward to tasting every holiday season? ~ Cleo
(Cleo Coyle 2:49am November 5, 2010)
My favorites: Latkes for Hannukah and Riskrem (Christmas Rice Pudding) to honor my Norwegian family. We celebrate both holidays.
(Rob Kvidt 4:26am November 5, 2010)
today I'm just thinking about birthday cake but around the holidays, there's nothing quite like a nice gingerbread man ( in cookie form that is)
with raisin eyes and buttons.
(Karen Gervasi 7:17am November 5, 2010)
Can't wait to read this book!!!
(Alicia Farage 8:11am November 5, 2010)
I would love a new book and coffee mug to enjoy for my birthday next week!
(Kathy Alexander 8:37am November 5, 2010)
I have been waiting for this book!and the mug is cool too
(Dee Walls 9:23am November 5, 2010)
I enjoy baking and decorating sugar cookies with my daughter. For eating, I prefer our family's favorite, a chocolate chip/brown sugar cookie called Congo Bars.
(G S Moch 9:43am November 5, 2010)
I love mulled wine and reading by the fireplace. Your book sounds like the perfect holiday read!
(Melinda Dunne 9:46am November 5, 2010)
I can't wait to read this book! There is nothing compared to curling up with a cappuccino and a Christmas Cookie and a good book and a fleece cover.
I consider myself a lucky girl doing that!
(Nancy Straka 9:52am November 5, 2010)
It sounds like a fun book to give as a gift. Will buy more than one copy. My favorites are pumpkin pie with fresh whip cream & pecan pie. The good old standbys.
(Pat Wilson 10:00am November 5, 2010)
Last year I tried out a recipe making my own chocolate covered cherries. I am now roped into making them every year since everyone loved them! That's okay because they were good!
(Nicole Caroen 10:20am November 5, 2010)
I love my coffee and a few cookies. Any cookie will do! Thank You for the giveaway!
(Joanne Mckeareany 10:53am November 5, 2010)
I love love love Russian Tea Cakes, which taste wonderful with either Cinnamon Spice tea or Vanilla Latte... YUM! Can't wait to read the latest "cuppa joy" in your series! :-D
(Meg Mims 11:07am November 5, 2010)
Sugar cookies nicely decorated make for great dunking in a glass of cold milk for any age!
(Karin Tillotson 11:15am November 5, 2010)
Book sounds great and I love the holidays and all the yummy food but most of all I love being with family and feeling all the love.Oh and I always love a good book.
(Vickie Hightower 11:20am November 5, 2010)
What a perfect book for the holidays---I could read it while drinking my favorite holiday beverage, homemade eggnog and eating some rum balls. Now I'm hungry!
(Sue Farrell 11:25am November 5, 2010)
Pumpkin Pie and Butterball Cookies that melt in your mouth are the foods I grew up with and have for the holidays. Love books with food showcased in them and recipes, too.
(Alyson Widen 11:29am November 5, 2010)
I love your books because they combine two of my favorite things in life...reading and coffee! This recipe sounds yummy!!!
(Gina Borkowski 11:34am November 5, 2010)
I love to sit by the fire and read books and drinking lattes! this is a perfect book to read!
(Angela k 11:38am November 5, 2010)
111My favorite holiday treat to make is Italian wine biscuits. My husband is Italian and begged me to learn how to make these when we first got married over 40 years ago.

I had to give them my own twist just like you do in your stories so my secret is that as soon as you take them out of the oven to put them warm in Tupperware container. It keeps them nice and soft and creamy tasting and they go great with coffe.
(Jeanne Miro 11:49am November 5, 2010)
Winter, fire,a latte,and a good book is the recipe for contentment. My favorite passtime
(Betty Jo Hill 11:50am November 5, 2010)
Definitely have to pick this one up! Sounds like a great read! Memories of baking peanut butter cookies with my Grandpa - those are great memories!
(Kelli Jo Calvert 11:55am November 5, 2010)
The snow flake latte sounds
delicious!
(Margay Roberge 11:57am November 5, 2010)
I can't wait to finally read Holiday Grind! I love making and eating caramel puffcorn at the holidays. It's time consuming to make, everyone loves it, but not everyone has the time to make it!
(Julie Holden 12:01pm November 5, 2010)
Finding a new recipe in a book is always such an added treasure.
Blessings,
Marjorie
(Marjorie Carmony 12:01pm November 5, 2010)
I love all the great drinks and desserts this time of year. Congrats on the new book!
(Maureen Emmons 12:22pm November 5, 2010)
The book sounds great. My favorite food at Christmas is the red velvet cake. We only make it this time of year.
(Pam Howell 12:37pm November 5, 2010)
My own favorite scent at holiday time when I was a girl was that of my grandmother making fruit cake, the scent of the almonds baking in the cake. Nowadays, while that is still a favorite, so is the scent of my own holiday cake; a chocolate and mint creation of my own that my family always asks for.
(Lili Booth 1:54pm November 5, 2010)
My Mom always made the best sugar cookies with raisin filling. They will always be a Christmas favorite.
(Robin McKay 2:12pm November 5, 2010)
Thanks for the latte recipe... my sister is a coffee lover and this would be something for her to try!
(Colleen Conklin 2:14pm November 5, 2010)
This looks like a great book to read.

Thanks for the lovely recipes, I will certainly try the cranberry one.

I love English mince-pies and as we have an English shop here I can buy the filling and make them myself.

Valerie
in Germany
(Valerie Bongards 2:21pm November 5, 2010)
I look forward to eggnog, hot cider and molasses sugar cookies.
(Cheryl Lynne 3:01pm November 5, 2010)
Can't wait to read Holiday Grind! Absolute LOVE your books and recipes. Gingerbread is my favorite cookie for Christmas. I make mine with Buttermilk.
(Kathleen Lamb 3:43pm November 5, 2010)
I love anything with pumpkin or pecans. I like to enjoy Thanksgiving first before I jump into the Christmas flavors of eggnog and ginger.
(Christine Arcidiacono 3:48pm November 5, 2010)
I love Norwegian Kringla cookies during Christmas season. They remind me of my beloved great-aunt Nonnie.
(Shana Skaletsky 4:53pm November 5, 2010)
I associate food with all the holidays & family.
(Mary Preston 6:25pm November 5, 2010)
I have been enjoying your comments all day long. What an amazing array of favorite foods (and drinks!)and sweet memories. Thank you so much for sharing with me today. More comments welcome! I'll be back later this evening to see who else is looking forward to favorite holiday foods and flavors. Eat with joy! ~ Cleo
(Cleo Coyle 6:50pm November 5, 2010)
I like pumpkin muffins and a cup of hot chocolate and a good book of course
(Teresa Ward 6:52pm November 5, 2010)
I like lefse--kind of like a potato tortilla. Yum! I so enjoy your books!
(Susan Stiffler 7:39pm November 5, 2010)
Pie is the way to go, but I don't bake so it's store-bought for me. Still, they can be very tasty. I think I prefer berry pies, chocolate pies and custard pies. Pumpkin pies are okay for the holiday season.
(S Tieh 7:58pm November 5, 2010)
Every holiday, I always look forward to candy cane. Since Coffee Beans & Teas has create the Winter Dreams Latte, I look forward to it for every Christmas season.
(Kai Wong 8:00pm November 5, 2010)
Somehow, our holiday tradition has become Bloody Marys! I make them with V-8 Juice and horseradish, plus lemon juice, black pepper, salt, Tobasco sauce and of course, Absolut vodka!
(Kathleen Marks 8:39pm November 5, 2010)
I just discovered your Coffeehouse mysteries and I'm hooked. lol I am on #1 and I am really enjoying your protagonist. I know I'm reading a good book when I don't want to put it down. I have a feeling I will be treating myself this holiday season with your books. :)
(Robin Bailey 8:47pm November 5, 2010)
I just love the holidays. I love everything about the holidays. My sister and her husband visit. The fireplace gets used. The decorations, lights, music, family all come together to make everything magical.
(Trisha Kilpatrick 8:47pm November 5, 2010)
hi i do not cook sorry but i have some one who does but the cookies here look wow would love to eat them all
(Desiree Reilly 9:48pm November 5, 2010)
I love many foods at the Holidays, but if I must narrow them down to one, perhaps it might be
Fruit Ambrosia. Since my husband is diabetic, I don't bake all the sweet stuff I did; but we still have great feasts during the Holidays.
Happy Holidays to you!
(Gladys Paradowski 10:01pm November 5, 2010)
I really look forward to the season when Italian panetonne is available. So lovely with a cup of tea (sorry, don't drink coffee, though I love the smell when hubby has some)) and a book in the afternoon
(Maya Missani 10:54pm November 5, 2010)
Nog. I look forward to nog every year. All I need is one cup and I am good until the next year. Although, I have found Silk soy nog is thinner and I can do 2 cups until the next year. :-)
(V Scott 11:47pm November 5, 2010)
Thanks for sharing that delicious sounding recipe. I love holiday food. Big fan of eggnog, both homemade and store bought. I also love to bake Christmas cookies this time of the year and it is fun to try new recipes to add each year with old favorites.
(Cherie Japp 11:48pm November 5, 2010)
Oh most def it is Pumpkin Pie. Once
I've tasted my first slice, I know the
holidays are in FULL swing! I just love
the food and feelings this time of year
bring! And I have to say the CBTL has
a wonderful Latte each year called
"Winter Dream". I am a TOTAL coffee
fiend but this Latte, I do love and that
also rings in the Holidays for me.
(Heather Ulilang 11:49pm November 5, 2010)
The recipies sound yummy! I love coconut cake at Christmas and sweet potatoe pie.
(Ginger Hinson 12:08pm November 6, 2010)
Great receipes and I will be trying out soon. Would love to read your book.
(Brenda Hill 12:20pm November 6, 2010)
Thanks to everyone for your very kind comments. I had so much fun reading about your favorite foods, flavors, and memories. Your messages truly have put me in the spirit of the season -- and inspired me to try some new recipes. Cheers to you all. May your holidays always be delicious! ~ Cleo
(Cleo Coyle 1:19am November 6, 2010)
I most look forward to downtime and time away from work and with my family. With regards to sweet treats I would have to say trifle and egg nogg are WAY up there. I love having time to relax and enjoy my family.
(Darci Paice 3:13am November 6, 2010)
My sister makes the divine Rumballs for Christmas. Soon now!!!
(Mary Preston 8:11am November 6, 2010)
I'm the only one out of my Sisters that carried on with my Mother's recipes. During the Holidays, I love to make her prune cookies. They sound gross, but they're very good!! They look like little crescent rolls, filled with prune, and dusted with powdered sugar. The dough is as flaky as pie crust, and you could fill with with whatever you'd like, actually. I make a lot of her recipes, including her kapusta, or cabbage, along with cabbage rolls. You probably guessed I'm Polish!! You're book sounds like a winner, and I'll have to make sure I read it, not only for the great story line, but to check out the pages of recipes!!
(Peggy Roberson 11:00am November 6, 2010)
Sounds like an enjoyable read. I really enjoy humor in my books.
(Molly Wilsbacher 11:06am November 6, 2010)
I am a pumpkin pie junkie. I only eat it at the holidays, but I love it. The real treat, though, is my Aunt Jean's carrot cake. This is just to die for, it is so good! She uses fresh everything (except maybe a box mix, but not even sure about that!), and has raisens and sometimes nuts in it. And her scratch cream cheese icing is divine! It is good enough that the year we were snowed in for xmas, she got special orders from family for this cake!
(Victoria Colyer-Kerr 12:34pm November 6, 2010)
We make my grandmother's receipe for cranberry ice.. part of the receipe calls for a 7 oz bottle of ginger ale.. Does that tell you how old it is!??!!
(Cate Sparks 12:59pm November 6, 2010)
Oooooh, these comments are making me hungry! Isn't it amazing how many of us feel the love through family recipes? It's truly something wonderful...
(Cleo Coyle 1:22pm November 6, 2010)
A great cup of coffee along with PUMPKIN PIE!

[email protected]
(Katherine Reese 1:50pm November 6, 2010)
love reading by the fireplace with a cup of coffee and a good book
(Anthonia Sharp 2:02pm November 6, 2010)
I can't think of a holiday food
I DON'T love!! Not a good time
for my waistline..
(Jessie OLeary 5:58pm November 6, 2010)
I love to have coffee and a good book!
(Rhonda Grable 6:06pm November 6, 2010)
Thanks for the recipe. Your new book sounds like a thriller.
(Mrs bernard Yavitch 9:14pm November 6, 2010)
pumpkin pie and latte please, and thank you so much it all sounds good
(Debbi Shaw 9:20pm November 6, 2010)
From the heart, I want to thank everyone who left such wonderful comments. May you all have a delicious holiday season! ~ Cleo
(Cleo Coyle 8:49am November 8, 2010)
The smell of coffee wakes me and the thrill of a new book still "Thrills" me!!!
(Pat Willoughby 7:48pm November 22, 2010)
aahhhh the smell of fresh brewed coffee and fresh baked goodies and a good book what more can you ask for Thank you for this contest and the chance to try your recipes
(Pamela Hansen 3:19pm November 29, 2010)
Registered users may leave comments.
Log in or register now!