By Fresh Fiction Senior Reviewer Teresa Cross
***
First, I have to tell you how excited I am that I get to interview you. This is an amazing wish come true as you and Marc are my favorites of all authors. So, all questions can be answered by just one or both of you two! Your Coffeehouse Mysteries are my favorite cozy mysteries as I love coffee, I hang out at coffee shops and I have a daughter who is a barista. What inspired you to write this series with a coffee shop?
Marc and I are honored to know how much you've enjoyed our work, Teresa, thank you! And please give your barista daughter a hug from us. One of the things we discovered while doing research for our Coffeehouse series was how passionate the people are who work in the coffee trade—from the farmers who grow it and the "coffee hunters" who source it, to the master roasters who create the blends and the baristas who serve it. They continually provide inspiration for our characters and storylines. As for the origin of our series, that reaches back to 1985, when I was working as a cub reporter for The New York Times and living over a small women-run coffee shop called Bread and Roses in New York's East Village. The entire origin story would take up too much space here, but I'm happy to provide a link for anyone interested in learning more. Click here to read Cleo Coyle's 1985 origins of the Coffeehouse Mysteries.
Clare feels like your best friend when you are reading. It is so easy to get lost in the book that sometimes you forget they are just characters. It is great watching her grow as this really strong character which made reading this latest storyline interesting because of how the loss of her memory affected her. Is there anyone in your life that Clare reminds you of?
Whenever any reader tells us that our characters feel like friends, we are thrilled because that's our goal—to create characters that seem as authentic, dimensional, and real to our readers as they do to us. As for Clare, we created her out of admiration for women we've known in our own lives, most of them mothers, headstrong but kind. These are women of faith, who are not perfect, not by a long shot, but they are always striving to do the right thing, and they know how to forgive and move on. Their life experience has given them perspective on what's truly important. They've learned how to deal with toxic people and situations, as well as their own internal doubts. Like these women, Clare has had her own struggles with heartache and loss, which is why she doesn't hesitate to step up and help those who need it. We're proud to present that kind of human being to a world dragged down by so much negativity; a world where far too many lost souls turn to drugs and alcohol and violence; a world sorely in need of strong, optimistic women like Clare and positive, uplifting stories.
I also love your Haunted Bookshop Mysteries. Now, I cannot remember if I read something at one time or if I'm just having wishful dreaming, but is there any chance of a crossover between Penny and Clare's stories? I always wondered how Matteo would handle Jack and his charming ways and how Jack would react if Matteo flirted with Penny.
Thank you so much for the shout-out to our Haunted Bookshop Mysteries. We're grateful to the series fans for sticking with us through the long hiatus of nearly ten years. That's why we dedicated last year's relaunch book, The Ghost and the Bogus Bestseller (now an actual bestseller!) to our readers. Their long-suffering love of our characters is what kept them hounding us for more stories, and we finally decided it was time to put Pen and Jack back to work solving mysteries out of Pen's quaint Rhode Island bookshop. We're now working on the next Haunted Bookshop Mystery. And, yes, in answer to your question, Marc and I have talked about a crossover with our Coffeehouse Mystery series. We haven't nailed down the details yet, but we're having fun discussing the possibilities.
I enjoy a love story. How did you and your husband, Marc, meet?
Marc and I were born and raised in small towns outside of Pittsburgh, Pennsylvania, which is why we gave our amateur sleuth, Clare Cosi that same background. (She grew up in Western PA, working in her grandmother's little Italian grocery store.) As for Marc and I, we didn't meet until we moved to New York City with the dream of becoming writers. When our paths crossed, working in the same Manhattan office, we quickly fell in love and eventually married. We recognized ourselves in each other—we're truly soulmates.
When the two of you write, what does the process look like? Do you ever feel differently about where you want to take the storyline and if so, how do you compromise?
We are professionals, and we approach our work with respect for the process and each other. When we have different views on where the story should go, we talk it over and often find a middle ground that includes the best aspects of both ideas. As for our collaborative process, it's a little like two chefs in one kitchen. We brainstorm the menu (rough outline) together. Then we go off and cook up different parts. Throughout the months of writing, we'll continue to suggest ideas to each other—over morning coffee, evening meals, and long walks through our neighborhood. But we always write our sections alone, dreaming up things in separate rooms. Then we come together and share. I go over Marc's pages and he goes over mine, each of us working to improve, smooth out, or punch-up the other's prose. By the way, readers should not assume that Marc writes all the men and I the women (an unfortunate assumption that we sometimes encounter). Each of us writes scenes and sequences using every character. Marc writes Clare Cosi, Madame, and Penelope Thornton-McClure as often as I write NYPD Detective Mike Quinn, coffee-hunter Matt Allegro, and the ghost of Jack Shepard.
On a typical day, what do you unusually do?
The first one up starts the routine, which includes brewing coffee and wrangling our house of cats—all of them rescued New York strays. It takes about an hour to feed them, minister medications, and clean litter boxes. We'll do household chores like laundry and vacuuming. We'll check emails and maybe go for a walk to shop for groceries. Then we'll settle down to write for the afternoon. After dinner, we'll relax with some reading or watch television together. Then we'll brew more coffee and go back to writing, into the wee hours, when the world goes quiet, and the night muse visits. After shut-eye, it's up again for more coffee—and cat wrangling.
Where is your favorite place to write?
Marc and I usually write in different rooms of our home. He and I listen to different music for inspiration, and our many cats enjoy going back and forth from his writing room to mine, keeping us company.
I have been inspired by the two of you to play around with my own storyline that I would love to do something with one day. Are there any authors that inspired the two of you to write? If so who?
We wish you the very best of luck in your writing endeavors, Teresa. For us, writing is therapy. We're the kind of people who, as children, loved to create little "play worlds" to escape to. As adults, that's basically what we still do. It's the best kind of writing because it draws from a deep place inside you. We hope you find the kind of fulfillment that we have enjoyed through this art form. We have been inspired by many great writers, not just of novelists, but also playwrights, screenwriters, and poets. A few of our many influences include Raymond Chandler, Nora Ephron, Robert E. Howard, Agatha Christie, Neil Simon, Woody Allen, Thornton Wilder, Paddy Chayefsky, James M. Cain, Emily Dickenson, Shirley Jackson, Susan Isaacs, R.A. Dick (aka Josephine Leslie), Philip K. Dick, Richard Matheson, Jacqueline Susanne, Willian Shakespeare, Stephen Sondheim, Tom Stoppard, Edgar Allan Poe, Mark Twain, and the list goes on!
Do you have any tips for anyone wanting to write cozy mysteries?
Writing cozy mysteries should be no different from writing any other kind of fiction. Draw from an authentic place in yourself. What does that mean? It means you should strive to create characters that express your experience, living as a human being on planet earth. Respect your readers and their expectations for the genre, but be wary of formula advice. Instead, dig deep inside yourself and focus on creating characters and stories that are real to you—not artificially made up to fit some formula. If you write stories that thrill, amuse, move, and entertain you, your work is much more likely to do the same for your readers.
Thank you so much for a dream come true to interview you. When I am not reading books or writing reviews, I teach first grade and love to inspire my students to love reading and writing. So, the one last question I love to ask in interviews is, did you have a teacher who inspired you in some way growing up and if so how?
Thank you for your thoughtful questions, Teresa, and thank you for your service as an educator. Marc and I appreciate the impact of good teaching. I had many wonderful teachers while attending public school in the Pittsburgh area, and I'm grateful to them for helping me along in my development as a writer. I'll never forget the day my Junior High English teacher brought in a Simon and Garfunkel album and played us songs like "The Sound of Silence"—Hello, darkness, my old friend / I've come to talk with you again. This wasn't just a pop song. It was also poetry. Yes! That ingenious teacher found a way to awaken something inside me. She helped me understand that literature is far more than words on a page to be taught in a classroom. It's a vital and beautiful way of communicating our human experience to the world. It's an art that can take many forms. With Bob Dylan winning the 2016 Nobel Prize for Literature, I'd say the Nobel committee agreed.
Keep in touch with Cleo Coyle by signing up for Cleo's free newsletter: https://mailchi.mp/cleocoylerecipes/newsletter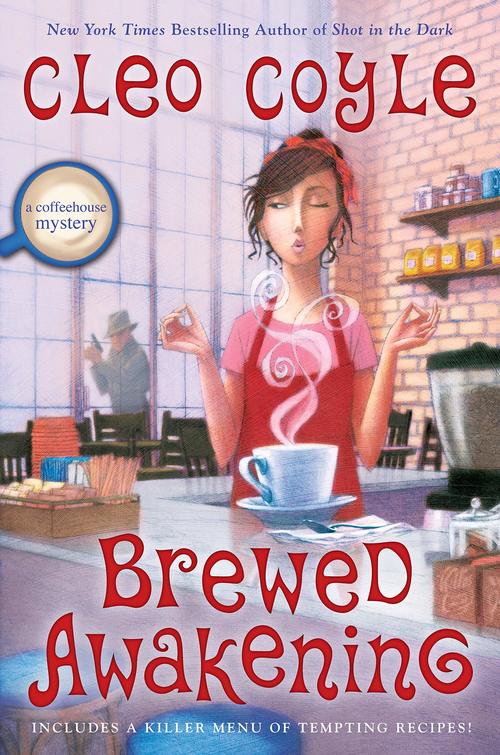 New York Times bestseller Cleo Coyle's "delightfully twisty" new Coffeehouse Mystery.
From Cleo Coyle, the New York Times bestselling author of Shot in the Dark and Dead Cold Brew, comes a delicious new entry in the "fun and gripping" (The Huffington Post) Coffeehouse Mysteries.
When coffeehouse manager Clare Cosi awakens on a bench in Washington Square Park, she has no idea she's been missing for the past week, or that her friends and family have been frantic with worry. Now that she's back, everyone is overjoyed, including a handsome NYPD detective who claims to be her fiancé. But to Mike Quinn's crushing distress, Clare doesn't remember him, or much of anything about the last decade of her life.
Clare's missing memory is tied to a crime she witnessed. An acquaintance of Clare's elegant employer--and fellow member of an exclusive Gotham circle known as "The Ladies Who Brunch"--invited Clare to her posh hotel to sample gourmet wedding cakes. The pair took a stroll after their indulgent tasting and, according to security camera footage, a masked figure snatched the hotel heiress at gunpoint with Clare looking on. Did the kidnapper take Clare, too? The camera went dark, just like Clare's memory. Soon authorities grow suspicious. Is Clare really a victim? Or merely acting like one? Evidence is mounting that she set the woman up.
To clear her name, Clare must find a way to reclaim her memories and rescue the heiress before this high-stakes crime ends in tragedy. Otherwise, instead of walking down the aisle, Clare may find herself perp-walking to prison as an accomplice to kidnapping and murder.
Mystery | Mystery Amateur Sleuth [Berkley Prime Crime, On Sale: December 3, 2019, Hardcover / e-Book, ISBN: 9780451488879 / eISBN: 9780451488886]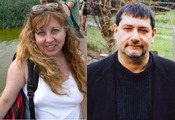 CLEO COYLE is a pseudonym for Alice Alfonsi, writing in collaboration with her husband, Marc Cerasini. Both are New York Times bestselling authors of the Coffeehouse Mysteries, now celebrating over ten years in print. Alice has worked as a journalist in Washington, D.C., and New York City, and has written popular fiction for adults and children. A former magazine editor, Marc has authored espionage thrillers and nonfiction for adults and children. Alice and Marc are also bestselling media tie-in writers who have penned properties for Lucasfilm, NBC, Fox, Disney, Imagine, and MGM. They live and work in New York City, where they write independently and together, including the national bestselling Haunted Bookshop Mysteries.
No comments posted.