Instead of trying to find your perfect match in a dating app, we bring you the "Author-Reader Match" where we introduce you to authors you may fall in love with. It's our great pleasure to present CLEO COYLE!
Writes:
As Cleo Coyle, my husband and I write the New York Times bestselling Coffeehouse Mysteries, an endearing series of witty, suspenseful murder mysteries that will make you laugh and make you feel. They're set in a landmark coffeehouse in New York's picturesque Greenwich Village, where our smart, single-mom amateur sleuth oversees the shop and a quirky crew of baristas who help her solve perplexing crimes. Our newest Coffeehouse adventure, BULLETPROOF BARISTA, is a real showstopping entry, which makes this a great time to visit our Coffeehouse world.
About:
We always strive to give our audience uplifting, page-turning reads, and we'd love the chance to make you smile and touch your heart. As devoted writing partners as well as married partners, we draw from our own experiences to portray the highs and lows of the relationships in our novels with a unique blend of wit, wisdom, and (at times) raw honesty. Take our amateur sleuth, coffeehouse manager and master roaster Clare Cosi…
Clare's efforts to right wrongs and catch clever killers while attempting to support her young adult daughter; manage her eccentric octogenarian employer; and deal with the two men in her life—irresistible globetrotting coffee hunter Matt Allegro and dedicated NYPD "OD Squad" detective Mike Quinn—are sure to charm you with absorbing, richly layered stories.
Cleo's ideal reader match will enjoy…
The "edge of your seat" fun of a twisty murder mystery filled with warmth and humor, amusing family dynamics, sizzling sparks of romance, and buckets of witty banter.
A strong female amateur sleuth whose love of friends and family; keen sense of justice; and New York street smarts keep the suspense high and subplots simmering.
Exciting insights into the glamour and grittiness of New York City, written by two authors who have navigated its highs and lows, bright lights and dark alleys for decades.
A heartwarming cast of characters you will want to be friends with and continue to visit.
The delicious bliss of a culinary mystery laced with fascinating aspects of running a coffee business and BONUS RECIPES at the end of every book, including our latest, BULLETPROOF BARISTA.
What to expect if you're compatible with Cleo:
If you're compatible with us, we would be thrilled to see you return to our charming Coffeehouse world again and again—and read our earlier Coffeehouse Mysteries, starting with our first, ON WHAT GROUNDS. We'd also love to have you keep in touch by subscribing to our free COFFEE CLUB NEWSLETTER, where we share bonus recipes, book news, and giveaway contests for autographed novels, premium coffee, tote bags, and more!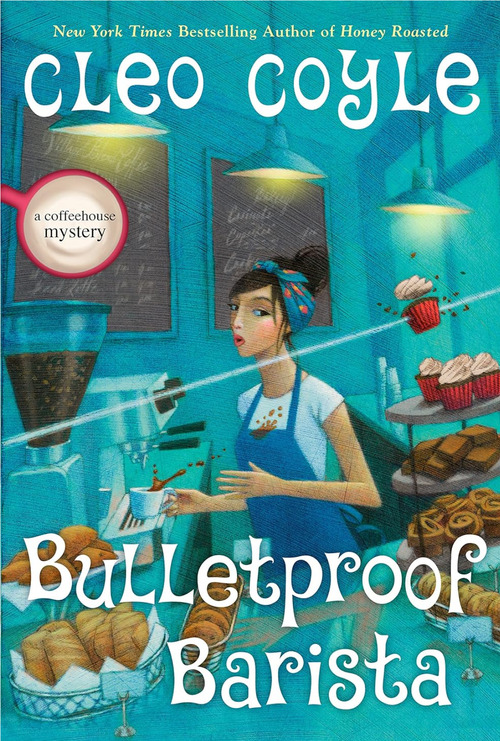 When a film crew's location shoot delivers an actual shooting, Clare Cosi finds herself at the scene of a true crime in this showstopping entry in the beloved Coffeehouse Mysteries from New York Times bestselling author Cleo Coyle.
Only Murders in Gotham, the smash-hit streaming program, is famous for filming in authentic New York locations and using real New Yorkers as extras. For its second season, they've chosen to spotlight the century-old Village Blend and its quirky crew of baristas. Shop manager and master roaster Clare Cosi is beyond thrilled, especially when her superb bulletproof coffee lands her a craft services contract for the production.
Madame, the eccentric octogenarian owner of the landmark shop, reveals an old kinship with the star of the show, comedian Jerry Sullivan. Now a Hollywood legend, Jerry frequented the Blend during his early years performing in Greenwich Village comedy clubs. But the past may hold more than nostalgia for Jerry. Suspicious accidents begin plaguing his shoot. Then a real bullet is fired from a stage gun, and Clare becomes convinced something sinister is afoot.
While Jerry's production moves to exciting new locations, Clare keeps the coffee flowing—and her investigation going—even as a murderer lurks in the wings. But can she root out the rotten player in this Big Apple production before the lights go out on her?
Includes a stellar menu of surefire recipes!
Mystery | Mystery Culinary [Berkley, On Sale: November 14, 2023, Hardcover / e-Book, ISBN: 9780593197592 / eISBN: 9780593197608]
Cleo Coyle aims and hits reader's right in the heart with this one!
Another win for Cleo Colye and the Coffeehouse Mystery series!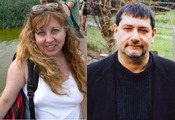 CLEO COYLE is the New York Times bestselling pseudonym for Alice Alfonsi, writing popular fiction in collaboration with her husband, Marc Cerasini. With more than one million books sold, Alice and Marc are the authors of two long-running, "relentlessly entertaining" (Criminal Element) mystery series: The Coffeehouse Mysteries and Haunted Bookshop Mysteries. Cleo Coyle has been awarded starred reviews by Library Journal and Kirkus and honored with Best of Year selections by multiple reviewers. In addition to their popular mysteries, Alice and Marc have written many works of fiction and nonfiction for adults and children. They are also accomplished tie-in writers who have created bestselling properties for Lucasfilm, NBC, Fox, Disney, Imagine, Toho, and MGM. Originally from Western Pennsylvania, Alice and Marc live in New York City, where they haunt coffeehouses, hunt ghosts, wrangle rescue cats, cook like crazy, and write independently and together.
1 comment posted.