Jade Lee / Kathy Lyons | Possessed Or Crazy? You Decide

March 2, 2011
I play with my heroes. I play with them, torture them, gab with them, and yes, I even do naughty things with them. Seriously.
Now I'll bet you're picturing me at a cafe, drinking coffee, and IMAGINING doing all that stuff with my heroes. I mean, that's what normal people do, right? At least the ones who aren't taken off the street by cops and medicated in psych wards. Yeah, I wish I could say that's exactly what I do.
Nope. I'm actually one of those people who ought to be locked up in a psych ward and medicated. (Gee, I hope no cops are reading this blog) I talk to my heroes. Out loud. I've held out my hand and felt them grip it, gently by some, rather roughly by others. And yes, it's real enough to me that I feel it. I've even slugged my husband in bed when I thought I was fighting vampires with one hero. No joke.
I won't talk about the other stuff I do in the privacy of my bedroom. But yes, it's pretty damn real to me there too.
And lest you think I've got a REALLY VIVID imagination...well, I do. But see, my heroes surprise me. Even when I tell them, now you need to do this, they often don't. They go off and do something that is uniquely them and something I would never ever think of.
I'll bet you've heard other writers say that. Well, I have too, and I used to think it was total BS. But then I started writing and meditating. That's when everything changed. Now my heroes aren't just character sheets that THINK up. No, I'll get into a meditative place and they SHOW up. Seriously. Like ghosts or schizophrenic demons. And I...well, you already know the things I do with them.
Why am I not locked up? Because I'm a clever nutcase and have used my madness to write books. But make no mistake, my heroes are real live entities. Most people just picture something in their head. Their imaginations do not typically engage all five senses. Nor do their creations go off and do its own thing. Yes, I'm terribly sick. But thank God I can write, because otherwise I'd be babbling to myself in a psych ward.
So who showed up in my life the other day? His name is Kit Frazier and he was horribly disdainful of a bad pirate I was reading. You know the kind, the yo-ho-ho kind that was a bad cartoon of Jack Sparrow? Kit just sighed and invited me to talk to him. But he didn't want to talk about what it was like to be a pirate. He wanted to tell me what happened when he tried to go home. Everyone expected him to be Mr. Fun like he used to be, but he wasn't that guy anymore. And he wasn't Mr. Vicious Pirate nor Mr. Normal Sea Captain because he couldn't find NORMAL anymore.
OMG, I was in love. I hung out with Kit Frazier (WICKED SEDUCTION) at the bank, in the car, and when I was cooking dinner. He made a trip to the dentist fun. As a regency era man, he didn't have access to PTSD therapy. He had to find his own solutions, and I was his miracle. I walked him back into the ballroom, I helped him confront his nemesis, and laughed with him when the painful turned ridiculous. And I soothed his aches at night. You think I'm exaggerating, but I'm not. I'm actually jealous of Maddy (his heroine) because he's all MINE! Seriously, he's that real to me. WICKED SEDUCTION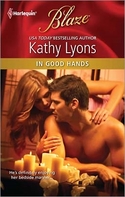 In fact, he's so real that my wicked former pirate actually came to blows with my hero of IN GOOD HANDS by Kathy Lyons. Yes, they squared off over me. Roger's an executive with high blood pressure. He's more likely to market chart me out of my clothing than fight hand to hand with a pirate, but he's definitely a contemporary warrior in the consumer jungle. When I realized how desperate he was to solve his blood pressure woes, I had to fix him. Through medicine, weird energy healing, and some really hot sex. And when I'm with him in the robotics lab, everything else fades away. (Roger finds his cure through Harlequin Blaze, IN GOOD HANDS by Kathy Lyons. Here's the link to excerpt http://kathylyons.com)
So here's my question to you. Do you think this is a clinical madness? Really, does anyone else know someone who really physically experiences their imagination? I've talked with other authors, and yes they do to a point, but not as far as I take it. I feel like I'm channeling my heroes. So maybe I'm not crazy, I'm just possessed. Tell me what you think and you could win a copy of either of the books listed above!
Comments
50 comments posted.
Re: Jade Lee / Kathy Lyons | Possessed Or Crazy? You Decide

I think we all live in a fantasy world at times, it is how we cope and how we will good things to happen!
(Darci Paice 12:05pm March 2, 2011)
I always wondered if others were talking to the characters in their heads. Thank heavens, I'm not alone. I love the way your characters are so alive and vibrant. Makes me want to move right into their world. Well, maybe not permanently but you have created the gateways that let me enjoy them for a while. Not long enough to be bored by them just long enough to savor them like a glass of truly fine wine.
(Angela Bartlett 2:40am March 2, 2011)
It's good to know that I'm not the only one slightly obsessed (and possessed) by characters I create in my books. And yes, I talk to them and most importantly they talk back (though admittedly, this has almost always improved the story).
(Birgit Lehner 3:58am March 2, 2011)
No, but it sure makes for great reading!
(Pamela Stewart 5:59am March 2, 2011)
I don't think you are clinically insane. I think that this just shows that you have a wonderful imagination that will never allow you to be bored with life. I wish I could write stories like authors of the books I love, but I guess my imagination is not that great. Oh well, at least I can read the stories of other people's imaginations.
(June Manning 6:34am March 2, 2011)
somedays, it is my fantasy that keeps me going when times get rough; till the real world smooths out for us:)
(Barbara Studer 7:45am March 2, 2011)
We all have those imaginary characters in our heads and it is fun to daydream putting yourself into those characters at times. If only I knew how to put my imagination into words, I would put them into books as well. So are you insane? Absolutely not!
(Dawn Staniszeski 9:05am March 2, 2011)
You found a wonderful way to share your fantasy. Keep it up.
(Jo Jones 9:08am March 2, 2011)
Never met anyone with such real fantasies.....I get lost in my books, feel like I'm a part of the story, but outside of that, I don't get that way. I think about them, and maybe daydream a little, but not to your point! But, in the end, I don't think you are mad! :)
(Veronica Jarvis 9:30am March 2, 2011)
I think you're possessed, not crazy. I think that's why you put so much detail and love into your characters because they seem so real to you. I can't wait to read about Kit! I must admit I wasn't a fan of his in the 1st book, but since he's been through so much in this book he definitely sounds more interesting. I plan on being at your signing at Rose's Bookhouse and will see you then.
(Renee Pajda 9:40am March 2, 2011)
Hey, if you get to experience your imagination that well and still realize that it's not reality, then I say enjoy it. Why not? You get to have a lot of fun and nobody gets hurt. I'm gonna try not to think about it too much because I think I might actually get jealous. And I used to think I had a vivid imagination....
(Amy Petty 9:45am March 2, 2011)
Hmm...is it evil of me to think that if they do lock you away that will take away so many worldly distractions and allow for much more free time to put out these lovely books? *g*
Either way..I think any reader/writer has more than the usual little 'voices' breaking out at times.
(Theresa Newbury 10:10am March 2, 2011)
Wow, I adore Historical Romance books and, always get deeply involved in the book I am reading. I become the "lady" and the hero becomes "my man". It's wonderful to be given the opportunity to read these wonderful books.
(Diane Diamond 11:15am March 2, 2011)
I think I was more prone to act out like that with my heroes
when I was younger. I've learned to control it!
(Margay Roberge 12:09pm March 2, 2011)
I can turn a character on and off even when I am not reading about him!
(Kathleen Bianchi 12:26pm March 2, 2011)
I think everyone is crazy/possessed to a certain extent. Some people just more so than others. You fall into the latter category. But since you are able to share it with us, I'm not going to worry about your sanity. I'd rather you stay the way you are!!

Later,

Lynn
(Lynn Rettig 12:29pm March 2, 2011)
looks like a good read
(Debbi Shaw 12:44pm March 2, 2011)
I talk to the TV even more than I talk back to a book character. My cats say: "Here she goes again!".
Blessings,
Marjorie
(Marjorie Carmony 12:46pm March 2, 2011)
I wish I had the imagination you have that is so vivid that it seems real---I love to escape into books that I read, but it never gets THAT real.
(Sue Farrell 12:55pm March 2, 2011)
I can identify with everything you said. I read books and tend to put myself into the character of heroine who will be swept off my feet by the hero. All of the characters are fantastically real to me. I think it is totally normal for an author and reader to do that.
(Cathy Phillips 1:16pm March 2, 2011)
I think certain books can certainly sweep you into them further than others and watching my 6 year old daughter play by herself certainly tells me some peoples imaginations are truly bigger than others. Therefore, unless were all crazy, I don't think it's maddness just a GREAT way to escape this crazy world for a while.
(Tammy Sommervold 1:29pm March 2, 2011)
LOL! I don't think you are crazy. I think we all could stand to indulge our imaginations a little more. I think that is why a true book lover obsesses over their books. It is almost like you loan us your imagination for the time it takes to finish a book. I don't think you are crazy, just luckier than most!
(Stacie Deramo 1:36pm March 2, 2011)
I believe what we ourselves think is crazy is just part of what makes us unique; to have a creative side that allows you to place your ideas on paper is just a part of that uniqueness.
(Diane Chenier 2:07pm March 2, 2011)
If that is madness may it never end. I've been looking and looking for an author
who can both experience all that you said and share it with me the way you do
in your books. Madness--NO Great authorship--ABSO-darn-lutely!!!!!!!!
(Sandra Spilecki 2:16pm March 2, 2011)
Channel your creativity any way that is right for you... let your characters come to life! :)
(Colleen Conklin 2:41pm March 2, 2011)
Scientist say we only use what? ..one tenth of our brain power. I think you are an extremely creative artist who uses more brain power than the rest of us. I just wish I was psychic and could see your friends too!
(Christine Stack 2:43pm March 2, 2011)
I don't think you're crazy. I think all writers must have a great imagination to write those exciting books.
(Wilma Frana 3:57pm March 2, 2011)
I don't think that it's madness. I think that you're a person that is so in tune with things around you, that you actually feel things more than the average person. The sensitivity factor is in high gear, and it's to your benefit, since you are the author. This is such an advantage and gives you an edge over other authors. It also gives more of a raw feel to a story line. You can get "down and dirty" with the characters, and really know how they feel!! To have that edge is a gift, not a sickness, so consider yourself blessed. Congratulations on your book. It sounds like another winner!!
(Peggy Roberson 4:10pm March 2, 2011)
Not madness as I perceive it, more of a creative bent.
(Mary Preston 4:17pm March 2, 2011)
Nothing wrong at all with fantasy in your life...as long as it
doesn't actually take over your life. I think you are very
creative with your fantasies...keep on writing!
(Leanna Morris 4:41pm March 2, 2011)
i have seen other authors say they speak to there heros. I say if it works then good for you. It sounds like a lot of fun too lol

Lisa B
(Lisa Boggs 4:58pm March 2, 2011)
Not madness,some people really want to be part of the story. Be it a reader or writer.If only for a couple of hours.
(Deb Pelletier 6:17pm March 2, 2011)
I don't thing this is a case of madness. I'm just glad that it results in great books :)
(Leni Kaye 6:25pm March 2, 2011)
I love your books! Fantasy! Can't put them down!
(Ann Unger 6:37pm March 2, 2011)
I don't think it's madness but if they haul you off you'll have
all your loyal readers by your side egging you on.
(Lisa Richards 7:06pm March 2, 2011)
I think we all have fantasy tgat we dream of. It is what keeps us all sane. We put ourselves into the story because in real live we would not dream of doing some of these things.
(Diane Castiglione 7:10pm March 2, 2011)
I think as a writer you have to go somewhere in your fantasy's or dreams to be creative and write. The last few days I find myself somewhere else at times. No I am not crazy and nether are you. Just creative. Keep it up....Keep them coming. Thank you
(Barbara Ryan 7:50pm March 2, 2011)
It's fun to get into a pretend world; look at how many people have second lives in cyberworlds. As long as you know what is fantasy and what is real, how can it be crazy?
(Carol Drummond 8:31pm March 2, 2011)
I think most of us talk to ourselves and have our own individual thoughts and fantasies, as far as I'm concerned your are neither possessed or crazy. Neither! Whatever you are doing it appears to be working..your readers enjoy your work. Keep the books coming!
(Angela Howell 9:00pm March 2, 2011)
I don't think you are crazy or possessed - I think you are blessed. Blessed with a wonderful imagination and immense creativity. And we are the recipients of those blessings. Needless to say, I enjoy your books. Thank you.
(Karen Cherubino 9:36pm March 2, 2011)
I like your kind of crazy and possession :)
I think it's being able to interact with your characters like you do allows you to be a good writer.
(TinaMarie R 10:19pm March 2, 2011)
I like your kind of crazy! I think You write good books and the readers like them. Keep them coming!
(Brenda Rupp 10:42pm March 2, 2011)
I love to read books and go into the story. It gives me a chance to get away from the real world. Thanks for giving me a chance to win your book.
(Linda Hall 11:24pm March 2, 2011)
As long as you realize it's fantasy, then you're not crazy. Just be careful not to let your husband get too jealous of the characters.
(Ginger Hinson 11:40pm March 2, 2011)
Sorry I didn't get on here yesterday. Got lost with my next hero. He's
gonna solve a murder and find love. But he's just so quirky I was having
so much fun with him I forgot all about this blog! See. It's a sickness!
But I can't seem to stop it so what the heck....I'll just enjoy it! Thank you
for not calling the men in white coats on me. Though yes...I probably
would end up writing more! And good advice on not letting my husband
get too jealous!
(Jade Lee 8:16am March 3, 2011)
Jade, you are such a dynamic writer and I love your books. I love the way you develop your characters in a way that the reader feels they have actually met!

I'd love to win a copy of Wicked Surrender.
(Jeanne Miro 10:45am March 3, 2011)
Fantasy is so much better than reality. I Love your books & find it interesting that your characters are so real to you. They become real to me & as I read I interact with them too. So no you are not mad, just vividly imaginative.
(Felina Pence 12:15pm March 3, 2011)
Thank you everyone! It's so nice to hear people like my books! btw, my
new hero Samuel says hello and would I please stop talking to you. He
was just getting to the good stuff... Seriously, he's actually one of my
more demanding heroes (and that's saying something). I keep trying to
make him more Richard Castle, but he's coming out more like Sherlock
Holmes. And he thinks Castle is a fool. But I LIKE Castle. But Samuel
really, really doesn't. How do I get into arguments with imaginary
people??????
(Jade Lee 2:54pm March 3, 2011)
What a wonderful imagination you have...all the better to give us wonderful heroes to read about.
(Ann Garland 1:29am March 8, 2011)
Possessed is not crazy, it's being compelled to tune in to the artistic expression that most people ignore. The imagination can be a wondering thing, but sometimes the things we dream about are frightening to even put down on paper.
(Alyson Widen 12:21pm March 8, 2011)
Registered users may leave comments.
Log in or register now!