Jade Lee | About Proms, Brides, And The Men Who Deserve Everything A Woman Goes Through To Be Beautiful

April 3, 2012
Raise your hand if you're in the midst of prom season! I have two daughters who started going to prom when they were freshmen in high school. Yup, I had 8 years of gowns and make up and hair. When the youngest girl went off the college, I breathed a huge sigh of relief as spring came around and I had no daughter at home to spend my money. Who wants to do all that shopping? Who can listen to the giddy laughter of teenage girls or hear the breathless sigh of delight when the boy finally asks her to the prom? One year, a boy actually serenaded my daughter. He wrote a song asking her to the prom.
Oh wow, I miss it. I miss my girls, I miss the pictures and the tuxes, I miss the excitement and specialness of it all. And frankly, that's a bit of a surprise because I was never a very girly girl. And yes, I went to my prom, but back then it was not nearly as elaborate as it is today.
I think it was in a fit of longing for my daughters that I created a series set in a bridal salon in Regency London. Every book has a wedding in it, so I got to revel in the wedding fun as much as I wanted. But don't get the wrong idea! The wedding isn't the primary story! No, the novels ended up being about the ladies who run the salon. Strong women-all four of them–fighting to run a business when women simply didn't. They didn't manage money, they didn't own their own businesses, and they weren't supposed to go to the docks (for example) to buy fabric or other supplies in bulk. It was the women who fascinated me in these tales. That I set their stories in a bridal salon was so that my sappy side, the happily ever after bridal side would be satisfied too.
But what about the men? you ask. Honestly, it's the heros who make a good romance for me. Arrogant lords, powerful men, guys that make your jaw drop and your eyes sparkle. Those are the guys for me. I didn't go for my usual dark, tortured hero. No, this time I had to reach for my lighter side. Witty banter, fun situations, but still with a core of seriousness because, honestly, these ladies had to be serious about their livelihoods.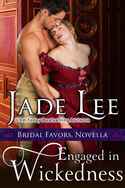 So now I've given you the overview. You now get the chance to tell me if I struck the right notes. You can pick up the prequel novella for free here And then, if you like it, check out the first novel Wedded in Scandal here It's got an excerpt there that I think is very fun. Plus some of the excellent reviews including Publisher's Weekly that called it "a highly entertaining read."
Comments
63 comments posted.
Re: Jade Lee | About Proms, Brides, And The Men Who Deserve Everything A Woman Goes Through To Be Beautiful

My daughter has just moved into her first house. The house is quiet and I miss her terribly. But the next great cost will be her wedding dress. Can't wait to go shopping!!
(Barbara Hanson 4:44am April 3, 2012)
This book sounds like fun and the cover looks really good! I agree with you that the hero's in books are extremely important to how good the book is. A story can have a great plot and heroine but if the hero is not right it can really mess up the story and make it less enjoyable than it could have been (although the same can be said about the heroine of a story). I am looking forward to your book and hope you have a great day.
(Chelsea Knestrick 6:02am April 3, 2012)
Isn't it funny how we wish for something, and then, when that is achieved, we want things back the way they were.
And we must have our men in our lives!
Blessings,
Marjorie
(Marjorie Carmony 6:39am April 3, 2012)
From what I just read I do believe I'd enjoy your books. I was pulled in just looking at the great covers. I have a little boy who already charms all the girls/women he comes across. At only 8 yrs old I don't even want to think about how we haven't seen anything yet o_0
(Cindi Mitchell 8:38am April 3, 2012)
Looking forward to reading your books. I like it when women are portrayed in ways not standard at the time.
(Pam Howell 9:03am April 3, 2012)
um - I can't believe there's another Pam Howell - commenting minutes before me!
(Pamela Faye Howell 9:43am April 3, 2012)
LOL Pam! There's 2 other Jade Lees too. one is a very lovely singer. The other is a very lovely porn star. That's why my website is Jade Lee AUTHOR dot com.
(Jade Lee 9:58am April 3, 2012)
Sounds like a great series!
I'm with you, the hero makes or breaks a story. The heroines and stories can change but all the heroes must be have a strength, both in body and mind. Probably because that is my fantasy man. I don't like a man that is weak or soft.
Good luck and happy writing!
(Tracie Travis 10:34am April 3, 2012)
I love your books and agree that so much depends on how we perceive the hero can make or break my interest in the story.
(Lynne Hankins 10:42am April 3, 2012)
This book really looks so good i love all the books that you write I would love to win this . I cannot wait to read this.i love that the women are strong women and i love the fact that this book will be on the lighter side to.
(Denise Smith 11:14am April 3, 2012)
Hi Jade / Kathy - I love your books. I really would love to win this. My daughter
is only 13 - no no proms yet. I won;t even let her date!
(Tammy Yenalavitch 12:26pm April 3, 2012)
i have 60 girls in my class, im a math teacher of 9th n 12th grade. The girls always involved me in their ritual of 'finding great dresses' 4 prom. They made me mad. But, it was fun! I enjoyed the moments
(Rina Darmayanti 12:35pm April 3, 2012)
Never went to my prom... I jumped ahead and went to college early... looking forward to getting my hands on your historicals!
(Colleen Conklin 1:51pm April 3, 2012)
I am a fan of your books and I am looking forward to reading this new one. Please enter me in your contest.
Thanks.
(Joan OToole 2:01pm April 3, 2012)
I eagerly await your next book!
(Kelly Knapp 2:02pm April 3, 2012)
The Regency + Weddings is a winning combination. So much fun
with all that female interaction.
(Diane Sallans 2:04pm April 3, 2012)
Weddings are so fun, nerve-racking and busy-busy-busy. I have
gotten all 5 of my kids wedded, now I can enjoy the time with
others as they go through it.
Please enter my name, too.
(Mary Hay 2:09pm April 3, 2012)
This book looks like another one of your books I just have to read.. It has been 50 years since my prom, grand daughter is only 7 years old so that's another 9 or 10 years. But I am looking forward to winning and reading this book!!
(Joyce Bruner 2:31pm April 3, 2012)
Didn't attend my own prom. My daughter had no desire to go to her prom. Now said daughter is almost 25 and just started dating her first boyfriend. I've been pretty blessed through the years and am blessed even more now....
(Elaine Seymour 2:50pm April 3, 2012)
Hi Jade,
I love the fact that the stories are set in a Bridal Salon. I also love strong and independent women . I'm looking forward to reading Wedded In Scandal. I have 5 daughters and 2 sons. Only one daughter is at home yet,I'm so Prommed out (Is that even a word) and wedded out. lol But their memories forever.
Carol L
Lucky4750 (at) aol (dot) com
(Carol Luciano 2:57pm April 3, 2012)
thanks for the contest!

bamaforever @ hotmail.com
(April Kirkland 3:12pm April 3, 2012)
Love your books. I greatly enjoyed Wedded in Scandal.
(Phyllis Lamken 3:28pm April 3, 2012)
Sounds very good, thanks for the chance to win!
(Natasha Donohoo 3:39pm April 3, 2012)
I made my prom dress, and went with a friend. We had a nice time. I also like witty banter and lord that is a little arrogant.
(Deb Pelletier 3:47pm April 3, 2012)
Glad to hear about light-hearted teasing heroes! I went to prom both years with the guy I eventually married. It was lovely and I still remember the dresses in detail.
(Lisa Elwood 4:02pm April 3, 2012)
Oh just purchased my daughters prom dress. She is so excited.
Lovely to read about, too. :-)
(Sheila Eyre 4:12pm April 3, 2012)
I never attended any of my proms - I was not popular at all - LOL - my son went to both of his, though - and agree with you and other readers about how important the hero's qualities are.
(Felicia Ciaudelli 4:17pm April 3, 2012)
OMG.. my hubby just posted our prom/sweetheart's dances photos to his facebook... the prom dress is so staid compared to today's but the sweetheart's dance -- dress was reallly short--back in the late 60's a la mini skirts.. how did we sit in those things?
(Cate Sparks 4:46pm April 3, 2012)
No prom for me---I was the nerd--so I have to enjoy the prom scene through the descriptions of others. I like the idea that you lighten up a little on the heros for this book.
(Sue Farrell 4:51pm April 3, 2012)
Very great post! I absolutely can't wait to read Wedded in Scandal!
(Chelsea Brooks 4:54pm April 3, 2012)
Wedded In Scandal definitely sounds like a book that is going to be hard for me to put down---will definitely be on my reading list.
(Shirley Younger 5:04pm April 3, 2012)
Love your books. Can't wait to read Wedded In Scandal. Love to win the contest. Keep writing!!
(Sharon Extine 5:30pm April 3, 2012)
I have always thought that the part of Regency romance that really works is the bit of humor. Honestly, it was a period where everyone walked around with a stick up .... I won't even finish that thought. I am so excited about this book. Thanks for the chance to win a copy.
(Jennifer Beyer 5:36pm April 3, 2012)
Book sounds great and love the cover. Thanks for giving me a chance to win it.
(Linda Hall 5:41pm April 3, 2012)
Wow everyone! I'm so glad I've got some fans here! Hopefully, I'll meet some of you this weekend at my launch event in Dallas. And in the meantime, I'm really enjoying reading everyone's comments. Keep them coming!
(Jade Lee 5:45pm April 3, 2012)
I've never read one of your novel's but I love the cover's. I just bought one and haven't started it yet. This book sounds delightful. I love the idea of women owning a business in that time period. I really like a series, so I am looking forward to reading this one.
(Kathleen Bianchi 6:03pm April 3, 2012)
I like a dark tortured hero but the charmers are a lot of fun to read about.
(Maureen Emmons 6:18pm April 3, 2012)
Love your books. I can't put them down to start dinner. I want to read them while I am making dinner. My husband thinks that I am nuts. Oh well. lol
(Jinny Baldridge 6:44pm April 3, 2012)
My daughter is getting married May 26, and needless to say, we have been very busy as it gets closer and closer. She is hand making a lot of the things for her wedding to save on money and I am not the least bit crafty, LOL! I'm slowly learning to be. This week, we are making her wedding programs.

This giveaway would be ideal. I could read about others weddings and not have to worry about details :) Thank you for the opportunity to win Wedded In Scandal. Who doesn't love a strong heroine who wins the heart of a Lord with humor. I love to laugh and this sounds like it will deliver.
(Leah Weller 7:07pm April 3, 2012)
Sounds like a great series!
(Cheryl McEwen 7:33pm April 3, 2012)
I've got a 15 year old son, so prom won;t be quite the same for us-but then, he's just starting to notice girls-don't think he's figured out what to do with them yet! (LOL)
(Amber Kuehn 8:06pm April 3, 2012)
A boy serenaded your daughter, talk about guts! My daughter is almost 3, seems
so far away but I am sure it will happen before I know it. Thanks for the prequel!
I will have to check it out as Wedded in Scandal is in my TBR list!
(Lexi Hansen 9:02pm April 3, 2012)
when those children are born we _think_ we can see the future - but oh my gosh - I would have missed so many cool things if life had gone the way I thought it would! My kids have dragged me to places and events I never imagined existed and their lives have unfolded in ways I never predicted. So glad they let me go with them!
(Beth Fuller 9:11pm April 3, 2012)
Kids are a treasure. And a nightmare. and a wonder. And a zillion other marvelous adjectives!
(Jade Lee 9:13pm April 3, 2012)
Very good! I enjoyed your post and the books sounds interesting.
(Anna Speed 10:00pm April 3, 2012)
Someone once told me that kids are your greatest joy and your greatest disappointments. I agree with that.
(MaryAnne Banks 10:22pm April 3, 2012)
If you wrote it, I'm sure that it's going to be a really good read. I was never able to have any kids (doctor's orders), so I don't know what it's like to go through Prom Night preparations. Looking at your picture, you don't look old enough to have a Daughter in college, let alone have 2 more that are old enough to be Prom age!! I'm looking forward to your book, and think the cover is beautiful. Congratulations on what I'm sure is going to be another great one!!
(Peggy Roberson 10:34pm April 3, 2012)
Five years ago my daughter got married. Looking for a bridal gown was a trial. Most of the gowns looked great on her because she has a good figure, but she was so fussy she drove me nuts. She wanted a corset style gown with no train, no lace, and a full skirt. We finally found a gown she liked but it had a train which we had removed. She probably tried on over 100 gowns ( all of which were beautiful), before we found "the one".
I've watched the reality show Say Yes To the Dress a couple of times and found the antics of the brides to be interesting.
Hopefully your girls will find it fun and easy to get their special bridal gown when the time comes.
(Monica Vargo 10:38pm April 3, 2012)
I like the idea of a woman of those times having a viable livelihood. I'm hoping I win this one!
(Dolores Feagin 10:49pm April 3, 2012)
@Peggy -- I look young in my photo thanks to the magic of trick photography! Trust me, I'm old enough to have 2 kids in college!
(Jade Lee 11:07pm April 3, 2012)
I read the excerpt from both these books and they sound fantastic! My son just got married last October and that was another life change for me. I have my youngest daughter who is just leaving home now and now reading these excerpts made me think of her next step. And I thought all those proms nights were tough. I love to read all your heros in their different walks of life. Keep writing so I can keep reading them. Thanks
(Margie Gagarin 11:08pm April 3, 2012)
I enjoyed readng your post & the excerpt. Sounds like my kind of read!
(Jessie Llewellyn 11:34pm April 3, 2012)
I have one daughter and she went to two proms. It was really a lot of fun watching her turn from my little girl into this beautiful woman. My two sons went through the prom thing too and they spent almost as much time getting ready as my daughter did. My youngest just moved out and I miss all the excitement.
(Kathleen Yohanna 11:42pm April 3, 2012)
I am a fan of your books and my daughter is only 7 but she is already showing signs of being girly girly can't wait till she is 15 yrs and we make her Quiencianera sort of a coming out party that we Mexicans do for our girls super fun and almost as expensive as wedding. Look forward to reading your new book.
(Macaria Lopez 12:04pm April 4, 2012)
have 5 sons so missed all of that.....love the regency settings
(Barbara Studer 2:07am April 4, 2012)
If you have a hero in the story that is commanding, & the rest, it's going to be a great read.
(Mary Preston 3:17am April 4, 2012)
My daughter and I didn't have a chance for all of that with the shifts I was working. Perhaps with my granddaughters. Also I'm working on gaining entries for a giveaway so... Have you read The King's Mistress by Sandy Blair yet?
(Miranda Wood 4:08am April 4, 2012)
I live in Spring Formals this time of year, thankfully my son will be going to Prom (not my girl) - I definitely think it is much easier for boys - I help raise my younger siblings and the bridezilla has no comparision to the promzilla
(Carla Carlson 3:45pm April 4, 2012)
This is one of the books I'm hoping to pick up at RT next week in the Book Fair. Crossing fingers one way or the other!!

Later,

Lynn
(Lynn Rettig 4:53pm April 4, 2012)
Sounds realistic with all the nerves and delights going on at prom. I hope to get my hands on this one soon.
(Alyson Widen 8:53pm April 4, 2012)
Congratulations Jade! Best wishes too! Sounds like a great book to read. Sometimes we want to change our identities to find better, but changing has it's own problems too. Good luck on the book-it sounds great.
(Theresa Smith 9:50pm April 9, 2012)
I hope you enjoyed Dallas! I grew up there, and I miss "the city" so much!
And, have a WONDERFUL birthday!!! Have fun! And, as my dad used to say, "If you can't stay out of trouble, at least be safe." :)
(Sandy Fielder 12:53pm May 2, 2012)
Oh, I forgot my prom story. I went to the junior prom with a young man that I had been "in love" with for several years. He danced my favorite dance with one of my friends. And it was one of the few "slow dances" the band knew!!! Needless to say, I didn't marry that one! And, my daughter is getting married next January. We have had a BLAST looking at dresses!
(Sandy Fielder 12:56pm May 2, 2012)
Registered users may leave comments.
Log in or register now!