Leah Weller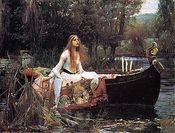 I love anything and everything medieval. Love to spend time in the mountains and you'll always find me with a book.
Features & Posts
19 comments posted.

Re: Lord of the Keep (5:30pm March 23, 2013):

My favorite is Lord of the Keep. Beautiful covers!

Re: The Bridegroom Wore Plaid (2:14pm December 6, 2012):

I really liked this post and love hearing about tidbits and research an author does when writing a story. We own a family album with daguerreotypes in it that my grandfather used while he was doing our genealogy. He got us back to the 1600s in Zeppenfeld, Germany. They are so cool to look at! Your tidbit #5... I've seen an advertisement online about that, LOL! I wish I knew where I saw it at and I would put the link here. It was a drawing of a woman standing against a table and the doctor had his hands up her skirt and it was advertizing a massager. TOO funny!

Re: Rogue Rider (2:29am November 19, 2012):

I have heard great things about this series!

Re: How To Tame A Willful Wife (3:17pm November 16, 2012):

It took me two failed marriages to finally find the person who looks at love like I do. I'm sure the other two loved me the only way they knew how but it took finding the man I'm with now to find the kind of love I feel I deserve. One that has no conditions and that takes the good with the bad and hangs on for dear life for the ride. :)Love, and life are good!

Re: Miss Lavigne's Little White Lie (10:29pm October 18, 2012):

I'm a second, third and fourth chance kind of person. I normally give someone time when I meet them. We all have our good days and bad days and it takes awhile to truly see who people really are. Now if a person is rude, obnoxious, and down right nasty on the first meeting, there will be no more chances.

Thank you for the chance in the giveaway. :)

Re: Return Of The Border Warrior (8:29pm October 17, 2012):

Congratulations on your new trilogy! I can't wait to get to know the Brunson Clan as I read your books. Thank you for the chance in the giveaway! :)

Re: Secrets Of A Wedding Night (4:16pm September 29, 2012):

I like my hero to be intelligent. Packed full of with also. Witty banter whether it's in your face or dry humor grabs me. I'm like you, in that card games go over my head a lot of times. Gin is about the width of my card gaming. Faro has always interested me though. You always see it being played in the old westerns. I would love to learn but fear my brain wouldn't handle it, LOL! Thank you for the chance in the giveaway. :)

Re: Deadly Little Lies (9:29pm September 19, 2012):

I have two that I go for in those moments of need. A Knight In Shining Armor and The Wolf and the Dove. The last being the book that got me hooked on reading and made my heart soar with love for history, medieval being my favorite.

Re: A Lady And Her Magic (11:46pm September 14, 2012):

*waving* from a little rural part of NC too :)

My first love was a Siamese cat named Scooter. My parents got him when I was 4 months old and we grew up together. When we were 18, we had to put him to sleep and that was my first real heartbreak also. I loved that cat dearly and still to this day cry over him. He would let me dress him up in my baby doll clothes and cover him up in my baby carriage and stroll him around when we were young. When I got older and started having crushes and then boyfriends and those breakups happened, he knew when I was sad and would come find me. It's as if he sensed my sadness. He would lay beside me and lick my tears away. I've had pets since then, I have a dog and two cats now, and although I love them with all my heart Scooter was my first love and will always remain the strongest.

I can't wait to read A Lady And Her Magic. Thank you for the chance in the giveaway! :)

Re: Twin Passions (5:33pm September 13, 2012):

Miriam, I found you when I started reading about 20 years ago. Wild Angel, Wild Roses, My Runaway Heart, The Pagan's Prize, A Captive Rose, A Hint of Rapture, Stolen Splendor, Secrets At Midnight, and Defiant Imposter grace my shelves. I really need to reread them all and get reviews up on Goodreads and Amazon for you. It was so nice to see you here! :)

Re: A Place Beyond Courage (4:34pm September 8, 2012):

Ah....Medievals.....
Elizabeth, I love your books! My heart and soul are in the Medieval era and you sure take me there with your descriptions of the places, people, and times. If I can't actually live when my soul yearns to be living, then I can have the next best thing by delving into the time through authors like you. I cannot wait to add A Place Beyond Courage to my bookshelf. I know that I will not be disappointed with your writing.

Re: Temptation In A Kilt (4:16pm September 8, 2012):

It's the adrenaline rush you get with a "Bad Boy" that attracts. The excitement and the element of danger. I married one, had two wonderful, beautiful, kids by him, then divorced. I fell in love with him when I was 16 and it took ten years of madness to finally get out. I'm not saying that some bad boys won't reform. I like to think we have reformed rakes here in America too, LOL!

Re: When You Give A Duke A Diamond (4:10pm September 8, 2012):

I think it takes all types of heroines. It sure would be a boring time if all heroines were alike. it's up to the author to make the story strong and make it work. You can have the strongest heroine in the book but if the story isn't just as strong, she doesn't have a leg to stand on. Thankfully, I haven't read a book in a long time that I didn't enjoy.

Re: Desire The Night (12:21pm August 20, 2012):

I'm in the minority in that I have no desire to read the Fifty Shades series.

Re: The Last Victim (6:47pm August 5, 2012):

I think as long as the authors continue to give us the book they love, that we will love it too. We find authors who we enjoy reading and it's their voice that we enjoy. To take that away would be taking away what we pick up your books for.

Re: Married By Midnight (3:08am August 3, 2012):

I read them before the series is complete. I am not very patient so waiting for one to be complete would drive me bonkers. I'm glad that you were able to complete this one. I have read some series that just stopped before completion, even the authors disappeared which saddened me. I know that things happen in life too that could very well be what happened to the ones I followed that just disappeared. I've always wondered about them and hope the best for them.

Re: Four Sisters, All Queens (5:23pm July 14, 2012):

I've truly been excited about this book! Thank you for the chance to win it. :)

I want to acknowledge your strength. I had no idea that you went through what you went through writing your first two novels. WOW! You stood strong where many would have given in. What a testament to the writer and woman that you are. :)

Re: Wedded In Scandal (7:07pm April 3, 2012):

My daughter is getting married May 26, and needless to say, we have been very busy as it gets closer and closer. She is hand making a lot of the things for her wedding to save on money and I am not the least bit crafty, LOL! I'm slowly learning to be. This week, we are making her wedding programs.

This giveaway would be ideal. I could read about others weddings and not have to worry about details :) Thank you for the opportunity to win Wedded In Scandal. Who doesn't love a strong heroine who wins the heart of a Lord with humor. I love to laugh and this sounds like it will deliver.

Re: The Norse King's Daughter (9:21pm October 2, 2011):

I just came out of a slump. A 3 year reading slump. I went the tried and true route, rereading my favorite authors and Sandra, you were on the list! My Fair Viking and The Blue Viking are the ones I grabbed off my keeper shelves along with some by Marsha Canham, Sue-Ellen Welfonder, Karen Ranney, and Virginia Henley. That got me back in the mood to read and to try the ones on my TBR shelf. I can't wait to read The Norse King's Daughter!