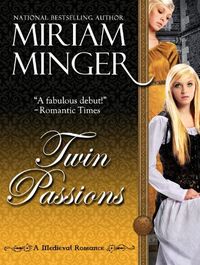 Purchase
Walker Publishing
November 2010
On Sale: November 6, 2010
ISBN: 098288351X
EAN: 9780982883518
Kindle: B004BA5GPY
e-Book (reprint)
Add to Wish List

***Winner of a Best Medieval Historical Romance Award from Romantic Times***
"Miriam Minger is a master storyteller who illustrates the full gamut of emotions felt by her characters. Emotions so strong that you are pulled into the pages and into their lives." – Inside Romance
Beautiful, feminine Anora finds her wedding plans suddenly shattered. She and her identical twin, tomboyish Gwendolyn, are kidnapped and taken aboard a Viking ship. While the handsome captain mistakes Gwendolyn for a boy and appoints her his servant, Anora captures his heart and he vows to have her. To preserve her sister's maidenhood, Gwendolyn initiates a dangerous game. Will the twins be rescued before Gwendolyn surrenders to her own passion?
Comments
7 comments posted.
Re: Twin Passions

Miriam, I found you when I started reading about 20 years ago. Wild Angel, Wild Roses, My Runaway Heart, The Pagan's Prize, A Captive Rose, A Hint of Rapture, Stolen Splendor, Secrets At Midnight, and Defiant Imposter grace my shelves. I really need to reread them all and get reviews up on Goodreads and Amazon for you. It was so nice to see you here! :)
(Leah Weller 5:33pm September 13, 2012)
I think that it is inspiring to take ancestory and find a story. Thank you for sharing.
(Carla Carlson 6:09pm September 13, 2012)
I like romances that are set in other countries. It gives me more of a sense of their culture and traditions.
(Alyson Widen 7:36pm September 13, 2012)
I've read Romance books set in England, and have enjoyed them immensely. I must confess that I'm not familiar with your books, but would love to read your books. I'll have to put them on my TBR list, and give them a shot. They sound like a good read. I just hope they're not all in e-book format, or I'll be at a loss, since I don't own a reader. Best of luck to you with your future writings, although with all of your awards, it doesn't sound like you'll need the luck - your writing is already top-notch!!
(Peggy Roberson 10:20pm September 13, 2012)
I love to read a novel set in other places and times, well researched and written. I have read many crime novels of that sort from Cadfael to 1930s Chicago, and romance is a natural way to go because it beings people together. I have also read a good many of what I call social history books, not strictly romances but say, the story of a girl growing up in Liverpool before and during the second world war. Her romantic life is part of the story.
(Clare O'Beara 5:39am September 14, 2012)
It's so nice that someone is picking more unusual countries to write about. I'm very aware that few writers, if any, write about my homeland. I was born in Germany but have been a Canadian since 1957. Is it still a part of the Hitler years that there just aren't many writers who "dare" to write about Germany? There's not even much German history being taught, nor is it exactly easy to find history books about Germany. It's all placed more in the overall European context. I want to make it a goal to learn a little more about the land of my birth. There are some areas that I have studied or been able to grasp from conversations, but everything is definitely fragmented.

Does anybody have any titles to offer on German history? Oddly enough, when I was teaching English and French in Germany, my colleagues gave me the German translation of an English novel as a farewell present. I found that really strange. But then, maybe someone happened to have the book at home and wanted to get rid of it. That's very cynical of me, isn't it? Maybe I'll try to find some books at the university library in town.
(Sigrun Schulz 6:34am September 14, 2012)
Love the historical romance novels; great learning while I am being entertained:)
(Barbara Studer 5:28pm September 14, 2012)
Registered users may leave comments.
Log in or register now!