Fresh Fiction Blog
Get to Know Your Favorite Authors

I'm excited to be here on Fresh Fiction, one of my favorite websites. I'm also excited to tell you about my new book, SEDUCING THE MARQUISS. In order to do that, I decided to step aside and let my characters tell you a little bit about themselves, and how they got into the mess that is their love story. First I present Read More...

Don't you just love a spunky, confident and capable heroine? I sure do. When my husband returned from a white water rafting trip with a friend, he showed me the video and was so impressed with one of the river guides who was a woman. I have to admit, I was intrigued enough that my brain started moving toward a scenario of a heroine as a river guide. What would she be like? Why Read More...

When I received feedback from the early readers of my book, THE BROKEN TRAIL, I was prepared for all sorts of questions. It's a contemporary romance and it deals with some pretty deep stuff so I was braced for anything, but not for the one I got the most often. No, that question was "Can I get the recipe for that tomato pie she Read More...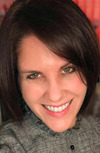 I love when a heroine has her idea of the perfect Mr. Right…and when she first sees the hero as 100% Mr. Wrong. So many times, the biggest obstacles keeping the hero and heroine apart are expectations. I also love infusing hints of classic literature into my stories. Disclaimer: I'm a former English teacher turned librarian…and author. Whenever I can give a shout out to a beloved classic and infuse elements of Read More...

Sneak Peek at MAKING WAVES by Laura Moore A woman who runs an elite concierge service in the sun-drenched Hamptons finds her life changing unexpectedly when she hooks up with one of her clients—a magnetic business tycoon—in the debut of Read More...

In my new book COWBOY KARMA, hero Lucky Garcia is a rodeo cowboy who hooks up with his longtime crush, a woman named Harmony Santos who happens to be on the rebound after a bad breakup. Lucky can't believe his good fortune, but the feelings he's always had for Harmony come to the surface when he realizes this could be more than just Read More...

Cyrus Damon, the hero of CHRISTMAS AT EDEN MANOR, wasn't supposed to be a hero. He's not hero-material at all. He's in his late fifties, not incredibly handsome, rather eccentric, often grouchy, and very old-fashioned. In almost every way, he's the opposite of what we've come to expect for the hero of a romance. He was originally a Read More...

The surest way to lift an author's spirit (can't resist) is to receive an e-mail from a Hollywood producer inquiring if the rights are available to the Bailey Ruth Raeburn series. Yes, indeed they are. And Bailey Ruth's new adventure, GHOST TIMES TWO, is a love story and a mystery that would make a GREAT movie. As is often the case Read More...

Are you looking for your next bearded book boyfriend? Mountain men make great heroes. They're strong and rugged and oh so sexy! The flannel, the Timberline boots, and those beards! Yes! Have you ever wondered how to snag one of these muscled mountain men for yourself? Well, look no further—here's Jennie Marts' Top Ten Ways to Hook A Sexy Lumberjack Mountain Man: Wear flannel button-ups as Read More...

Paris is always the perfect idea. The French capital has long led the way in fashion, culture and art-but during the late nineteenth century, Paris was something else. The city of love resonated with everything modern and luxuriant and uproarious and risqué-Paris was, quite simply the epicentre of the Belle Époque. In FROM A PARIS BALCONY, we meet the Parisian courtesan Marthe de Read More...

By the time you read this, my sophomore novel, Can't Help Falling, will have just been released. Coming just under six months from the release of my debut novel, Close To You, has made for a busy year! Before I was published I remember hearing a few times that your second novel Read More...

To celebrate this week's release of the third book in my paranormal romance series, REVENGE OF THE WRONGED, I'm excited to share with Fresh Fiction readers a very popular paleo recipe from the first book in the series, SLIP OF FATE. I received Read More...
1 - 12 of 4516 ( First | more Fresh Fiction Blog )