Fresh Fiction Blog
Get to Know Your Favorite Authors

The new television season is upon us, and we'd thought it's be fun to ask Cole Keller from Branded what new network shows he might be watching in between all that hard work he's doing on the ranch. Not that he has that much free time any more. Not with heiress Callie Lewellyn all up in his business. But even a hard-working man like Cole needs a break now Read More...

All ladies of the Regency, if they could at all afford one, had a lady's maid, a personal servant who attended her every day. Characteristics of a good lady's maid included "great neatness, skill, and taste, as well as discretion and cleverness." Many such maids "received special training so as to enable them to acquire a certain level of knowledge before entering the unique field of caring for a mistress." Her main duties Read More...

When I started writing the Poison & Wine series, I thought about creating a fictional town around Princeton, New Jersey. I even considered choosing a neighborhood small town as the location for the series, but something was missing. Much like the Martha's Way series in which the island Martha's Vineyard became a character in itself, I wanted to capture that same Read More...

Romance gets put down for a lot of things. The supposedly purple prose, the heaving bosoms, the heroines who stamp their dainty feet and flounce from the room. I don't think I've encountered any of those things recently in a romance novel, if ever. Frankly, I believe romance is most often rejected as "serious literature" because it's largely written and read by women. Worse…there's often detailed anatomically correct sex in Read More...

One of my very favorite parts of romances, whether from movies or a great book, is the build-up and realization of that first kiss. The one that gives you that sexy punch to the gut and makes your mouth water. Unfortunately for me, I learned I'm more of a just please punch me in the face and let the world swallow me whole to save me from myself kind of girl. You see Read More...

When people ask Alice and I what ROMAN CRAZY is about, we tell them it's a two-fold Second Chance Romance. What exactly is that, is usually the follow up question. . . Second-chance love stories are some of my absolute favorites to read, and to write. Yes, this is a story about Avery Bardot and Marcello Bianchi re-connecting after years apart. It is Read More...

Travel! I spent two years between high school and college seeing the world. I helped bathe orphans in Mexico, saw the wall come down in Germany, rode a bike in snowy Denmark, slept in too many airports to count, sang on a stage in Poland, and so much more. Since then I've sailed to the Bahamas, climbed a light house in Bermuda, hiked the Na Pali coast in Read More...
Though many authors create imagined locations and history for their fiction stories, early on I learned that real locations and real history were going to be a foundation for my novels. The mystery in the first of my To Die For crime series was based partly on American Indian history many centuries in the past. That became story material simply because the presence Read More...

I like to switch things up when I write, and that includes where I write. Here are my ten favorite writing places and spaces. In my recliner. My number one place to write is seated in my recliner with my laptop, preferably with coffee or water and a snack nearby. At my desk. Yes, I finally have a desk after fifteen years of Read More...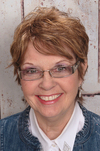 I have a number of things set up to celebrate my release day this year. I will be featured on a host of websites and have really enjoyed answering questions sent to me. Sourcebooks has me on a spotlight tour, in which you will read a conversation between hero Jake Harkner and heroine Miranda (Randy) Harkner about how they have made their relationship last over 30 years and have kept that "spark" that keeps them Read More...

When you're not writing, or reading, what is your go to activity for relaxation? Well, this question is impossible. Writing and reading historical romance are my two modes of relaxation. Without them, I don't relax. I do relax a little on my one vacation a year to England, but I'm thinking that's not a great answer. Sleeping relaxes me. Can I say sleep? There's not a Read More...

As authors write, we get the opportunity to include any number of details. Some are vital to the plot of the story, some give us insight into the characters, some simply give us a sense of time and place, and some make us laugh, or cry. But some details are just for the author themselves. So I thought I'd share a hidden theme that runs through all four of my Read More...
1 - 12 of 4473 ( First | more Fresh Fiction Blog )