Fresh Fiction Blog
Get to Know Your Favorite Authors
Mystery lovers can now cook up trouble with the dangerously delicious recipes in THE MYSTERY WRITERS OF AMERICA COOKBOOK: Wickedly Good Meals and Desserts to Die For. Get caught red-handed in the kitchen baking this recipe from #1 New York Times bestselling author James Patterson. Grandma's Killer Cake Read More...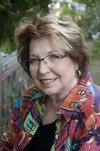 Why is murder so intriguing? Mystery fans are rarely murderers, and mystery writers are some of the gentlest people I know. Unlike cooks who collect cookbooks and readers of romance fiction who often fantasize themselves into each story, very few readers of murder mysteries want to be in such a dangerous situation. They're quite happy to experience danger vicariously while virtually walking in the shoes of their favorite detectives. Read More...

The heroine of my latest romantic suspense, SWAT SECRET ADMIRER (Book 3 in The Lawmen series), is a fighter. When Maggie Delacorte was just a young college student, she was the first victim of the Fishhook Rapist. She could have let that event destroy her, but she didn't. Instead, she made it her mission to stop things like that from happening to Read More...

#1 New York Times bestselling author Sandra Brown delivers a smoldering tale of love, betrayal, and one woman's quest for revenge for an unspeakable sin in BREATH OF SCANDAL, available on March 31st. Excerpt from BREATH OF SCANDAL New York City, 1990 She was going back to Read More...

Out of all the Greek Gods, why did I pick Ares as the center of my paranormal romance? He's a God of War for one thing, and that sounds like no fun, never mind the fact that Wikipedia describes him as destructive and man-slaughtering. Well, I can explain in one word: Thor. I love, love, love the movie Thor. I've always been a fan of Natalie Portman, and I love Read More...

I had a friend ask me the other day if I thought my main character in THE ADVENTURES OF REZTAP, Tar Reztap, was a scoundrel. I told him I supposed he was, but the more I thought about it and looked up the definition of scoundrel, I realized he was definitely not a scoundrel. You may recall the movie Dirty Rotten Scoundrels Read More...

One of my favorite parts of marketing is working with my street team, Callie's Cohorts. It's a friendly group that is supportive not only of me and my books, but the other members. I wondered if it would help me better relate to my street team if I had some kind of "Callie's Cohort profile" so I recently invited all 164 members to participate in an informal, anonymous survey. Although the survey Read More...

Imagine an autumn night lit by the twinkling white lights of a rooftop bar, a bucket of ice-cold Rolling Rock beer, and little ole me, walking through a crowd of unfamiliar twenty-somethings toward "The One". Granted, I didn't know yet that he was the one I was going to fall for. In fact, as I strolled toward the spot where he was debating the merits of dating with my BFF, the Read More...

"If you knew you weren't good for someone, someone you cared about, would you walk away from that person?" I ask, not expecting a reply. *** This is the question Bee, the heroine of Sinful Rewards, deliberates in SINFUL REWARDS 9. In the first eight installments of Read More...

I've been writing for a very long time. Thirty years, in fact. My first book was a little story called TAMING MAGGIE that landed on me on the number one spot of romance bestsellers. Heady stuff! I love the name Maggie, and if you've followed my career, you know that I've used it more than once. In its current incarnation Read More...

New this month from the national bestselling author of MISTRESS OF ROME comes the latest Empress of Rome novel: LADY OF THE ETERNAL CITY. Immerse yourself again in the intrigue of Kate Quinn's ancient Rome, and leave a comment Read More...
Fresh Fiction is thrilled to present the cover for MY HIGHLAND BRIDE, a Maeve Greyson Highland Hearts romance. MY HIGHLAND BRIDE is Southern sass meets Highland heat with an exciting Read More...
1 - 12 of 3233 ( First | more Fresh Fiction Blog )