Fresh Fiction Blog
Get to Know Your Favorite Authors

Good mornin' to all y'all folks at Fresh Fiction and thank you so much for inviting me back to your site to talk about THE STRAWBERRY HEARTS DINER. I'd always wanted to set a book in a cozy little 50's style diner somewhat like the character Leroy Jethro Gibbs visits in the television show, NCIS. So it was exciting to Read More...

"History is a gallery of pictures in which there are few originals and many copies." Alexis de Tocqueville I love reading historical romance and have since I cracked open the cover of GONE WITH THE WIND as a teenager. Unlike my boring history classes, here was history worth reading. At first I skimmed over the battles, but then as I continued on with the book, I read more and more of Read More...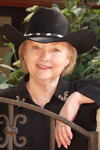 Sometimes a story sits in the back of a writer's head, waiting its turn to come out. INDIGO LAKE was like that. The two main characters came from two different worlds. Blade had no family who cares about him and Dakota was sometimes smothered in her responsibilities. Both were looking for someone, the right person, to fill the longing, but neither would admit it Read More...

Some books are more personal than others, drawing bits and pieces of my life and interests into the story. That's exactly what happened with DRAKON'S PLUNDER, book 3 in my Blood of the Drakon series. What's in a name? Well, a lot. And for me it all started with the heroine. Sometimes Read More...
Romantic Suspense Finalists include: ALL THE DEAD GIRLS by Rita Herron Montlake Publishing Alison Dasho, editor ALL THE DEAD GIRLS by Read More...

Thanks for hosting me on Fresh Fiction today! Describe SCANDALOUS EVER AFTER in 6 words. Friends to lovers, secrets, horse-racing, HEA. (I might have fudged those 6 words a little.) Favorite thing to munch on while you write? I always have a glass of water and usually have a big mug of coffee by me too. I've been known Read More...

Describe A NEW LEASH ON LOVE in 6 words: Second chance love and cuddly canines. Favorite thing to munch on while you write: Dark chocolate is a favorite pick-me up if words are flowing and I'm late for a meal. Mostly at my desk, I savor mugs of good tea and a scented candle or my essential oil diffuser Read More...

Angst, the A word. I'm not a big angsty person. I'm low-key, don't like a lot of drama, and tend to shy from entertainment where my emotions are being tugged up and down and making me want to hurl as if on a roller coaster. I'm more the fun and sexy storygoer, the one who likes her romances to end in a happily ever after and for the main characters Read More...

Once upon a time, in a high school hallway likely far, far away from where you are now, two young, vibrant, gorgeous, wonderful, amazing, clearly narcissistic (we're kidding, by the way), women decided they could write a romance novel. One had the idea, another had the plot. We mapped it all out and were excited to get started. However, there was an obvious concern we had when we went into this: what if our Read More...

He's clueless about clothes and probably won't care if you want to buy him your own and dress him how you like. And then you get to see him go from nerdy sheik to hot damn! He's not a ladies' man, so you probably won't find his eyes wandering. Since he may not date as much as the big man on campus Read More...

Josie, the main character of my YA romantic scifi duology - ANOMALY and ENIGMA - is a nerd. She's an unapologetic Star Wars lovin', Trekkie to the core, bookworming, Marvel fangirling, doesn't always fit in, quantum physics nerd. And that seemed to be the thing readers enjoyed most about Josie in Read More...

Annie Seaton takes you to exotic places! Enter her contest (ends on July 15th) and just tell her your answer to If you went to Australia for a visit, what would you want to see most of all? Type your answer below or on the contest form to be entered. Read More...
1 - 12 of 4902 ( First | more Fresh Fiction Blog )