Fresh Fiction Blog
Readers and Authors Talk...
Ach! Iíve always loved cowboys! Growing up, I have vivid memories of my father watching endless Clint Eastwood westerns. Clint was my kind of cowboy-strong, silent, handsome. In romances, the cowboy is a long-standing beloved hero archetype. Hereís my top ten list for must-have character traits for any cowboy hero I write (in no particular order): Hardworking Strong Loyal Brave Read More...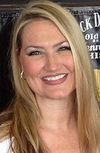 Laney Holt is the ultimate good girl. As the preacher's daughter, she has lived a sheltered lifestyle, but that doesn't mean she hasn't ever been tempted once or twice to be bad. Jake Theopolis is as bad as they come, and he enjoys tempting the good girl in ways he knows she likes. A few stolen kisses show that Laney Holt isn't immune to his charm, and he uses that to Read More...

Is there one event in your childhood that changed who you became as a grownup? One interaction with someone that changed the way you saw the world? One mistake that opened your eyes to new possibilities? One moment in time that shifted your path left or right? Mine came by way of my sister who took time out of her busy teenaged life for her snot-nosed little sister. Sitting on the porch of our Read More...
Our Raffle Chair, Pat Richardson, is pleased to tell us the prizes for our annual Boas & Tiaras have started to arrive. Our 12th Annual Boas & Tiaras will be held on Saturday, June 14th 1pm to Read More...
Thanks so much for having me here today, so I can shout about the fact that Free Falling's getting a re-release with Riptide! I'm so excited about this, you have no idea. For me, this is the book that started the Hell or High Read More...

I am writing this note to you before everything is set to happen. You know, just in case I don't make it out of here alive. I really appreciate you taking the time to read my manuscript, and if I'm still around by the time you're done... hey. I'd love to hear what you think. Sincerely, Zacchaeus Miller That's me. I'm the protagonist in Read More...

My younger sister, Katy had dated a guy named Steve Walton when she was in college. I remembered him as a skinny beer-drinking kid. So you can imagine my surprise when I found out Steve was Lieutenant Steve Walton in charge Detroit Police Homicide Squads Three and Four, now a buttoned-up, experienced professional. I called him, reintroduced myself and asked if I could spend some time with homicide and observe how murders were Read More...

From Entangled Publishing... We're so excited for our new release, MUSTANG SASSY as it deals with something we all dread and hate... break ups. On the one hand, it can be good to dump all that unwanted weight of a cheating boyfriend. But being the dumpee? *Shudders* That's when things sometimes go bad. It got us to thinking. Everyone has a worst break Read More...

"No! It's not time—you gotta go back!" I wanted to wrap my hands around the tender green, pointed tops of the crocuses and daffodils poking through last year's mulch, intent on emerging despite the six inches of show that fell on them last week. They're not the only ones impatient for flip-flop and jacket weather, for planting pansies in pots on our front door stoops, for dogs and kids Read More...

Let's talk honestly about a major fiction turnoff: using a story as an excuse to preach, moralize or convince others of the author's opinion. But we all have opinions, don't we? (You know what they say about opinions, right? Something about we all have them just like that lower gastrointestinal sphincter and well...I just won't go there). Our opinions are likely to ooze through what we write whether we want Read More...

Several weeks back, my best friend sent me a picture of this fantastic bookstore sign: "It's OK. You have our permission. These books are from our Young Adult Section. But it's OK to read them even if you are no longer, by any stretch of the imagination, young. In fact, you'll find they often have provocative themes and complex characters that are the equal of most of the books you Read More...

What happens when a supporting character in a book gains a following? Lily was always going to get her own book, as she is one of The Three Diamonds, glamorous courtesans and the heroines in my Jewels of the Ton series. What I did not expect was how popular she was going to be with readers before her book, Read More...
1 - 12 of 2467 ( First | more Breaking News )