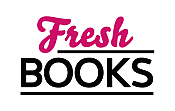 October ushers in great books with holiday themes!
Fresh Fiction Blog
Debbie Wiley | Missing Persons

Missing persons stories appear in the news all too frequently, capturing the attention of the nation with a multitude of questions. Where did the person go? Is Read More...
Fresh Fiction Blog
Kate Carley | Love In an Airport

You know the scene. That one where the hero races through the airport to catch his sweetheart before she boards the plane and soars out of his life forever Read More...