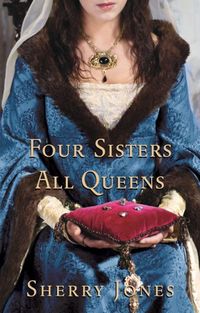 Purchase
Four Sisters, All Queens
Sherry Jones
Gallery Books
May 2012
On Sale: May 8, 2012
512 pages
ISBN: 1451633246
EAN: 9781451633245
Kindle: B005GG0M9W
Trade Size / e-Book
Add to Wish List

Amid the lush valleys and fragrant wildflowers of Provence, Marguerite, Eléonore, Sanchia, and Beatrice have learned to charm, hunt, dance, and debate under the careful tutelage of their ambitious mother—and to abide by the countess's motto: "Family comes first."
With Provence under constant attack, their legacy and safety depend upon powerful alliances. Marguerite's illustrious match with the young King Louis IX makes her Queen of France. Soon Eléonore—independent and daring—is betrothed to Henry III of England. In turn, shy, devout Sanchia and tempestuous Beatrice wed noblemen who will also make them queens.
Yet a crown is no guarantee of protection. Enemies are everywhere, from Marguerite's duplicitous mother-in-law to vengeful lovers and land-hungry barons. Then there are the dangers that come from within, as loyalty succumbs to bitter sibling rivalry, and sister is pitted against sister for the prize each believes is rightfully hers— Provence itself.
From the treacherous courts of France and England, to the bloody tumult of the Crusades, Sherry Jones traces the extraordinary true story of four fascinating sisters whose passions, conquests, and progeny shaped the course of history.
Comments
43 comments posted.
Wow what amazing woman!
(Deborah Garcia 1:06am July 14, 2012)
I think they all sound like amazing women who had the courage to do what they felt needed to be done.
(Chelsea Knestrick 1:21am July 14, 2012)
Each of them seem to have been extraordinary women in their own right. I would love to get to know more about each of them.
Good luck and happy writing!
(Tracie Travis 2:22am July 14, 2012)
I hope they inspire others as they have inspired me...
(Sherry Jones 4:42am July 14, 2012)
WOW I love reading about strong and amazing women...look forward to reading this book.
(Bonnie Capuano 9:28am July 14, 2012)
What a great history lesson. I love learning things like this.
(Catherine Lee 9:48am July 14, 2012)
You're so right that true power comes from within. Power is strength,
courage and bravery. These ladies all had it, even Sanchia in her own way.
Women in history had to have been tough whether they were titled or not.
With the strains of childbirth, child-rearing and fighting illnesses, they simply
had to be. I'm looking forward to reading "Four Sisters - All Queens." I have
been hearing about it and I'm betting that this novel will be a huge best-
seller.
(Connie Fischer 11:43am July 14, 2012)
I look forward to reading this and kudos for the research you had to do and not get lost in. ca n't say the same for myself. LOL
(Jo Anne Benware 11:51am July 14, 2012)
I dont usually find books I like before the Regency period but I think this story Four Sisters, All Queens sounds absolutely fascinating. Brilliant!!
(Jana Ferguson 12:10pm July 14, 2012)
Wonderful women, a little of me in each but I am content to be a retired farm wife.
Blessings,
Marjorie
(Marjorie Carmony 12:17pm July 14, 2012)
This is not suprising. Thank you for all the information you have gathered and included in your book.
(Kathleen Yohanna 1:32pm July 14, 2012)
The research that you did! Amazing!
(Nancy Ludvik 2:08pm July 14, 2012)
sounds like a great book to read this summer
(Shelly Itkin 2:42pm July 14, 2012)
sounds like a super good read. and so much history to be learned here. thanks for the draw.
(Barbara Studer 2:50pm July 14, 2012)
Enjoyed your blog, sounds like a great read. With four sister being queens there may be a power struggle to see who is number one.
(Sheila True 3:18pm July 14, 2012)
Wow, what a description of these four women and their ability to assist their husbands. Queens most definitely, but not as we picture them to be, they have the heavy hand.
This book was the topic of conversation in my Yoga class today. We look forward to reading it.
(Rosemary Simm 3:23pm July 14, 2012)
I have Jewel of Medina in hardback and The White Queen on my
Nook. Would love a copy of Four Sisters to join them. Thank
you.
(Valerie LaMont 3:33pm July 14, 2012)
I'd enjoy reading about Four Sisters. Thanks for the chance
to win,
(Mary Hay 3:42pm July 14, 2012)
I love to learn about history but find historical novels the best way. The Queen's being sister's is fasinating. It doesn't sound like they listened to there mother when she said family first, though.
(Kathleen Bianchi 3:53pm July 14, 2012)
I think this would be a great book to read this summer.
(Pam Howell 4:10pm July 14, 2012)
These women must be amazing to be queens of different countries and still maintain a good sisterly relationship with each other. I would love to read more about them.
(Kai Wong 4:12pm July 14, 2012)
love historical fiction books
(Debbi Shaw 4:18pm July 14, 2012)
History is most fun to read about when told in story form like this. It seems like a
really interesting book! Thanks for the chance to win.
(Debbie Burdeen 4:33pm July 14, 2012)
HI I JUST LOVE YOUR BOOKS YOUR MY FAVORITE AUTHOR OF ALL TIME.
(Shelly Caggiano 5:11pm July 14, 2012)
I love large families, as I have 4 sisters myself. This story sounds perfect for me. I love historical romance!
(Molly Wilsbacher 5:14pm July 14, 2012)
I've truly been excited about this book! Thank you for the chance to win it. :)

I want to acknowledge your strength. I had no idea that you went through what you went through writing your first two novels. WOW! You stood strong where many would have given in. What a testament to the writer and woman that you are. :)
(Leah Weller 5:23pm July 14, 2012)
I have yet to read a book by this author and would love to win one of her books.
I like to read books with strong women in them and to believe these were real
people is just that much more exciting.
(Joy Isley 6:21pm July 14, 2012)
Sounds like a book I would really enjoy reading.
(Mary Smith 6:32pm July 14, 2012)
Interesting! Sounds like a book I would enjoy reading.
(Barbara Nolan 6:39pm July 14, 2012)
Wow, what amazing comments! I am so excited to hear more from you all ...
please do contact me as you're reading or any time and I'll discuss any or all of
my books with you.
(Sherry Jones 7:27pm July 14, 2012)
I believe that all women are born with an inner strength to do what is expected of them when the time comes. As you have proven, throughout History, these Women stepped up to the plate, and proved their weight in Gold!! I love reading books like this, and would love to read this one!! Thank you for keeping History alive!! The cover is well done, too!!
(Peggy Roberson 8:25pm July 14, 2012)
I love historical fiction and this one sounds really interesting. This is going on my TBR list and Thanks for the contest to win a copy!
(Teresa Ward 8:30pm July 14, 2012)
I didn't know this story. How interesting. All these amazing, strong women. I would love to read this book!
(Jennifer Beyer 8:38pm July 14, 2012)
I do enjoy stories about strong women. They are inspiring.
(Maureen Emmons 9:34pm July 14, 2012)
I never realized the 4 were sisters. We did not study this indepth back in the 50-60's. They sound like amazing women. Their story sounds very interesting and I would like to read.
Thanks for the opportunity to enter giveaway.
(Brenda Hill 9:35pm July 14, 2012)
Such an amazing story of four wonderfuly strong women & that they are sisters is so inspiring. I have 4 very strong, inspiring sisters in my life - my aunts! They have shown me my whole life that women can be strong and do anything they set their minds to and at the same time, they have taught me how important it is to have a strong family bond! I would love to read more about these amazing sisters! I hope we all can learn and be inspired by their story!
(Cheryl Beal 10:58pm July 14, 2012)
What incredible strength these women had and what they endured! I love learning from stories like this. Can't wait to read the entire book!
(Michele Hayes 11:28pm July 14, 2012)
The book sounds very interesting. Thank you for the chance to win.
(Rita Wray 11:50am July 15, 2012)
I liked learning about Sanchia of Germany and how she was the weakest and hated the weather.
(Alyson Widen 1:33pm July 15, 2012)
I'm really slow on my history I didn't know they were all sister. Truly an amazing family of girl power.
(Theresa Norris 2:28pm July 15, 2012)
I love history, take me there and I'm happy!!!!!
(Joanne Bozik 6:57pm July 15, 2012)
I love historical books that portray the inner strength and intelligence of women. Women who know how to get what they want in a way that makes others feel they are the ones making the decisions. There are a lot of strong women with a quiet touch out there. Thanks so writing books that portray all of us the way we were meant to be!
(Teresa Sullivan 9:37am July 17, 2012)
Eléonore, Queen of England, married King Henry III, a kind but mercurial man better suited to art collecting and architecture than ruling. A bold and forceful woman, she donned the proverbial pants in the family and pushed for England's expansion. She was unstoppable. She was six months pregnant when she got on a boat to Gascony to help Henry fight for Poitiers, which the French had stolen. She put her uncles from the House of Savoy into prominent positions in England and married hundreds of other family members into the aristocracy, shoring up her own support network and elevating her family. She worked tirelessly to gain Sicily so that her younger son, Edmund, would have a kingdom, as well. She also raised money and armies to resist a lengthy armed revolution, and assisted in her eldest son Edward's escape from the rebels.happy birthday wishes for sister
(Ponting Samith 3:34am August 23, 2012)
Registered users may leave comments.
Log in or register now!