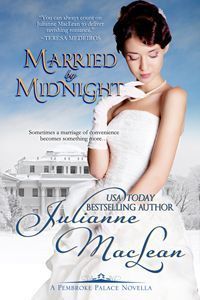 Purchase
A Pembroke Palace Novella
Author Self-Published
August 2012
On Sale: August 1, 2012
Featuring: Lord Garrett Sinclair; Lady Anne Douglas
180 pages
ISBN: 1478238232
EAN: 9781478238232
Kindle: B008LX7DK8
Paperback / e-Book
Add to Wish List

AN UNATTAINABLE ROGUE
For seven years, Lord Garrett Sinclair–– the ruggedly handsome illegitimate son of the Duke of Pembroke––has been traveling abroad with no intention of ever returning home to Pembroke Palace... until his father commands that he must marry by Christmas in order to thwart a family curse or lose his inheritance forever. Haunted by a tragic accident that has hardened his soul, Garrett entrusts his brothers to seek out a bride who will agree to a marriage in name only. Her reward? A sizable share of his inheritance––payable immediately after the wedding night....
A BEAUTIFUL TEMPTRESS
Lady Anne Douglas has been ruined by scandal and disowned by her father. Facing a life of poverty and spinsterhood, she leaps at the generous terms of the marriage contract to ensure her independence. But the charade of a two–week engagement proves more of a challenge than either anticipated when they cannot resist the intoxicating lure of the marriage bed. Anne knows they will part ways after the wedding. Will she dare risk her heart for two weeks of pleasure in the arms of an irresistible rogue? Or will her surrender become her undoing after a most unexpected turn of events mere hours before the wedding?
Pembroke Palace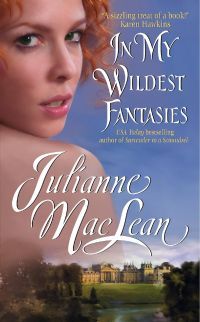 In My Wildest Fantasies
#1.0
Amazon.com | BN.com | | |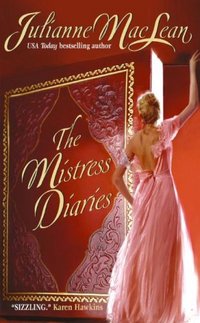 The Mistress Diaries
#2.0
Amazon.com | BN.com | | |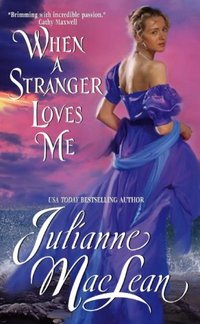 When A Stranger Loves Me
#3.0
Amazon.com | BN.com | | |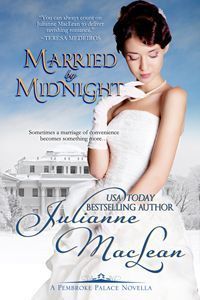 Married By Midnight
#4.0
Amazon.com | BN.com | | |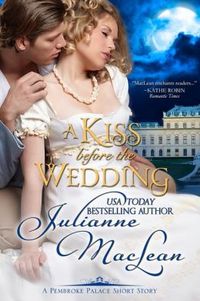 A Kiss Before The Wedding
#5.0
Kindle | BN.com | | |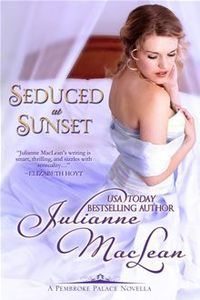 Seduced at Sunset
#6.0
Kindle | BN.com | | |
Comments
79 comments posted.
As a reader, I wish it were easier for authors to publish & get their actual worth for their works plus finish a line of books. It is definitely a bummer when we are left dangling ...
Patricia
(P Noda 12:33pm August 3, 2012)
No, I don't wait for an author to finish an entire series.
Maybe I just got used to doing this from a young age
where I followed an author's works for about a decade.
A bit saddened when the series actually ended. He just
started self-publishing which looks like a new series of
books.
(Jan D 12:45pm August 3, 2012)
Sometimes I wait but usually I start a series before it is finished. Sometimes when I do this it is because I do not realize it is part of a series before I start it but that is not always the case. Sometimes I start when a series has several but not all the books out and then I am disappointed when I catch up to the current book and have to wait for the next one. I hope you have a great day and thanks for the giveaway.
(Chelsea Knestrick 1:11am August 3, 2012)
I read them before the series is complete. I am not very patient so waiting for one to be complete would drive me bonkers. I'm glad that you were able to complete this one. I have read some series that just stopped before completion, even the authors disappeared which saddened me. I know that things happen in life too that could very well be what happened to the ones I followed that just disappeared. I've always wondered about them and hope the best for them.
(Leah Weller 3:08am August 3, 2012)
Oftentimes I will start to collect books for a series before starting it. But I read the two books in the Pembroke series in the last month, and I am very excited I didn't have to wait too long for your next installment to this wonderful series. Thank goodness for encouragement and inspiration.
(Armenia Fox 3:11am August 3, 2012)
That is fascinating. I've often wondered why an author would just stop writing a series that I adored.

I'm looking forward to reading your Pembroke series!
(Christina Torgerson 3:15am August 3, 2012)
I don't worry about if a book is part of a series or not. If I find a book that I like I enjoy it as a stand alone book. I do enjoy picking up a new book and recognizing characters from a book I have already read. Even if I read them out of order, I can still enjoy them as much.
(Kathleen Yohanna 3:34am August 3, 2012)
I usually read each book as it is published. I diagram the book as I read, and keep that to refer to when the next book in the series is published. This refreshes my memory.
Blessings,
Marjorie
(Marjorie Carmony 5:31am August 3, 2012)
The only author I wait until the whole series is out is Nora Roberts because she'll publish one book every year and I just can't remember it all. HA BUT I do look forward to reading your Pembroke series. Thansk and good luck!!!
(Bonnie Capuano 5:36am August 3, 2012)
I usually read the series as it's being written because I'm too impatient to wait if it's something I've heard about or am interested in reading. This has backfired on me specifically with A Game of Thrones!! George R.R. Martin is driving me crazy and I feel like I've been waiting 50 years for the series to end! Good for you for sticking with your series and keeping your readers sanity in mind! BTW I love the covers of your books!
(Renee Pajda 6:32am August 3, 2012)
I usually keep up with a series and I understand that there are circumstances beyond the author's control.. which is sometimes disappointing as a reader... I do feel that most authors write series as connected books, but still each generall stands on it's own storyline..
(Cate Sparks 6:34am August 3, 2012)
I don't know why an author leaves a series unfinished. It could be extenuating circumstances, or they have an idea for another book and want to get their thoughts out there. For me each book is a story I read and not always in order, sometimes I read them more than once. If it's an author I really follow and look forward to the next book I will be disappointed but hope that eventually the book will be written.
Paula Guthertz
(Paula Guthertz 6:42am August 3, 2012)
Good question for us as series are thought of as a good way to get readers hooked... Personally I like a vibrant series and I follow the characters from book to book. But I like each book to reach a conclusion, not just to say, that's all for now and next book will continue the travels. That is one of the advantages of a crime series; each crime investigation gets concluded. So they can be read as standalones. See Nevada Barr.
If I start in the middle of a series I am likely to go back and get the earlier books. This may not be the case if the author just wrote standalones.
I was shattered when I got the fourth of a botanical mystery series and found that the author Rebecca Rothenberg had died while writing it. The book was completed by another author. No more of her books.... I told a friend that I thought I should complain to the publisher. My friend wisely added that even bringing the author back from the dead wouldn't guarantee me more books.
(Clare O'Beara 6:51am August 3, 2012)
Great post--enlightenment for both writers and readers. The upside about the delay in publishing is that you got feedback from readers letting you know that your work is read and appreciated. I enjoy series books as long as each entry is worthy of its own space and not just a weak extension of the original story concept. Trilogies are the perfect size for series, and four well-written books can also make a great series. Beyond that number and the creative process and quality control has to really be sharp. Trilogies can allow certain characters to develop through the first two books before they become fully-fleshed in the final book, and that can be very rewarding for the reader. I read more stand-alones than series. However, when I am hooked on a series, I will collect the entire set. Whether it's great characters or an intriguing story line, or both, I'll stay with it until the end. I do believe that some characters and scenarios are better suited to one intense edition that's perfect just as it is–don't mess with it! Some story lines work better on a larger scale, and they might just be too much for one book. They develop more slowly, with characters coming and going along the way. In the final analysis, it's always the ability of the storyteller to spin a great tale that makes the difference.
(Virginia Campbell 7:10am August 3, 2012)
I usually don't wait, unless I know that an
author tends to end books with
cliffhangers *cough* Outlander! *cough*
That's really the only time I'll postpone
reading a series.
(Rebecca Whitehead-Schwarz 7:35am August 3, 2012)
When I find a new to me author that I really like, I go to their website and see what else they have to offer. If the book that I liked is part of a series, I will try to obtain the other books of that series. If the author has yet to finish the series, I keep up-dated and buy the books as they become available. So my answer would have to be, I do both. If the series is complete, I buy them all, if not... I (not so) patiently wait for them to be released.
(Betty Hamilton 7:41am August 3, 2012)
I just can't wait to start reading. I don't mind.
(Roxana Perez 7:41am August 3, 2012)
I am excited to read your series!
(Mary Fahey 8:10am August 3, 2012)
I like to be left hanging and wait for the next book and the next and the next. Love being in suspense and wondering what's going to happen next. I always trust that the author is going to finish what he/she started
(Shirley Younger 8:11am August 3, 2012)
No I don't wait for a series to end. Why? If I like an
author, I'll often follow them from series to series. If one
abruptly stops, I get really sad, but I just wait to see what
happens next.
(Tanja Haack 8:55am August 3, 2012)
The worst reason is when an author has passed away. I read a book Eldrie the Healer by Claudia Edwards and I'll always want to know what happened to her character.
(Lisa Elwood 9:44am August 3, 2012)
Sometimes I wait till there is at least 2 to 3 books before reading the series... Or I end up wondering what's going on....
(May Pau 9:58am August 3, 2012)
Its amazing sometimes how many other books come out in the middle of a series by the same author.
(Wanita DeToma 10:00am August 3, 2012)
Hey, I just found out she's not dead, hope springs eternal!
(Lisa Elwood 10:00am August 3, 2012)
I think its more fun to read them in order and right after another because I read so many books that if I wait a year inbetween each one I dont remember some of the "inside info" as if you were reading one after another. If they are semi-stand alone with some related charactors it doesnt matter too much. Hopefully with all the ebooks maybe it would not be such a big deal if the publisher did not want to print the rest of the series at least put it on ebook.
(Tracy Curtis 10:03am August 3, 2012)
I like discovering a book is part of a series but no I don't
wait for the whole series before starting it.
Thanks for the giveaway. look forward to reading this series.
(Mary Hay 10:10am August 3, 2012)
I'd love it if I were patient enough to wait until I could
read a whole series in its entirety in a row...but, alas, I
never can wait that long. So, I'm always stuck waiting
impatiently for the next release to come out. But, that
anticipation is fun in its own right too! Thanks for the
giveaway!
(Laura Garofalo 11:16am August 3, 2012)
I usually buy the books as soon as they come out if I know the author. If I don't know the author and find out about them later, I read what they have out.

Thanks for the giveaway!
(Cathy Phillips 11:48am August 3, 2012)
I usually buy the books of a series as soon as they are published --- or as soon as I discover the series. I absolutely HATE it when I get left in the middle of a series.
(Sue Farrell 11:56am August 3, 2012)
Interesting column, thanks. As a reader, sometimes it's hard to accept the business side of books. I just want to keep reading! I generally read series books as they come out.
(G S Moch 11:58am August 3, 2012)
As I reader I know it is hard to not get to finish a series...it seems we get so involved in the characters that we want to know what happens next...I am glad that you have gotten the opportunity to finish the series even if it took a little while!
(Stacy Wright 1:09pm August 3, 2012)
I actually have a mixed opinion of this. If it is a trilogy,
I usually try to wait for the whole series to come out.
However, if it is an author that I am familiar with or I
know it is going to be a while (like a year) for the next
book to come out, I will go ahead and start the series
without them all being published. I have also tried new to
me authors who have uncompleted series out and continue to
follow them so that I can up to date on their new releases.
I have heard so many wonderful things from authors about
self pubbing and the freedom they have. I, as a reader,
would much rather read a story that an author wants to write
rather than one they are forced to by their publisher. I do
read both traditionally published and self published and
love both. Good luck to you with it!
(Tina Becker 1:10pm August 3, 2012)
I do not wait for the author to finish a series before I start. I go ahead and read what I have when I get it. I have waited two years before for a final book in a series. I usually keep the other books so I can go back and refresh my memory on the story.
(Gail Hurt 1:22pm August 3, 2012)
I read the books as soon as I get my hands on them. I never really thought about an author not finishing a series etc. But then several authors I like had pretty severe medical problems occur to them or their family.

It's not just the publishers that could cause the series to be abandoned, but also the health of the author, other life changes etc. Of course as readers, we often do not find these things out immediately but later on.
(Erin Schmidt 1:35pm August 3, 2012)
Hi Julianne! Wow, it must have been hard for you. Thank God
for the strength He gave to you.

I actually don't care if the series is unfinished. When a
book of my favorite writer is out, I buy it right away.
Don't want to kill myself with suspense. It also a bit
unfair to the writers if you wait until the whole series is
out before you buy them. I have full trust with them and I
don't care if they will finish the whole series whenever
they want. If they have established a respect and love in me
then it will be worth the wait. :D
(Lory Diocampo 1:48pm August 3, 2012)
There was a series that I really liked and the author said
that she wouldn't be continuing with the series because the
publisher said it wasn't as lucrative as another series she
was doing. She did encourage everyone to let the publisher
know that there were some who really wanted it.
(Julia David 1:48pm August 3, 2012)
Sometimes I don't find out about a series until after a few of the books have been out...then I catch up and can't wait til the next is out. It's great that there are more ways of getting a book out there than the conventional way. I would think it gives the author more of a heads up on what is doing great and she can go from there-continue a series or just run the risk of disappointing readers who were following the series.
(Cathy Matkovic 1:50pm August 3, 2012)
I don't wait for the whole series to be out before reading the single titles of a series. But if I find an author that is new to me and she is on her book 3 for example, I will by book 1 and book 2 and read them before I read the new book 3. If there is no ending...I just make up my own. Smile.
(Brenda Rumsey 2:02pm August 3, 2012)
I buy books whenever they catch my attention... sometimes I end up with a whole series, other times not... does it bother me, sometimes, but I understand they had reasons for not finishing.
(Colleen Conklin 2:11pm August 3, 2012)
Having a short memorey, I like to wait for the complete series.
(Sheila True 2:30pm August 3, 2012)
I try to buy series if I thoroughly enjoy the first story and it is
bothersome when the series isn't completed. I do understand there may
be extenuating circumstances that keep the author from completing the
series. I guess I never realized it could have to do with the publisher
also. Thanks for clearing up some of the mystery.
(Brenda Pratt 2:33pm August 3, 2012)
No, I like to read a series as soon as the first book is released. I love my authors
and I just cannot wait an entire series to be published before I dive in. I guess
that makes me impatient. Life is too short to put off enjoying the novels from
the authors you love!
(Connie Fischer 2:43pm August 3, 2012)
This is a difficult question to answer, for me series' can be
bittersweet. I do enjoy the quick-series releases (two or three books in
as many months) Simply because it gives enough to read without waiting
for years for the next book. Since I prefer to read series' in order, I
do try to get the books before starting a series, but it's not a
requirement. However, I can't always find them in order, and as a
voracious reader, not having a book to read is a bigger problem for me
than reading a series out of order. Of course, that is why I have a huge
bookshelf of TBR books, several series' are there, simply because I've
been catching up on other books. That is where book 3 of your
highlander's is sitting, not because I'm not dying to read it but I've
had to catch up on some textbooks for the upcoming semester. If it's a
new author, I will keep an eye on their books for more, simply because
I've started series' by new authors who've disappeared after the first
book. Although I have a great imagination, and could easily imagine what
might have happened next, I find it works better with the worlds I
create. :)

That being said, as someone who writes in her spare time, I can also see
the other side, because I know how much blood sweat and tears go into
the writing of a novel. It's hard to get the stories out there when the
writer isn't in control of the publishing of novels. Even as Self-
Publishing is gaining in popularity, it is also making things a little
harder (or at least it seems that way to me) for the new author, and the
existing author, because now the publishers are dealing with a market
that is being flooded with books that may or may not have previously
made it past the chopping block at a publisher.

Another thing that is a consideration when I look at a series, as a
reader, is length. Has this series followed a family through ten-
twenty- or more books, if so are they all still in print? Ho
(Christiana Tegethoff 2:53pm August 3, 2012)
thank goodness for ebooks!! another favorite series of mine - the publisher dropped - but the author wrapped up the series in an ebook!!!
(Pamela Faye Howell 3:05pm August 3, 2012)
I don't read books in order when there is a series, I just jump in and read the book I have. I do hate it when a series is cancelled, especially with cozy mysteries. Kate Kingsbury had a couple cancelled by her publisher. Cynthia Peale had three in a historical mystery series. I read in Mystery Scene that the series was cancelled and it would be hard for her to find a publisher that would pick it up.
(Michelle Fidler 3:07pm August 3, 2012)
I don't read books in order but I would love to read this!
(Dianne McVetty 3:42pm August 3, 2012)
i wnat to read them in order, that
(Debbi Shaw 4:02pm August 3, 2012)
I JUST LOVE YOUR BOOKS. THEY ARE AWESOME. I WOULD LOVE TO WIN
THIS CONTEST. KEEP WRITING THOSE MARVELOUS BOOKS.
(Shelly Caggiano 4:05pm August 3, 2012)
I think every author has good intentions when beginning a series. I wonder if reader demand sometimes burns them out. Haven't we all read the latest in a series that reads like the author rushed to meet the publishers deadlines and just kind of "phoned it in"? We, the readers are clamoring for the next installment before the book tour for the last one is over. I don't know what the answer is, but we should all be more understanding and less demanding
(Dee Kridel 4:27pm August 3, 2012)
I don't wait for the author to complete the series and start reading it right away (not knowing how many books will be in the series). It's hard to wait for the next one to be released when it's an author I really love and enjoy!GREAT BLOG and educational...THANKS for all the insight and would LOVE TO READ THIS BOOK!
(Linda Luinstra 4:28pm August 3, 2012)
Also wish to add...I want to read your first 3 books in your series and it would be terrific to win them! Thanks!
(Linda Luinstra 4:34pm August 3, 2012)
I am so glad you were able to pick this back up. Nothing I
hate worse than an unfinished series LOL! Thanks for a chance
to win.
(Carin Walker 4:45pm August 3, 2012)
I generally read books in a series as they come out. When there are long lapses between, I almost forget about them. I enjoy authors who write their series books within 6 to 12 months to keep it fresh in my mind, from what I remember when I read the previous book. Sounds like you'll have a few more books in this series. Best wishes with your great writing!
(Rich Cook 4:59pm August 3, 2012)
I do not wait for the entire series to be written before I start to read. I read what I like and hope there is a second or third book written to carry on the with the characters I fall in love with. There have been books that did not have a series which I thought would have been good but I never found out why the author didn't write it as a series. It is disappointing when that happens but you are right with the publish yourself capability now maybe we will see some of these types of series come to life again! The hardest part is waiting for the next book to come out!Love your books,
Thanks so much!
(Teresa Sullivan 5:37pm August 3, 2012)
As long as each book is a stand alone story then I don't mind waiting for the next one but if each book is dependent on the next one then I don't want to read them until I can read them together.
(Maureen Emmons 5:41pm August 3, 2012)
I have no control when it comes to books, haha ;-) I dig in-- and hope I'm not left hanging! I'm looking forward to reading this series-- and glad to know you got to finish it! :-)
(Chelsea Brooks 6:39pm August 3, 2012)
I don't wait for an author to finish a series. I look forward to the next book. Sometimes when a series ends I miss the characters.
(Rita Wray 6:42pm August 3, 2012)
This series is new for me but not for long. I am adding all three books to my
wish list.
(Tracey Dent 6:43pm August 3, 2012)
I always go ahead and start reading, trusting that a series will be completed, though I sometimes go crazy waiting for the next book to come out!
(Janie McGaugh 7:07pm August 3, 2012)
I don't wait til all of the books are out - I'll read the books as they come along - there have been times when a series was discontinued, which totally ticked me off!
(Felicia Ciaudelli 7:11pm August 3, 2012)
I used to buy as they were written but a few times I got caught and now I wait for the series to be completed.
(Diane Sadler 7:38pm August 3, 2012)
I always read them as they come out, but some times that is
not a good thing. If it is to long I forget what book I am
waiting on. That comes from having a 49 year old brain.
(Mary Doherty 8:35pm August 3, 2012)
I try to keep up with series as they come out most of the time but sometime I just wait to read them when they are all out.
(Natasha Donohoo 9:15pm August 3, 2012)
Thanks for all the information about publishing trends. Who knew? Yes I start the series and hope to finish it whenever.
(Deb Pelletier 9:26pm August 3, 2012)
I would still read the series and hope that the author can find an opportunity to write another book in the series.I realize that the publisher holds most of the cards and the author has to abide by them or go elsewhere. I have not read any of this series and would love to win the 1st 3. Thanks for the opportunity to enter giveaway.
(Brenda Hill 9:29pm August 3, 2012)
If it is a series I always try and start with the first one. Sometimes we are
left hanging but gives me another reason to keep checking their books to
see if that final book is finish
(Pam Alderson 9:50pm August 3, 2012)
I usually don't wait for the series to be finished before I start it. But I hate when it takes forever between books.
(Patti Paonessa 9:58pm August 3, 2012)
When I read a book, I don't look to see if it's part of a series, but there have been times that I've been disappointed when it's part of a series, and the next book hasn't been written yet, especially when I've really gotten into the story. There have been times that the next book in the series has finally been released, and it's taken so long to come out, that I completely forgot all about the story to begin with!! By that time, it actually makes me a little angry with the author at times, depending on the length of time it takes, because we're talking over a year in one case. With other authors, I know that they're going to have another book in their series, so I just keep looking for it to come out. Most of the time, though, I read books that don't involve series. That way I can enjoy the story all at once. Since you've put so much of yourself and your time into this series, I would love to read this book. I'll have to start at the beginning, of course.
(Peggy Roberson 10:45pm August 3, 2012)
Not familiar with the Pembroke Palace series until I saw the contest on Fresh Fiction. I would like to read the first 3 novels in the series, especially since it is going to be continued.
(Shari Santella 11:01pm August 3, 2012)
Yes, I do hate it. I feel lonely for the characters I feel I've come to know and aggravated for the loose ends left.
(Connie Williamson 11:43pm August 3, 2012)
I've yet to start reading a series that never ended. This will sound rude
but if I did, I would probablynot read anything from that author again. I
know sometimes things happen but if someone can put out their hard
earned money, I feel it's completely irresponsible of the author. Kind of
harsh but there are too many authors to choose from to have one let you
down jmin that way. Unless of course it was way beyond their power.
(Vicki Hancock 11:53pm August 3, 2012)
It depends on how interested I am in the first book. Sometimes I collect quite a
few before I start, and sometimes I start with the first one and then eagerly wait
for the next. I don't like to be left hanging, but I'll still enjoy however many
books there are and I would be happy to read it if the final book were released
even years later.
(Barbara Elness 1:23am August 4, 2012)
That's such a hard question! I hate when I'm left hanging, I hate the wait between books (I tend to obsess) but if it's an author I love I'll read a series even if it's never finished.
(Tara Smith 6:49pm August 4, 2012)
Hi Julianne First of all, so many thanks for doing the last of the series. Yep
been lots of series that I read that didn't finish by the publisher. I feel
bad because I used to be one of those readers who got upset and wrote
to an author about it. I was usually told it was the pubs decision so I
would write the pub but they would say its for the "publishing business"
or that the series didn't sell well and I would write back "but I bought
them!" Lol. So I felt bad as a reader that I wasn't doing enough to tell
others about the books. So I try to do that more. Thanks for your
patience! Your characters are so real to us!
(Cathie Morton 4:25am August 5, 2012)
Thank you for the insight, because sometimes you do wonder.
(Mary Preston 6:54am August 5, 2012)
Thank you for this, Julianne. Writing a series is such a great way to
work on the same set of characters and the same basic setting, and it
gives both the reader and the author a chance to really get to know a
family of characters.
(Stella MacLean 1:06pm August 5, 2012)
Hi, Juliane. I prefer to read a series all at once if possible. I find that I just can't remember a storyline if too many years pass between my being able to read each book. However, in your case I believe I ended up reading the books out of order anyway and sometimes reading books in order is not critical. You just end up missing the falling-in-love part of a couple that's married in a book you read. Reading their love story later need not be a disaster. You don't always meet people and know what happened to them beforehand anyway. I'm looking forward to reading the rest of the series.
(Sigrun Schulz 2:31am August 6, 2012)
I try to read a series all at once. When that is not possible I trust the author to not leave us hanging too long. I'll also re-read the previous book to refresh my memory before I read the newest one. I do the same thing with movies, and just like movies you can only wait so long before you just have to start reading the series.
(Lisa White 3:04pm August 8, 2012)
A searchlight is an apparatus that combines an extremely luminous source with a mirrored parabolic reflector to project a powerful beam of light of approximately parallel rays in a particular direction, usually constructed so that it can be swiveled about. Thanks.
cheap custom papers
(s Santa 1:46am December 31, 2012)
Registered users may leave comments.
Log in or register now!