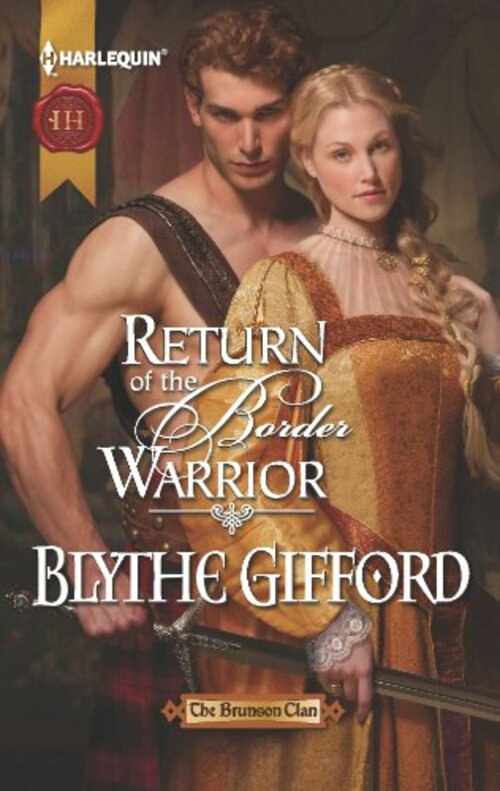 Purchase
Return Of The Border Warrior
Blythe Gifford
Brunson Clan #1
Harlequin Historical Romance
November 2012
On Sale: October 16, 2012
288 pages
ISBN: 0373297149
EAN: 9780373297146
Kindle: B008X4BA0O
Paperback / e-Book
Add to Wish List

Other Editions
e-Book (November 2012)
Word in the Royal Court has spread that the wild Scottish borders are too unruly. Upon the King's command, John Brunson must return home…
Once part of a powerful border clan, John has not set eyes on the Brunson stone tower in years. With failure never an option, he must persuade his family to honor the king's call for peace.
To succeed, John knows winning over Cate Gilnock, the daughter of an allied family, holds the key. But this intriguing beauty is beyond the powers of flattery and seduction. Instead, the painful vulnerability hidden behind her spirited eyes calls out to John as he is inexorably drawn back into the warrior Brunson clan….
Brunson Clan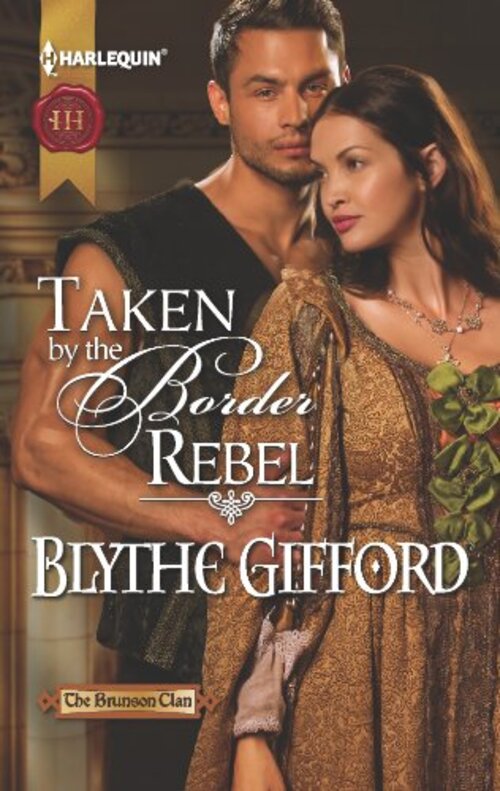 Taken by the Border Rebel
#3.0
Amazon.com | BN.com | | |
Comments
47 comments posted.
Re: Return Of The Border Warrior

Welllll, yes. I've never been a fan of modern music, either modern classical music--although there are definitely some that I do like--or with today's everyday music, like Elvis, the Beatles, etc. Again, this is not an across-the-board condemnation since there are also songs or instrumental music that I love, but I'm not an across-the-board fan, especially if the music just becomes noise. So, yes, a lot of singers I love are totally unknown to people in some of my circles. And no, I don't like all romances either. But I do love the Highlanders. I must have taken it in with my mother's milk. My mother lived with different members of a Scottish family when she was 16, and I often heard her talk about all the funny things she said while she was learning her English better--at least with a Scottish accent. And no, I don't think I've read a book about Tudor Scotland, provided it was actually dated. But yes, I'd love to.
(Sigrun Schulz 1:55am October 17, 2012)
The actor, Jim Sturgess, made a strong impression on me in the movie, One Day, with Anne Hathaway. He's a beautiful, soulful man who is equally at home with comedy or tragedy. He's also in the new Tom Hanks movie that will be available for viewing soon. I'm hoping that more directors and producers will recognize his talent....
Susan Shapley
[email protected]
(Susan Shapley 3:03am October 17, 2012)
I am an X Factor junkie - a big fan of the talent show for singers. I love the
talented new group called The Colective. I reckon when the world finds out
about this band, they will explode into the top ten charts world wide. Go
The Collective!!!!!!
(Chris Coulson 3:18am October 17, 2012)
I review on Amazon books by my favourite authors and some are dead for decades... however other people are saying my reviews are helpful to them, so I feel I am introducing new readers to the fine books.
I also review books by new authors and hope to get them recognised that way.
(Clare O'Beara 5:51am October 17, 2012)
I'll go with music as well...David Arkenstone! He is amazing
and I use his music when choreographing. I especially love
his Myths and Legends Special CD (with bonus CD and DVD) and
Atlantis: A Symphonic Journey.
(Karin Anderson 7:55am October 17, 2012)
Yes, I enjoy Japanese Drama's Drama's, Harry Potter,Austenesque Novels, & Historical Romances. Your book sounds rally good & the cover looks great.
(Chelsea Knestrick 9:18am October 17, 2012)
Music seems to be age specific. Although I enjoy much of the current pop, an artist that I loved was Amanda McBroom. Only a few of our fiends had ever heard of her and certainly none of the younger folks of our era ever heard of her.
I truly enjoy reading novels of the Tudor era. Having lived in England briefly, I became totally engrossed in not only the history of the Highlanders, but the legend and lore.
(Beth Charette 9:51am October 17, 2012)
I really enjoy Jane Monheit's singing but she is not that well known. Is is a fabulous jazz singer.
I also am a fan of historical fiction, especially romance. Your book sounds wonderful!
(Monica Vargo 10:19am October 17, 2012)
I would love to win this...great giveaway
(Bonnie Capuano 10:22am October 17, 2012)
thanks for the chance to win this !
(Debbi Shaw 10:28am October 17, 2012)
I love British music, I have always found their groups and singers much more talented than American Idol pop. I love Robbie Williams and the boy group he was in Take That, there is also an AMAZING singer I think that could give Adele a run - her name is Paloma Faith. I see that someone mentioned Jane Monheit - I got my cousin to listen to her years ago and her wedding song was her rendition of My Bill. You might want to check out Claire Martin, great jazz.
(Carla Carlson 11:04am October 17, 2012)
I really enjoy New Age music. I enjoy Enya, Loreena McKennitt, Vangelis, and Yanni. My favorite Yanni CD is "Port of Mystery" which most people have not heard of. However, I was in a diner and they were playing the entire CD. I enjoyed Vangelis' "El Greco" CD. Also, another favorite New Age group is Cusco and that hardly anyone has heard of.
(Lori Yost 11:37am October 17, 2012)
Thank you for the opportunity to win this book.. Sounds great.
(Holly Vanderhule 12:30pm October 17, 2012)
Thanks for the chance to win.
(Anna Speed 12:44pm October 17, 2012)
So many great discoveries here! My iPhone will be overflowing. Can't wait to track down all the actors and other secret treasures you are sharing.
(Blythe Gifford 12:48pm October 17, 2012)
love Enya, Máire Brennan, Moya Brennan,& Loreena McKennitt.
(Colleen Conklin 1:17pm October 17, 2012)
This book description is exciting... !
(Susan Jeffers 1:18pm October 17, 2012)
I guess my secret like would be YA fiction. I am a Grandma but love it. It
and historical fiction are my favorite types of books ever!!!
(Vicki Hancock 1:45pm October 17, 2012)
I may be weird, but I've always liked old sea shanty's and Irish folk songs.
(Shannon Scott 3:10pm October 17, 2012)
I love historical Scottish romance.
(Susie Kerner 3:35pm October 17, 2012)
I do not have any secret treasures but would love to win
(Shirley Younger 3:37pm October 17, 2012)
I'm interested in being entered to win as I really want to
honeymoon in Scotland but have not had the chance.

For my secret Treasure: I am a very good follow for Victorian
ballroom dancing.
(Dawn Burnell 3:47pm October 17, 2012)
This sounds like a great read! I look forward to learning more about Scottish culture.

My secret band - Like a Storm. I'm obsessed with them & cannot stop listening to a song called "Galaxy". My fave actor isn't so secret, Matthew McConaughey. :)
(Lizzie Bailey 4:05pm October 17, 2012)
FOR MY SECRET TREASURE: I LOVE THE MUSIC CELTIC THUNDER AND
CELTIC WOMEN. THEY SING SO BEAUTIFUL AND AMAZING..
(Shelly Caggiano 4:20pm October 17, 2012)
I don't have any secret treasures, unless you count my beautiful little granddaughter! She is the most precious thing in my life besides my wonderful husband! I am looking forward to reading your book, I love Scottish based books!
(Kris Bowers 4:47pm October 17, 2012)
love it and can't wait to see if i'm lucky one to win..thanks
(Kimberly Hoefs 5:01pm October 17, 2012)
I have enjoyed the acting of Aidan Quinn ever since I saw him in "Practical Magic" with Sandra Bullock. However, he has done mostly supporing rolls and I havan't seen him for a while. I noticed that he has appeared in some TV shows lately like "White Collar" and "Prime Suspect". I was glad to see that he now has a continuing role in "Elementary". I am sure that he will be an asset to the sucess of this show.
(Kathleen Yohanna 5:40pm October 17, 2012)
My "sort-of" secret interest was Alice Cooper back in the day - my brothers, all of whom are quite a bit older - 15, nearly 11 and 8 years older - liked Alice Cooper, among other groups, and I - who was 8 years old at the time in the early 70s - also liked his music; I was the only 8-year-old/third grader in my class who even knew who Alice Cooper was, let alone heard his music!
(Felicia Ciaudelli 6:30pm October 17, 2012)
No secret treasures, but enjoyed reading your blog and being introduced to your new book.
(Sheila True 7:14pm October 17, 2012)
My treasure is no secret...my family including all 6
grandchildren. I would love to win this book.
(Mary Hay 7:34pm October 17, 2012)
My secret treasure is music. It keeps me sane and many times on track. My favorite is Pat Green, Josh Abbott Band and Randy Rogers. All three are from Texas.
(Maude Allen 7:38pm October 17, 2012)
Thanks for the chance on this book.
(Kathy Fowler 7:44pm October 17, 2012)
This book sounds great!
(Cheryl McEwen 8:02pm October 17, 2012)
I don't think I have any secrets - if I love something I'll
share it - mostly about books I've enjoyed.
(Diane Sallans 8:15pm October 17, 2012)
Love reading your comments and stories. Thanks for sharing! I'm making notes!
(Blythe Gifford 8:21pm October 17, 2012)
Congratulations on your new trilogy! I can't wait to get to know the Brunson Clan as I read your books. Thank you for the chance in the giveaway! :)
(Leah Weller 8:29pm October 17, 2012)
I love Judith Owen and Eva Cassidy.
(Mary C 8:57pm October 17, 2012)
enjoyed reading the comments and will have to look up some of these names that I did not know. Great book/trilogy. Can't wait to read it. thanks for the draw!
(Barbara Studer 9:21pm October 17, 2012)
I have loved Classical music, ever since I played it in Junior High and High School!! My favorites are Beethoven and the piece Scherezade by Rimsky-Korsakov. I love to put on a CD, and just unwind on a snowy afternoon, listening to my favorite CD. Your new series sounds wonderful, and I can picture myself sitting there, with my favorite CD playing in the background, reading your books, with the snow falling outside, a hot cup of cocoa nearby, my kittens in my lap!! Congratulations on your upcoming book!! I'm sure it will do well!!
(Peggy Roberson 9:55pm October 17, 2012)
My secret is I love comic books and know most of those characters quite very well.
(Kai Wong 10:01pm October 17, 2012)
Hi Blythe! I don't have any secrets, but would love to be entered in your drawing for RETURN OF THE BORDER WARRIOR.
(Cathy Phillips 10:22pm October 17, 2012)
In music I love Heart and many other varied artists and styles. True secret treasure is silly, watching Duck Dynasty and other "reality" shows with hubby on TV.
(Lisa Kendall 10:53pm October 17, 2012)
My secret treasures are when I read a new (for me) author whose work I like, and none of my friends have ever heard of them - happens with some frequency!
(Janie McGaugh 10:55pm October 17, 2012)
I would love to win this contest. Thanks
(Linda Hall 11:59pm October 17, 2012)
No secret treasure to share.
(Mary Preston 6:31pm October 18, 2012)
Jane Austen novels are my secret treasure, I fell in love with them in high
school and they are my all time comfort novels. I just adore historical
romances and they were my first.
(Ann Sheiring 9:47pm October 18, 2012)
As much as I love Jane Austen novels, I love the movie adaptations, too. I'll watch them over and over again.
(Denise Holcomb 11:37pm October 18, 2012)
Registered users may leave comments.
Log in or register now!