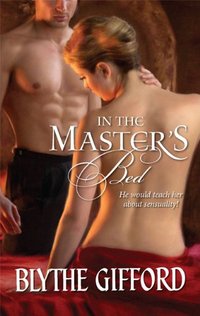 Purchase
Harlequin Historical Romance
September 2009
On Sale: September 1, 2009
288 pages
ISBN: 0373295626
EAN: 9780373295623
Paperback
Add to Wish List

To live the life of independence she craves, Jane de Weston disguises herself as a young man. She doesn't foresee her attraction to Duncan, who stirs unknown but delightful sensations in her highly receptive, very feminine body.
When Duncan accidentally discovers her true identity he knows he should send her away—but he agrees to keep her secret! For Jane brings light into the dark corners of his heart, and Duncan fully intends to teach his willing pupil the exquisite pleasures of being a woman...
Comments
40 comments posted.
As of this year, back to school kind of brings tears to my eyes, as this is the first year in 22 years that I don't have a child going back. My youngest just graduated this year and it kind of feels lonely, not having to shop, figure out the bus schedule, etc. Thanks for the opportunity to win a copy of your great book!
(Joanne Reynolds 3:38pm August 23, 2009)
Well right now its my nephews first year of school every kid takes it different but he likes school now me I did not like school when i was a kid until fifth and sixth grade when all i could think about was boys at the school.I guess that's why I'm always ready romance.
[email protected]
(Stacey Smith 4:37am August 24, 2009)
Back to school... those were the days. Life was simple then.
There were no bills, no bosses to deal with, no responsibilies.
Don't you wish you would be going back to school this September?
(Fanny Vanwinge 6:28am August 24, 2009)
Back to school is a mix of emotions for me. I have 4 children, 3 boys and a girl. 5th grade, 3rd grade, preschool...leaving my daughter and I home alone. I miss them, but at the same time, it is good to have them back into a good routine.
(Amy M. 9:00am August 24, 2009)
A real mix of emotions here! Joanne with some tears, Fanny with some envy. (I forgot that one!) Amy, lonesome but glad for the routine. And Stacey - I hear you. There were a few days I faked a stomach ache so I wouldn't have to go to school.
(Blythe Gifford 10:25am August 24, 2009)
As I said in a previous post somewhere today, I love romance novels. After all these years with mu hubby, its the one way to get romance. Read about it!
(Freda Mans-Labianca 11:39am August 24, 2009)
It always meant getting to see friends that I missed over the summer. But it also meant having to get up early,studying and going to bed early.
(Sherry Strode 12:17pm August 24, 2009)
Since I don't have any children and my sister's kids are pretty well grown, back to school for me means busy days at work. I manage a retail store and the sale days can be pretty hectic!
(Cindy Gowett 12:32pm August 24, 2009)
Back to school means "Ahhhhh.." I finally have time to sit down, take a deep breath, and dive into one of my many TBR's. All without being interrupted. Yippee! ;)
(DeeAnn Szymanski 12:33pm August 24, 2009)
I don't have any kids "going back to school", but I remeber it always brought excitement and trepidation for me. I loved going back to school, but I would get so excited, I would become nervous!
(Kelli Jo Calvert 12:57pm August 24, 2009)
Nowadays, "back to school" in our home means our daughter heading off to college. It's a nice change!
(G S Moch 1:19pm August 24, 2009)
Freda: We love romance, too! Back to school could mean new boyfriends, as well as the friends Sherry writes of. Really all over the map, though. Busy for Cindy. Relaxing for DeAnn, and big changes for G S. Kelli Jo's excitement was something I always felt. Butterflies!
(Blythe Gifford 1:23pm August 24, 2009)
It's back to school for us today! Very difficult and challenging year ahead. And heavier traffic!
(V Young 1:36pm August 24, 2009)
I always loved going back to school, to learning new things, to exploring more of the world.

Since I have no children, I've never had to experienced the reverse of the coin--of having my children head back to school. However, I used to be a teacher and the going back to work at school was always both an exciting and daunting experience.

I'd definitely love to read a book about an early female scholar. I'd probably have been one too if I'd lived during that time.
(Sigrun Schulz 1:48pm August 24, 2009)
I love historical romances so count me in on this one. It sounds like a great read.
(Gail Hurt 1:51pm August 24, 2009)
Back to school means relief for me. Kiddo is a great kid, but mom and dad need some alone time! *L*

I know I will miss this once he goes off to college, but I just see it as my baby boy growing up into a young man. It brings back good memories for me so this is the way I always see it. *G*
(Maithe Ortiz 2:04pm August 24, 2009)
Back to school time always came so quick. Once your kids start school time seems to accelerate, now my youngest is a senior in college. I sometimes miss buying new school clothes, and school supplies. The anticipation and smiles on their faces when they start their first day.
(Theresa Buckholtz 3:26pm August 24, 2009)
I work for a college, I love back to school time. It is so exciting every year to see the energy and expectations of students. I loved college so much I never left.
(Vikki Parman 3:31pm August 24, 2009)
Well I don't have any kids myself so back to school always signals to me that summer is coming to an end.
(Jenny Ng 3:55pm August 24, 2009)
Hello Blythe the book sound amazing cant wait to read it...
BTS for me is a relief I work in retail big department store shoe department so it is very busy with the wee one needing 2 prs of shoe's after shopping for clothes they stop in my area at this time the little ones are tired and cranky I just slap a smile on and try to release some of the parents stress not easy when they know how to wind them up.... oh well just a couple more weeks to go.
have a good one.
(Ann w 4:02pm August 24, 2009)
Back to school is new for me this year, my 4 year old is starting preschool next week. This could actually me a little bit of me time a few hours each week. I love that my little girl is so excited to be with friends and learn! Thanks for this opportunity.
(Margaret Branca 4:49pm August 24, 2009)
Sigrun, I'm a lifelong student, too. One reason that researching historicals is fun. Maithe, a parent's job is to get them ready to leave home, isn't it? Theresa - buy some new school supplies for yourself! I love colored markers.
(Blythe Gifford 4:54pm August 24, 2009)
Vikki, I worked for a college once, too. Great job! Jenny, fall is my favorite season, despite it all. Ann, selling shoes has to be one of the hardest jobs ever! Margaret, sounds like it's a win-win for you and her.
(Blythe Gifford 4:57pm August 24, 2009)
I remember being sad that summer vacation was ending. I was always nervous on the first day of school, but also excited to see my friends and hoping to make new ones.
(Jane Cheung 6:15pm August 24, 2009)
Back to school makes me sad. I love having my 4 children home. The school year and school days are getting longer and our family time is getting shorter. (grades 5,8,10,12)
(Debra Czarnogursky 7:30pm August 24, 2009)
For me Back to School makes me anxious. I need to learn new things and new ways of doing them so I can work with my grandchildren on their school work. I hope that I will be prepared!
(Rosemary Krejsa 8:06pm August 24, 2009)
Back To School means: morning rush, checking homework, lost school gear - give me the holidays anytime thank you. It's a welcome break for Mum too.
(Mary Preston 8:09pm August 24, 2009)
Jane - sounds as if you had the whole mixture. Debra, time goes faster every year, doesn't it? It's good that you cherish the time you have. Rosemary, I'm not sure I'm "as smart as a fifth grader" these days. Things have changed. Mary, getting everyone out the door on time is a daily challenge, I'm sure.
(Blythe Gifford 8:58pm August 24, 2009)
My first day of school happened to
coincide with moving to a new country
with a foreign language and a month
into the school year. I spoke Spanish
and my parent's mother tongue and
not a work of English. So I'm not
surprise that I have no memory of that
year. I think I was traumatized for
years to come.
(Sue Ahn 10:19pm August 24, 2009)
Seung-Ju-Goodness, that would have been traumatic. I changed schools in fourth grade and when I was a kid, I thought THAT was hard! Nothing compared to your experience.
(Blythe Gifford 11:14pm August 24, 2009)
First of all, congratulations on your
new book. I always had mixed
feelings about back to school. As a
student, I looked forward to it. As a
parent I did too, but was sad to see
those carefree days with the kids end.
I enjoyed having them around.
(Patricia Barraclough 11:57pm August 24, 2009)
For my nieces and nephews, it means no more staying up later than usual to make sure they get up in time in the morning to get ready.
(Pamela Pellini 1:04am August 25, 2009)
Back to school means my son getting up in the morning and fitting homework in somewhere and someday. It entails following a routine and planning backwards to leave enough time for what's likely to happen in the future.
(Alyson Widen 1:13am August 25, 2009)
I am both excited and saddened. I enjoy spending the days with the kids but also crave my alone time to catch up on some good reading.
(LaPaula Fyffe 7:22am August 25, 2009)
Thanks for the congrats, Patricia! Pamela and Alyson, I hear lots about the morning chaos once school has started. LaPaula, there's the important thing: time to read!
(Blythe Gifford 8:45am August 25, 2009)
For me, "back to school" means sending my son off to college. For years I looked forward to having the house for just my husband and myself, however, the reality is that I miss the hustle and bustle of having kids around.
(Robin McKay 9:41am August 25, 2009)
Robin, sending a kid off to college is one of the big life transitions. Good luck!
(Blythe Gifford 12:17pm August 25, 2009)
I don't have any children so the date only means the kids will be off the streets in our neighborhood, so we won't have to worry about them running out between cars, etc., when out during the day.

I loved school when I was going as a child and always looked forward to going back and would be excited to see what teachers I was going to have and who was going to be in my class.

Thanks,
Brenda Rupp
(Brenda Rupp 1:13pm August 25, 2009)
Sounds a lot like Yentyl! I liked that so I look forward to the new book.
(Starr Moore 4:12pm August 25, 2009)
Brenda, I always looked forward to school, too. And Starr, Yentl was certainly an inspiration for this story. But with a happier ending!
(Blythe Gifford 4:21pm August 25, 2009)
Registered users may leave comments.
Log in or register now!