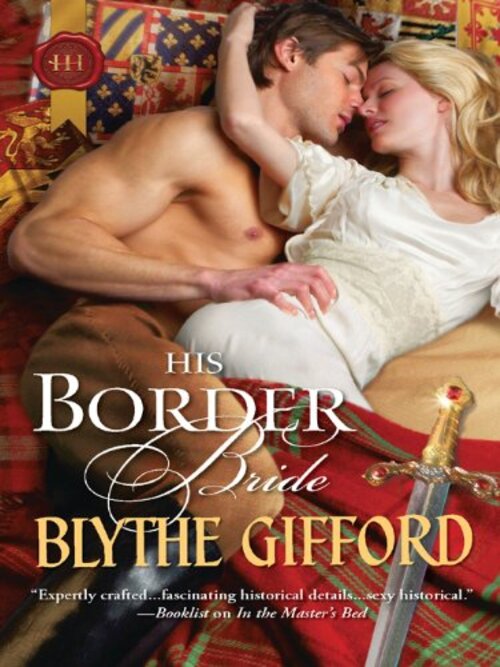 Purchase
Harlequin Historical Romance
May 2010
On Sale: May 1, 2010
Featuring: Gavin Fitzjohn; Clare Carr
288 pages
ISBN: 0373295944
EAN: 9780373295944
Mass Market Paperback
Add to Wish List



Gavin Fitzjohn is the bastard son of an English prince and a Scotswoman. A rebel without a country, he has darkness in his soul.

Clare Carr, daughter of a Scottish border lord, can recite the laws of chivalry, and knows Gavin has broken every one.

Clare is gripped by desire for this royal rogue—could he be the one to unleash everything she has tried so hard to hide? These persuasive urges have stayed safely dormant—until now….
Comments
30 comments posted.
Re: His Border Bride

My favorite hero is Wulfgar from The Wolf and The Dove. He starts out as the enemy, but he comes around a piece at a time to be the hero. That's what I like. Learning why he does the things he does, and they do make sense after a while.
(Lena Lee 10:02am May 3, 2010)
My favorite hero is the one in the book I am reading. I kow that doesn't make too much sense, but it's true. No matter what book I am reading, I love the hero. Most of the time he starts off being a jerk, but then he starts thinking about things and he becomes a hero. I love every one of the heroes.
(Patsy Hagen 12:54pm May 3, 2010)
As with many others, my hero is the one in the current book I'm reading. Since I read a lot the heros change almost daily!love them all for a little while.
(Elizabeth Parzino 1:38pm May 3, 2010)
My favorite hero is also in the current book I'm reading. I'm a voracious reader and I love all the heroes and heroines as I read about them. I especially like the cynical bad boys whose heart is melted by the heroine. I especially like historicals, but I love all the heroes I read about.
(Cathy Phillips 1:47pm May 3, 2010)
Hmmm... fav hero, I do not know if I can choose one character or one hero type... I enjoy the variety, each with their own personalities, struggles, strengths, and weaknesses!
(Colleen Conklin 2:06pm May 3, 2010)
I can relate to the posts by Cathy P. and Patsy H. Just when you think you've read a story with your favorite hero in it, you read another book and find another one. I tend to like the hero to have an honorable trait and will stand for what he believes in.
(Leni Kaye 2:13pm May 3, 2010)
Every woman thinks SHE can
reform a bad boy. My favorite-
-the one in my current book.
At this time, it's Marton's
Blackwolf from 1970 trying to
deal with a woman from 2010.
(Lisa Richards 2:28pm May 3, 2010)
Thanks to each of you for stopping by. I LOVE that you like the hero you're currently reading. It's the same for the author. The hero I'm currently WRITING is always my favorite.
(Blythe Gifford 2:35pm May 3, 2010)
Well I don't know... I love historicals, especially when they are born on the wrong side of the tracts... I love William Wallace and Rob Roy as well...
(Brandy Blake 2:40pm May 3, 2010)
I loved to see that I am not alone in falling for the hero in the current book that I am reading. And yes, I love a ruggedly handsome fellow that has had to fight his way in life, yet has a strong sense of right & wrong giving him that undercurrent of knightly character making him so irresistible. And yes,your book cover is yummy,& with a great story to boot! Will definitely look for it.
(Jean Merriott 3:28pm May 3, 2010)
I LOVE LOVE love the wounded
hero with just a little bad boy in him.
(Vickie Hightower 3:44pm May 3, 2010)
My hero changes as often as my books. A touch of bad boy is always a good thing. More fun.
(Mary Preston 4:20pm May 3, 2010)
Hi, Blythe! Congrats on your new release--it sounds wonderful ;). I like the bad boy hero who's secretly not so bad...
(Marilyn Brant 4:34pm May 3, 2010)
I also think my fave hero is the one I'm
reading about at the time. It's a toss-
up between wounded or bad boy
heroes. I am not much for the bitter
wounded hero and I like to think that
the bad boy rogue redeems himself by
the end of the story for a HEA with his
heroine!
(Deb H. 4:43pm May 3, 2010)
One of my favorite heroes is in Judith McNaughts Kingdom of Dreams. The battle of wills between Royce and Jennifer had me enthralled. He appears to have no sympathy for Jennifers situation but...you do find as you read that there is more to this hero than meets the readers first impression.
(Cindy Olp 5:51pm May 3, 2010)
I'm with the other commenters; my favorite hero tends to be the one I'm currently reading about, although I'd prefer the man with a sense of humor. I'm not really into bad boys/rakes too much unless the heroine really tie him up in knots. :)
(S Tieh 5:58pm May 3, 2010)
Heroes come in different packages and have different attractions. Bad boys are fun, courageous heroes inspire, cowboy heroes are interesting occupationally. I'd say that I like a dose of all kinds. Variety is the spice of life...and literature.
(Gladys Paradowski 6:53pm May 3, 2010)
What a great mix! I can see there's a hero for everyone. Or, in the case of romance reader, more than one! And a few of the classics that stand the test of time. (And yes, Jean, the cover IS yummy, isn't it?!)
(Blythe Gifford 8:30pm May 3, 2010)
I wish that I could pick one hero, but I can't. They change with each new book. I love variety! I want to go from charmer, to bad boy to rake.
(Rosemary Krejsa 8:38pm May 3, 2010)
I seem to be in agreement with most
everyone here. My latest hero almost
always is based on what book I am
currently reading. Although I do have
to admit that bad is good! You just
have to love those bad boys.
(Deborah Lary 8:54pm May 3, 2010)
I like the bad boy type of hero. They always have a past and trying to redeem themselves.
(Kai Wong 9:12pm May 3, 2010)
Hello Blythe, Please enter me in your fantastic contest. I love entering and winning contests from FreshFiction.com
God Bless YOU, Cecilia
(Cecilia Dunbar Hernandez 10:43pm May 3, 2010)
I'm always in love with the latest hero of
the current book I'm reading. I'm fickle
that way.
(Sue Ahn 10:58pm May 3, 2010)
It sounds dumb but I agree with everyone that I always love the latest hero of the current book I'm reading! I forget about the past book and concentrate and totally get engrossed in the present book!
(Brenda Rupp 11:09pm May 3, 2010)
My favorite hero is also a Highlander.
It is Brodick Buchanon from RANSOM
by Julie Garwood. All of her heroes are
wonderful, but he and Gillian, the
heroine , are special. He is a bit of a
rogue, but has a vera good heart.
(Patricia Barraclough 11:46pm May 3, 2010)
I myself kind of favor wounded hero books because I like the idea of an imperfect hero... one who has battled and lost, only to win in the end. I'm reading Judith Lansdowne's "Mutiny at Almacks" right now and the hero is a wounded soldier who appeal to me partly because he isn't perfect.
(Donna Holmberg 1:40am May 4, 2010)
I've enjoyed every comment. Makes me feel that I can create all kinds of new heroes to love in the future! Thanks so much for stopping by.
(Blythe Gifford 9:08am May 4, 2010)

(Sheila Schwartz 12:18pm May 10, 2010)
Wulgar (from The Wolf and The Dove) hands down!!!!
(Sheila Schwartz 12:20pm May 10, 2010)
I won this givw away and the book was WONDERFUL I LOVED LOVED LOVED it and would ask all to add it you their summer Read List it is worth it.
(Vickie Hightower 11:31am May 28, 2010)
Registered users may leave comments.
Log in or register now!