Rachel Brady | What To Do About The Unwanted Halloween Candy

October 30, 2009
AVAILABLE

October 2009
On Sale: October 1, 2009
Featuring: Richard Cole; Emily Locke
250 pages
ISBN: 1590586557
EAN: 9781590586556
Hardcover
$24.95
Add to Wish List

Also by Rachel Brady:
Dead Lift, December 2010
Final Approach, October 2009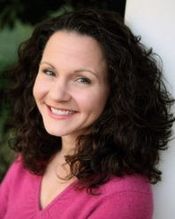 Last time I visited Fresh Fiction we talked about the Stupid Things I Do for Excellent Books. In the spirit of Halloween, I'll follow up with a similar confession regarding the ridiculous things I do because of my out-of-control sweet tooth. When I'm finished, I'll tell you how to score a bunch of free books.
Candy problems first.
1. I wait until the 31st to stock up . . .
Experience shows that the earlier in the month I buy the Halloween candy, the more times I go to the store to replenish it. So now I save myself all those bags of calories and just shop at the last minute with the slackers. Or maybe I'm shopping with the replenishers.
2. Then I buy the candy I don't like . . .
I choose the less desirable Dots, Pixie Sticks, or those questionable popcorn balls instead of my favorites-Snickers, Reese's Cups, and Mr. Goodbars. The idea, of course, is that I won't eat what I don't like. But this fails. My husband is not interested in the mind games I play with myself and when he finds out about the boring treats I've brought home, he buys the chocolate anyway and hides it in the computer room closet. As if I don't know.
3. And finally, I recycle the boring stuff.
My husband and I both like to take our kids around the neighborhood but we also both like to pass out candy. So the tradition in our house is to tackle Halloween with two shifts. One of us takes the kids around for the first shift while the other stays home and passes out candy. Then we switch.
One year I was home for the second shift, waiting for more trick-or-treaters. I surveyed the piles of candy my kids had dropped off after their first outing. It was equal parts good stuff (chocolate) and bad stuff (everything else). I hastily sorted through the piles, pulling out the undesirables and moving them to my distribution bowl. I doled it out by generous handfuls. The trick-or-treaters were delighted and I didn't have to suffer through as many Hot Tamales, Dum Dums, and the like. Nevermind my kids. I left enough undesirables behind to skirt suspicion. My husband thought this was a stroke of genius and now he plays Halloween Recycle too.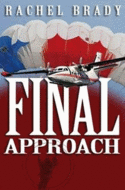 Let's talk about a Halloween treat that won't rot teeth or add to the hips. How about some free books? Leave a comment on Rachel Brady's blog today to be entered to win a signed copy of her new book, Final Approach, or signed copies of the following books from Rachel's fellow bloggers at The Stiletto Gang. Evelyn David has offered up copies of Murder Off the Books and Murder Takes the Cake. Marilyn Meredith contributed No Sanctuary, Maggie Barbieri added Quick Study, Misa Ramirez tossed in Living the Vida Lola, and Susan McBride is sharing Night of the Living Deb. (I love that title.)
So there will be seven winners here at Fresh Fiction today! Big fun! AND . . .
We're also hosting a Hallopalooza scavenger hunt at our blog today. Head over there to check out the details. You might win a $50 gift card to the book store of your choice, additional books from us, or one of dozens titles that 20+ participating authors are offering at their blogs today as part of the event. Let us hear from you out there. Good luck!
Finally, it's always so much fun to chat with readers in the comments section, and I promise to log on as soon as possible to visit with you all here and at my blog. But today's responses will be delayed because I'm bouncing between airports while you read this. So please check back later this evening or tomorrow. Happy Halloween!
***
Rachel Brady's debut suspense novel, Final Approach, was just released. A graduate of Wright State University and The Ohio State University, she works as a biomedical engineer at NASA. Her interests include health and fitness, acoustic guitar, and books of all kinds. She lives outside of Houston, Texas, with her family. Visit her on-line at www.rachelbrady.net or read about her experiences as a new author at her blog, Write It Anyway. Fellow internet junkies can follow her on Twitter or add her as a friend on Goodreads.
Comments
59 comments posted.
Re: Rachel Brady | What To Do About The Unwanted Halloween Candy

I have done the Halloween recycle also - when I was working I would always take a bowl of the stuff I didn't like and set it on my desk - working people are vultures!
(Kristi Herbrand 1:01pm October 26, 2009)
My husband takes it to work. He runs a hotel, so it doesn't last long
(Pat Wilson 2:38pm October 26, 2009)
I do the recycling thing as well but what I have left over goes into baggies for the hunters in my family.
(Sarah Ulfers 4:42am October 28, 2009)
I know what you mean I stock up on Chocolates right now to the bests prices for candy is at this time.and what I don't like I give to my nieces and nephew.
sasluvbooks@yahoo.com
(Stacey Smith 4:13am October 30, 2009)
Have never done the Halloween recycle, but have waited until the last minute to shop, with the same thought that I could not eat what was not available.
(Joanne Reynolds 6:34am October 30, 2009)
If I have any candy left over I take it to work and it's gone in just a little while. I also try to buy candy that I like.
(Sherry Strode 7:34am October 30, 2009)
I didn't know there was such a thing as undesirable candy :o) Maybe that explains the size of my butt!!
(Sandy Miresse 8:06am October 30, 2009)
You guys are so right about taking stuff in to work! Kristi's word was perfect... they're vultures! I take it to the office conference room for the same reason. :-)

Sandy, your comment cracked me up!
(Rachel Brady 9:12am October 30, 2009)
Most of the time I don't have much left because I have a lot to treat. I am the one that hands out the treats, hubby could care less!
(Gail Hurt 11:56am October 30, 2009)
My kids would always go
through their bags on
Halloween night and all the
stuff they didn't like (if I
didn't like it, either)would
go to their uncle, who likes
just about everything.
(Margay Roberge 12:50pm October 30, 2009)
I have a candy drawer in my kitchen. Everything from bars to suckers from the bank go in that drawer. Everybody that comes to visit heads for that drawer and even the less favorable candy disappears.
Rosemary Simm
(Rosemary Simm 2:22pm October 30, 2009)
A local dentist is collecting unwanted trick or treat candy to donate to children in Haiti. Thought that was a good idea.
(Donna Petrilla 2:38pm October 30, 2009)
LOL. I love the hidden candy in the computer room closet. Pricless. Recycling is an excellent idea.
(Mare Fairchild 2:39pm October 30, 2009)
My husband is the one who starts buying Halloween candy in November "so that we have some ready for next Halloween". Needless to say, there is no such thing as unwanted Halloween candy at our house!
(Karin Tillotson 2:40pm October 30, 2009)
I don't have kids and I average 2 trick or treaters a year. (And I live in an apt. building with 90 apts. A GOLD MINE for candy when I was a kid. Plus it's all indoors.) I'm convinced one year I'll get the mother load and not have enough candy. So, I usually have three bags (two usually make it to the big day). This year to stay away from the stuff, I bought 4 FULL SIZE Hershey bars (Walgreens, .29 ea.)and got a 10pk of Wendy's frosty coupons, the 6 oz. sample size for $1 a pk....I'll enjoy any left over coupons too. I also have a 42 ct. box of something reasonably good: Orville Redenbacher's 100 cal. Smart Pop bags. I never thought the Hershey bars would make it this long, only 24 more hours! I'm saving at least two Hershey bars for my two regulars who come every year.
(Anne Muller 2:41pm October 30, 2009)
My husband brought home a great package of mixed candy bars. That works!
Marjorie
(Marjorie Carmony 2:47pm October 30, 2009)
I take the candy to work..it never goes to waste there!
(Paula Staton 3:06pm October 30, 2009)
I love candy, so I can't buy it for Halloween early...it would never make it to the 31st! So, I buy it that day, then much away, while giving it to the kids who come by. Of course, after Halloween, I have to go on a massive diet!
Patsy
(Patsy Hagen 3:07pm October 30, 2009)
I'm like you, I stock up on the kiddie candy so I am not tempted to eat it. If I see a Reece or a Three Musketeers then they become mine! I also have my own private stash! Lol! Happy Halloween!
(Lisa Glidewell 3:11pm October 30, 2009)
I sometimes have a hard time unloading the candy that I don't like. We usually like the same kinds of candy.
(Jane Cheung 3:31pm October 30, 2009)
Yes, I always recycle the candy. I take it to friends and family members. I also crush some of the candy and bottle it up to use as ice cream toppings.
(Jody Faltys 3:48pm October 30, 2009)
I buy Halloween pencils and the kids look forward to getting them every year. Some tell me their plans for using the pencil. I figure this contributes to creativity. Occasionally I buy candy, but not my favorite kind of candy bar, because it's too tempting and calls me to open the cupboard and check out - how many, how big, calorie count, and my willpower slowly erodes away.
(Alyson Widen 4:26pm October 30, 2009)
In Ohio, the kids took left over candy to school the next day. The seniors took the tons of candy to the homeless shelters. Some churchs also collected the extra candy.
(Rose Granholm 4:38pm October 30, 2009)
I made a mistake... brought Halloween candy with me to Phoenix to hand out at my book signing tonight. Just got to my hotel and have killed three Reese's so far. Give me the scarlet H for "Hypocrite"! Great hearing from you guys!
(Rachel Brady 5:42pm October 30, 2009)
Unfortunately we go to grandma and grandpa's house to trick or treat, so I don't get to recycle. I got glow bracelets (along with chocolate) for the kids to pass out at school today. Of course, I bought a giant bag (more than enough for both classes) and have been munching on Reese's all day!
(Janel Gradowski 6:18pm October 30, 2009)
That's funny about the less desirable candy. We used to buy the "good" candy (Snickers and Hershey's) for the younger kids or for older kids who really tried to make a great costume. We had the "reject" candies like plain lollipops for the kids who wore regular clothes and carried pillow cases!

Thanks,
(Tracey Dent 6:27pm October 30, 2009)
We take some of the halloween candy while the kids sleep, and save it to fill stockings at Christmas.
(Jolynn Rood 6:41pm October 30, 2009)
About a hour after Halloween starts I give out more candy to each trick or treater and usually all our candy is gone by the end. Our children are grown, so no worrys about too much candy laying around. When they were younger we doled out only a few pieces of candy at a time, sometimes we still had candy by Christmas.
(Theresa Buckholtz 7:01pm October 30, 2009)
I have no willpower around candy! If I keep candy in my house I will eat it. Period. Soooo...I don't give out candy at Halloween anymore **cringe**
(Michelle K 7:26pm October 30, 2009)
In order to save myself from temptation, and to try to save the kiddies from sugar overload, I buy treats like pretzels, gold fish, teddy grahams, and animal crackers, plus pumpkin shaped erasers. If I have left overs, they're things I could eat (or save for next year for the erasers), but I don't usually have left overs. The kids still seem to like them, I guess you can have too much candy :o)
(Barbara Elness 7:30pm October 30, 2009)
I generally avoid the temptation by not
buying anything unless it is one hard to
find brand of chocolate. Not to say that I
don't go through every Halloween candy
aisle looking for it.
(Sue Ahn 7:35pm October 30, 2009)
Recycling is a stroke of genius. All this candy talk makes me want to scavenge out some right now.
(Mary Preston 7:35pm October 30, 2009)
Chocolate is best but there is NO undesirable candy.

lag110@mchsi.com
(Lisa Garrett 9:59pm October 30, 2009)
Hahaha, I'm on bag number 3. Maybe I should take your advice and shop on Oct 31st only!!!! I buy only the good stuff, so there is no problem with leftovers....we eat them all!!!
(Mitzi Hinkey 11:09pm October 30, 2009)
I have not bought the candy yet. Last minute saves me from breaking into the bags. I can not resist. With the leftovers I make little bags and bring them to a nursing home, where the CNA and Nurses are thrilled to see me with my basket of goodies. Those long hours brings on a need for CANDY by next week.
(Barbara Ryan 11:47pm October 30, 2009)
Great minds must think alike. Lots of recyclers out there! Tracey, I like your idea to give better stuff to the kids who make an effort with their costumes! Jolynn, the Christmas stocking idea is great. My husband will have to be in charge of that, though, or I'll just eat it. :-) Fresh Fiction is picking the winners for today's giveaways, so I wish you all luck! Thanks for visiting!
(Rachel Brady 12:46pm October 31, 2009)
I thought I was bad---buying dark chocolate because that is what I prefer, until my husband came home with a huge bag of snack pack pretzels. ICK! We have never had trick or treaters out here in our very rural area, so I usually buy small amounts for us to have as "leftovers" "just-in-case", but I never, ever eat pretzels, so now I have to think of something else to do with them. Are the terribly bad for my dog??
(Susan Driskill 1:17am October 31, 2009)
Funny, but I use the same tactics you
do with the candy. If I bought early,
the candy never made it to Halloween.
I got stuff the kids like, but my
husband wouldn't touch.
Unfortunately, I have a sweet tooth
and like almost anything. Never did
the recycle thing unless the kids got
home early. They would sort their own
candy and give me what they didn't
want.
Good luck with your book. Hope it
leads to a successful writing career.
(Patricia Barraclough 1:45am October 31, 2009)
I hope Im not too late to post. I usually end up throwing away alot of the candy but only after it sits up on my fridge for a month or so.
(Sara Hurt 8:55am October 31, 2009)
I take it to work at the library- it doesn't last long! :)
(Lexi Henshel 3:32pm October 31, 2009)
I try to buy it at the last minute, chocolate for me, other stuff to hand out! I don't recycle it simply because I never have any left over, between the kids and the hubby!
(Sharla Long 4:58pm October 31, 2009)
We don't live in town so don't get to pass out candy. The recycle effort sounds like an awesome idea though and I'll have to pass it on to my friends and family who hand out candy!

LOL also loved your description of the good stuff and bad stuff!!! We share the same thoughts there.

Congrats on the latest release btw!

Have a great Halloween!!
(Pamela Sinclair 6:44pm October 31, 2009)
I'm not sure there are such things as Halloween treats that won't rot teeth or add to the hips!!
(Jacqueline Lam 6:59pm October 31, 2009)
I recycle the candy at work, and it doesn't last long.
(Paul Taylor 8:50pm October 31, 2009)
we used to do the resycled candy routine give out the kind we dont like only didnt work always had excess because well not many came by
(Beverly Gordon 8:52pm October 31, 2009)
My daughter just found last year's candy hidden in her room, so she decided this year not to go trick-or-treating! Instead, her brother and sister are sharing with her. We went thru 150 pieces of candy in 22 minutes--the kids were lined up down the sidewalk. UGH!!
(Shelly Cronin 9:44pm October 31, 2009)
The bag of books would go a long way towards helping to round out the mystery section of my classroom library/
(Cheryl Stillwell 10:12pm October 31, 2009)
I laughed aloud at some of the comments here - what a fun topic!! I also belong to the "no undesirable candy" club and I find lots of folks even bring leftover halloween CHOCOLATES to work to share, so I try to help them out!!
(Penny Tuttle 11:17pm October 31, 2009)
Take it to work, someone always eats
even the worst of the unwanted there.
Also, this year we gave out individual
popcorn packets and pretzels, which we
will probably use on trips.
(Mary McCoy 11:18pm October 31, 2009)
I've never thought about it before but how about taking it to your local community center?
(Sabrina Gibau 12:54pm November 1, 2009)
I try to buy stuff I don't like. My daughter is doing her master's degree internship at a domestic violence counseling center, so this year all the leftovers will go to the little ones who visit there with their Moms. Other years I have taken it to our local food pantry, the latchkey kids program at the civic center, etc. I do the same with all the other holiday leftover treats too....Christmas cookies and candy, valentine day goodies, etc.
(Lauri Coates 1:36am November 1, 2009)
I take the left over candy (IF there is any) to work the next day...Problem solved!!!
(JoAnn White 7:14am November 1, 2009)
I always buy candy that I like cause if there's any left, I get to eat good stuff! Although, I don't know that I've every met a candy I didn't like. ;)
(DeeAnn Szymanski 9:16am November 1, 2009)
I always take it to work and
leave a bowl on my desk and one
on the break room table. It is
gone in just a few days.
(Lisa Richards 9:53am November 1, 2009)
I thing you are a very gifted author :)
(Katie Smith 11:25am November 1, 2009)
I always eat it so never a problem with leftovers.
(Vikki Parman 10:32am November 2, 2009)
I take leftovers to work, too. Not only are they vultures, but they are vultures that COMPLAIN if you have anything other than chocolate - honestly! I'm not kidding! They come up just to get candy and feel personally affronted if there is no chocolate!
(Joyce Bair 6:47pm November 2, 2009)
Save some of it to put on a gingerbread house for Christmas! LOL

dancealert at aol dot com
(Brenda Rupp 11:17pm November 2, 2009)
I've done the recycle thing, the bring to work thing, and the donate to the hospital thing. My current favorite is giving to a community collection for our overseas military personnel.
(Karen Krack 12:21pm November 3, 2009)
Registered users may leave comments.
Log in or register now!