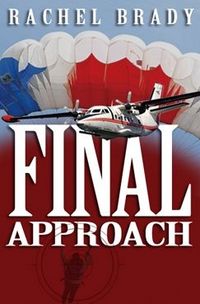 Purchase
Poisoned Pen Press
October 2009
On Sale: October 1, 2009
Featuring: Richard Cole; Emily Locke
250 pages
ISBN: 1590586557
EAN: 9781590586556
Hardcover
Add to Wish List

Sometimes clues just fall from the sky. Four years ago Emily Locke's life was shattered when her infant daughter and husband were lost in an inexplicable accident. She has nearly rebuilt her fragile mental health when Richard Cole, a disgraced former police detective now working as a PI, resurfaces. He wants help he says only she can provide— reconnaissance at a Texas skydiving establishment over a thousand miles away. Emily knows better than to work with him again, but can't refuse when she learns it's about a missing boy. She identifies too greatly with the new missing child case.
At Gulf Coast Skydiving, similarities between this new case and Emily's troubled past make it increasingly difficult for her to stay objective. Soon she's convinced that she is somehow connected to whoever took little Casey Lyons. Someone at the quiet, rural airstrip knows what happened to the boy . . . and to Emily's own daughter.
To find Casey before it's too late, Emily will have to make sense of the menacing parallels between his case and her daughter's.
Comments
82 comments posted.
Re: Final Approach

I think I'm guilty of all of them.... Well except the kid thing (since I don't have any), but I've said "after this chapter" on a number of occasions to my bf.
(Jennifer DeFoy 2:06am June 8, 2009)
I am guilty of #8 and #10. I will also spend an entire rainy Sunday in bed reading and drinking coffee.
(Rita Schiano 7:42am June 8, 2009)
Oh wow, very amusing. I am guilty gulity guilty of 1, 6 & 8...LOL
(Annette Cunningham 8:58am June 8, 2009)
My process is a bit different. I read 12 books at a time... so I don't have a chance to get carried away with one particular book. :) I love your website!
(Adriana Caselotti 12:20pm June 8, 2009)
As long as you don't start identifying
strongly with Dexter Morgan (Dexter
Dreaming Darkly, etc.) I don't think
you have much to worry about. Plus
ignoring you kids makes them more
self-sufficient. At least that's my line.
(David Hansard 1:38pm June 8, 2009)
Guilty as charged on all counts...I start a book and nothing else matters until I'm finished. Family are on their own! LOL Then I'm disappointed when I finish reading the book because it's done and I want more!!!
(JoAnn White 2:33pm June 8, 2009)
Staying up too late is where I'm most guilty. Unable to stop in the middle of a gripping scene, I keep going and the time just escapes. I can't wait patiently while a good book beakons like the sweet smell emanating from a bread factory. It's basically simply irresistible.
(Alyson Widen 2:55pm June 8, 2009)
I've definitely done a bunch of those, especially stay up too late, and I've paid WAY too much money for a book before!
(Kelli Jo Calvert 3:49pm June 8, 2009)
At one time or another, I've definitely been guilty of all these 'good book' offenses. I've also traveled from book store to book store (not always in the same state) looking for that special book to complete a set/series. Of course the internet has made me less guilty of that offense.
(Rosemary Krejsa 4:40pm June 8, 2009)
Okay, but what are the stupid things you do? I don't see anything wrong with any of those. I also carry a book in my purse so that if I get stopped at a red light....
(Karin Tillotson 6:38pm June 8, 2009)
I m guilty of some of those good book offenses numbers 1,2,4,5 and 6; that's about half of the ones you've listed; I'm sure there are more but that will be for another time.
(Diane Sadler 7:11pm June 8, 2009)
I'm guilty of a lot of those myself except the 10:30 bedtime - are you kidding? I'll stay up till 12:30 or 1 reading!! Just can't quit, especially if I'm close to the end of the book!
(Martha Lawson 7:19pm June 8, 2009)
1 & 10. I've been known to still be reading when everyone else was getting up in the morning! Good thing I'm now retired and can nap in the mornings/afternoons/any time.
(Karen Barnett 7:24pm June 8, 2009)
This was a great topic, and I wish I had thought of it!

I'm guilty of telling my husband I'll come to bed at the end of the chapter, and he falls asleep...wakes up
and says are you coming? I say at the end of the chapter. Took him years to realize how many more
chapters I was reading while he slept!
(Sandi Shilhanek 8:38pm June 8, 2009)
I find myself doing many of these things, too, especially staying up way too late (while my husband's head is buried under the blankets to block out the light) and thinking about what I'm going to say when I review the book for my blog or on GoodReads!
(LuAnn Morgan 8:46pm June 8, 2009)
You guys are TOO MUCH FUN! Thanks for all these wonderful comments today! You crack me up. It's so nice to find out I'm not alone in my book neuroses. Happy reading, everyone! Try to get some sleep tonight. :-)
(Rachel Brady 9:04pm June 8, 2009)
For me? Numbers 1, 9, and 10, but primarily 1. Especially if I know that I have to be somewhere early the next day. Then not only does the brain NOT shut down, I can't put the bloody book down! On nights like that, getting only 3 - 4 hours of sleep is not unusual (unfortunately!).

Later,

Lynn
(Lynn Rettig 12:59pm June 9, 2009)
Guilty big time for number 1. My
husband will wake up at 2 or 3 and
inform me I do have to go to work in
the morning.
3 and 4 become one with the book and
the characters. Yeah dumb but hard
not to.
5-Don't have embarrass myself. I
work in a library so we talk books all
day. Yeah!
6- As long as I have a book, who cares
how long I have to wait.
8-Sometimes I cast characters, but not
too often. I was so upset with Tom
Hanks being cast for The Da Vinci
Code. Good actor, didn't fit the books
description.
9-Yes I relate.
10-Just finished PILLARS OF THE
EARTH. thought about the book and
characters constantly while reading
the book. It had a very good last line,
but I didn't want it to end. I've started
the sequel WORLD WITHOUT END and
was initially upset because it was 200
years later and my friends weren't
there.
(Patricia Barraclough 1:16am June 9, 2009)
I am like Adriana. I have a bunch of books that I am reading at the same time...
(Mari M. 2:36pm June 9, 2009)
Guilty of 1,3,7 and 10 lol x
(Sarah Keery 3:07pm June 9, 2009)
I do most of those things too.
(Bridget Hopper 5:02pm June 11, 2009)
I don't stay up to late because I don't take the book to bed.. I read from morning to night in my recliner... I am retired and do the house etc on my time. My husband does the cooking and cleaning and we are not fussy so its done when we want to... So if I am in a good book I can stay in for hours.. and everyone of your experinces I can relate to.. I have a pile of books that i have next to my bed.. I have over 3000 books in my home office from my online bookstore that I can choose from its so much fun to pick and choose.. my fav authors are ones who write series.. Debbie Macomber, Nora Roberts, Robyn Carr, Jo Ann Mapson just a few and a new author I will be trying in October..Thanks for a great blog read
(Dona West 12:58pm June 28, 2009)
I have done the Halloween recycle also - when I was working I would always take a bowl of the stuff I didn't like and set it on my desk - working people are vultures!
(Kristi Herbrand 1:01pm October 26, 2009)
My husband takes it to work. He runs a hotel, so it doesn't last long
(Pat Wilson 2:38pm October 26, 2009)
I do the recycling thing as well but what I have left over goes into baggies for the hunters in my family.
(Sarah Ulfers 4:42am October 28, 2009)
I know what you mean I stock up on Chocolates right now to the bests prices for candy is at this time.and what I don't like I give to my nieces and nephew.
sasluvbooks@yahoo.com
(Stacey Smith 4:13am October 30, 2009)
Have never done the Halloween recycle, but have waited until the last minute to shop, with the same thought that I could not eat what was not available.
(Joanne Reynolds 6:34am October 30, 2009)
If I have any candy left over I take it to work and it's gone in just a little while. I also try to buy candy that I like.
(Sherry Strode 7:34am October 30, 2009)
I didn't know there was such a thing as undesirable candy :o) Maybe that explains the size of my butt!!
(Sandy Miresse 8:06am October 30, 2009)
You guys are so right about taking stuff in to work! Kristi's word was perfect... they're vultures! I take it to the office conference room for the same reason. :-)

Sandy, your comment cracked me up!
(Rachel Brady 9:12am October 30, 2009)
Most of the time I don't have much left because I have a lot to treat. I am the one that hands out the treats, hubby could care less!
(Gail Hurt 11:56am October 30, 2009)
My kids would always go
through their bags on
Halloween night and all the
stuff they didn't like (if I
didn't like it, either)would
go to their uncle, who likes
just about everything.
(Margay Roberge 12:50pm October 30, 2009)
I have a candy drawer in my kitchen. Everything from bars to suckers from the bank go in that drawer. Everybody that comes to visit heads for that drawer and even the less favorable candy disappears.
Rosemary Simm
(Rosemary Simm 2:22pm October 30, 2009)
A local dentist is collecting unwanted trick or treat candy to donate to children in Haiti. Thought that was a good idea.
(Donna Petrilla 2:38pm October 30, 2009)
LOL. I love the hidden candy in the computer room closet. Pricless. Recycling is an excellent idea.
(Mare Fairchild 2:39pm October 30, 2009)
My husband is the one who starts buying Halloween candy in November "so that we have some ready for next Halloween". Needless to say, there is no such thing as unwanted Halloween candy at our house!
(Karin Tillotson 2:40pm October 30, 2009)
I don't have kids and I average 2 trick or treaters a year. (And I live in an apt. building with 90 apts. A GOLD MINE for candy when I was a kid. Plus it's all indoors.) I'm convinced one year I'll get the mother load and not have enough candy. So, I usually have three bags (two usually make it to the big day). This year to stay away from the stuff, I bought 4 FULL SIZE Hershey bars (Walgreens, .29 ea.)and got a 10pk of Wendy's frosty coupons, the 6 oz. sample size for $1 a pk....I'll enjoy any left over coupons too. I also have a 42 ct. box of something reasonably good: Orville Redenbacher's 100 cal. Smart Pop bags. I never thought the Hershey bars would make it this long, only 24 more hours! I'm saving at least two Hershey bars for my two regulars who come every year.
(Anne Muller 2:41pm October 30, 2009)
My husband brought home a great package of mixed candy bars. That works!
Marjorie
(Marjorie Carmony 2:47pm October 30, 2009)
I take the candy to work..it never goes to waste there!
(Paula Staton 3:06pm October 30, 2009)
I love candy, so I can't buy it for Halloween early...it would never make it to the 31st! So, I buy it that day, then much away, while giving it to the kids who come by. Of course, after Halloween, I have to go on a massive diet!
Patsy
(Patsy Hagen 3:07pm October 30, 2009)
I'm like you, I stock up on the kiddie candy so I am not tempted to eat it. If I see a Reece or a Three Musketeers then they become mine! I also have my own private stash! Lol! Happy Halloween!
(Lisa Glidewell 3:11pm October 30, 2009)
I sometimes have a hard time unloading the candy that I don't like. We usually like the same kinds of candy.
(Jane Cheung 3:31pm October 30, 2009)
Yes, I always recycle the candy. I take it to friends and family members. I also crush some of the candy and bottle it up to use as ice cream toppings.
(Jody Faltys 3:48pm October 30, 2009)
I buy Halloween pencils and the kids look forward to getting them every year. Some tell me their plans for using the pencil. I figure this contributes to creativity. Occasionally I buy candy, but not my favorite kind of candy bar, because it's too tempting and calls me to open the cupboard and check out - how many, how big, calorie count, and my willpower slowly erodes away.
(Alyson Widen 4:26pm October 30, 2009)
In Ohio, the kids took left over candy to school the next day. The seniors took the tons of candy to the homeless shelters. Some churchs also collected the extra candy.
(Rose Granholm 4:38pm October 30, 2009)
I made a mistake... brought Halloween candy with me to Phoenix to hand out at my book signing tonight. Just got to my hotel and have killed three Reese's so far. Give me the scarlet H for "Hypocrite"! Great hearing from you guys!
(Rachel Brady 5:42pm October 30, 2009)
Unfortunately we go to grandma and grandpa's house to trick or treat, so I don't get to recycle. I got glow bracelets (along with chocolate) for the kids to pass out at school today. Of course, I bought a giant bag (more than enough for both classes) and have been munching on Reese's all day!
(Janel Gradowski 6:18pm October 30, 2009)
That's funny about the less desirable candy. We used to buy the "good" candy (Snickers and Hershey's) for the younger kids or for older kids who really tried to make a great costume. We had the "reject" candies like plain lollipops for the kids who wore regular clothes and carried pillow cases!

Thanks,
(Tracey Dent 6:27pm October 30, 2009)
We take some of the halloween candy while the kids sleep, and save it to fill stockings at Christmas.
(Jolynn Rood 6:41pm October 30, 2009)
About a hour after Halloween starts I give out more candy to each trick or treater and usually all our candy is gone by the end. Our children are grown, so no worrys about too much candy laying around. When they were younger we doled out only a few pieces of candy at a time, sometimes we still had candy by Christmas.
(Theresa Buckholtz 7:01pm October 30, 2009)
7 and 9, I definitely commit those. Well, I'm probably guilty of all them. Some books are just too good to put down and once I'm finished I want to start all over again.
(Theresa Buckholtz 7:07pm October 30, 2009)
I have no willpower around candy! If I keep candy in my house I will eat it. Period. Soooo...I don't give out candy at Halloween anymore **cringe**
(Michelle K 7:26pm October 30, 2009)
In order to save myself from temptation, and to try to save the kiddies from sugar overload, I buy treats like pretzels, gold fish, teddy grahams, and animal crackers, plus pumpkin shaped erasers. If I have left overs, they're things I could eat (or save for next year for the erasers), but I don't usually have left overs. The kids still seem to like them, I guess you can have too much candy :o)
(Barbara Elness 7:30pm October 30, 2009)
I generally avoid the temptation by not
buying anything unless it is one hard to
find brand of chocolate. Not to say that I
don't go through every Halloween candy
aisle looking for it.
(Sue Ahn 7:35pm October 30, 2009)
Recycling is a stroke of genius. All this candy talk makes me want to scavenge out some right now.
(Mary Preston 7:35pm October 30, 2009)
Chocolate is best but there is NO undesirable candy.

lag110@mchsi.com
(Lisa Garrett 9:59pm October 30, 2009)
Hahaha, I'm on bag number 3. Maybe I should take your advice and shop on Oct 31st only!!!! I buy only the good stuff, so there is no problem with leftovers....we eat them all!!!
(Mitzi Hinkey 11:09pm October 30, 2009)
I have not bought the candy yet. Last minute saves me from breaking into the bags. I can not resist. With the leftovers I make little bags and bring them to a nursing home, where the CNA and Nurses are thrilled to see me with my basket of goodies. Those long hours brings on a need for CANDY by next week.
(Barbara Ryan 11:47pm October 30, 2009)
Great minds must think alike. Lots of recyclers out there! Tracey, I like your idea to give better stuff to the kids who make an effort with their costumes! Jolynn, the Christmas stocking idea is great. My husband will have to be in charge of that, though, or I'll just eat it. :-) Fresh Fiction is picking the winners for today's giveaways, so I wish you all luck! Thanks for visiting!
(Rachel Brady 12:46pm October 31, 2009)
I thought I was bad---buying dark chocolate because that is what I prefer, until my husband came home with a huge bag of snack pack pretzels. ICK! We have never had trick or treaters out here in our very rural area, so I usually buy small amounts for us to have as "leftovers" "just-in-case", but I never, ever eat pretzels, so now I have to think of something else to do with them. Are the terribly bad for my dog??
(Susan Driskill 1:17am October 31, 2009)
Funny, but I use the same tactics you
do with the candy. If I bought early,
the candy never made it to Halloween.
I got stuff the kids like, but my
husband wouldn't touch.
Unfortunately, I have a sweet tooth
and like almost anything. Never did
the recycle thing unless the kids got
home early. They would sort their own
candy and give me what they didn't
want.
Good luck with your book. Hope it
leads to a successful writing career.
(Patricia Barraclough 1:45am October 31, 2009)
I hope Im not too late to post. I usually end up throwing away alot of the candy but only after it sits up on my fridge for a month or so.
(Sara Hurt 8:55am October 31, 2009)
I take it to work at the library- it doesn't last long! :)
(Lexi Henshel 3:32pm October 31, 2009)
I try to buy it at the last minute, chocolate for me, other stuff to hand out! I don't recycle it simply because I never have any left over, between the kids and the hubby!
(Sharla Long 4:58pm October 31, 2009)
We don't live in town so don't get to pass out candy. The recycle effort sounds like an awesome idea though and I'll have to pass it on to my friends and family who hand out candy!

LOL also loved your description of the good stuff and bad stuff!!! We share the same thoughts there.

Congrats on the latest release btw!

Have a great Halloween!!
(Pamela Sinclair 6:44pm October 31, 2009)
I'm not sure there are such things as Halloween treats that won't rot teeth or add to the hips!!
(Jacqueline Lam 6:59pm October 31, 2009)
I recycle the candy at work, and it doesn't last long.
(Paul Taylor 8:50pm October 31, 2009)
we used to do the resycled candy routine give out the kind we dont like only didnt work always had excess because well not many came by
(Beverly Gordon 8:52pm October 31, 2009)
My daughter just found last year's candy hidden in her room, so she decided this year not to go trick-or-treating! Instead, her brother and sister are sharing with her. We went thru 150 pieces of candy in 22 minutes--the kids were lined up down the sidewalk. UGH!!
(Shelly Cronin 9:44pm October 31, 2009)
The bag of books would go a long way towards helping to round out the mystery section of my classroom library/
(Cheryl Stillwell 10:12pm October 31, 2009)
I laughed aloud at some of the comments here - what a fun topic!! I also belong to the "no undesirable candy" club and I find lots of folks even bring leftover halloween CHOCOLATES to work to share, so I try to help them out!!
(Penny Tuttle 11:17pm October 31, 2009)
Take it to work, someone always eats
even the worst of the unwanted there.
Also, this year we gave out individual
popcorn packets and pretzels, which we
will probably use on trips.
(Mary McCoy 11:18pm October 31, 2009)
I've never thought about it before but how about taking it to your local community center?
(Sabrina Gibau 12:54pm November 1, 2009)
I try to buy stuff I don't like. My daughter is doing her master's degree internship at a domestic violence counseling center, so this year all the leftovers will go to the little ones who visit there with their Moms. Other years I have taken it to our local food pantry, the latchkey kids program at the civic center, etc. I do the same with all the other holiday leftover treats too....Christmas cookies and candy, valentine day goodies, etc.
(Lauri Coates 1:36am November 1, 2009)
I take the left over candy (IF there is any) to work the next day...Problem solved!!!
(JoAnn White 7:14am November 1, 2009)
I always buy candy that I like cause if there's any left, I get to eat good stuff! Although, I don't know that I've every met a candy I didn't like. ;)
(DeeAnn Szymanski 9:16am November 1, 2009)
I always take it to work and
leave a bowl on my desk and one
on the break room table. It is
gone in just a few days.
(Lisa Richards 9:53am November 1, 2009)
I thing you are a very gifted author :)
(Katie Smith 11:25am November 1, 2009)
I always eat it so never a problem with leftovers.
(Vikki Parman 10:32am November 2, 2009)
I take leftovers to work, too. Not only are they vultures, but they are vultures that COMPLAIN if you have anything other than chocolate - honestly! I'm not kidding! They come up just to get candy and feel personally affronted if there is no chocolate!
(Joyce Bair 6:47pm November 2, 2009)
Save some of it to put on a gingerbread house for Christmas! LOL

dancealert at aol dot com
(Brenda Rupp 11:17pm November 2, 2009)
I've done the recycle thing, the bring to work thing, and the donate to the hospital thing. My current favorite is giving to a community collection for our overseas military personnel.
(Karen Krack 12:21pm November 3, 2009)
Registered users may leave comments.
Log in or register now!