Kindle Worlds is a relatively new phenomenon. Authors create ďworldsĒ from their popular series, and then invite other authors, by creating new characters to interact and play out the story within that original world. My story, therefore, resides inside the other authorís world. Sort of like cloning, taking the DNA of the authorís world and inserting new DNA into it through new characters, changing the overall picture. Similar to a progressive dinner, where each course is served at another personís house, Kindle Worlds give a different spin to an existing series.
Doing this type of writing can be a little challenging. It helps if the author has a voice similar to your own, or is at least complimentary. I am currently writing in Bella Andreís GAME FOR LOVE world, with my first submission, SEALíS GOAL, but will be writing more stories in this world as well as others.
This requires me to do some extensive reading of the other authorís world, so I can get things about the characters and use them in the new story Iím creating. The ďWorldĒ author has the right to approve or disapprove of any story, but afterwards, the story is ours to expand upon, add to it or have these characters show up in another, perhaps parallel story of my own.
One of the authors Iím considering joining has a great story about a Navy SEAL and his spitfire of a girlfriend. I feel like Iím speed dating! Iím trying this couple on to see if there is a point of contact between her characters and the ones Iíd be creating. I want the reader to feel like they are seeing this authorís characters, but through the eyes of someone new: me. My job then is to give them something believable, interesting, without breaking the loyalty this New York Times Bestselling author has with her fans.
So far, Iíve figured out two possibilities for the two couples to meet. In one case, the heroines will be in the same field of work. In another, the two men will be SEALs from different Teams, tasked to work together. Since my character will be getting to know the other authorís character, I, as the author will also become more familiar with the authorís world the more I write.
I find the whole exercise challenging and very exciting. I think readers are going to love it. I know at the end of the day, it will make me a better writer. Iím anxious to hear what you have to say later when I can share it fully.
GIVEAWAY
Do you read in Kindle Worlds already? Do you like this collaborative effort? Have you ever read a good story written by two writers who spoke through one voice? Leave a comment below and be entered to win a mini pink SWAG pack: two signed books, a pink camo tee shirt and some surprise unmentionable SWAG youíll love (but I cannot mention). I'd love to hear what you think.
Sharonís NYT and USA Today bestselling Navy SEALs in the SEAL Brotherhood Series follow a spicy road to redemption through passion and true love. This series continues with book 10, releasing 6-30-15, SEAL's Code. All of her books are available in audio book as well as all eReading devices. She has maintained an Amazon top 100 author status in Romantic Suspense for since the end of 2012.
Her Golden Vampires of Tuscany are not like any vamps youíve read before, since they donít have to go to ground, and can walk around in the full light of the sun.
Her angels in The Guardians series struggle with the human charges they are sent to save, often escaping their vanilla world of Heaven for the brief human one. You wonít find any of these beings in any Sunday school class.
Sharon lives in Sonoma County, California, with her husband and two Dobermans. A lifelong organic gardener, when sheís not writing, sheís getting verra verra dirty in the mud, or wandering Farmerís Markets looking for new Heirloom varieties of vegetables and flowers.
Website | Facebook | Twitter | Pinterest | YouTube | Goodreads | Google+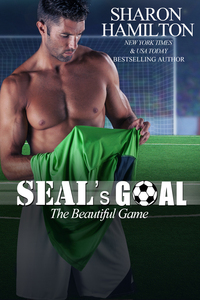 Professional Goalkeeper Patrick Harrington comes home to the U.S. from England to attend the funeral of his best friend, Navy SEAL Ryan Rosen. Ryan's fiancee is the girl who got away, the one he's been in love with ever since he set eyes on her in first grade.
Stephanie Carter's world turns on it's axis when Ryan is removed from her life, but not from her heart. Ryan's best friend, Patrick, becomes her path to healing the Trident-shaped hole left behind.
Compassion leads to passion as they find the possibility of a life together neither one planned, or ever dreamed could exist. Will Patrick's decision to join the Teams destroy their love and will her heart be able to handle a second loss?
Buy SEAL'S GOAL

Comments
44 comments posted.
Re: Sharon Hamilton | Writing In Another Authorís World

I havent read many but it is an interesting to see other
authors different spins.
(Marissa Yip-Young 5:35am July 15, 2015)
new author for me. would love to win!
(Lorelei Frank 7:50am July 15, 2015)
love sports romances books.
(Emily Stemp 10:09am July 15, 2015)
I've read very few like that but enjoy it when I do. It's
great to see how the new author puts there own spin on it. I
wouldn't mind seeing more authors do this. Sharon is a great
storyteller so I'm sure she could make it work in almost any
authors world.
(Robin Henley 10:25am July 15, 2015)
I can't wait to read Sharon's Kindle worlds story seal's
goal. I love Bella Andre too. thanks for the chance to win
(Janis Petzold 10:31am July 15, 2015)
I loved SEAls goal can't wait for the next
instalment it's so poignant. That's the
only world one I've read. Read lots of
collaborations Linda Howard and Linda Jones
spring to mind. I think.It's a good idea
for authors to work together that way
readers will get to know more or new
authors
(Julie Beasley 10:42am July 15, 2015)
I've not read any Kindle Worlds yet. They sound like a lot of fun. I do love
reading Sharon Hamilton's work. I haven't read Seal's Goal but it is in my
TBR. This sounds interesting though. I going to start Seal's Goal next!
(Jennifer Little 10:46am July 15, 2015)
I've read several Kindle Worlds books. They are fun because you feel like
you are visiting an old friend when characters from 2 authors meet and
interact. I've read everything that Sharon Hamilton has written so this
venture should be fun and interesting!
(Lynne Cuda 11:10am July 15, 2015)
I havent started any Kindle books as I have no ereader but
I do love all the different authors and genres
(Misty Clarkson 11:51am July 15, 2015)
I have heard of the Kindle Worlds, but have not gotten into them yet... I have read books by two authors with one voice and have enjoyed them... thanks for sharing!
(Colleen Conklin 12:50pm July 15, 2015)
I have no read Kindle Worlds as of yet, although it is something I would love to
check out in the future.
(Lily Shah 12:53pm July 15, 2015)
I'm not sure if I have read anything in Kindle worlds or not. I have read several books that were co written by two authors but I don't know if that counts or not. Sounds like a fun idea and a way to expand the already liked characters. Does the book come up with kindle world in it someplace when you are looking or is it a separate genre? I would love to learn more. thanks for the chance and the interesting information.
(Niki Driscoll 1:21pm July 15, 2015)
I don't think I'e read anything in Kindle worlds but I'd
love to try in the future. Sounds interesting.
(Janice Santillo 2:43pm July 15, 2015)
I have not read in Kindle Worlds nor have I read a story written by two
authors who spoke one voice. This is all knew to me. Thanks also for a
chance to win!
(Karlee Lawrence 2:43pm July 15, 2015)
I've read some in Kindle world but as I had only read one author of the two
it didn't really read any different. I'm looking forward to Sharon entering Cat
Johnson's Seal world as I do know those characters.
(Karen Henderson 2:46pm July 15, 2015)
No, I haven't read any Kindle Worlds stories. I have read a
few co-authored books. As with any novel, the story can go
both ways.
(Cynthia Netherton 2:48pm July 15, 2015)
I have not read Kindle Worlds but I like collaborative efforts
and have read co-authored books/series.
(G. Bisbjerg 3:06pm July 15, 2015)
I've been seeing a lot of PR about Kindle Worlds and joined the
FB group. Waiting to see how it turns out. I've always thought
authors collaborating VERY interesting. You get a totally
different work of art when that happens.
(Marcia Berbeza 3:28pm July 15, 2015)
I don't read kindle worlds but would love to start!
(Kristi Van Howling 4:17pm July 15, 2015)
I've read some collaborations. It can really work well if
the author's strengths and weaknesses complement each
other.
(Deb Philippon 4:20pm July 15, 2015)
I didn't know about Kindle Worlds. I'll have to check them
out. I do like collaborative efforts, kind of like a series,
but more like a continuation of the story.
(Gail Siuba 6:41pm July 15, 2015)
I haven't read any Kindle Worlds books, but they sound like
they could be enjoyable, if the guest authors are able to
write with the same or similar "voice".
(Dana Reeder 6:49pm July 15, 2015)
I really don't know about Kindle World, sounds interesting.
I believe I have read every Seal series I can find written by
you Sharon Hamilton, you are my go to author. Thank you
(Sharon Sommer 7:25pm July 15, 2015)
love your books
(Suzy Manning 7:27pm July 15, 2015)
I've never heard of Kindle Worlds but I will look into it
now. Thanks.
(Lori Ringel 9:09pm July 15, 2015)
I have not heard of Kindle Worlds but the sound very good. I will be checking it to them.
(Cathy Truman 9:18pm July 15, 2015)
I have read some in this genre.
(Renee Grandinetti 10:48pm July 15, 2015)
I've never read any books from Kindle World, this is actually
the first I've heard of them. I certainly will be looking
into it further. I have read books by Ms.Hamilton and enjoy
them quite a lot!
(Jennifer Lessard 11:03pm July 15, 2015)
I've never read any kindle worlds, this is actually the first time hearing about it.
(Sue Ahn 5:32am July 16, 2015)
I have not heard of Kindle world but It sounds pretty
awesome, good names!
(Theresa Carle 5:34am July 16, 2015)
No, I've not read anything in Kindle World. I have read some stories, primarily anthologies or a book series, using multiple authors who carry the same theme (if not the same voice).
(Flora Presley 8:45am July 16, 2015)
I haven't had a chance to read any Kindle Worlds yet. It sounds like an interesting concept, especially if it has a chance to make the Authors that participate better at their craft. It looks like I have to keep my eyes peeled for something new, since I can't keep up with technology as it is. There's always something new that pops up, such as this concept, and I'm glad you brought it to my attention. For now, I'm just looking forward to reading your latest book, then I'll get a chance to go forward. Your book sounds great!!
(Peggy Roberson 10:42am July 16, 2015)
I haven't read any Kindle Worlds yet, but I would love to.
(Wilma Frana 11:37am July 16, 2015)
I haven't read any of the Kindle Worlds either. Actually I hadn't heard of them until now . I would love to read the "Seals" series . Thanks for this giveaway .
(Joan Thrasher 12:13pm July 16, 2015)
I haven't read anything in Kindle Worlds but it sounds interesting.
(Pam Howell 12:22pm July 16, 2015)
I have just started and I find it is a fun way to find "new
to me" authors.
(Donna Antonio 3:09pm July 16, 2015)
I haven't read any yet, but that will be a changing, thanks
so much for sharing!
(Eva Millien 3:25pm July 16, 2015)
This is the first I've heard about Kindle Worlds, but I like
the concept - I'll have to investigate it!
(Diane Sallans 4:07pm July 16, 2015)
I would really love to read this but I have never read in
Kindle Worlds. It sound intriguing.
(Pam Flynn 4:58pm July 16, 2015)
I have read KW series. But then, I read Sharon's books no
matter what they might be part off. She's awesome and so
are her books!!
(Deb Diem 6:16pm July 16, 2015)
love sports romance.
(Emily Stemp 6:55pm July 16, 2015)
No I have never read these before but it sure sounds
interesting.
(Denise Austin 10:37pm July 16, 2015)
I hadn't been aware of Kindle Worlds-- but I think this i one of the great gits
fan-fic has revived for today's writers and readers.
(Mary Ann Dimand 10:41pm July 16, 2015)
I've never heard of Kindle Worlds, but that's not so surprising. I don't have an ereader, so I don't keep up with the technology. I do occasionally read something on my computer, but I'm a paper fan. While I sometimes enjoy a collaborative novel, if the authors don't seem to synch, it's not very enjoyable for me.
(Cynthia Powers 11:03pm July 16, 2015)
Registered users may leave comments.
Log in or register now!