Becky Pena | Meeting Alyson Noel ... Tales from the Intern

June 27, 2010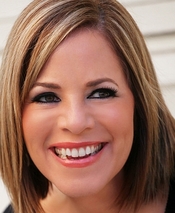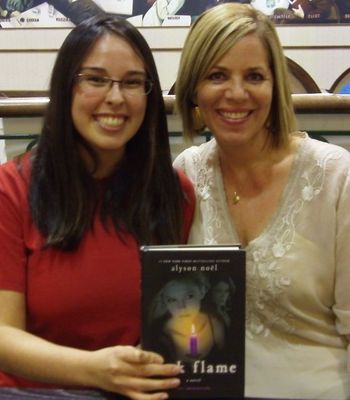 Becky and Alyson Noel
I had an amazing adventure with the Fresh Fiction staff this past Thursday!
I accompanied Gwen to my first ever author interview, with Alyson Noel, as Fresh Fiction's official intern. I was so excited! After getting lost trying to find a Starbucks…Sara and Gwen found me on the way to the hotel that Alyson Noel was staying at. We had a 3 o'clock appointment for our video interview and were 10 minutes early to scout out different locations. We met Alyson in the lobby of the hotel and lucked out with conducting the interview in the hotel bar; Alyson was so fun, she joked about modeling against the table so we could get the mysterious atmosphere of the bar.
Gwen forgot the camera tripod and luckily, she had me! This interview session I was "behind the scenes" on camera duty. The video interview was great; in my opinion, Alyson is really laid back and down to earth. She conversed with us as if she had known us for several days. What's funny is that the video interview lasted a total of 7 minutes while the conversation we had afterwards lasted for more than an hour. We got sidetracked with talk over Buffy the Vampire Slayer, True Blood, and Spartacus: Blood and Sand; of course, it was all about love triangles and paranormal drama.
While holding the camera, I did my best to listen to the interview but all my attention went into not moving. Haha! I kept telling myself not to sneeze, not to move, or breath too deep. Camera duty is stressful I tell you! Really stressful and I only held the camera for 7 minutes. Even though I was otherwise preoccupied with my thoughts and actions, the interview was a complete success. Gwen was a great interviewer and Alyson was a great interviewee.
After leaving Alyson to her rightful nap we headed out to Barnes and Noble to attend Alyson's new book signing later that night. Walking into the bookstore was entertaining in itself. Lots of little girls with their moms were running around all over the place and when we ventured toward the designated area, every seat was taken. We joined the other stragglers standing alongside the bookcases in the back and listened to Alyson read chapter nine of the new book, DARK FLAME. Her fans weren't just listening to her; they opened up their copies of the book and read right along with her. It was a joy to watch and even better to listen to when all the girls started asking questions.
We learned that Alyson doesn't ever want to be psychic; she is currently writing a spin-off series, featuring Ever's little sister named Riley; and that her first published book took 15 years to write. Alyson was great with the crowd and walked all over the designated area to hear questions. At one point she walked all the way to the back to hear a question from a soft spoken young woman and had a man with bright orange crocs walk right in between them. The man never fazed her and the question, plus many others, was answered as if no one but fans were in the room. Alyson Noel's interview and book signing was probably the best time I've had since becoming an intern with Fresh Fiction! It was a great opportunity for me. Next time I'll try not to get lost trying to find a Starbucks…
Becky :)
---
My name is Becky and I LOVE reading! When I'm not reading I'm doing yoga, writing, or trying really hard to knit a cool looking scarf. I attend
UNT (The University of North Texas
) and am currently majoring in Fashion Merchandising with a minor in business. I used to be an RA (Resident Assistant) in the dorms but now work for Fresh Fiction as an Intern. I'm 21 years old and always on-the-go. I juggle school, work, a social life, personal life, and family. Doesn't everybody? My favorite genres are: Paranormal Romance & Spy/Political Thrillers. My favorite romance authors include:
Laurell K. Hamilton
,
Sherrilyn Kenyon
and
Karen Marie Moning
. My favorite mystery/thriller authors include:
Robert Crais
,
Vince Flynn
, and
Brad Thor
.
PS: big welcome to Becky! Our first intern and she's hit the ground running! Besides serving as unofficial camera tripod / holder, Becky's adding books and authors to the site and doing reviews. Look for her first review today!
PPS: comment to win the signed copy of DARK FLAME Alyson signed for Gwen and Becky on Thursday!
Comments
26 comments posted.
Re: Becky Pena | Meeting Alyson Noel ... Tales from the Intern

Sounds like a lot of fun!
(Mary Lynn Hayes 10:21pm June 26, 2010)
Sounds fascinating!
(Joanne Reynolds 6:00am June 27, 2010)
I haven't read any books by Allyson yet! How lucky are you!, glad to hear you are having fun.
(Barbara Hanson 6:38am June 27, 2010)
Would love to win some books from your visits.

I have not read any books by Allyson yet either.
(Pat Lieberman 7:40am June 27, 2010)
Glad to see you're having some great experiences being the FF intern! It's a good
picture of you and Allyson.

I don't read YA but my future DIL loves it, so always looking for things that I
think she might like. Thanks for the report and for helping me out while I'm on a
mini vacation this weekend.
(Sandi Shilhanek 10:21am June 27, 2010)
You did a FANTASTIC job!

You are a perfect fit for Fresh Fiction, can't wait to see more from you!
(Felicia Sparks 10:48am June 27, 2010)
What a great description. I feel like I was there.
(Maria Munoz 11:14am June 27, 2010)
Fresh Fiction is such an awesome site! Keeps me right up to date on new books coming out...
(Annette Cunningham 11:39am June 27, 2010)
I haven't read any of Alyson's books but this one sounds terrific. Got it on my wish list.
Good job Becky. Not everyone can hold a camera steady.
Congratulations and will be checking out your posts.
(Brenda Hill 12:41pm June 27, 2010)
Welcome, Becky. What an exciting
time for you. You couldn't have a
much better place to find out how
things work. It should be fun and an
interesting time for you. Best of all,
you get to meet authors and read
books. What more could we ask for?
(Patricia Barraclough 1:46pm June 27, 2010)
An intern can be invaluable to mentor. I always learn more from people I teach. Hearing authors read passages from books and about their "book life" keeps me coming back for more.
(Alyson Widen 1:49pm June 27, 2010)
Sounds like it was alot of fun... Thanks for sharing the experience with us!
(Colleen Conklin 1:59pm June 27, 2010)
Welcome Becky! You picked a great group
to intern with. I love the blogs on here
better than anywhere!
(Molly Wilsbacher 2:07pm June 27, 2010)
YaY!!! I'm glad you all loved my blog post. I wasn't sure if telling you all about my day would go over well or not.

Working for Fresh Fiction is AMAZING! I'm learning so much!

Thanks for the support ladies! :)
(Becky Pena 2:23pm June 27, 2010)
Welcome to FF, Becky! Sounds like you're going to fit right in. I haven't read anything of Allyson's yet, but this book sounds good.
(Cathy Phillips 3:34pm June 27, 2010)
Sounds like you make a great tripod! ;)
(Alicia Allen 4:35pm June 27, 2010)
Sounds like everything ended up great even with you getting lost. Also, sounds like there was a great crowd and an enthusiastic crowd at the book signing. Congratulations to all three of you!
(Gladys Paradowski 5:37pm June 27, 2010)
Love Fresh Fiction! Great site to hear about new authors and new books!
(JoAnn White 5:44pm June 27, 2010)
Big Welcome, Becky!! I would love your job at Fresh Fiction. You are write in the pulse of what's happening in the book industry. Wishing you best of luck with all that you do.
(Armenia Fox 6:06pm June 27, 2010)
Sounds fabulous to me. Jealous much.
(Mary Preston 7:52pm June 27, 2010)
Welcome Becky. You picked a good group to intern with. Fresh fiction is a great place to be. I hope I can win some books here ~ : )
(Brenda Rupp 8:28pm June 27, 2010)
Sounds like you had a great time!! Look forward to reading your reviews!!
(Martha Lawson 8:29pm June 27, 2010)
Great post. I haven't read any of Alyson's books but would love too.
(Lisa Glidewell 10:19pm June 27, 2010)
What a great place to intern at!
Have fun!
(S Tieh 2:13am June 28, 2010)
Congratulations on your new job!! I'm also glad to hear that you're a fellow knitter!! I'm sure that you're going to enjoy your job immensely, and learn a great deal in the process. Be sure to take those knitting needles with you for your down time -- it is possible to knit and read at the same time, you know!!
(Peggy Roberson 8:17am June 28, 2010)
I have read the first 2 in this series and I'm on the 3rd. Now my daughter is reading them....
(Brandy Blake 1:52pm July 1, 2010)
Registered users may leave comments.
Log in or register now!