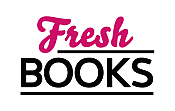 Yule Tidings -- Great Reads for December!
Fresh Fiction Blog
BookTrib Harlequin Holiday Giveaway!

Many will swoon over this week's BookTrib giveaway, 20 different Harlequin romances to one lucky winner. As part of BookTrib's Holiday Giveaway, they will be gifting a box Read More...
Fresh Fiction Blog
**Please welcome Jessica, who attended Fresh Fiction's Readers & 'Ritas event in November! She has put together a wonderful overview of her time at the event, meeting authors Read More...
Fresh Fiction Blog
Danielle Dresser | Books I'm Thankful For...

Welcome Fresh Fiction reviewer and Blog Coordinator, Danielle Dresser, sharing the books she's thankful for… Stay tuned for more articles from our reviewers in the near future! Read More...
Fresh Fiction Blog
Julie Particka | Comedic Influences

I have to admit, I am always alternately excited and confused when my publisher decides one of my books falls under the romantic comedy heading. Excited because rom-coms are Read More...