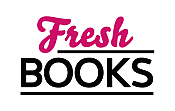 Sumptious September books for you
Fresh Fiction Blog
Bradley Harper | You Don't Say?

Dialogue is an ancient Greek stage direction, meaning "action through words." One of the first critiques I got from an agent, looking at my neatly printed manuscript was "There Read More...
Fresh Fiction Blog
Jody Holford | Mixing Metaphors

I've truly enjoyed writing baseball romance. I love the combination of sports and love in any medium. This is likely why some of my favorite movies are Read More...