Jennifer Bonds | What We Love about Hockey Guys

November 17, 2015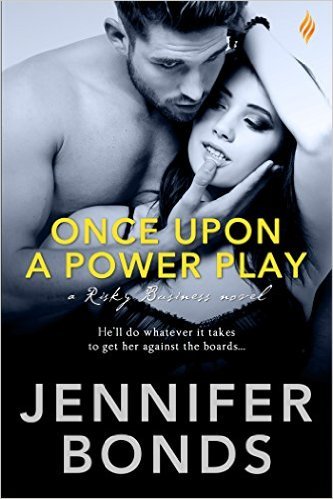 Once Upon a Power Play
Jennifer Bonds
AVAILABLE
He'll do whatever it takes to get her against the boards...
Risky Business #2

November 2015
On Sale: November 16, 2015
Featuring: Ryan Douglas; Chloe Jacobs
ISBN: 1633754642
EAN: 9781633754645
Kindle: B015CLZ5RE
e-Book
Add to Wish List

Also by Jennifer Bonds:
A Royal Disaster, November 2020
Seducing the Fireman, May 2016
Once Upon a Power Play, November 2015
Once Upon A Dare, April 2015

When I first received the invitation to stop by Fresh Fiction and blog about why I love hockey heroes in romance, I was thrilled. I mean, the crazy, hockey loving part of me said, what's not to love about hockey guys? But then I realized that maybe, just maybe, there are readers out there who don't follow the sport *gasp* and perhaps don't share my addiction. And that got me motivated. So, if you're not already fan of hockey guys, here are five reasons I think you should give them a try!
1. These. Guys. Are. Hot. I know, way to dig deep, right? But seriously, these guys are in peak physical condition. Skating alone can burn 500 calories and hour, so if you like your heroes ripped, chiseled, or plain old cut (lust handles, anyone?), I recommend putting more hockey romance on your TBR shelf. If in doubt, see the cover of my new release ONCE UPON A POWER PLAY. Or Google Alex Wennberg. Or Ryan Kessler. Or…well, you get the idea.
2. They've got big…hearts. This is true in romance novels and real life. These guys are giving back in a big way through community outreach programs, training camps, and charitable giving. Did I mention the NHL also has a Hockey Fights Cancer initiative which is near and dear to my heart? As far as I'm concerned, there's nothing sexier than a big heart.
3. These guys know what it means to get physical. Hockey is probably one of the most physical sports there is, so it's no surprise these guys tend to react viscerally on the ice and off. Call me old fashioned, but there's something undeniably sexy about a guy who's big, protective, and who won't hesitate to toss you over his shoulder when the time is right.
4. Hockey players possess discipline and stamina. That combination? It can't possibly be a bad thing. Hockey season is L-O-N-G. Two hundred and forty-seven days long (trust me on this), which means these guys are playing 68% of the year. Forget the Energizer Bunny, find a hockey player. As for discipline? I'm pretty sure I couldn't do my job with a sexy man banging on the glass holding a sign that reads 'Marry Me'. If they can work under those conditions, just imagine the kind of focus they've got off the ice.
5. They're good with their hands. Enough said.
Ryan Douglas, the hero in my new release, ONCE UPON A POWER PLAY, embodies each of these qualities and it's probably one of the reasons I adore this character. As a writer, I know I'm not supposed to play favorites, but I have to admit I've got a sweet spot for Ryan and his antics. After all, it's hard not to like a guy who has the heart—and confidence—to rock a Santa suit in the clutch.
So that's why I love hockey guys. What about you?
Giveaway
Tell me why you love hockey guys—or any sports hero for that matter—for a chance to win a $10 Amazon gift card. And if you've got a favorite sports player in mind, share that too because I'm always looking for new eye candy, err, inspiration. ;-)
Jennifer Bonds writes sizzling contemporary romance with sassy heroines, sexy alphas, and a whole lot of mischief. When she's not writing or wrangling toddlers, Jennifer can be found curled up with a good book and a bottle of wine. Jennifer lives in Carlisle, Pennsylvania, where her overactive imagination and a weakness for reality TV keep life interesting. She's lucky enough to live with her very own real life hero, two adorable children, and a pair of rambunctious dogs. Loves Buffy, Mexican food, the Winchester brothers, and all things zombie. Sings off-key.
Website | Facebook | Twitter | Pinterest | Goodreads | Blog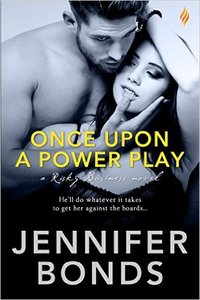 He'll do whatever it takes to get her against the boards…
Sidelined by a potentially career-ending injury, the only thing hockey player Ryan Douglas should be thinking about is recovery. But after sharing a near death experience and a night of passion with a spunky brunette, the only thing on his mind is five and a half feet of sexy sarcasm. And he'll do whatever it takes to get her back in his bed--even if it means playing dirty.
Chloe Jacobs is done with fairytales. And men. She's kissed her share of frogs and what's it gotten her? Dumped by text--again. Determined to eighty-six illusions of romance and prove she's more than just a good-time girl, the last thing she needs is a pushy, arrogant hockey player testing her resolve. Especially one who's sinfully good with his hands and thinks date-by-blackmail is a perfectly acceptable social convention.
Ryan wants to play games? Fine by her, but this is one faceoff he's going to lose.
Comments
28 comments posted.
Re: Jennifer Bonds | What We Love about Hockey Guys

Love how fast they can skate~
(Marissa Yip-Young 10:10am November 17, 2015)
I enjoy sports romances more than I actually watch sports... but I will admit that I do watch and enjoy NASCAR.
(Colleen Conklin 11:14am November 17, 2015)
Their profession is based on discipline and focus, which
usually, shall we say, flows over into other areas, haha!
Plus, all the reasons you listed above for sure.
(Kristen Donnelly 11:41am November 17, 2015)
I do like speed skater - I find their form (when they
achieve a high level) is a perfect combination of strength,
speed and gracefulness. The ones Iève met also seem to
have a more healthy ego than some other sports.
(Deb Philippon 1:21pm November 17, 2015)
Thanks so much for having me on the blog today! I'm always
grateful for the opportunity to chat hockey, heroes and
books!
(Jennifer Bonds 7:45pm November 17, 2015)
In honesty, I don't have a favorite athlete/sports hero.
But I am fond of a romantic read and the things you list
about hockey players sound like wonderful romance material
to me.
(G. Bisbjerg 9:57pm November 17, 2015)
Football's my game but hockey is acceptable if there's no
football.
(Deb Diem 11:52pm November 17, 2015)
I used to be a HUGE hockey fan. There was a girl that I knew
that got tickets for my sister and I to go and see our first
pro hockey game. I was so excited!! Afterward, we went to
the watering hole that they hung out at. I approached my
favorite player, and had a couple of words with him. He was
a total, self-centered, stuck-up - you get the picture. I
was so broken up inside, because he wouldn't take 2 minutes
to talk to me. I wasn't exactly an ugly person to look at,
either, and knew the game, on top of it. After that day, any
time that team came to town, I prayed that our team beat
them, since they were bitter rivals, and I noticed that my
love of the game in general began to slip a bit. I read
sports books, especially hockey books, but don't have any
hockey heroes, due to real-life experience. Heroes don't
exist anymore, and to watch the public go crazy over these
men make me shake my head. Your book sounds good, and I'm
looking forward to reading it.
(Peggy Roberson 7:11am November 18, 2015)
I can read a good romance book about any sports guy but I really like the rough tough COWBOYS and RANCHERS !!!!
(Joan Thrasher 9:21am November 18, 2015)
Hockey and romance...what more would one need?
(Gail Runge 11:40am November 18, 2015)
Love David Beckham (so I guess I love soccer too).
(Nancy Marcho 12:03pm November 18, 2015)
I just like men who are adrenaline filled, goal driven and willing to compromise when it comes to love. Any sport will do...
(Kathleen Bylsma 1:49pm November 18, 2015)
They are true athletes who keep themselves in tiptop to achieve peak performance.
(Donna Gantt 3:01pm November 18, 2015)
They put everything they have into whatever they do....
(Elaine Seymour 7:52pm November 18, 2015)
They are physically fit
(Margaret OConnor 9:26pm November 18, 2015)
I love the ice figure skaters. I'm impressed by anyone who can
actually stay up on skates.
(Nancy Luebke 9:56pm November 18, 2015)
Hockey players are rough and tough...gotta love that!
(Teresa Simpson 12:20pm November 19, 2015)
I admire any sports figure because of the dedication they
put in.
(Carrie Edmunds 12:30pm November 19, 2015)
I am not a huge fan of sports heroes but occasionally they are nice.
(Pam Howell 9:48am November 19, 2015)
I love their dedication and ability to work well in teams. Of course, I also love
the hotness of their bodies due to all that hard work they put in!
(Lily Shah 2:14pm November 19, 2015)
I'm not much of a sports fan, but I do appreciate the talent and dedication needed to be tops in their field. Because physical fitness is so important in sports, it does make the players better than average in the appeal department.
(Flora Presley 5:26pm November 19, 2015)
Not interested in sports but I can acknowledge that some sports guys are hot. Not so sure about hockey since I never watched or attended a game.
(Lisa L. 10:41pm November 19, 2015)
I love a lot of sports. Football is my No. 1, but hockey is exciting, too.
(Gladys Paradowski 1:34pm November 20, 2015)
I like that they give back to the community.
(Kv H 3:19pm November 20, 2015)
I love combined training riders because they are strong,
sensitive and love horses as much as I do.
(Irene Menge 3:49pm November 20, 2015)
I love Russell Wilson from the Seattle Seahawks not only is he
a great quarterback but he does a ton for our community and he
is very active with Seattle Children's Hospital.
(Denise Austin 4:32pm November 20, 2015)
David Beckham is my guy
(Lauren Koerner 11:37pm November 20, 2015)
i like when they get violent
(Sarah Hansrote 3:05pm November 27, 2015)
Registered users may leave comments.
Log in or register now!